Forms are one of the most essential elements of any websites. It can be used for multiple purposes such as building email subscribers, promoting your products, growing your audience and many more. Additionally, a well-designed form can become a perfect gateway between the audience and the webmasters for establishing communication between them.
Forms, being an important element for a website comes with the inbuilt builder on most WordPress templates. However, if the WordPress theme you are using on your website does contain a form builder then, you can be added it easily with the help of WordPress form builder plugins. These plugins come with different designs and customization and configuration options to create engaging forms in no time without using any codes.
Some of the Best WordPress Form Builder Plugins
Now let's talk about our handpicked collection of the best WordPress form builder plugins. These plugins are well tested and contain great features and functionality to add stylish yet engaging forms easily and quickly on your WordPress website.
Let's talk about them in details: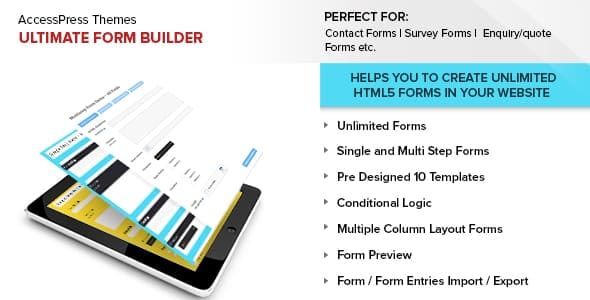 Ultimate Form Builder Pro is a premium WordPress plugin for creating unlimited responsive forms (single step or multi-step). It consists of 10 pre-designed form templates. So, you can either choose any of the available templates or choose the default one. Also, you can fetch the preview of your form before adding them on your WordPress website.
It is an easy to use WordPress form builder plugin that allows you to create any types of forms (contact form, opt-in, call to action, survey, etc) using drag and drop process. Moreover, you can add make all your forms super secure with the help of different captcha options.
Some of the Great Features of Ultimate Form Builder Pro
Create Unlimited Number of Forms
10 Beautifully Designed Form Templates
Single Step or Multi-Step Forms
Custom Form Elements
Supports Multi-Column Layouts
Option to View Form Preview
AJAX Form Submissions
Various Captcha Options
Live Preview  Purchase Ultimate Form Builder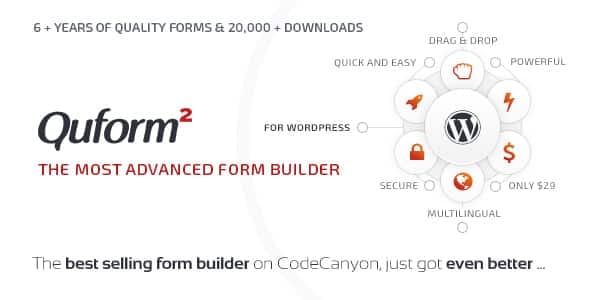 Quform is an advanced form builder WordPress plugin for building fully functional forms quickly and easily with full control. It comes with easy to use drag and drop configuration to create forms without using any codes. Moreover, the forms created by the plugin are fully responsive and works well on all types of viewing devices such as mobile, desktop, tablet, etc.
It is a simple WordPress plugin that contains 11 pre-built form templates to choose the best one for your WordPress website. Besides, the plugin also consists of 19 form element type that can be added elegantly to your WordPress forms. Also, there are 3 Captcha options: honeypot, image and recaptcha form keeping your form safe and secure from spammers.
Major Features of Quform
11 Inbuilt Form Templates
19 Form Element Types
Live Preview while Building Forms
12 QTip2 Tooltips Included
6 Filters for Stripping Unwanted Submitted Data
15 Validators Required Specific Data from Users
3 Different Captcha Options to Keep Form Secure from Spam
Color Picker to Customize Form Color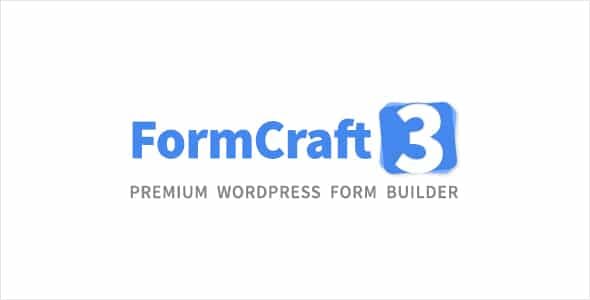 FormCraft is a complete and flexible form builder plugin for creating unlimited forms on your WordPress website. It is powered by easy to use drag and drop functionality and will allow you to build form easily and quickly in a few clicks without using any codes. Moreover, the plugin supports WYSIWYG editor that makes the form configuration easier than ever.
It is an ultimate plugin that comes with dozens of free add-ons for improving the functionality and performance of the plugin. Besides, the plugin also supports analytics to track the usage of your forms. Also, the plugin comes with different trigger options to display your elegantly built form in a responsive popup.
Some of the Great Features of FormCraft
8+ Beautifully Designed Form Templates
In-built Popup Forms
Compatible with Dozens of Free Add-ons
Option to Save Form Progress
Responsive and Scalable
Inbuilt Popup Triggers
Conditional Logic and Math Formulas
Field Insights
Live Preview  Purchase FormCraft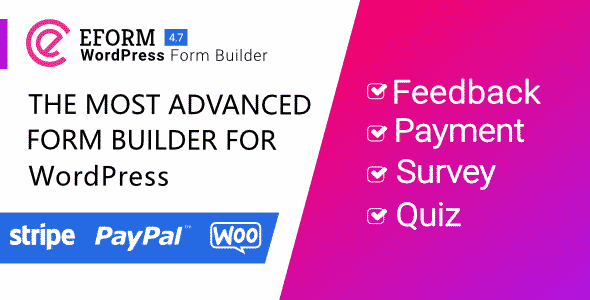 eForm is a premium form builder plugin for WordPress website with tons of powerful features. It is a complete form management plugin for creating forms for surveys, data collections, payments, cost estimations and many more. The plugin comes with drag and drop form builder for easily creating and managing the forms directly from your admin dashboard.
It is a robust and comprehensive WordPress plugin that comes with a perfect combination of styles and functionalities. The plugin is packed with over 38 material inspired forms templates for choosing the best looking form design for your WordPress website. Moreover, you can also set the conditional logic on the submit button of the form to make your form more secure.
Some of the Great Features of eForm
38+ Material Inspired Templates
Add Unlimited Number of Forms
Custom URL Submission Features
Popup Forms with Custom Dialog Buttons
Pricing Table Form Table
Categorizable Form with Filtering Options
Conditional Logic on Submit Button
Automatic Score for Feedback Elements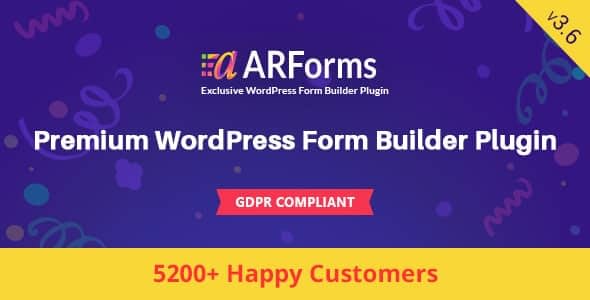 ARForms is a premium WordPress form builder plugin for building the finest responsive WordPress forms within minutes. It comes with 12 ready-made forms templates and 40+ form sample that can be imported for free of cost. Moreover, the plugin also contains 29 form elements that can be added for creating attractive forms on your WordPress website.
It is an ultimate plugin that comes with the inbuilt popup form settings to display attractive popup banners for your WordPress website. Moreover, you can also add a navigation menu to your popup form for providing a smoother user experience for your visitors.
Some of the Great Features of ARForms
12 Different Ready Made Form Templates
40+ Form Samples Available
29 Forms Elements for Building Forms
Material, Rounded and Standard Style Forms
Striking Color Scheme
Built-in Popup Form
Custom Images for Radio and Checkbox
Enhanced Conditional Logic
Wrapping Up

These are the collection of the best WordPress form builder plugins. They contains different features and functionality to add engaging forms on your WordPress website. So, if you want to add forms on your WordPress website then, you can use any of the mentioned above plugin at a reasonable cost.

You can also checkout our collection of: