Need a free WordPress business theme? – Get Hamza Lite

Gone are your days if you are waiting for customers to visit your stall. It seems that you are not smart enough to handle a business in the modern age. Smart is the customers, they will first surf the web and then decide where to buy.
If you still don't have a business website of your own, you are simply missing in the tough competition around you. You are already very backward. Soon you will lose your total business unless you immediately act out. Do you ever want to? Of course not!
Plan your website. It must be completely responsive because mobile users are highly increasing. Make it user-friendly so that customers find it easy to use. Make it lightweight and simple, so that it loads instantly. Give it a beautiful design and elegant look. Afraid? It seems like I made more than adequate recommendations. 🙂
Don't worry! I offer you the best and easiest solution too. No worries if you are not tech-savvy, you can easily build a business website of your own. You will find a complete website of your imagination instantly. You'll make it in the most popular platform WordPress and even that is for free!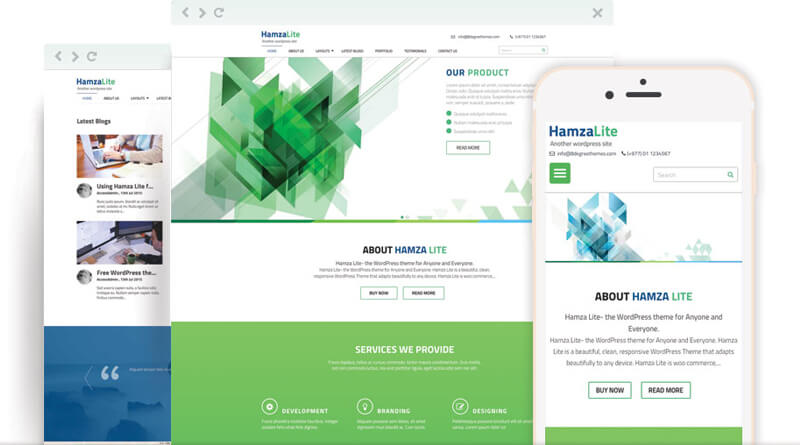 Let me go straight to the point. Anything you need right now is a business WordPress theme. Here is a new business WordPress theme- Hamza Lite for FREE. It is a powerful, feature-rich, and beautiful business theme for your needs. It is user-friendly, lightweight, and saves a lot of setup/ configuration time.
It is a modern theme with a customizer option. It lets you live to preview the changes as you make them. The theme has a very good WooCommerce integration so that you can turn the website into an online shop. Besides, the theme has enough space for featuring blogs, sliders, portfolios, testimonials, etc. The beautiful theme demo makes you believe what I said. You can get a step-by-step guide on how to use the theme in the documentation.
The major features of the theme:
Multi-purpose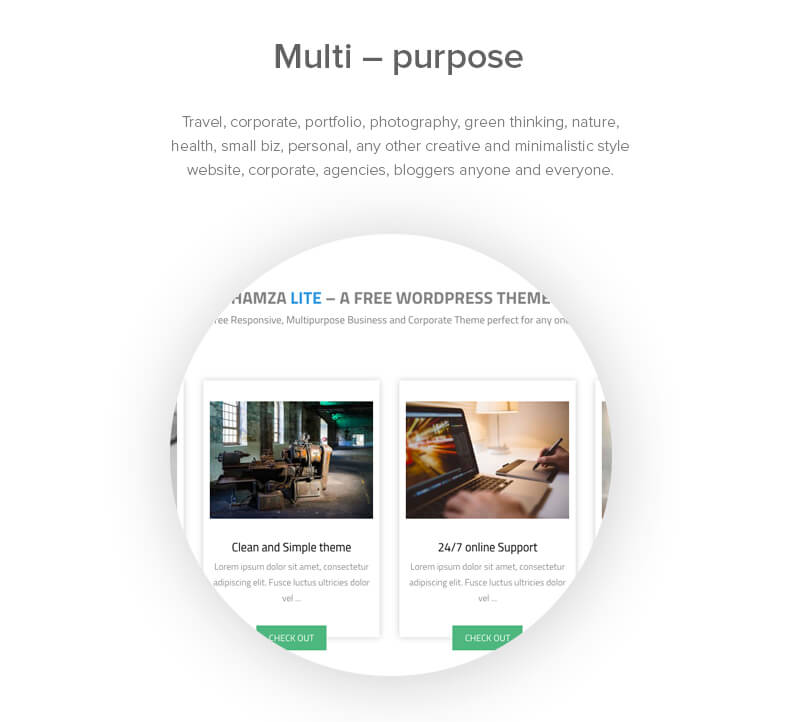 Come out of word boundary. Business is not only a store/ shop. You can sell your ideas, and creativity and serve humankind. It is your business like writing is my business. Do you agree?
Hamza Lite is a multi-purpose business theme, which can be used for multiple purposes like health, small biz, portfolio, corporate, blogging, etc. The theme has amazing features that meet the requirements for every kind of website of your need.
Featured Slider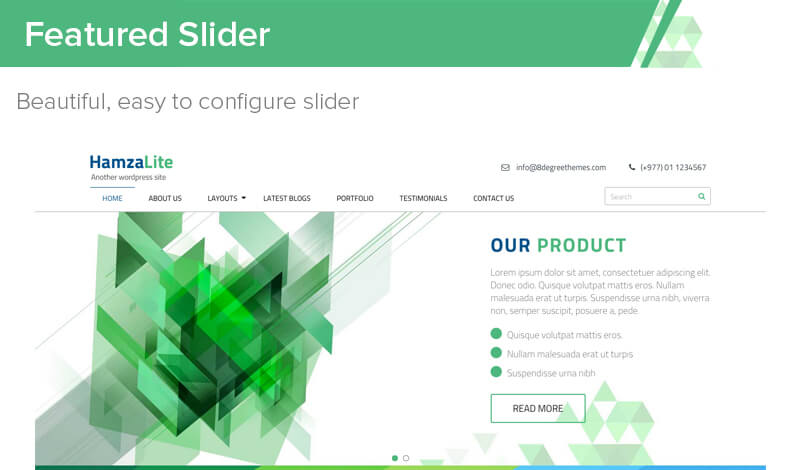 The theme has a featured slider option to enable you to set beautiful and easy-to-configure sliders on your website. You can set amazing sliders on your website in a few clicks. Get your important and interesting stories featured on the website.
Sidebar options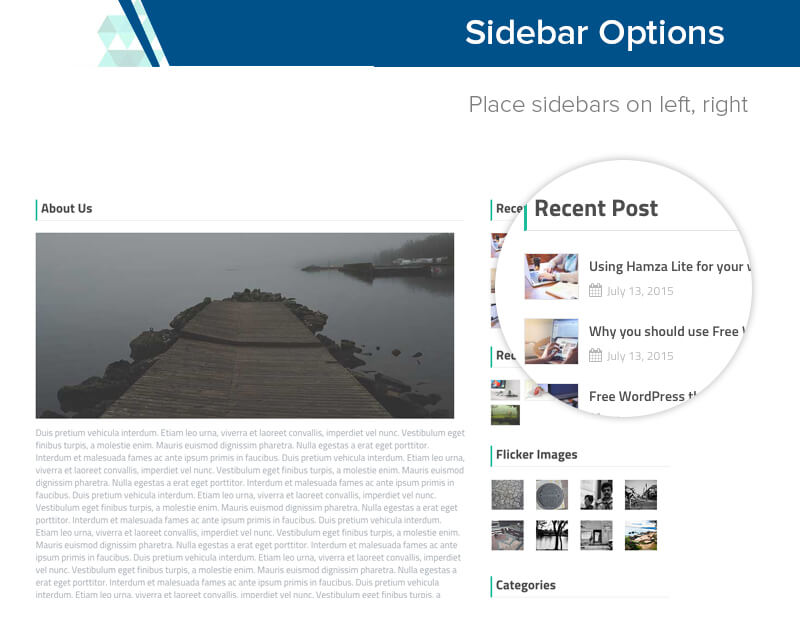 The theme has flexible configuration options. You can place the sidebar on the left or right as you wish. Let your visitors know the latest buzz, images, categories, and all the vital events on your website through sidebars.
Custom logo/ favicon option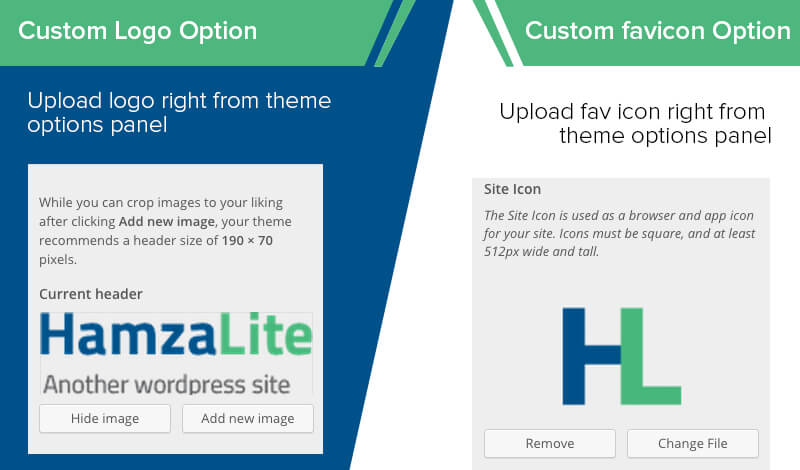 The theme gives you an easy space for customizing your website logo/ favicon. It is no longer a time-consuming and difficult task to change the default logo/ favicon. You can replace the existing logo/ favicon with your own simply with a few clicks.
SEO friendly and Translation ready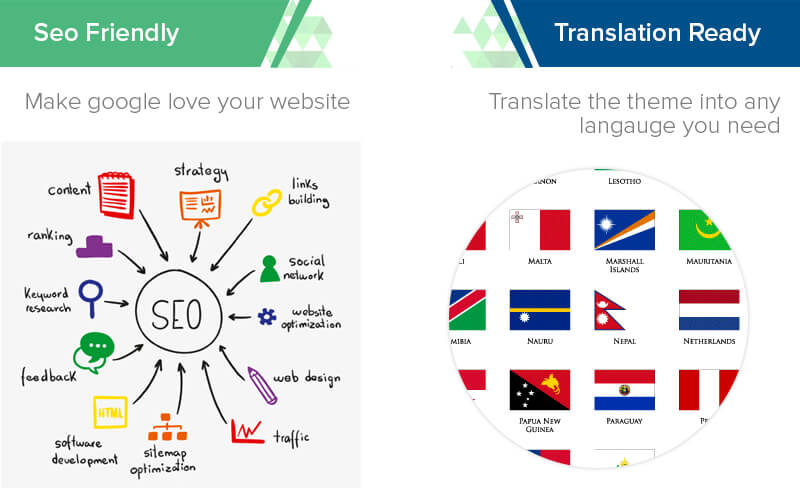 As mentioned in the beginning, search engines are vital in any business today. Search engine ranks do matter a lot. So, you must make sure that your website is visible and interesting to search engines. The theme has used SEO-friendly URLs to optimize your website automatically for search engines. It is also translation-ready; use it in any language you want.
WooCommerce compatible and RTL support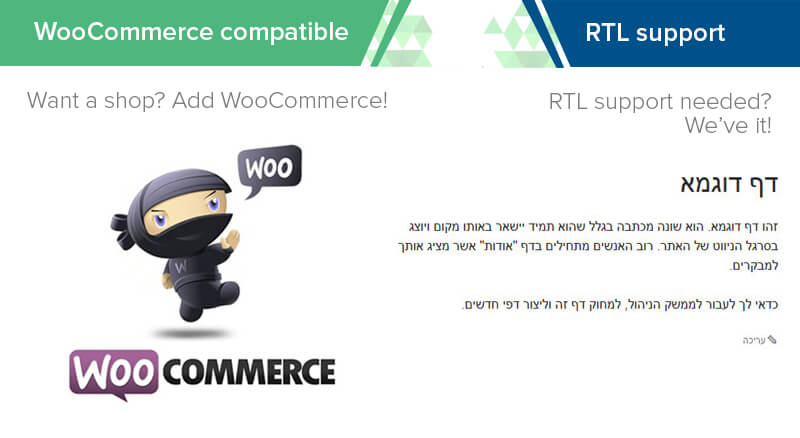 Do you want to make your website look like a shop? If yes, it is probably a better option. It has fine WooCommerce compatibility. In addition to that, it has RTL support.
Portfolio layout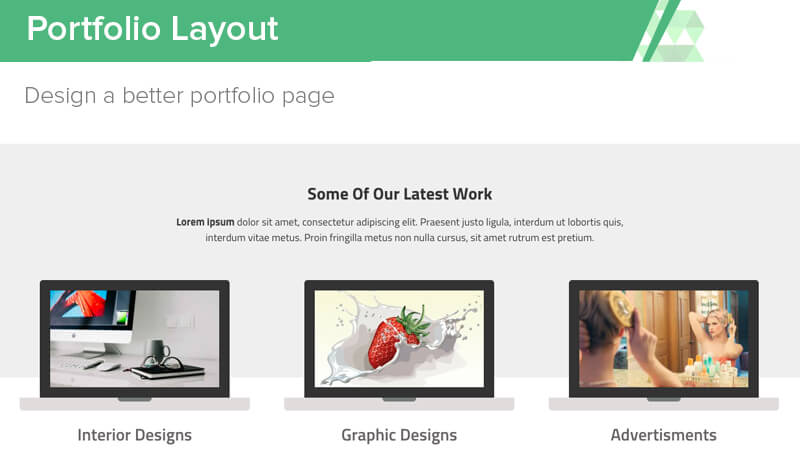 Testimonial layout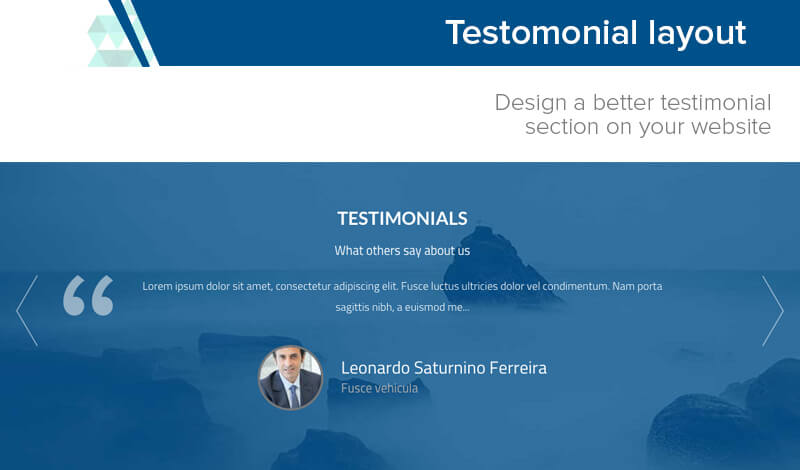 Blog Layout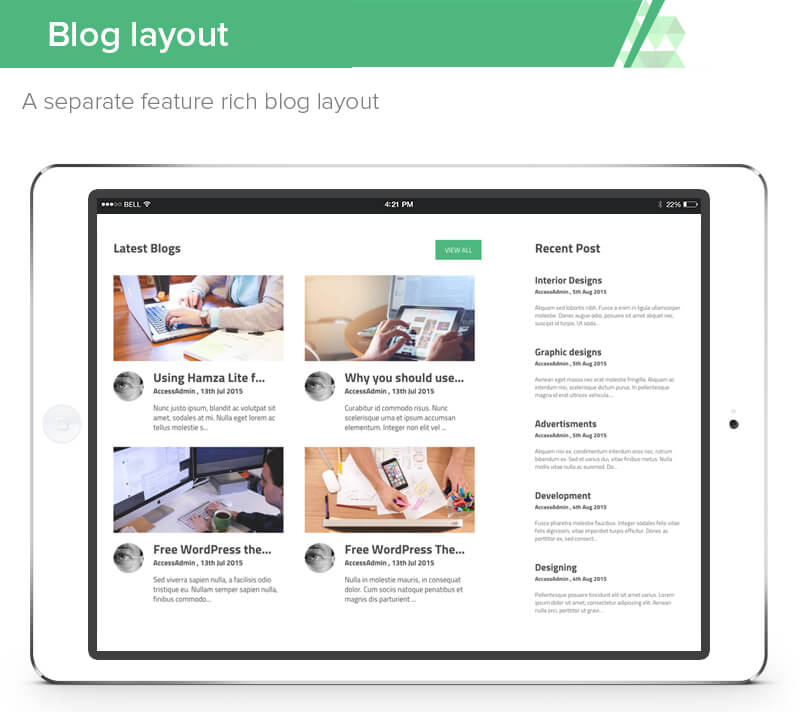 Call to action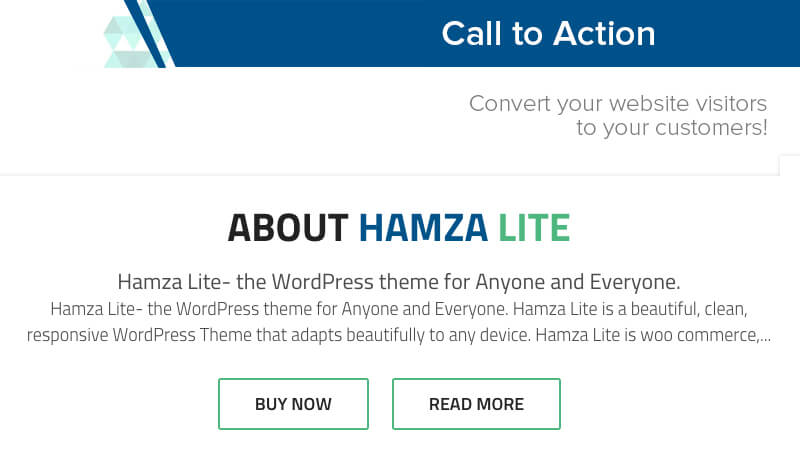 Dedicated forum & online chat support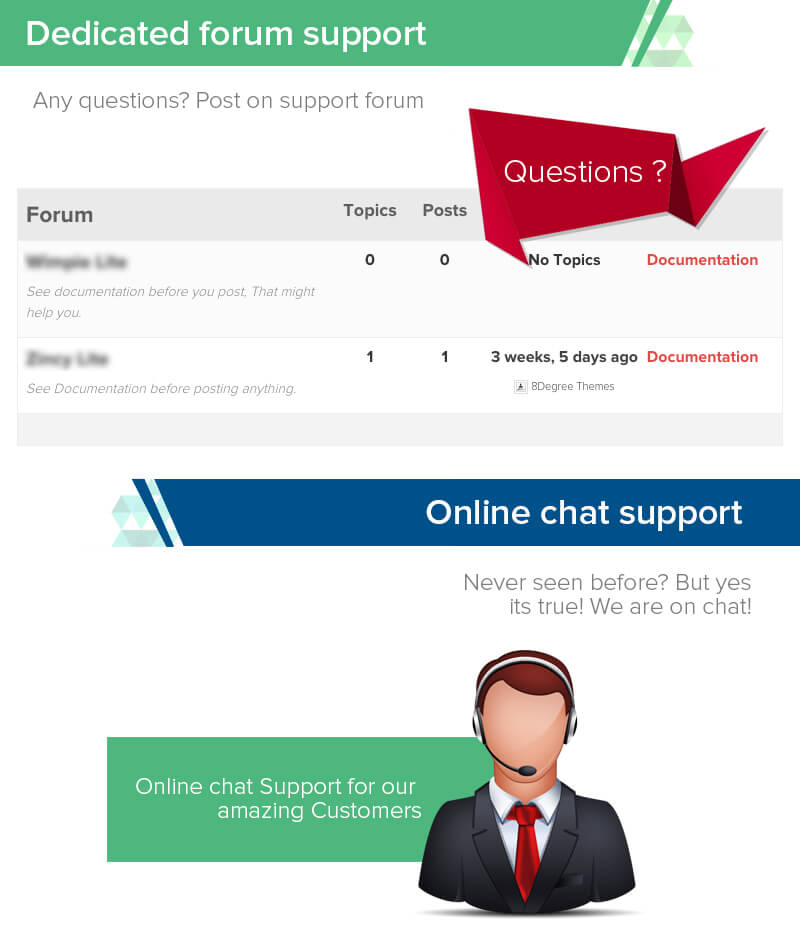 A complete theme for free and amazing support after use! What else are you looking for? It's really interesting.
Download today! Let me know how it is working! I would love to hear from you!
Also, you might want to check out,