10+ Best One Page Templates of 2023
Do you want to get one of the best one-page templates for your WordPress website? In this article, we have mentioned the collection of 10+ best one-page templates that are perfect for setting up minimal and modern websites.
One-page Webflow templates provide an awesome package where all the information about a particular product is displayed on a single page. This makes it easier for buyers, customers, and visitors as you don't need to move back and forth to find out information.
One-page sites enable boosting the engagement of the website by consolidating the information in just a source. Have full control over the information you want to display and the proper order for it.
Moreover, all the templates mentioned in this article incorporate animation, parallax scrolling, engaging design elements, blocks for content, and image sliders. These simple one-page website templates can help kickstart your new project. So, what are you waiting for? Without wasting any time let's get started!
Best One-Page Templates
The most important thing that we need to understand is that with the right single-page website templates you can implement plenty of styles and features to keep visitors scrolling. But to find out the best template might be confusing as every owner claims their product to be the best one.
To make it easier for you, let's take a look at our experts' pick of the best one-page templates to build an amazing single-page website.
Don't just go after the rating and reviews, make sure to check out the features and choose a template that meets your needs the most.
1. Toptech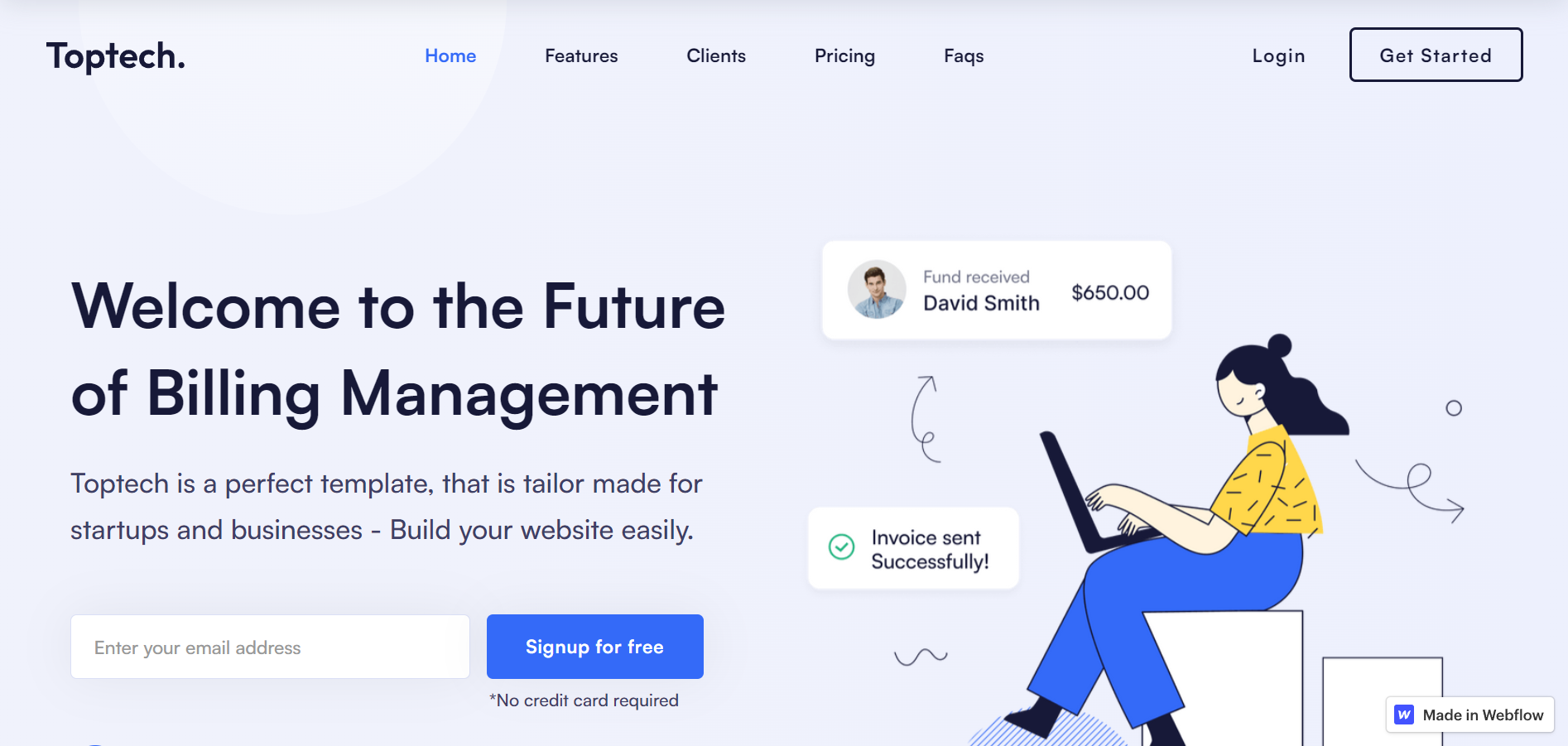 Toptech is one of the best Page Templates that are suitable for almost every modern tech brand including individuals to organizations. You don't need to worry even if you're a beginner as you don't need any coding knowledge while using this template. This template offers retina-ready images, robust designs and functionalities, enriched features, and many more majestic experiences. Moreover, its support team is friendly and professional and usually goes out of its way to help you.
Major Features of Toptech: 
Easy Navigation

Responsive Design

Option to Customize Visual Interface Too

Outstanding Ratings

Includes Invoice Template System

Compatible with All Major Web Browsers

Amazing Security

Provides Frequent New Updates
---
2. Seofy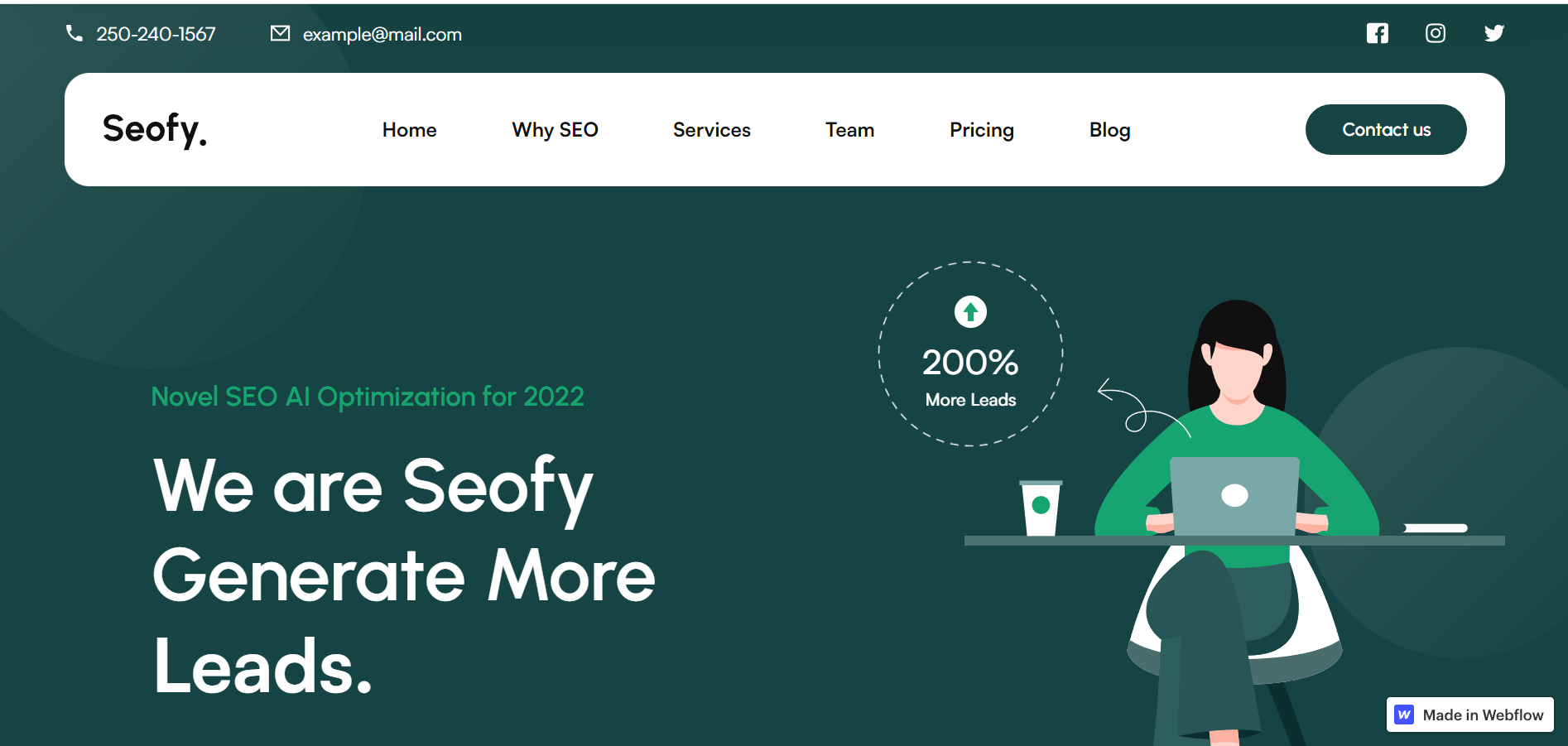 Seofy is one of the best Page Templates that is fully responsive, modern, and has a very clean design. The professional support team of this template will make sure to guide you through your every problem. This template can be considered an affordable and customized SEO solution for almost every user. It is insanely flexible and amazingly easy to use. Its SEO-friendly nature will help you to rank at the top of different search engines. 
Major Features of Seofy: 
Beautifully Crafted and Tailored

Amazingly Designed Contact Form

Super Responsive in All Devices

Amazing Customization Options

Sharp and Vivid Images

Stylish and Elegant Design

Responsive Navigation

24/7 Support
---
3. Archo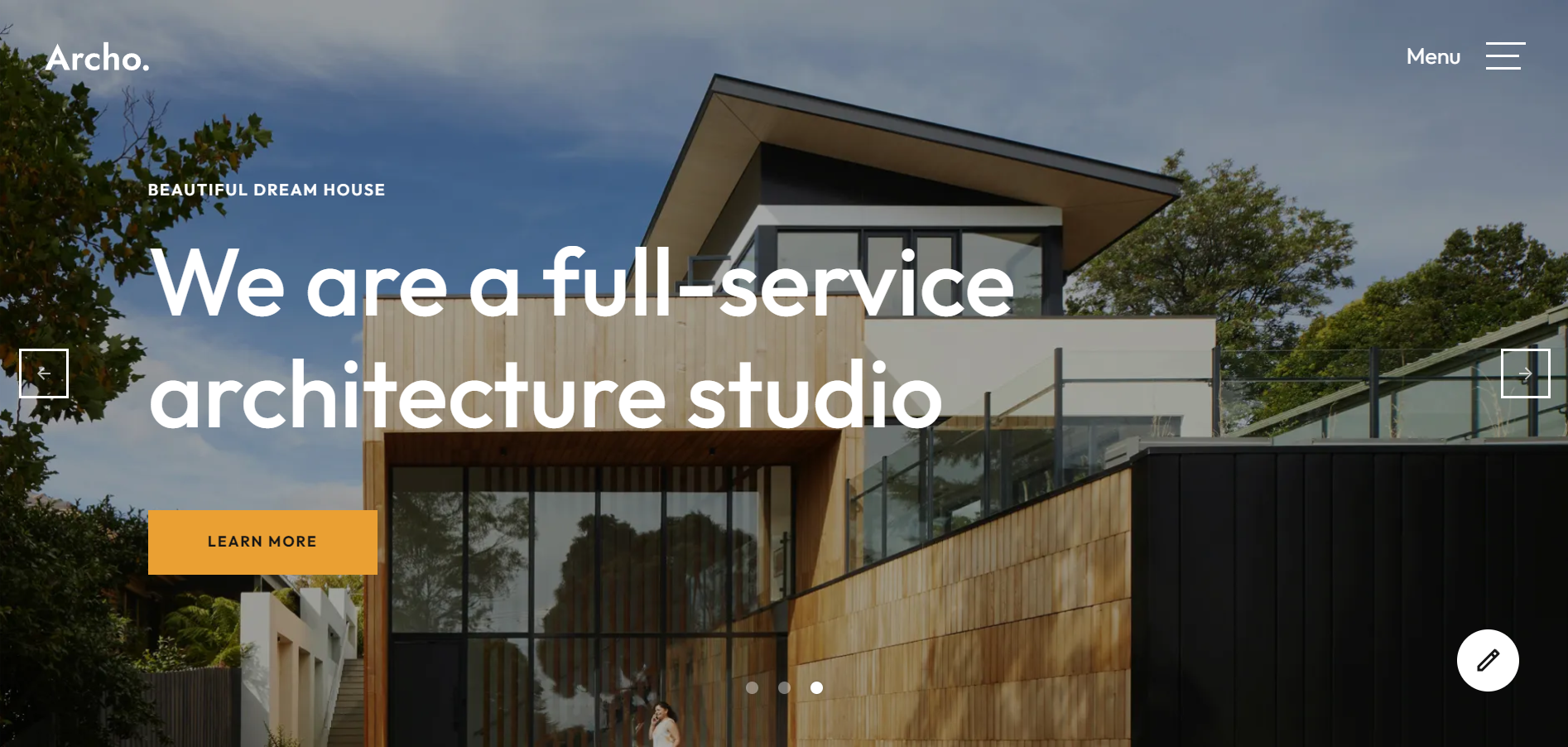 Archo is one of the best One Page templates by VIK Studio that enables its users to build attractive and minimalistic business websites in no time. The SEO-friendly nature of this template will help you rank at the top of different search engines and stand out among your competitors. Moreover, it has a strong focus on usability, typography, and overall user experience. As this Webflow Template uses Webflow CMS, you can easily add or edit blog posts, update projects, & more using the Webflow editor. Its template is built using the latest Webflow features and functionalities. Its responsive template will make your website look amazing across devices of all sizes. 
Major Features of Archo: 
Fully Responsive Template

100% Customizable

CSS Grid

Supports Background Video

Custom 404 Page

Web Fonts

Competent Design

Clean Code

Fully SEO Optimized
---
4. FinBiz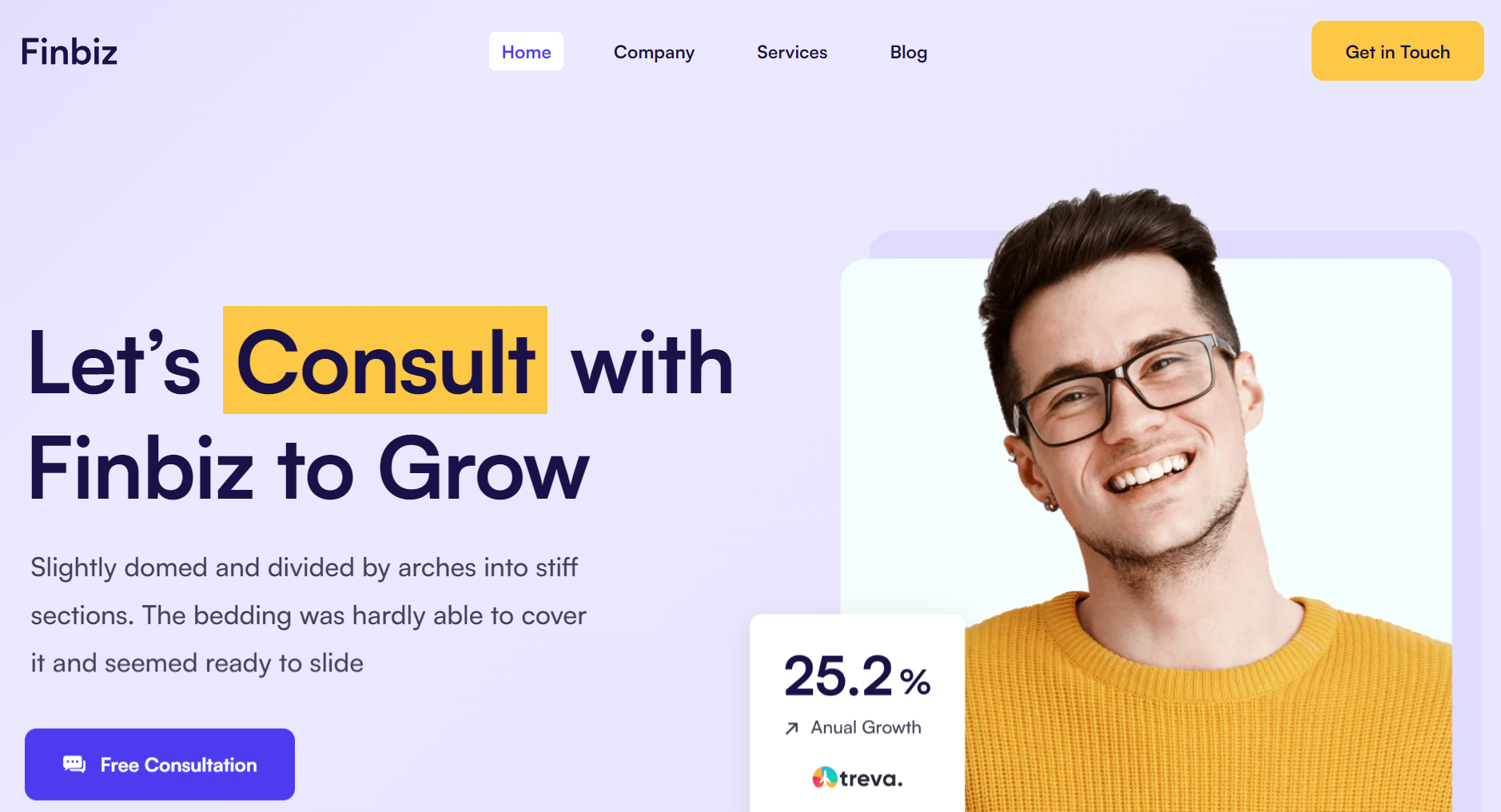 FinBiz is one of the best templates for One Page available on the web. This template is suitable for both WordPress beginners and professionals due to its no coding requirements. The layout is clean and easy to navigate, so your visitors can find what they are looking for, and the color scheme is subtle and professional so that it will instill trust in your visitors. This template will make sure to showcase your entire business most professionally and completely as possible which will help you build an everlasting client base impression. 
Major Features of FinBiz:
Responsible Slider

Premium Designs

Speed Optimized

Seamless Animation

404 Page

SEO Friendly

Highly Customizable

Media Lightbox

Webflow CMS
---
5. Bizz 
Bizz is a unique one-page template for business professionals. This template is fresh, classic, and minimalistic and will help you to give an outstanding look to your brand's website. It is created to be versatile for business professionals, real estate agencies, travel consultancy, and education businesses. The template is designed considering conversion, performance, and flexibility in mind. It has all the necessary components that you need to increase the overall performance as well as the components to enhance your business your way.
Major Features of Bizz: 
Seamless Interaction

Upto Date and Updated

Amazingly Responsive

100% Customizable

Perfect SEO Optimization

Unique Design

Elegant Image and Text Display

Reusable Elements 

Responsive Navigation
---
6. RocketUp 
RocketUp is one of the most amazing one-page Webflow templates. This fantastic template will help you to elevate your online presence and stand out among the competitors. It provides you with almost everything you need to showcase your pricing information, benefits, features, customer reviews, hosting plans, and much more. The template has included pre-built pages for About Us, Careers, Privacy Policy, Clients, and Testimonials sections. It includes all the necessary elements to share a significant piece of information with visitors. You can tailor the template to fit your brand, website, and business needs using a lightweight and completely customizable design.
Major Features of RocketUp: 
Custom 404 Page

Pre-built Pages

Offers Appealing Testimonials

Google's Web Font Collection

Style Guide

Power Packed With Amazing Features

Clean and Intuitive Design

Fully Customizable

SEO Friendly
---
7. Guardian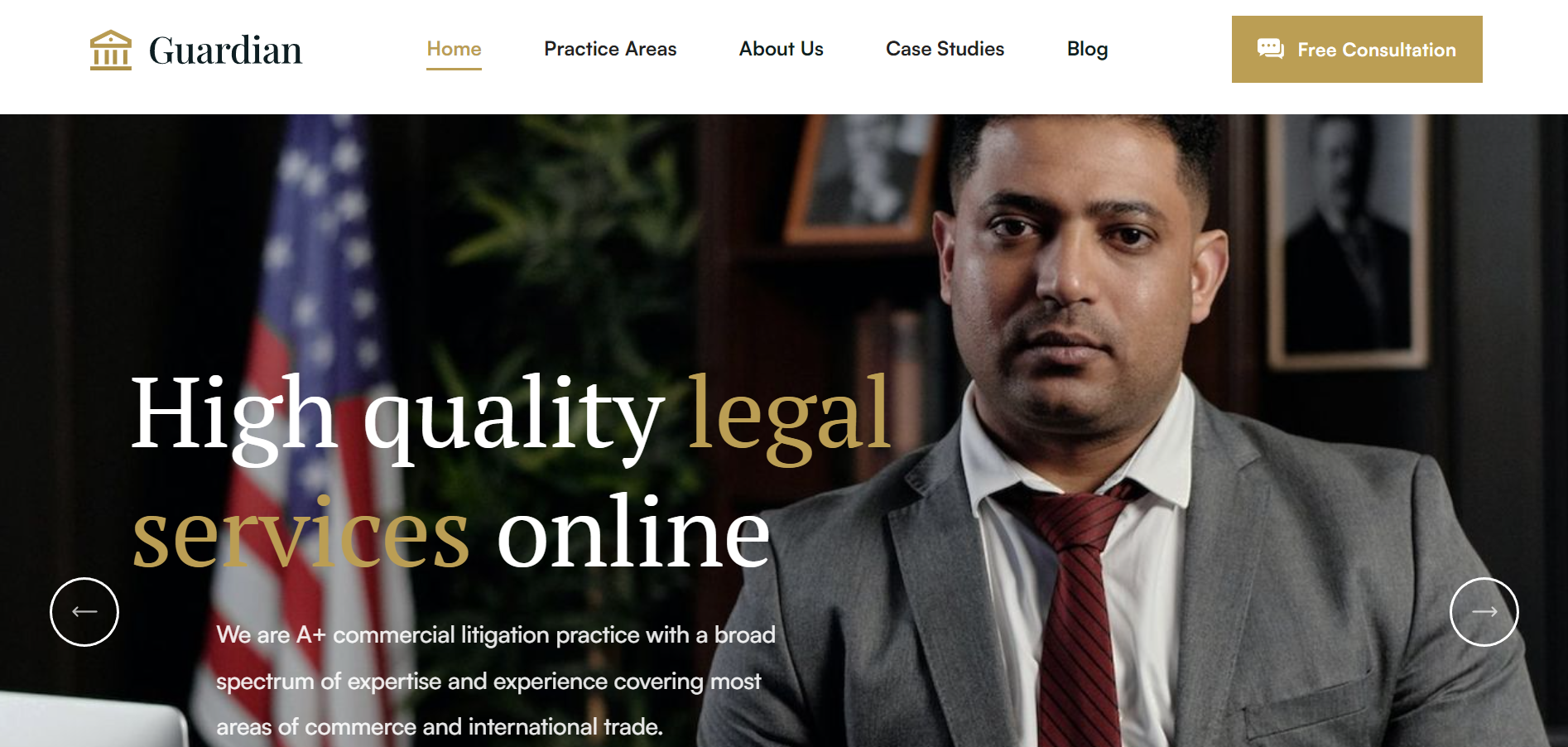 Guardian is one of the best one-page templates that is built and designed to fit the needs of users to meet the current world trend. This template offers keyword optimization, mobile responsiveness, and a blazing-fast loading speed. You can also publish different elements like Q&A, updates, practice areas, news, updates, and much more. All the graphics of this template are optimized for devices with high DPI screens.  It offers a clean and intuitive design that will make your website look professional, complete, and amazing across devices of all shapes and sizes.
Major Feature of Guardian: 
Mobile friendly menus

Display perfectly on all device

Customizable built-in database 

Beautiful forms

Reusable elements

Responsive layout

Custom design for 404 page

Easy customization options

High-quality codes
---
8. Innovate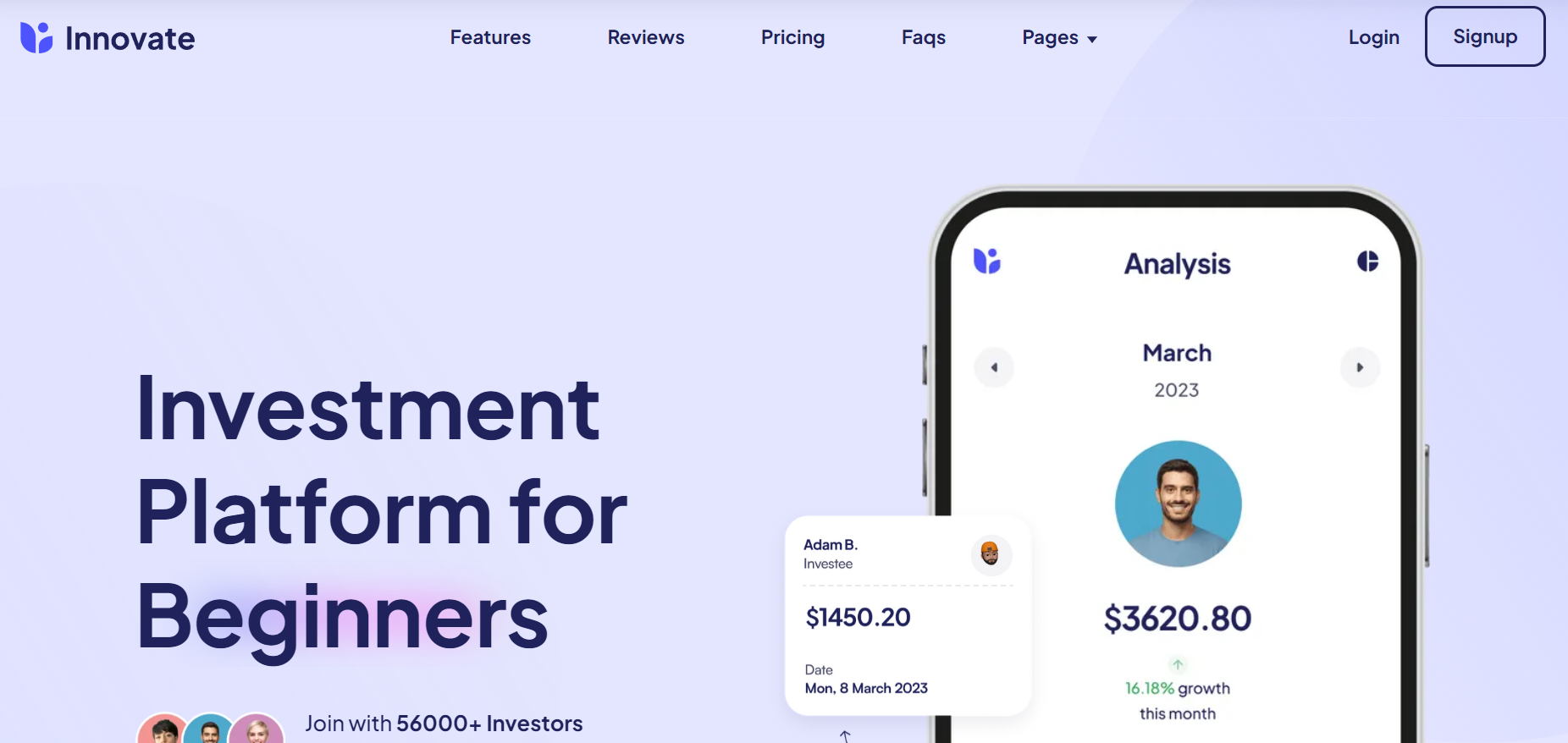 Innovate is one of the most stunning one-page templates designed for both beginners and professionals. This template offers different elements on the homepage that will help you stand out from your competitors. It offers a beautiful, clean, minimal design that is pleasant to the eye. Innovate template has everything from an app idea to an investment plan that implements ideas to give your platform reach. Also, it offers elegant homepages, reviews and faqs, pre-designed pages, contact forms, and more. It has beautiful review pages with beautiful fonts. 
Major Features of Innovate:
Media lightbox

Site navigation

Reusable elements

Beautiful forms

Animations and interactions 

Background videos

Mobile friendly

Responsive design

Easy customization

Beautiful blog page
---
9. Consultex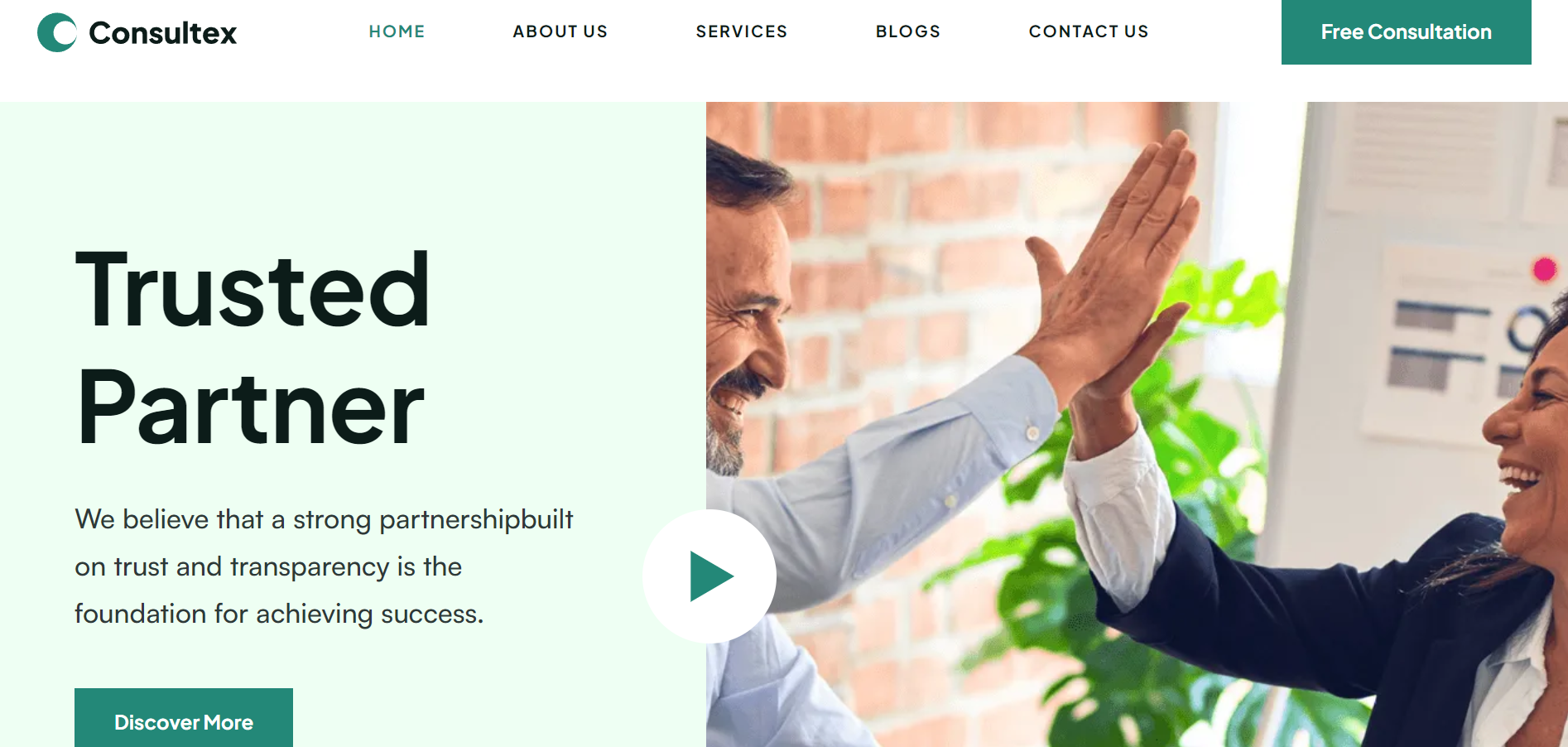 Consultex is one of the best one-page templates. It is perfectly designed and developed to create a lasting online presence. The theme offers a clean and intuitive design to visual and offers a user-friendly layout. It is responsive on mobile as well as desktop. Its flexibility lets you easily modify and personalize the content and appearance of your law website without requiring extensive technical knowledge. You can publish elements like Q&A with consulting experts, the best scholarships available, training course descriptions, and more.
Major Features of Consultex: 
Graphics optimized for all devices

Amazing Google's web font collection

Provides background video options

Media lightbox

Responsive navigation

Content management system

SEO friendly

Custom design for 404 page

Responsive layout
---
10. Plots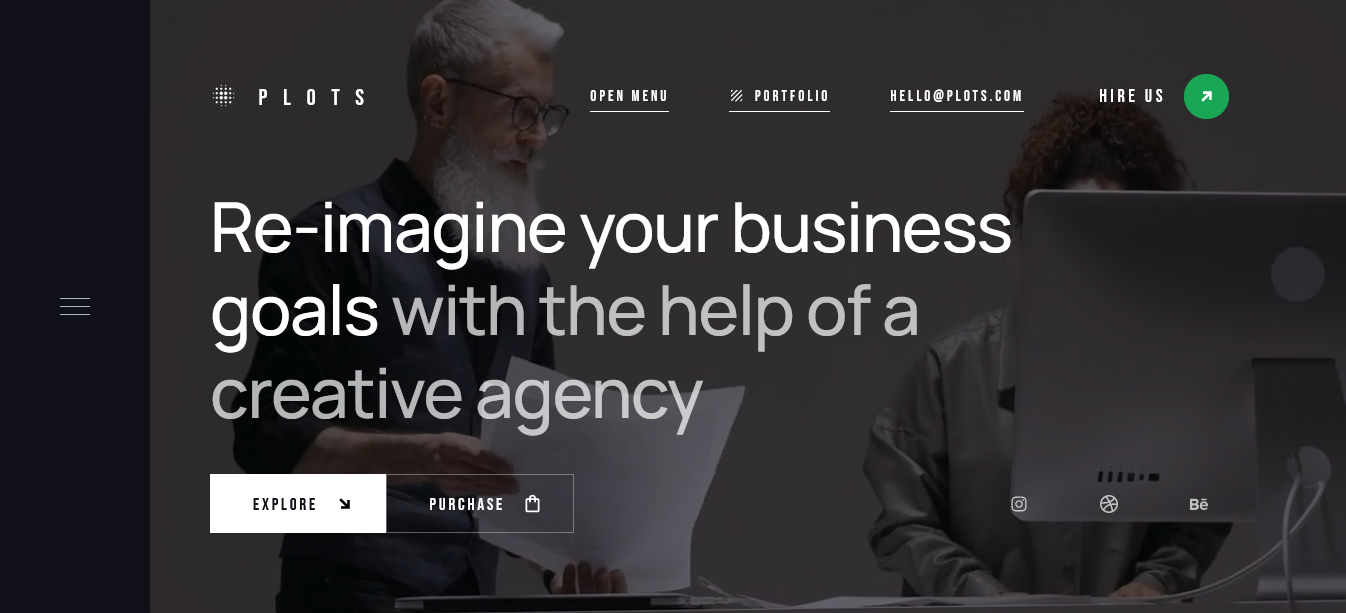 Plot is an amazing one-page template that provides its users with numerous animations and reusable custom interactions. Its manageable portfolio, solutions, services, and enriched features make it more suitable for both the users and the clients. This template provides you with 30+ static and CMS pages, modern & creative web design, setup CMS collection, UI kit, forms, newsletter, and much more. Moreover, this template is also suitable for agency websites due to its usage.
Major Features of Plots:
Custom Aside Animated Menu
Micro Animations
Well-organized Images
Amazing Footers
Webflow Certified Expert
Fully Responsive
Creative Web Design
CMS Pages
Interactions
---
11. Parallax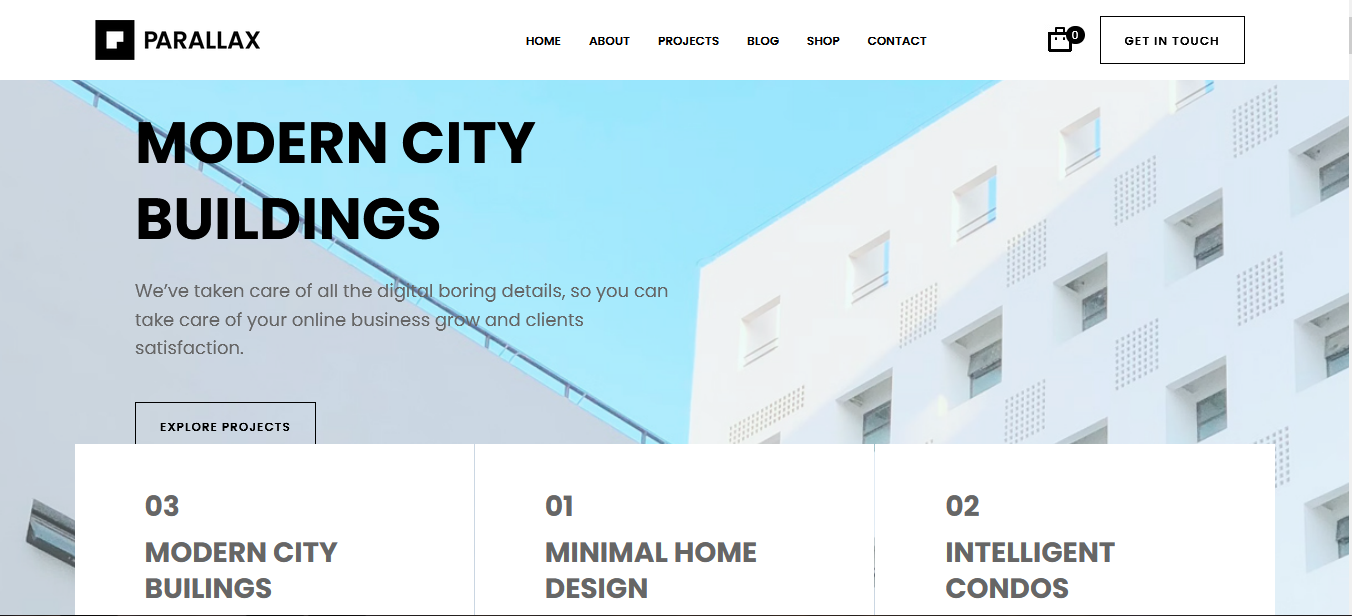 Parallax is a simple one-page website template built for professional architect and interior design websites. It includes already-made components that can be used as a foundation for another website. As this template is easy to use and flexible you can build a stunning website within a couple of minutes. If you have any kind of confusion while using the template you can reach out to the support team for further guidance.
Major Features of Parallax: 
CSS Grid
3D Transforms
Media Lightbox
Responsive Design
Web Fonts
Symbols
Content Management System
Ecommerce
Responsive Navigation
---
12. Bryant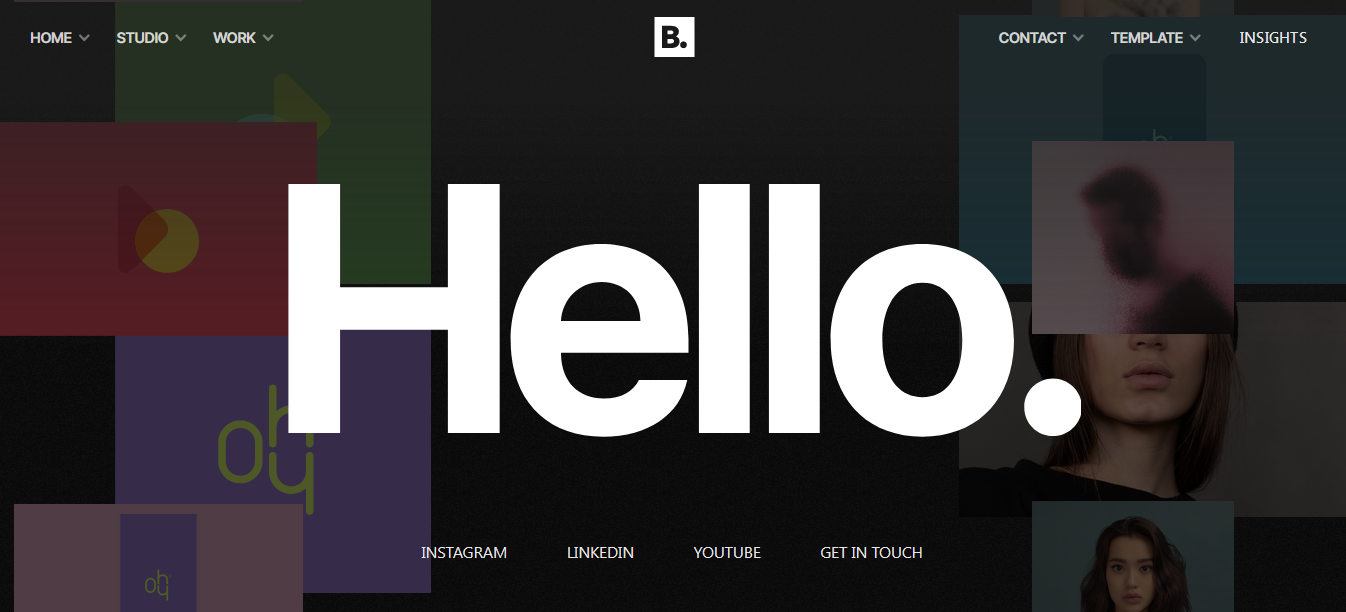 Bryant is one of the boldest, most elegant, and most attractive one-page websites that is designed with attention to detail, flexibility, and performance. It has over 15 different combinations that use modular sections to build everything that you need for your site. This template enables the users to combine design with powerful interactions to wow their audience and highlight the main features of your digital product. You can get your visitors amazed with stunning animations that trigger when the pages load.
Major Features of Bryant: 
Rich Animations
Fully Customizable
Design Options Galore
Simple to Use
Prompt Support
Stylish Typography
Clean and Modern Design
Global Elements
Save Time
---
13. Jane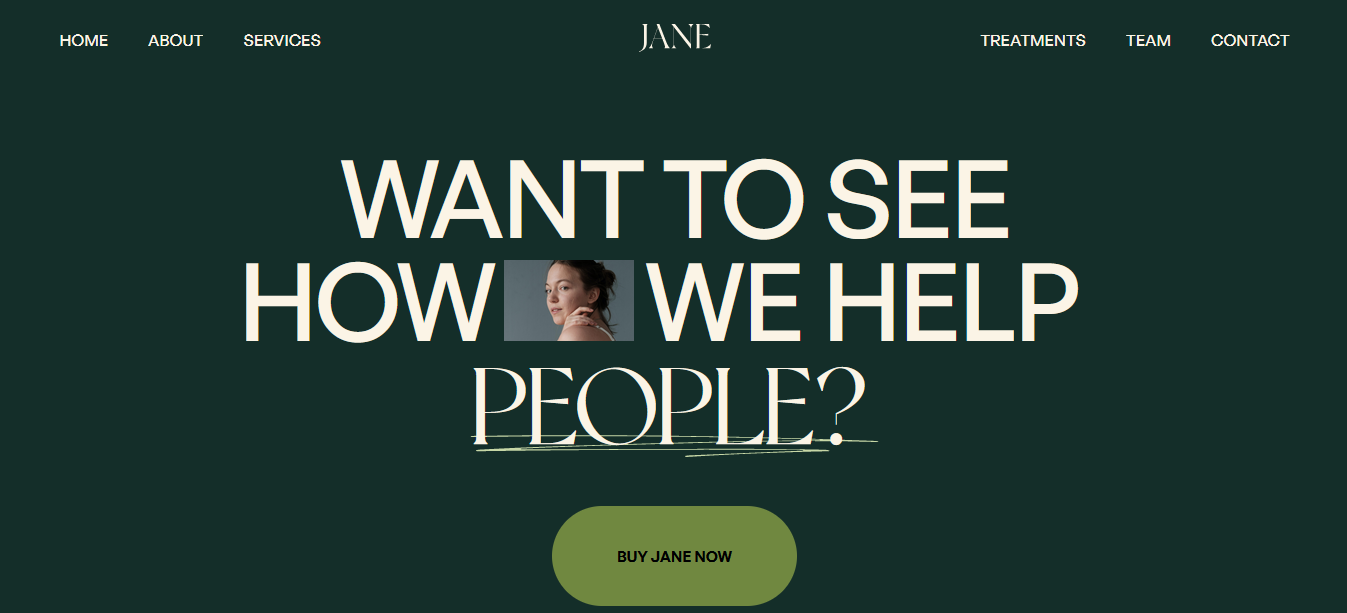 Jane is a stylish and easy-to-use single-page website template that is ideal for wellness and mental health businesses. You can take advantage of rich animations and interactions to make your portfolio unique. The template is designed to help you stand out from the crowd. It is premium, exclusive, and far from the current visual design boring state, providing you with an elegant and sophisticated template that displays all the best features with a unique design approach.
Major Features of Jane:
Simple To Use
Saves Time
Prompt Support
Stylish Typography
Fully Customizable
Design Options Galore
Clean and Modern Design
Global Elements and Styles
Rich Animations and Interactions
15+ Landing Pages
Grid and Wide Layouts
---
14. Epic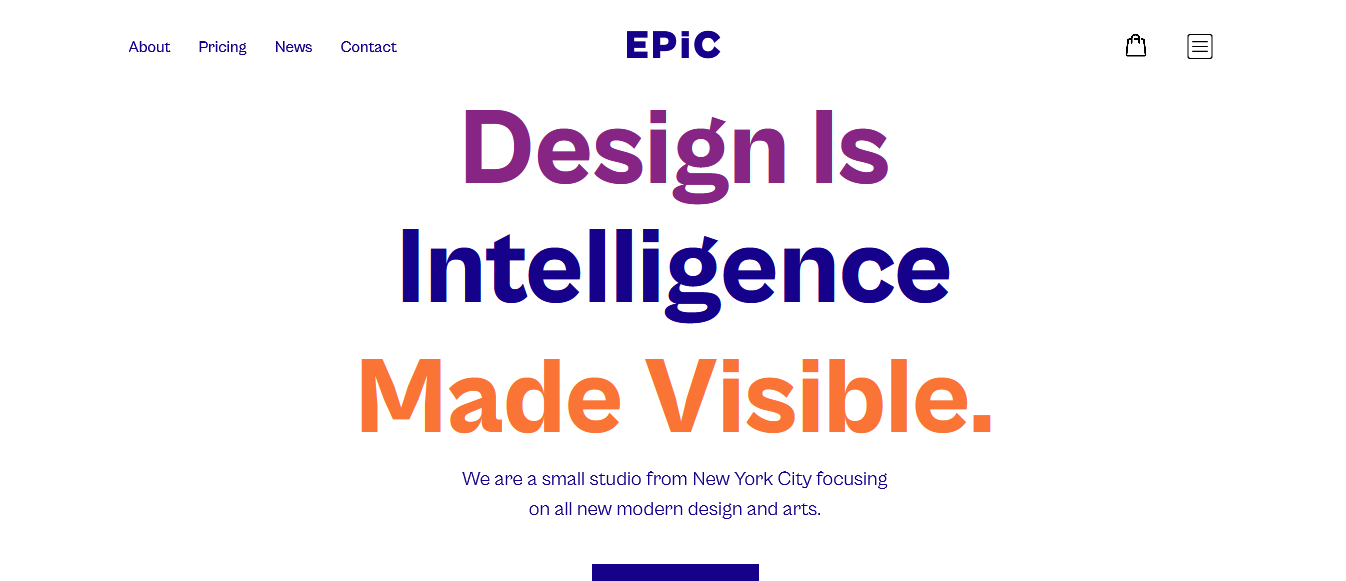 Epic is a modern and responsive one-page template built for modern creative website agencies, portfolios, graphic designers, and UX/UX artists. The template allows you to display all your art and creations in a truly modern manner. It comes with pre-made components that can be used as the foundation for your website. With Epic, you can build stunning websites in minutes. The templates are built using great code i.e. you can customize your website using a visual interface.
Major Features of Epic:
100% Customizable
Usage Rights
Fast and Friendly Support
Free Template Updates
Retina Supported
Fully Responsive Design
Simple and User-Friendly
Background Video
Interactions
---
15. Red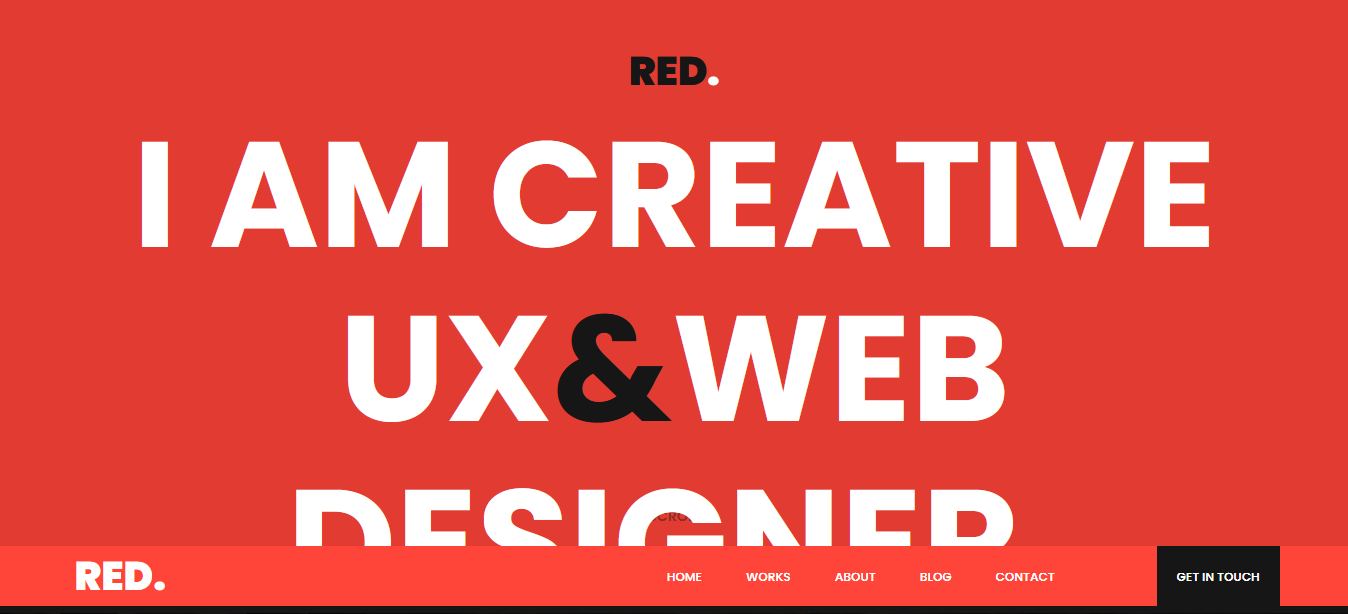 Red is a beautiful responsive one-page template that compiles your unique creative portfolio the easy way. The template is developed and designed for any modern web design company, UI/UX design portfolio, artist portfolio, graphic design company, and many more. It comes with pre-available elements that can be the starting point of your website. With the Red Portfolio website template, you can build a highly responsive stunning website in a few minutes. The template can be a perfect fit for your need for One Page Website.
Major Features of Red:
Responsive Design
Responsive Navigation
Responsive Slider
Interactions
Forms
Symbols
Web Fonts
Retina Ready
Content Management System
Free Updates
Friendly Support
---
16. Basca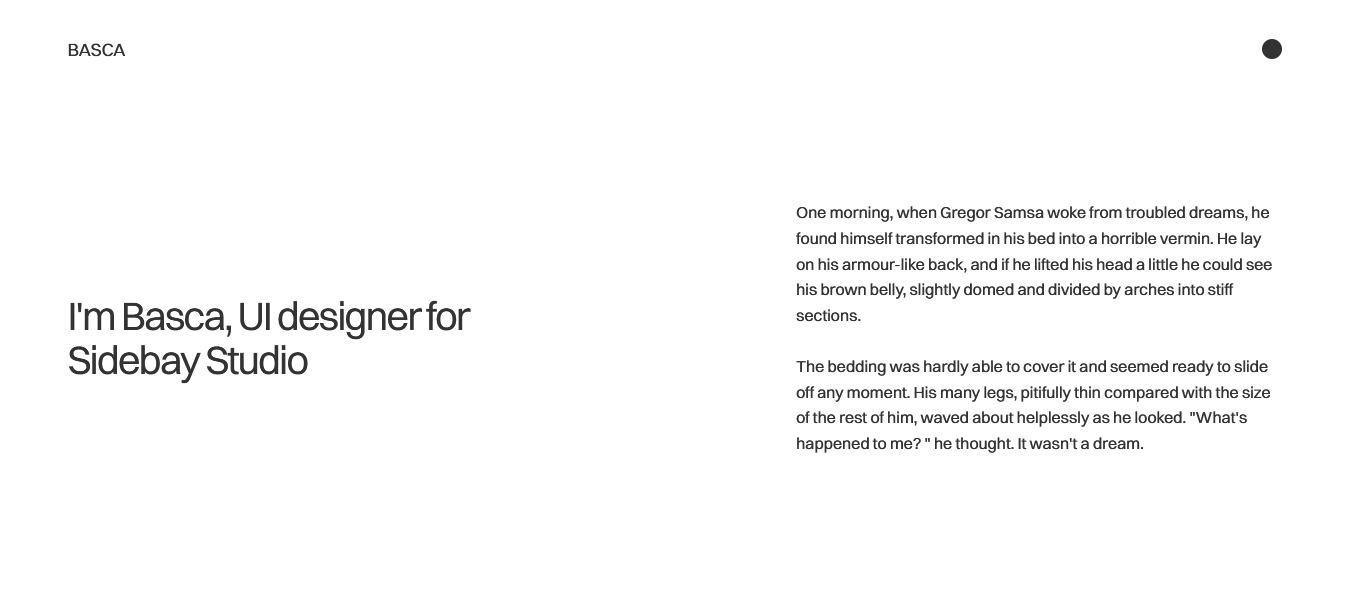 Basca is a simple Page Website template with a small dose of animation that makes your site unique. The template can be used for blog websites, or any agency/studio. The template is particularly available in night mode – simply test and see it. It is a beautiful one-page template with big and bold typography making it the basis for its creation. It is usable for all types of creative professions. Basca comes with simplicity and usability to keep it up to the web standards as long as possible. Its minimalist approach allows you to modify it easily. It is a fully responsive template providing smooth performance on any device.
Major Features of Basca:
Multipurpose Template
Minimal Design
Responsive Appearance
WebFlow CMS
Style Guide
Smooth Animations
Always Up-To-Date
Custom Support
Responsive Navigation
Retina Ready
---
17. GrooveBar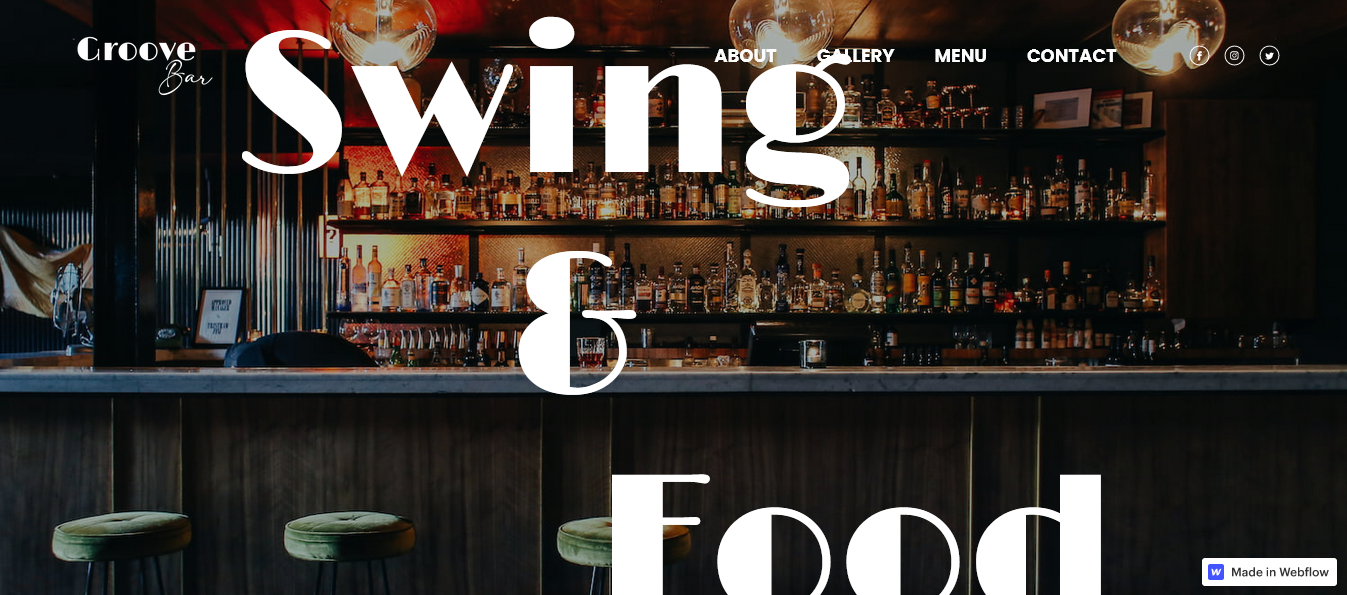 GrooveBar is a beautiful and stylish one-page template for clubs, bars, and any other events. The template allows you to share your club plans, events, and stories and customize them easily in Webflow. It is perfect for a music club/bar, restaurant, or any other small business. Further, GrooveBar comes with a responsive design and navigation to help you build your website with ease. The pre-available elements in the template can be used by customizing or as the same.
Major Features of GrooveBar:
Responsive Design
Responsive Navigation
Responsive Slider
Background Video
Interactions
Forms
Symbols
CSS Grid
Custom 404 Page
Web Fonts
Retina Ready
---
Wrapping Up
This is the end of our collection of 10+ Best One Page Templates. All these Webflow Website templates are highly responsive and offer great features and functionalities to run smoothly on the site.
It has been used by many other users to create a beautiful One-Page website that stands out. Get an idea about the kind of website you would like to build and select the template accordingly.
If you've used any of the templates mentioned in the list, do share your experience/thoughts in the comment section below. Also, let us know if we're missing any great templates on our list.
Also, Check-Out: