eCommerce website allows website owners to sell their digital products or physical goods and services without buyers visiting the physical stores. These days online storefronts or online marketplaces play significant roles in saving customer time and energy. 
These kinds of websites not only facilitate commercial transactions and other services but also involve the transmission of information online. In simple terms, an eCommerce website is a perfect website to promote products and services on the internet. 
The market needs to build an eCommerce website from scratch is important as customers enjoy these websites' ability to buy by-products and services directly from the business. 
We will get into step by step guide to creating an eCommerce website with WordPress, but before getting into the process, let's get familiar with the importance of an eCommerce Website in detail. 
Key Takeaways
eCommerce website is a kind of website that enable users to buy and sell different goods and services over the internet. The best facility of this website is that it lets users buy products online instead of visiting the store or market physically, which saves their time and effort.
To meet the current market needs and save the owners from all the trouble, developers have developed amazing eCommerce WordPress Themes that will let you create an amazing eCommerce website in no time. All you need to do is do the customizations and use the enriched features as per your requirements and you're ready to get started!
Significance of eCommerce Website 
If you don't have a clear idea about the pros of using an eCommerce website you don't need to worry. In this section of the tutorial, we will get familiar with five significant points that a website owner gains when he/she decides to add eCommerce to a website.
1. Earn Potential Income
eCommerce websites are always open for business. As a result, you can sell your products at 12:00 am or 12:00 pm. There will be no time barrier for both the seller and the buyer. An eCommerce website will attract all the audience who have odd work schedules. 
You don't need to manage employees to work on the night shift which will make your business have less expenditure on salaries. 
Not only that the availability of products at any time, will encourage customers to buy products anytime which will increase the sales rate of your business's products and services. 
2. Showcase your Best-Selling Products
The best part about eCommerce is that it will enable you to display best-seller products most easily. All you need to do is make some changes to the customization options to sway your audience to buy certain products online. 
Similar to the best-selling products you can also display your new products. Customers can have a clear picture of the products through this section which will eventually increase the happy and satisfied customers rate. 
3. Removes Geographical Barriers 
We must admit to the fact that physical stores have a Geographical barrier compared to WooCommerce UPS. Having an online store will eradicate your limited ability to sell products. eCommerce stores enable website owners to sell their products to the entire world. 
Customers can order and purchase products via smartphone applications or online advertisements. Sometimes it also saves you from a lot of traveling and the expenditure that comes with traveling. 
You can purchase products from the comfort of your own house using eCommerce websites. 
4. Several Payment Modes 
eCommerce websites permit different kinds of payment modes like UPI, card on delivery, cash on delivery, EMIs on debit and credit cards, net banking, and pay-later credit facility. 
Customers can choose the most favorable mode of payment and move forward accordingly. In this way, it will be convenient for the users to pay for their orders. Hence, eCommerce stores facilitate their audience with several payment modes. 
5. Easy to Start 
Creating and using an online store is much more convenient and easier. You can start creating an online store straight after signing up. 
The best part about an eCommerce website is that it enables you to provide affordable and super-fast services to your users. So, what are you waiting for? Get started instantly!
WordPress Products Used in the Tutorial 
Along with plenty of advantages, there are also some drawbacks to using eCommerce websites. To make sure that your customers don't have to go through the roller coaster ride, make sure that you use the right product!
To make sure that your eCommerce website will be perfect in the best way possible we will use two different products InstaWP – Lightning Fast WordPress Spin-up Tool and Exponent – Modern Multipurpose WordPress Theme.
We are sure you would like to get familiar with the product before using it. So, before getting started with the step-by-step guide to creating an eCommerce website let's get familiar with the products we will be using in this article: 
InstaWP is an amazing tool that will enable you to test your new WordPress idea. This tool helps you to quickly create a WordPress sandbox with amazing flexibility. 
It is created in such a way that it fits into a variety of use cases and accelerates the speed by 2x. Moreover, InstaWP is a perfect choice to create a new website to go live on any hosting platform. 
This tool auto-provision and auto-installs SSL certs for all sites. Also, it has in-built tools for view logs, automatic login, database editor, and code editor. As it can launch a website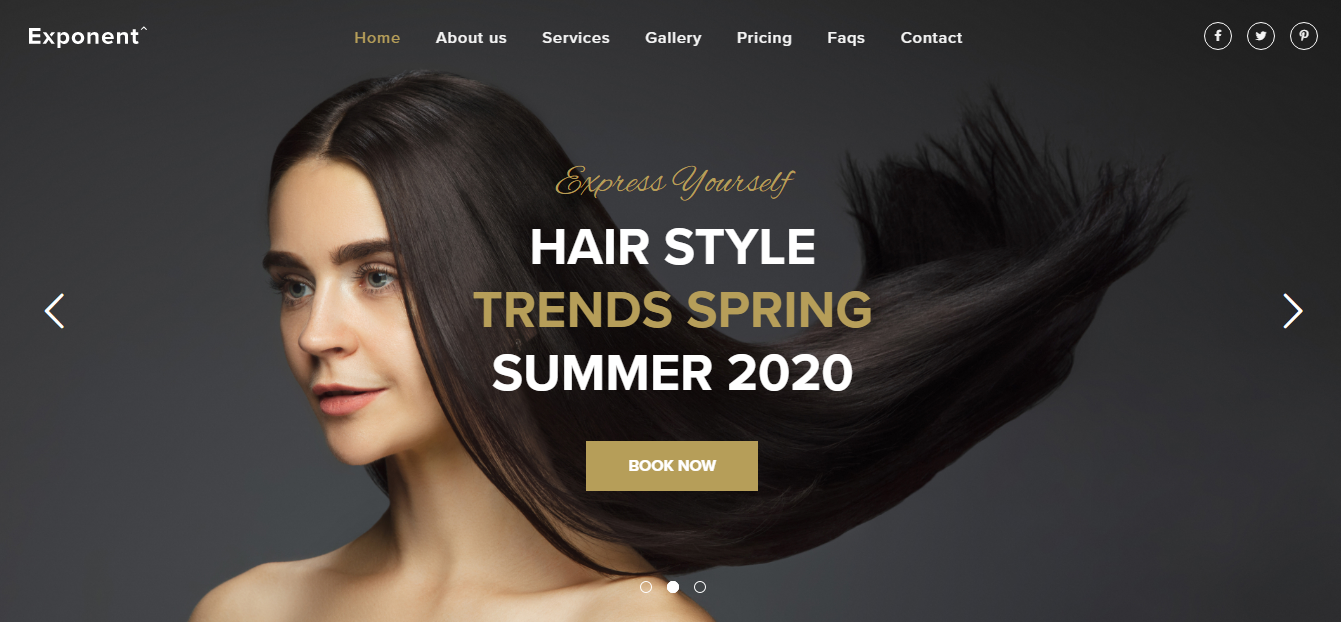 Exponent is one of the most creative and modern Multipurpose WordPress Themes that enables you to build a stunning high-performance eCommerce website. Moreover, it has an amazing visual interface. 
The theme comes with 26 premium pre-built demo websites. You can use it as a starting point for your eCommerce website. It has an intuitive fully visual header, footer, and page builder. Due to its simple setup and customization options, it is suitable for all kinds of WordPress users. 
Create a beautiful portfolio with unlimited grid possibilities. Choose your project grid variation from the unlimited options as per your requirements. 
Create an eCommerce Website with WordPress
As you already know the significance to add eCommerce to a website, make sure to go through this step-by-step eCommerce website tutorial to create an eCommerce website with WordPress. 
Step 1: Register to InstaWP
InstaWP enables its users to get a free account so they can use and analyze the best services provided by this product. 
Once you use the free service we are sure you will make a plan to switch to the premium service due to its awesome service. Let's get started with InstaWP:
First of all, visit the

InstaWP homepage

. 

If you have already created you can simply

log in

. If not make sure to

Register

first.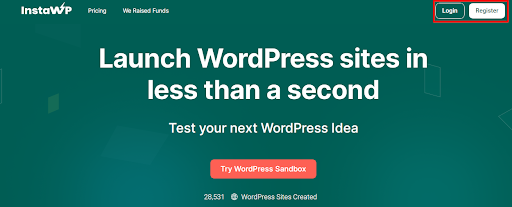 Make sure to enter your

Name, Email address,

and

Password

to Sign Up. Also, make sure to type the password one more time to

Confirm the Password

.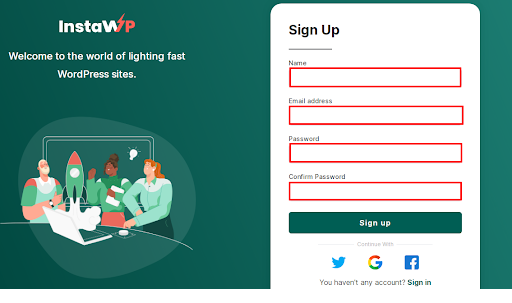 Then you will be asked to verify your email address as shown in the screenshot below.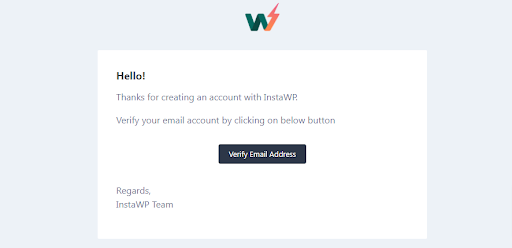 Step 2: Create a WordPress Site 
Now, you will land on the site's page. In order to create a WordPress website make sure to follow the following steps: 
Click on

Add New

button to create a New Site.

In order, to set up your new site

Choose the WP version

and the

PHP version

.

You don't need to choose your

Configuration

option as it has the

default

option. 

Keep your

site name

. You can also leave the option empty for the instant random site names. 

Lastly, choose the

Create Site

option at the end of the page.

If you want to use more enriched and additional features, go premium. In order to do that choose the

Reserved Site

button.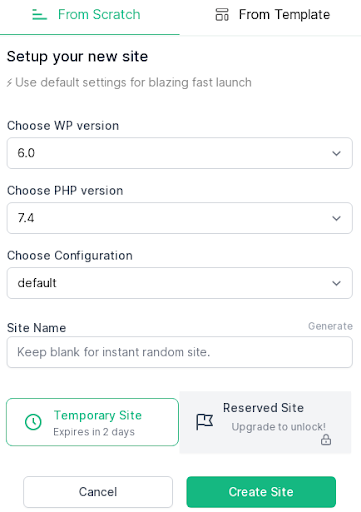 Now, click on

Access Now

button to visit the Dashboard of your WordPress website. 

Step 3: Purchase Exponent WordPress Theme 
In order to purchase Exponent WordPress Theme to create an eCommerce website, make sure to follow the following steps: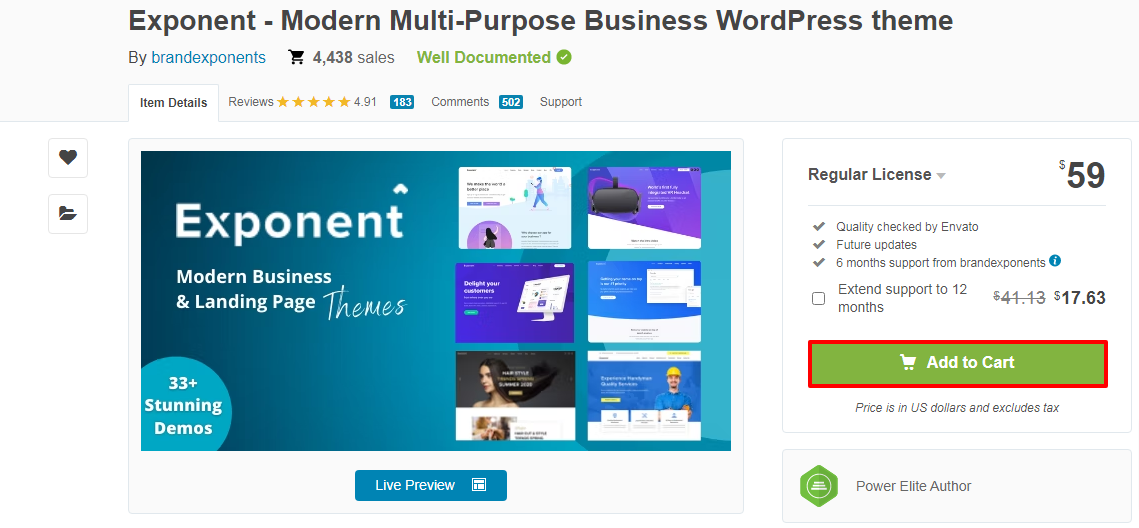 Now click on

Go to Checkout

button.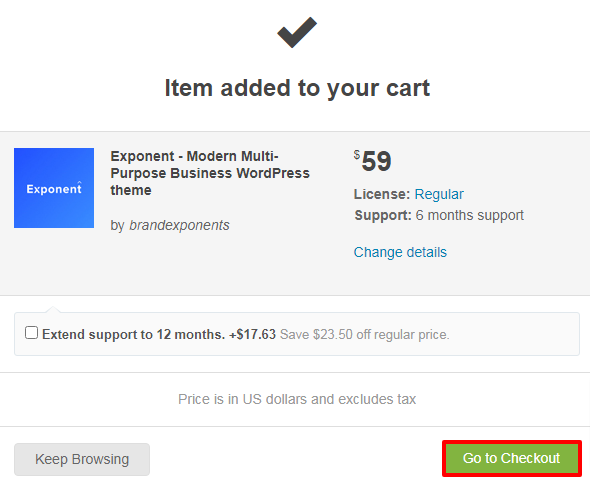 If you already have an account you can simply

Sign in

. 

If not you can continue with Google or Fill up the sections highlighted in red color as shown in the screenshot below.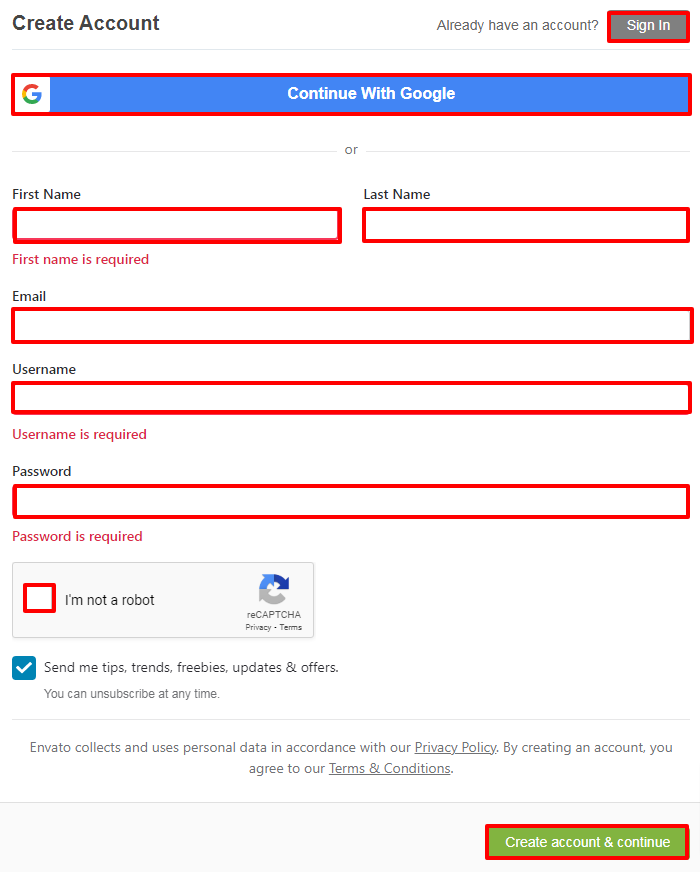 If you decide to

Continue with Google

, you will be provided with the following option.

Make sure to fill up all the necessary information.

Finally, click on

Save and continue

options.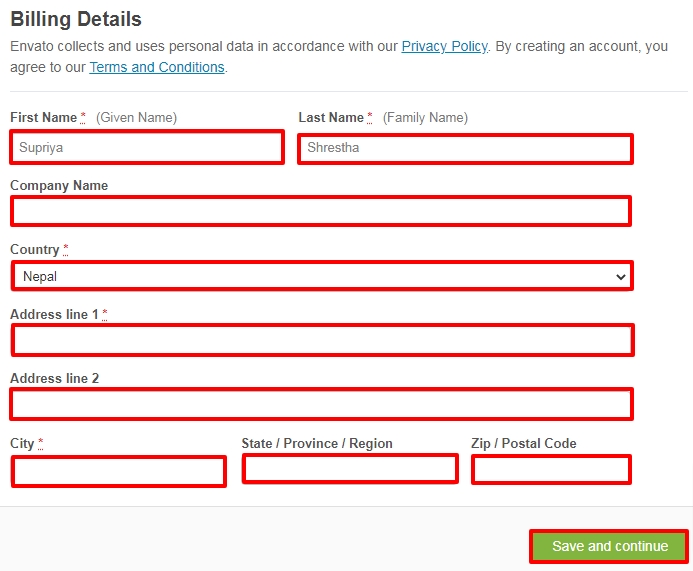 Now,

Select a Payment Method

at your own convenience.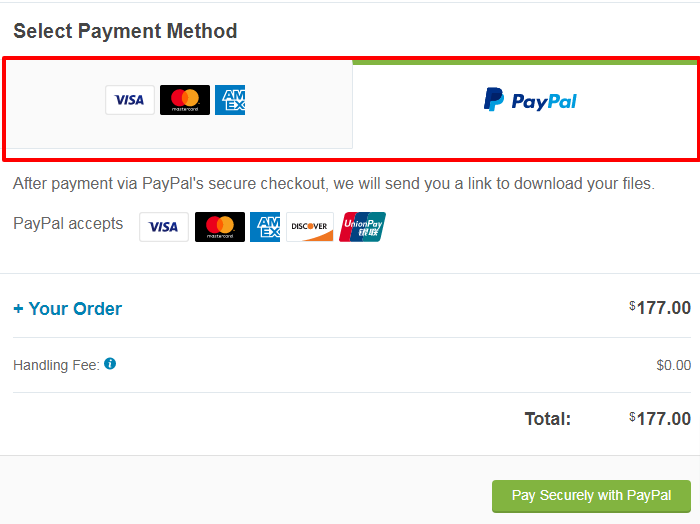 Finally, you will get a link to download your files. Make sure to

Download

the file. 
Step 4: Upload Exponent WordPress Theme 
Go to

Appearance>>Themes

option at the left sidebar of the page.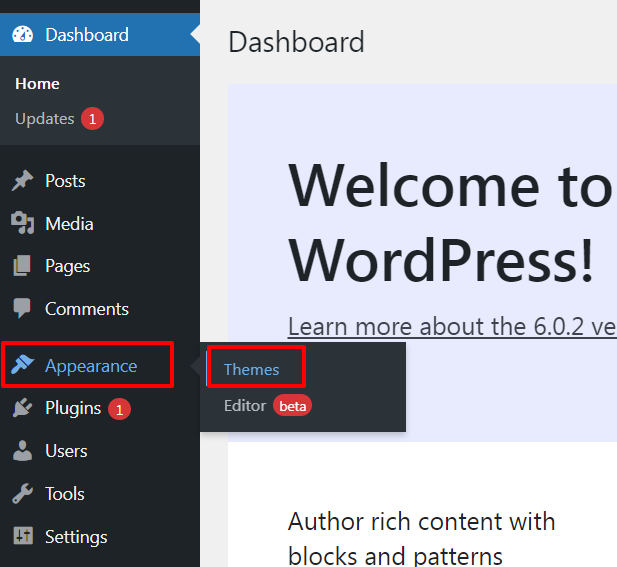 Click on

Add New

button at the top of the page.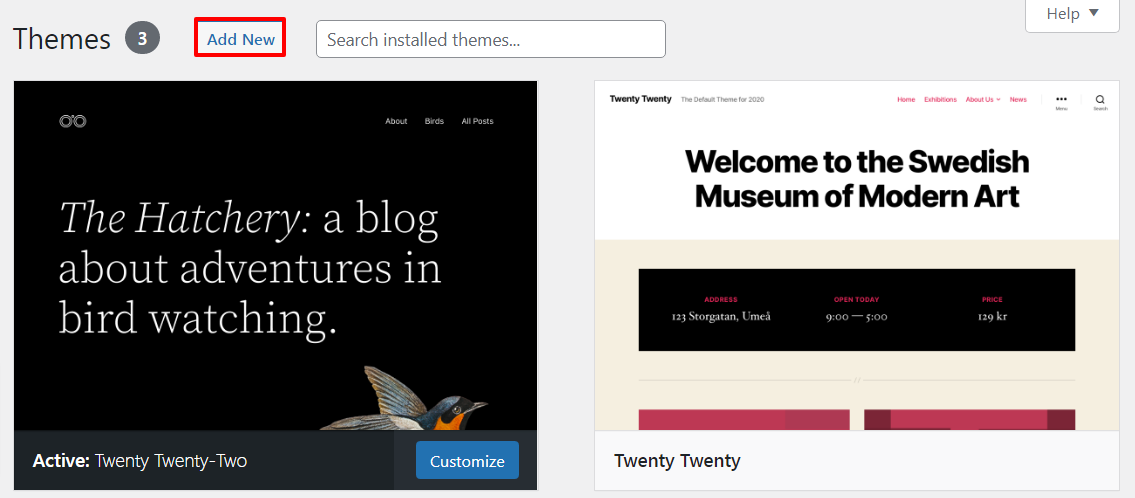 Then click on

Upload Theme

. 

Similarly, click on

Choose File

option. 

Select your respective theme file and click on

Install Now

button. 

Click on

Activate

button. 

Make sure to add your

Theme purchase code

. 

Lastly, click on the

Submit

button.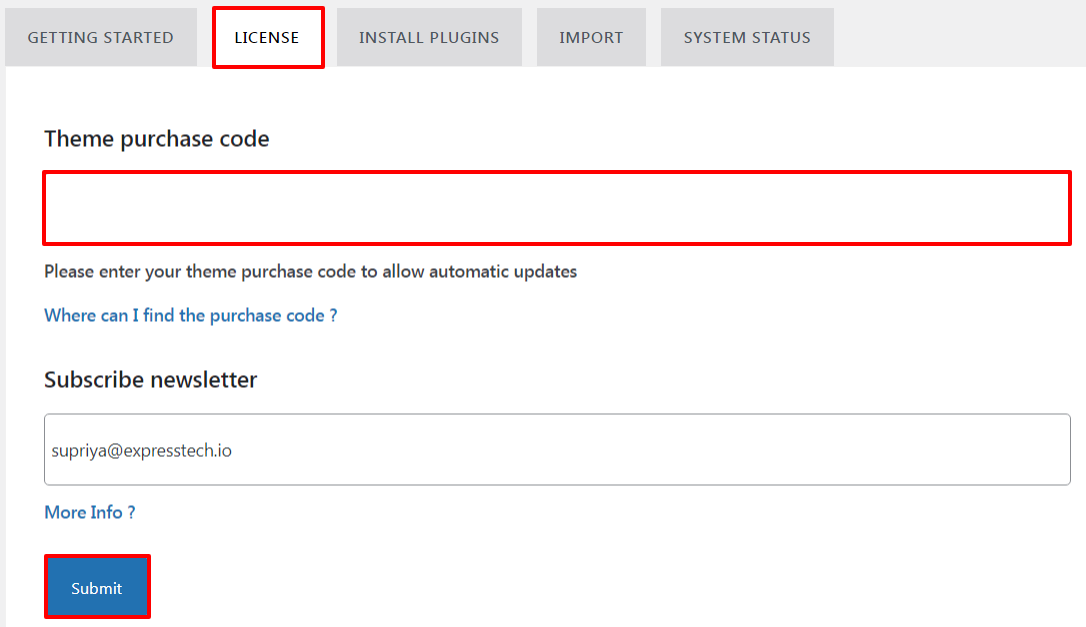 Go to the

Install Plugins

Section, where they have listed and mentioned all the

Default Plugins

. 

Click on the

Install & Activate

button.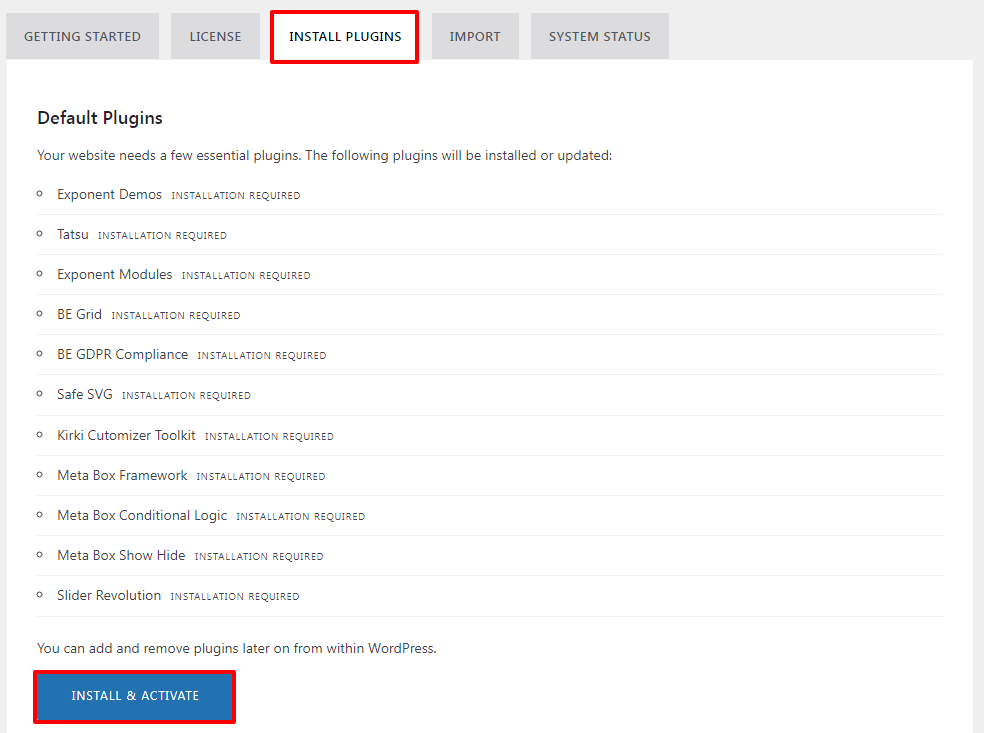 In the Import section choose and import

Shop Demo

to create an eCommerce website. 

Also, make sure to

Choose the Contents

as per your own requirements. 

This is the end to activating Exponent WordPress Theme to build an eCommerce website.
Step 5: Create an eCommerce Website 
Go to

Appearance>>Theme

option at the left sidebar of the page. 

Then you can see the

Exponent

theme, click on

Customize

button. 

Blog Settings 
In

Blog Settings

, there are two different options available:

Post Archive

and

Individual Post

.

In the

Post Archive

option, you can change the

Style

and

Blog Title

Tag. 

Enable or disable

Show Sidebar

as per your preference. 

Select the

Sidebar Position

. 

Select the

Sidebar

option from five different choices. 

Similarly, choose whether you want to enable or disable

Sticky Sidebar

. 

Choose the

Alignment

and

Pagination Alignment

options accordingly.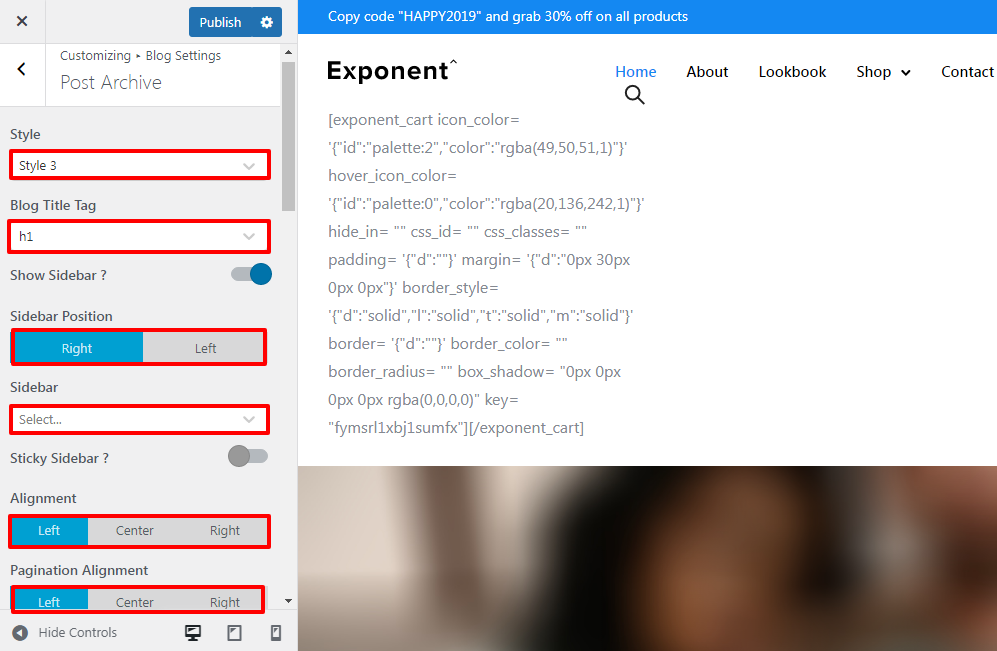 Similarly, enable or disable

Custom Padding for Content Box

. 

Choose the

Content Box – Background and Shadow

accordingly. 

Select the

Image – Border Radius values in px

. 

In the Meta Settings, make changes to

Primary Meta

and

Secondary Meta

.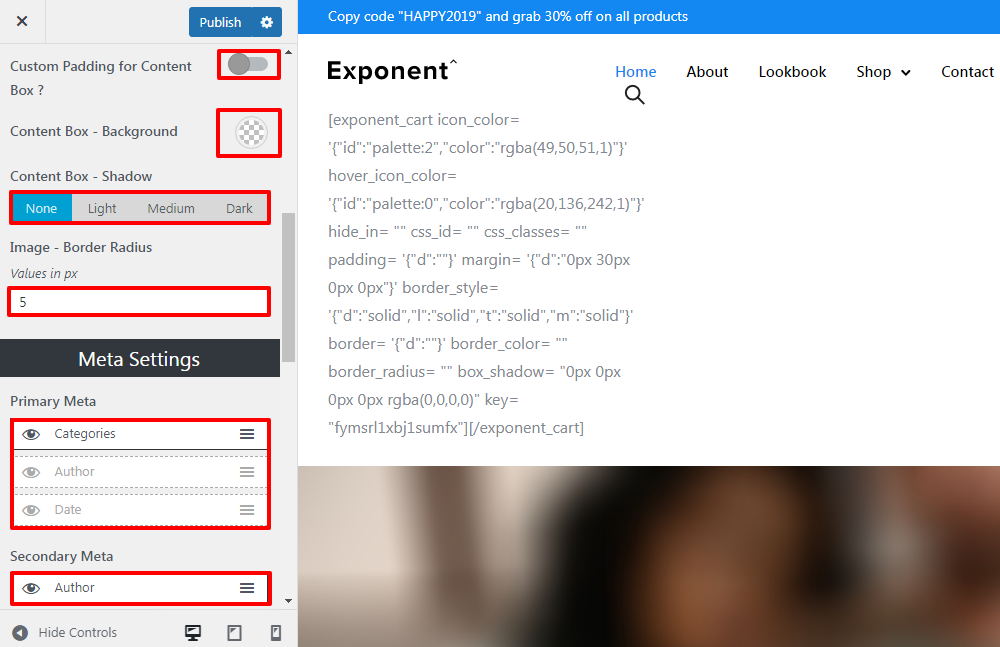 In the Grid Style Settings, you can enable or disable

Full-Width Layout

. 

Select the

Spacing Between Posts

as per your own requirements. 

Similarly, select the

Blog Aspect Ratio

. 

In the Author Page Settings, you can enable or disable the

Show Hero Header

option.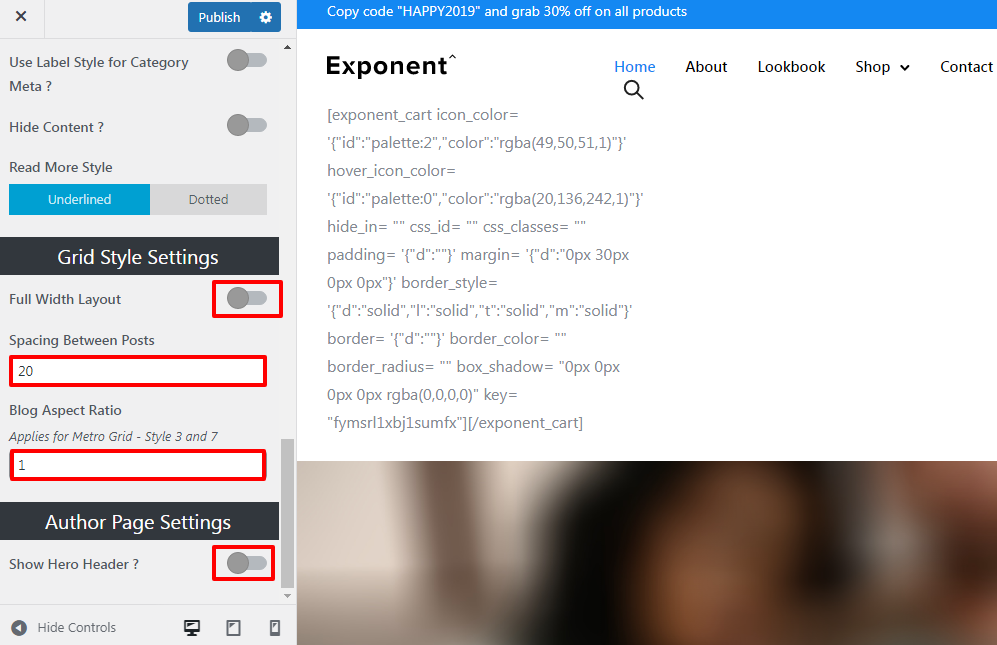 You can make changes in the

Individual Post

option accordingly. 
Site Identity 
In the

Logo

option,

Select the logo

for your website. 

Then keep a name for your

Site Title

. 

Also, keep a

Tagline

. 

At the end

Select Site Icon

.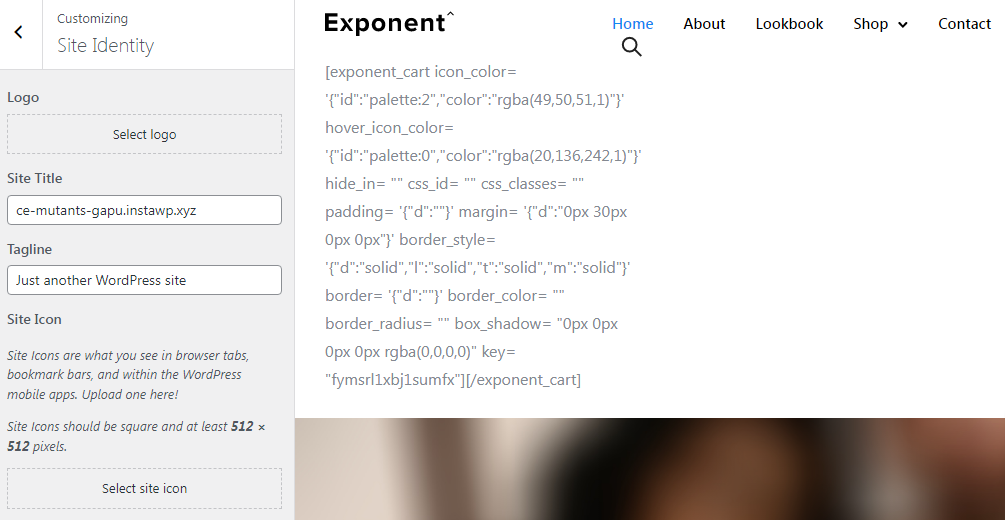 Menus 
The Menus have three different options:

Footer Menu – Shop Demo, Main menu – Shop Demo and Terms – Shop Demo

. 

Make changes to them as per your own requirements. 

You can also

Create New Menu

.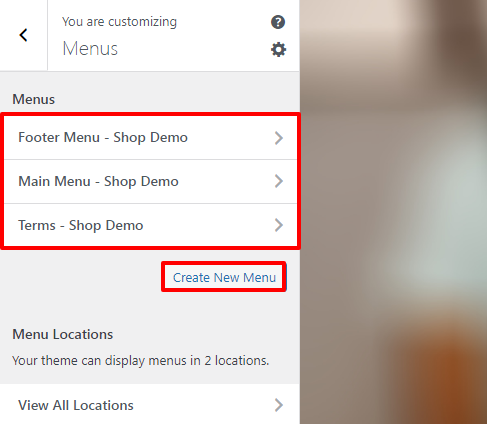 Also, you can display menus in two different locations on your eCommerce website using the Exponent theme so make your decision accordingly. 
Widgets and Homepage Settings 
As for the Widgets option, the theme has 5 other widget areas, but this particular page does not display them.

Just Navigate to other pages on your site while using the Customizer to view and edit the widgets displayed on those pages.

Similarly, in the Hompage Settings choose

Your homepage displays

. 

Select the

Homepage

and

Posts page

as per your requirement. 
Global Site Settings 
In the Body Background of

Global Site Settings

, select your

Background Color

and

Background Image

.

 

Similarly, in the

Header and Footer

options, you can enable/disable Header and Footer options according to your choice. 

Also, add content to the

Footer Content

.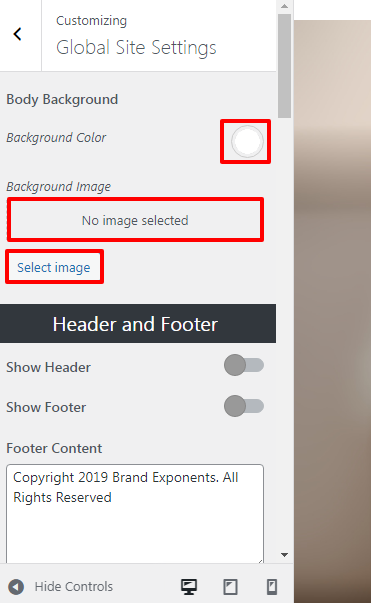 You can

Show Page Titles

in four different ways. 

Select

Title Top & Button Padding

. 

Choose

Page Title – Background

. 

Select Image for

Background Image.

 

Similarly, choose

Title Color

and

Breadcrumb Color

accordingly.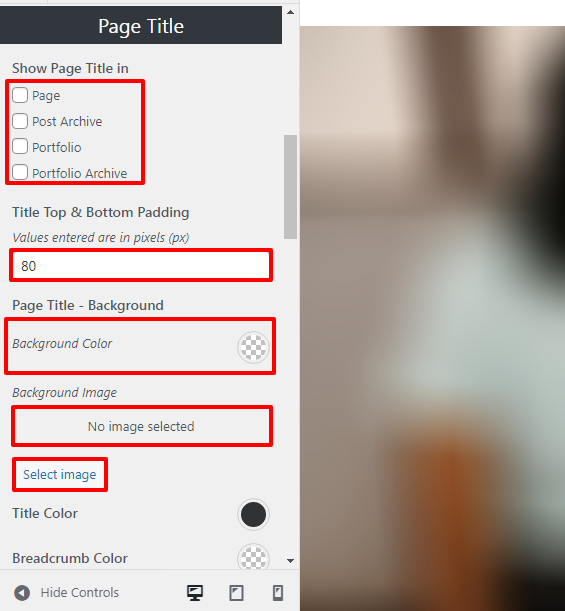 In the

Navigation bar

option, make the choice of

post and/or portfolio

in

Show Navigation Bar in

option. 

Similarly, choose your Navigation Bar Padding. 

In the

Forms and Buttons

option, choose your

Form Style

and

Button Style

.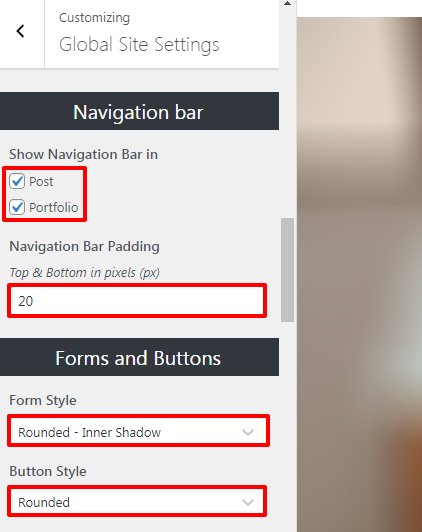 Similarly, you can make changes in

Performance, Maintenance Mode,

and

Other Settings

accordingly. 
Portfolio Settings 
In the Portfolio Settings, add your

Portfolio Slug

and

Portfolio Home URL

. 

Then select the

Portfolio Aspect Ratio

. 

Similarly, make all the changes in

Portfolio Archive Settings

as per the requirement.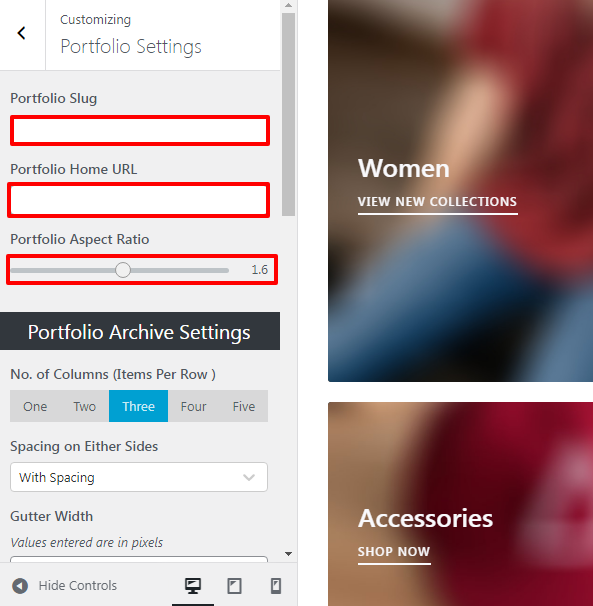 Global Tatsu Settings 
In order to make changes to the Global Tatsu Settings of your eCommerce website, make the following changes:
Firstly, enter your Google Map API Key. 

Enable/Disable

Lazy Load Section

and

Column Background Images

as per your own requirements. 

Choose whom you want to

Provide Access to

. 

Select the color for your

Lazy Load Section/Column Placeholder Colour

. 

Moreover, choose your

Active Header

and

Active Footer

options. 

You can also make a choice of a

Dark or Light Theme

from the

Tatsu UI Theme

.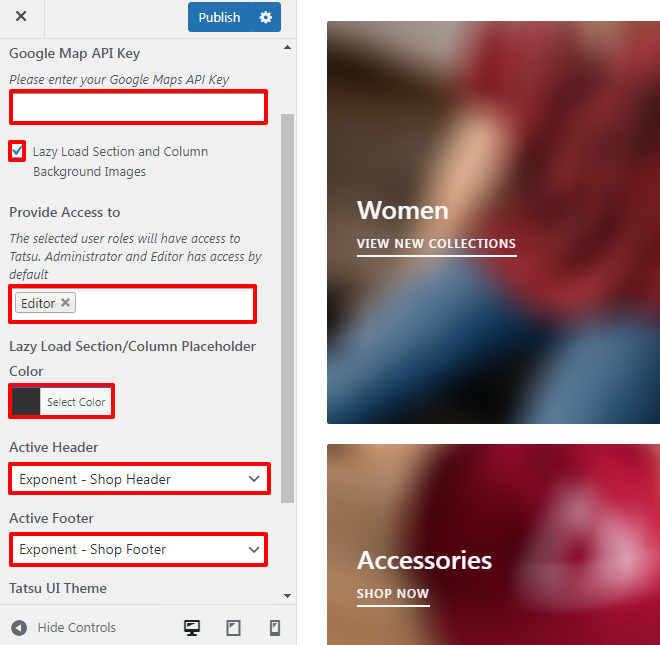 This is it, customize the amazing Exponent Theme Options and you will be able to build an amazing eCommerce Website. 
FAQ
Can an eCommerce Website be Built with WordPress?
Yes, of course, you can build a successful, responsive, complete, professional, and functional eCommerce website using WordPress. Almost 39% of websites on the internet is powered by WordPress, which includes plenty of eCommerce website.
Can I Code my Own eCommerce Website?
It's better to hire a developer or reach out to a professional IT company. but, the best option is to purchase a Premium eCommerce WordPress Theme and customize it as per your own preference. If you have any doubts while using the theme, you can reach out to the professional support team.
Wrapping UP
This is the end of our tutorial "How to Create an eCommerce Website with WordPress: Full Tutorial (2023)". We hope this article will help you to build an amazing, professional and functional eCommerce website.
If you use InstaWP or Exponent Multipurpose WordPress Theme, feel free to share your user experience in the comment section below.
All you need to do is follow this step-by-step guide and you'll be able to build a responsive eCommerce website within just a couple of minutes. Happy Website Building!
Stuck Somewhere?
Connect With
JustHyre
Hire WordPress Engineers for custom jobs like Website Customization,
SEO Optimization, Clearing a Hacked Website, Installation & Configuration & more.
Connnect with JustHyre