EightMedi Pro – Premium Medical & Health WordPress Theme
Multipurpose
Fast
Loaded with Features
That's EightMedi Pro for you.
EightMedi Pro is a feature-rich premium WordPress medical theme perfect for personal or business websites related to medicines and hospitals. EightMedi Pro is a super fast, feature-rich, professional, well-coded, and immensely responsive theme. You no longer require advanced coding skills or long hours of tedious work for building a website if you have EightMedi Pro. Because this is one theme that does everything for you.
Though this theme is especially perfect for personal or business websites related to medicines and hospitals, it can be used by anyone who wants to create a top-notch website.
EightMedi Pro Theme – Primary Features
Import the demo content on your site and then edit it to make your site just like the demo.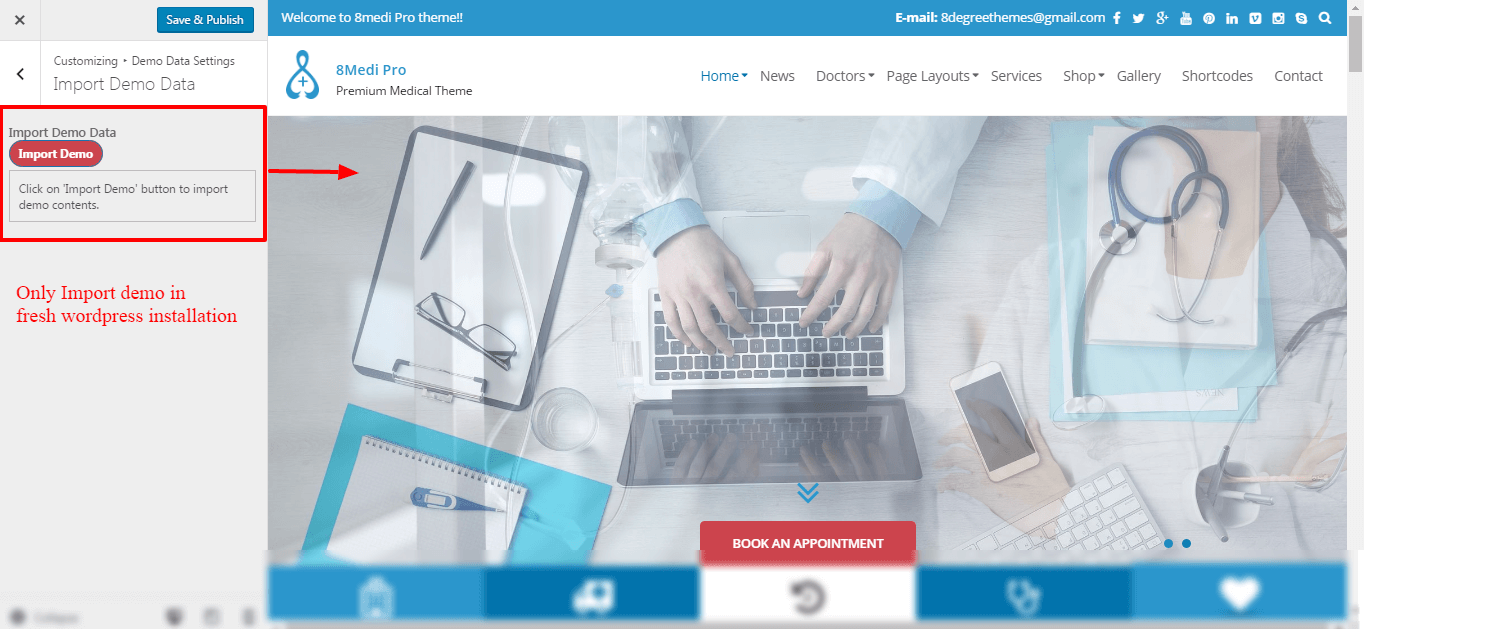 Configure your top header and main header with different contents and alignments of the menu
Highly Configurable HomePage sections with On/Off feature and sections Re-Order Feature
EightMedi Lite Normal Slider, Slider shortcode option for another slider like revolution, etc
Book an appointment section lets you add the background image and a form shortcode.
Add widgets and contents from the backend for sidebars and homepage main contents as well.
EightMedi Pro Theme Demo – How does the theme look?
Here is a brief preview of how this feature-rich premium WordPress medical theme looks.
If you wish to have a better look, please check the demo page by clicking here below:          Theme Demo

EightMedi Pro Theme Customization
A primary USP of this feature-rich premium WordPress medical theme is that you can customize just about anything with this theme. And customization is not just flexible but extremely easy, with just a few simple steps you can redefine the theme completely.
Let us take you through the theme's customization parts.
Digging a little deeper inside what the theme allows for customization; we present here some of the customization options one-on-one. If you would like to have a closer and better look at these customization options please click here                                                                           Documentation
Site Identity
Through an option of site identity configuration, you can :
Enter your Site Title and Tagline
Choose a Site Icon or Favicon for your site.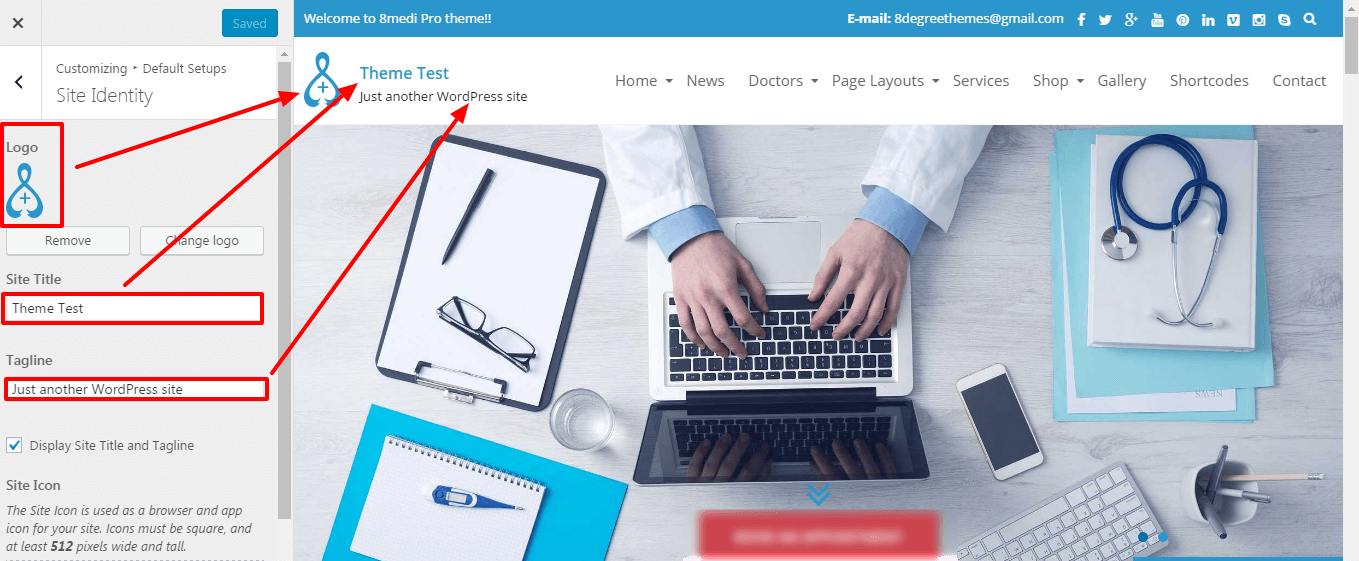 Webpage Layout
Also, you can choose your preferred webpage layout. How would you like your site to be viewed? Full width or Boxed?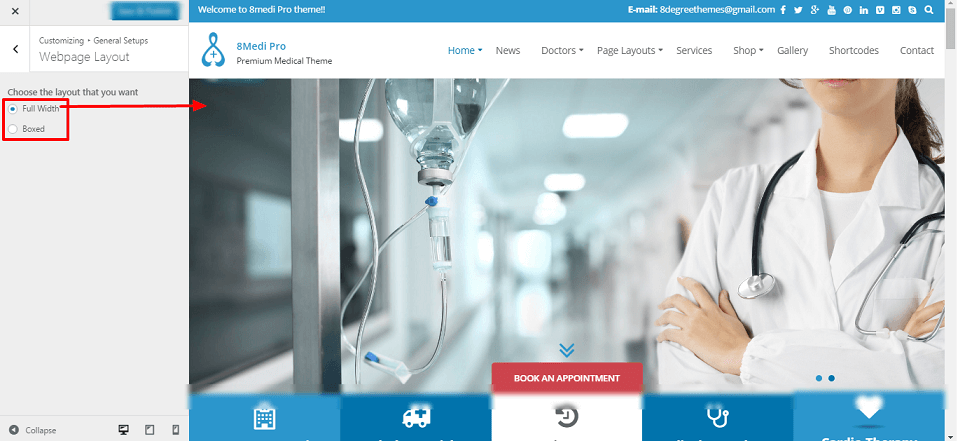 Top Header Call-To
This customization option allows you to :
Enable/Disable Top Header.
Call to content left.
Call to content right?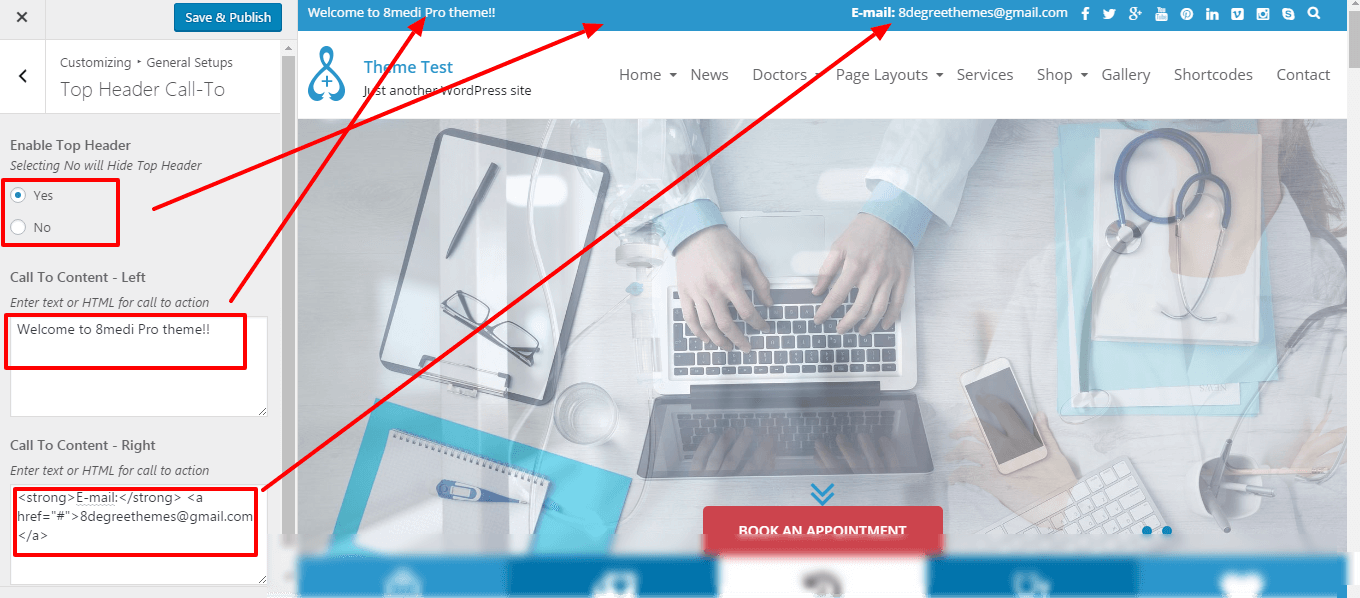 Header Search Setting
With Header Search Setting, you can :
Enable/Disable the Header search setting.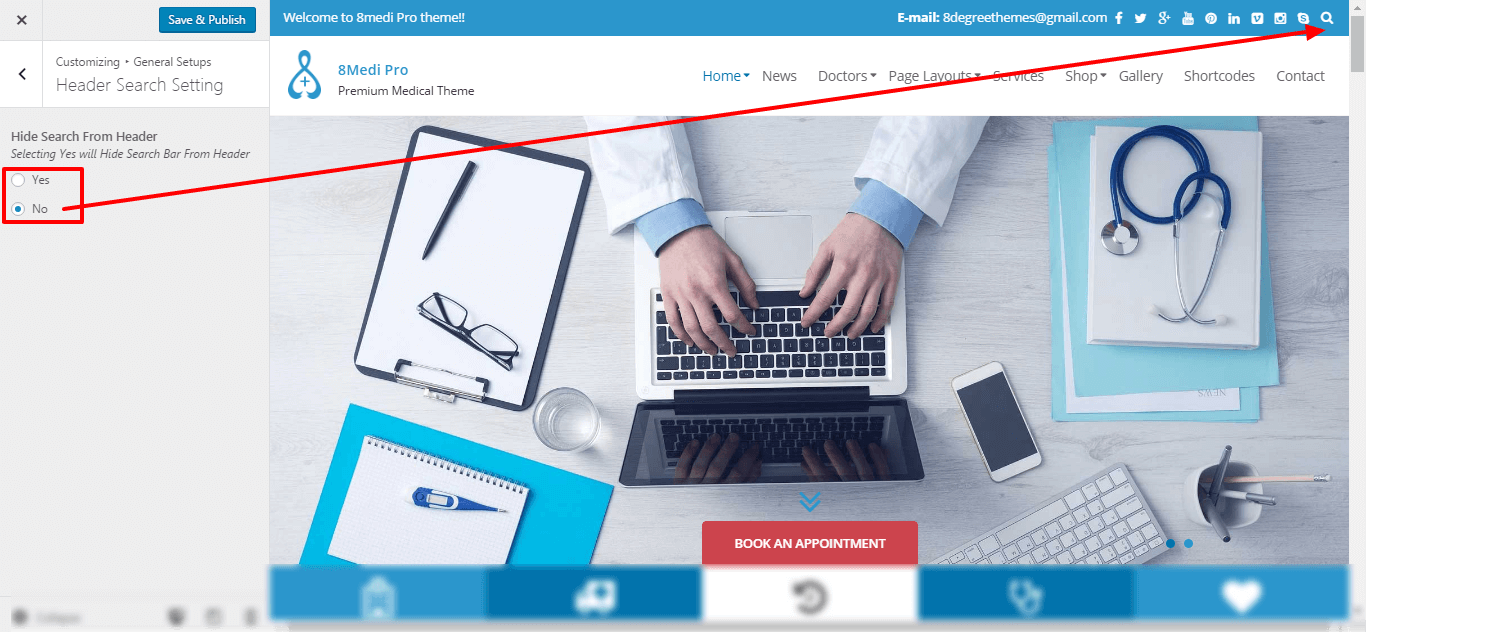 Header Logo Alignment Setting
Choose Header logo Alignment Default (left Align) or Center Align.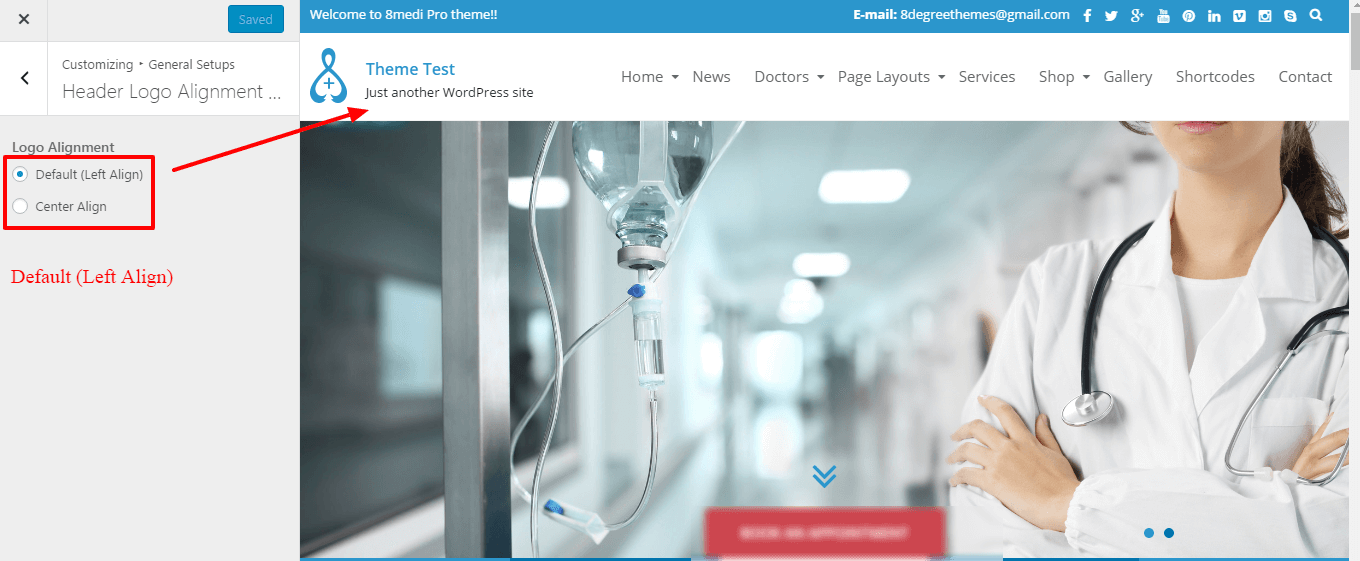 Slider Setting
This setting allows you to :
Enable/Disable Display Slider.
Select Slider Type. (Revolution, Category).
Select the Category Homepage Slider
Create a Post  'Category' for Slider then select the respective Category.
Enable/Disable Display Pager.
Enable/Disable Display control.
Enable/Disable Auto  Transition.
Choose Transition Type(Slid or Fade)
Choose Transition speed.
Choose Slider Transition Pause Time.
Enable/Disable Link to Post on Slider Image And Title.
Add Slider CTA Button Link.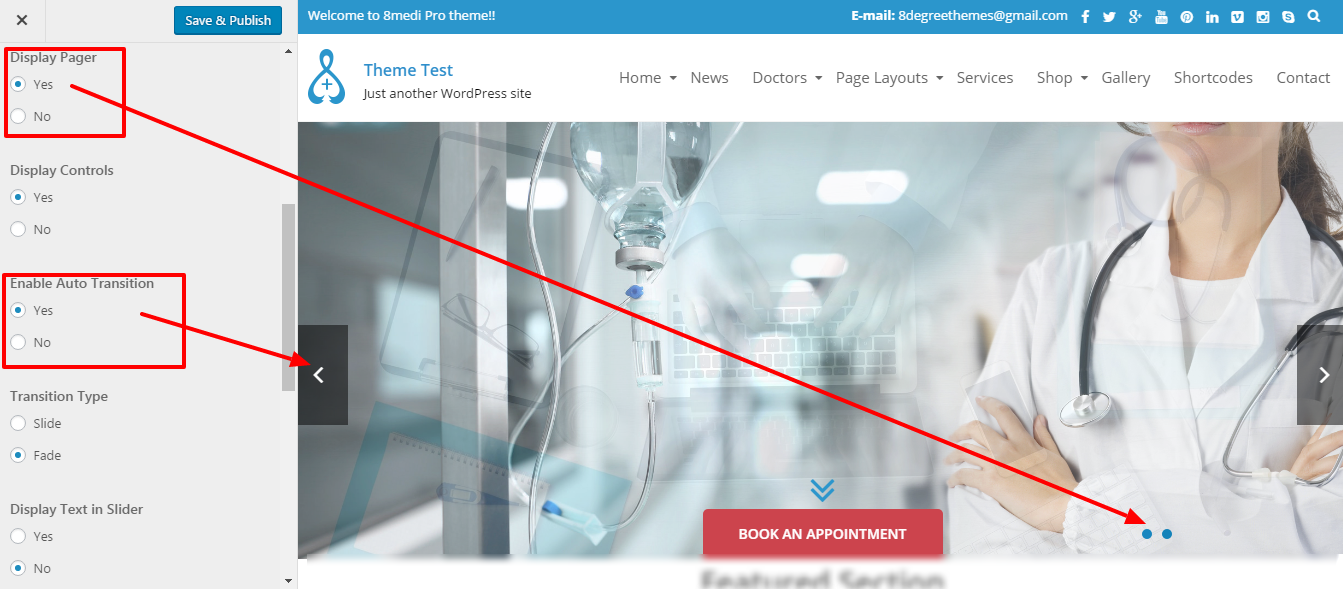 About Section Customization Options
The feature-rich premium WordPress medical theme has multiple attractive sections ready for you to create your website. The sections are :
Featured Section
Book an Appointment Section
About Section
Team Member Section
Call to Action Section
Latest News Section
Testimonial Section
FAQ Section
Our Sponsors Section
Small Call to Action Section
Google Map Section
Many of these sections have somewhat similar customization options. Of course, some sections are a bit more customizable than others. The basic framework, however, is the same.
So we are depicting here the customization options of the "About" Section in this review.
Want to look at all the customization options of all the sections? If you do then please click here below.
Here is what you can customize in the "About" Section :
Enable/Disable Section.
Create a "Post"   for the About Us Section Then select the respective "Post".
Add "View More " Text.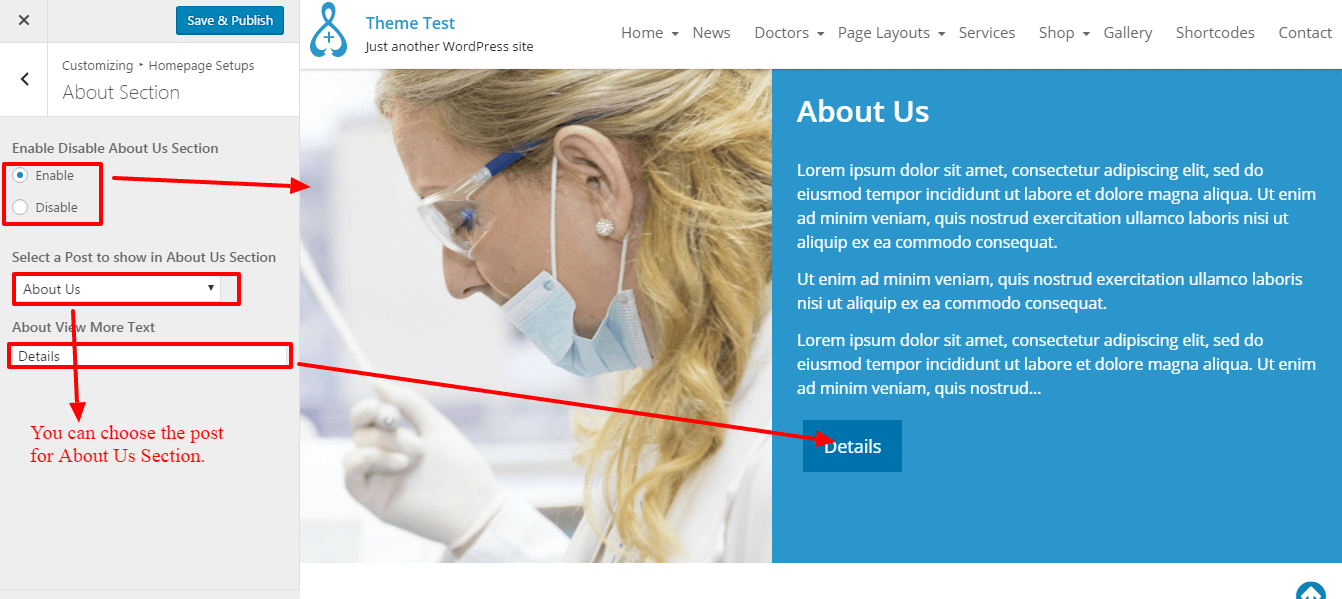 EightMedi Pro – Custom Post Types
Doctor

Team

Testimonial

Faq

Sponsors
EightMedi Pro – Pricing and Licence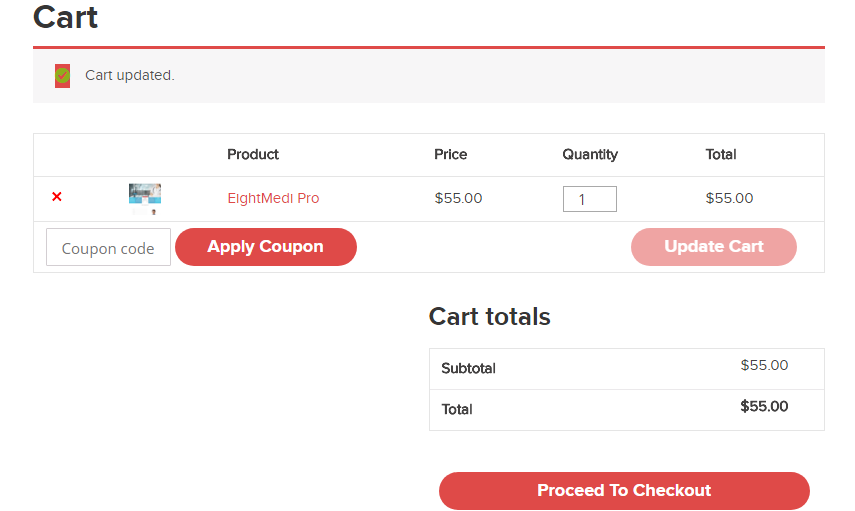 Wrapping Up,

We are not going to claim this is the best multipurpose theme there is. We can however, assure you that this theme is going to be everything that you have ever wanted. And why not ? You can with one click import the demo, which means you need not worry on designing your theme from scratch. Every single detail can be customized with few clicks, no coding or long hours of work required. You can re-order any section of the homepage, and make only those sections visible that you want. You can even add widgets and contents from backend for sidebars and homepage main contents.

This  feature-rich premium WordPress medical theme, can be your go-to theme for creating any kind of website. Here again, we emphasize that this theme can be used everywhere, but for medicine related website, its absolute perfection.

So, hey, what are you waiting for ?

Check out the demo, documentation and purchase page of this feature-rich premium WordPress medical theme  by clicking these buttons right below. Know more about this theme through these pages. Let us know your thoughts on theme, and if you are excited already to make this theme yours, the purchase button is right below.

Also, the lite version of this theme was listed by GoDaddy as the top ten best WooCommerce Themes. GoDaddy had evaluated all the themes on the basis of :

Page Generation Time
Lowest Memory Usage
Database Query Time
Database Queries
Theme Check Score

After evaluation on the basis of all these criteria, EightMedi Lite was considered one of the top ten best WooCommerce Themes. Here is the link to the article.

You know what you can expect from the premium version, now you know that the lite one is so incredibly terrific. EightMedi Pro – a feature-rich premium WordPress medical theme

Also, you might want to check out,