Elementor Vs TatsuBuilder: Best WordPress Page Builder 2023?
In this article, we will learn about two different powerful Page Builders: Elementor and Tatsu Builder, their comparison: Elementor Vs TatsuBuilder, and decide which is the one for your website.
Do you want to give a rocket start to your WordPress website but have no idea how to get started with it? Well, it all starts with the selection of the best platform which I think you have already done.
WordPress is one of the most popular Content Management Systems(CMS) that offers tons of features and functionalities to provide your website with everything it deserves. When it comes to building or creating your WordPress website, Page Builder plays a major role. A page builder allows you to customize your website as a whole or in part. Therefore, it is necessary to select the Best Page Builder to get started with.
The way a page builder works on your site may differ. However, it is necessary to know what Page Builder you decide to use for your website and the way it functions. In this article, we will compare the two popular WordPress Page Builder Plugins: Elementor and TatsuBuilder to help you make your perfect pick.
Elementor Vs TatsuBuilder
If you have been looking for the best  WordPress Page Builder for your site you've surely come across these two extremely powerful & popular page builders: Elementor & Tatsu Builder. Here we are going to review and compare Elementor vs TatsuBuilder.
Elementor is a highly flexible page builder with hundreds of thousands of customers. It is the top-selling WordPress page builder and the ultimate WP page builder. Likewise, TatsuBuilder is the best page builder on the most popular digital marketplaces. This single-page builder has tons of features and functionalities. Since both of them are the best of the best it is hard to pick one.
In this article, we will be discussing the pros and cons of both page builders and compare some of the features and functionalities of Elementor vs TatsuBuilder – Ultimate WordPress Page Builder Comparisons so it will make it easier to decide which one would be better for your needs.
First of all, let's learn about the Page Builder in detail, its features, qualities, ratings, pricing, and most of all the functionalities of each page builder, and then move towards a comparison of both Page Builders on various bases. Further, we will also talk about the kind of website that supports these Page builders the most. Let's get started:
TatsuBuilder
Enjoy the immersive visual editing experience from Header to Footer inside the Tatsu Page Builder.
Tatsu is one of the most feature and functionality-enriched page builders you can find for WordPress. This page builder offers full drag-and-drop features to help you build any part of the website easier than ever before.
It can be integrated with any theme and comes bundled with some of the most popular premium WordPress themes like Oshine, Exponent, and Spyro.  Tatsu is considered to be the fastest page builder. It requires not even a single line of code to build and customize your website using TatsuBuilder.
TatsuBuilder has helped 100,000+ websites to design and build a fully responsive website. It can be used to build any type of website where you can enjoy live responsive previews.
It is a powerful page builder which is developers' favorite and it's super easy for noncoders as well to work with page builders. And also it comes with great graphics. The team working behind this page builder rolls out constant updates with new features and is well-maintained.
The latest version of TatsuBuilder brings real-time editing on the front page that is built with a modern and sleek design. Its library of pre-built layouts and the simple page builder make this page builder the most usable one there. As time passes by, TatsuBuilder keeps getting better.
Elementor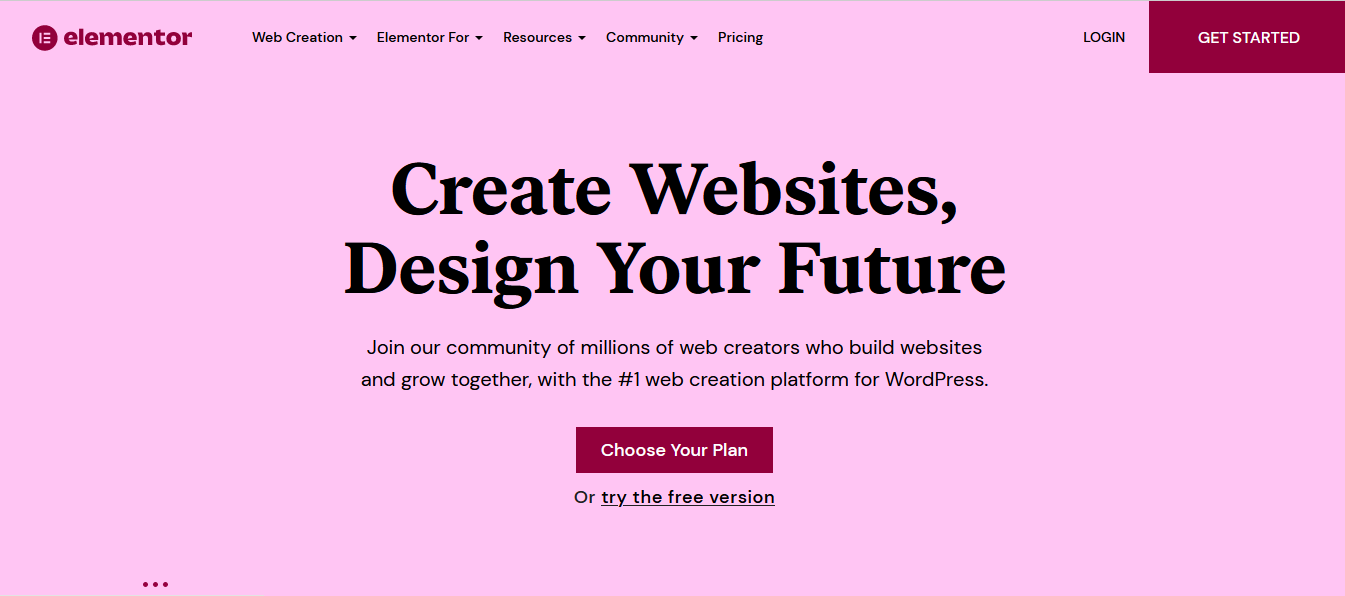 Elementor is a clean and attractive page builder because of its flexibility. You can build almost all types of websites with the many pre-built functionalities available. Just you need to add content and voila and then you are ready with a good-looking website. This page builder is the best seller and is also available with the purchase of many premium WordPress themes which is great. You can easily customize any part of your site with the help of an advanced panel. The team of Elementor updates it constantly with new features for its users.
It is the #1 Free WordPress website builder. The platform the web creators choose to build professional WordPress websites, grow their skills, and build their business. It allows WordPress users to create and edit websites by employing the drag-and-drop technique with a built-in responsive mode. Simply create websites and design your future with Elementor.
Elementor has a community of millions of web creators involved in building websites. The page builder has a drag-and-drop editor with 90+ widgets and a pixel-perfect design. The Page Builder allows you to create unique websites using advanced animations, custom CSS, separate responsive designs, and more. You can streamline your projects and create web designs with a custom templates library and global design setting giving your activities a professional workflow.
The use of the single Page Builder eliminates the need for multiple plugins and fits the need for features and functionalities on the site.
Features of TatsuBuilder and Elementor
Tatsu Builder and Elementor share a similar set of features since both page builders are highly popular and fit the needs of many WordPress websites. Both of these page builders come with premade layouts with great customization options that can be used by non-coders to build a stunning website in no time.
TatsuBuilder
Drag and drop page builder
Drag and Drop page builder is the key feature of this page builder. It is ideal to create wireframes and mockups, prototype a design, and create the website itself because it is easy and fast to build the layouts.
There are tons of modules included in this page builder to add features missing in the themes like timers, Google Maps, portfolio gallery, call to action, contact forms, buttons, social follow, sliders, and a lot more. The modules can be customized or enhanced easily with standard settings and CSS.
This page builder includes a lot of pre-made layouts to make it easier to get started. The layout includes easy customization options of pre-available theme templates such as landing pages, about pages, coming soon, shops, case studies, product features, splash pages, etc. You can create or upload your layouts that others have created.
You can easily customize the site's options and styles and see the results in real-time including backgrounds, typography, mobile style, header, footer, blog posts, etc. in the easiest way possible with TatsuBuilder.
This is perfect for a call to action, sign-up forms, or anything that you want your readers to click on. You can perform an a/b test to improve your site's conversion and live preview the changes to see if it fits your need and then only publish the changes.
The TatsuBuilder's role system gives you full control over who has accessed what in the page builder. This will help you to protect your sharp design from anyone with access to the backend.
The page builder comes with many more ready-to-use widgets. You can simply add the new widget areas with the help of creation tools after choosing these areas within the builder for any page and post.
Pre-available templates and layouts
There are many beautifully designed templates and layouts. These templates provide the look, feel, and features that are required to build a perfect website. You can easily customize them or design your own with the available tools.
Elementor
Professional demo content
With just one click you can import the demo and create a professional-looking website easily.
Live Customization option
Elementor offers a live customization option to your website giving you a preview of your website and making the changes accordingly. Further, there are many options available so you can adjust the website according to your needs.
Elementor is an ultimate page builder that can be used easily in posts and pages without coding knowledge. You just need to have a drag-and-drop page builder.
There are many elements of Google Maps, pricing tables, galleries, sliders, portfolios, and others that are free to use. You can add these elements as per your website's needs and customize them to fit your site's appearance.
The layout can be customized according to what you want like boxed or full-width and much more. Elementor has the easiest customization layout options where you need to make the changes with simple drag and drop.
What makes Elementor powerful of all is responsiveness when you use it with any theme. It gives blazing-fast performance to your website where building or customizing your website becomes easier than ever before.
Many header and footer options can be easily changed as per your preference. It can be placed on the top, left, or right, and also you can change the color, type of background, and others.
With the purchase of this page builder, you will get some premium features and functionalities that otherwise need a premium plugin to get fulfilled.
Pros and Cons of TatsuBuilder and Elementor
These are the pros and cons of TatsuBuilder.
TatsuBuilder Pros
The page builder is fully responsive and helps you build/design/customize a website that appears beautiful on all devices.
The layouts are elegant and perfect for any WordPress website.
While using this page builder, you can be assured for years as it has a strong progressive company and solid community support.
The customization option is very simple and gives you many looks.
TatsuBuilder is the best scrolling site and if you are looking at this only then, it is the one for you.
TatsuBuilder Cons
First-timers may find it overwhelming and complex at the beginning. However, once you get familiar with its features and modules, then building a page is butter-smooth.
If you are using TatsuBuilder then you have to stick with it for a very long time. And if you have added tons of content to the page builder and want to move to another one then this will leave your site with proprietary shortcodes. The main thing is that your site's shortcodes will not be compatible with the new page builder that you use.
Sometimes, TatsuBuilder might feel sluggish and unresponsive, however, once you refresh the page all things are back to normal.
These are the pros and cons of Elementor:
Elementor Pros
It comes with a responsive layout that supports the creation and building of websites that appears responsive on all devices from desktop to tablets.
Every section is fully customizable which gives you full control over how your site is displayed.
The page builder has a clean design with a minimal amount of bloating.
It is updated regularly which helps you to stay ahead with security and stability.
Elementor comes with many pre-built templates and layouts so choose the one that you like and start building the site.
Elementor Cons
It is not a suitable page builder for static sites and simple blogs.
These days Elementor is the most popular page builder which has led to security issues.
Some of its features are hard to understand, so you may need to have a bit of a learning curve
This page builder includes a third-party plugin that may require additional licensing or have to wait for the updated version of the plugin.
Elementor Vs TatsuBuilder on various other Bases
User interface
Both Elementor, as well as Tatsu Builder, have great responsiveness and functions to help you design a website with tons of modern design and great looks. The TatsuBuilder has predefined layouts of high standards, on the other hand, Elementor functions well with professionals with pre-built demo websites.
Elementor offers more than 100 different demo versions that you can import and configure right away. Both the page builder comes with drag-and-drop features that let you use all the pre-built options.
Layouts and Templates
Both the page builders Tatsu and Elementor give their users the option to apply pre-built templates. TatsuBuilder comes with 50+ different pre-built layouts and templates. Likewise, Elementor offers hundreds of website packs where you can get the pre-built layout for any kind of website you want to build.
Customization
The customization option of Tatsu Builder is the best one that helps to build the site you are looking for. Whereas Elementor has limited options compared to the Tatsu and customizing the site in Elementor is not as easy as it is in Tatsu.
Price
The price of TatsuBuilder is $49 and for Elementor, the price is the same i.e. $49. With this amount, in the case of Tatsu, you can access other WordPress templates. Both of these page builders provide great value for money.
Elementor however has a free version to try out firstly for their users and then only trust it.
Support and Updates
TatsuBuilder
If you are on the developer license and not a client then you have to be the one communicating with the support team. 99% of the time the client will always contact you but for savvy clients, this will prevent them from getting support from the page builder-developer directly.
Elementor
The default license gives you the support of 6 months then after that, you have to buy your way into support again. Since each of the consecutive means, another license and actually whoever buys those licenses will get more freedom. On behalf of the clients, you can do it by yourself and be able to receive the support directly.
When it comes to the updates of these two-page builders, you will see a prompt in your wp-admin and will get emails of new updates.
Summary of TatsuBuilder
What we liked.
Cool layouts
Split testing
Great flexibility
Real-time editing
Build multiple sites
What we did not like.
Just 12 Templates to play with
No social counter as of now
Lack of add-ons for third-party integration
Summary of Elementor
What we liked.
Great flexibility
Custom fonts
Sleek design
Great selection of website demos
Working with fusion is fast and efficient
What we did not like.
The package allows you to use only one site.
It takes over the admin menu at the backend and pushes down standard WP features.
You have to save the work to see it and no real-time results.
The multiple additional plugins required could bloat your site and slow it down.
Buy TatsuBuilder                   Buy Elementor
Bottom Line: Which is the Best WordPress Page Builder 2023 (Elementor Vs TatsuBuilder)?
Both of these page builders are clean and modern with many useful features. And when it comes to usability, there is no clear answer. You pick the one that gives you the most value based on your requirements.
If you are looking for a page builder from which you can build multiple websites and want to see the changes live that you make then go with TatsuBuilder. And if you do not want to give more importance to front-end editing, want more customization options, and only need a theme for a single site, then Elementor is the better option.
Also, Check-Out: