Multipurpose and Multi Layout Premium WordPress Theme – The100 Pro Update! Introducing a new layout and elementor-based support
The100 Pro was first released in August of 2018, and ever since has been gaining momentum in the WordPress community as one of the best themes for business and personal websites. This clean and elegant multipurpose and multi-layout premium WordPress theme, though perfect for business, has slowly also been used for other multiple niches and purposes. With more than 8 demo templates and over 500 layout combinations, of course, The100 Pro is suitable for almost any website. And now along with its many already available powerful features, the theme has released its update by adding two more substantial features.
New Layout for E-commerce
Your favorite multipurpose WordPress theme now also comes up with a new layout specifically for eCommerce websites. Each component of this layout has been designed and arranged in such a way that your online store will be the best one in the market. In this layout, you can display your products with style, feature specific product categories to highlight them, present client testimonials, provide customers with multiple options for payment, and so on. All in all, with this layout, you can create the best online store in no time.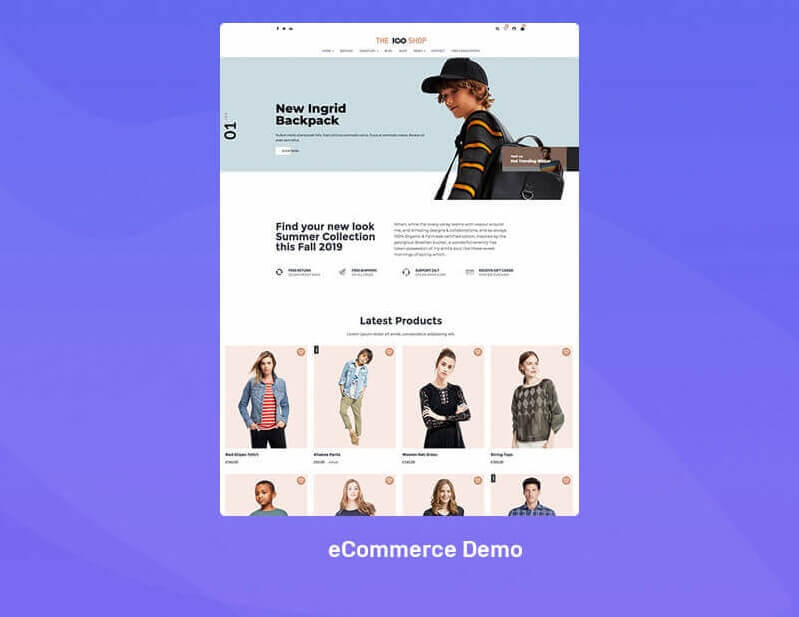 Elementor Based Support
Now you can build your pages and posts easily, and build your website super easily with The100 Pro. The elementor-based support facilitated by the theme now allows you to create any content layout or page layout without having to type a single line of code. Due to the elementor support, you can drag and drop elements to create a perfect site, and since the elementor plugin has a library of pre-made templates, being able to use those adds a great edge to your work. Also due to elementor, The100 Pro enables you to make full use of several content widgets to build your site.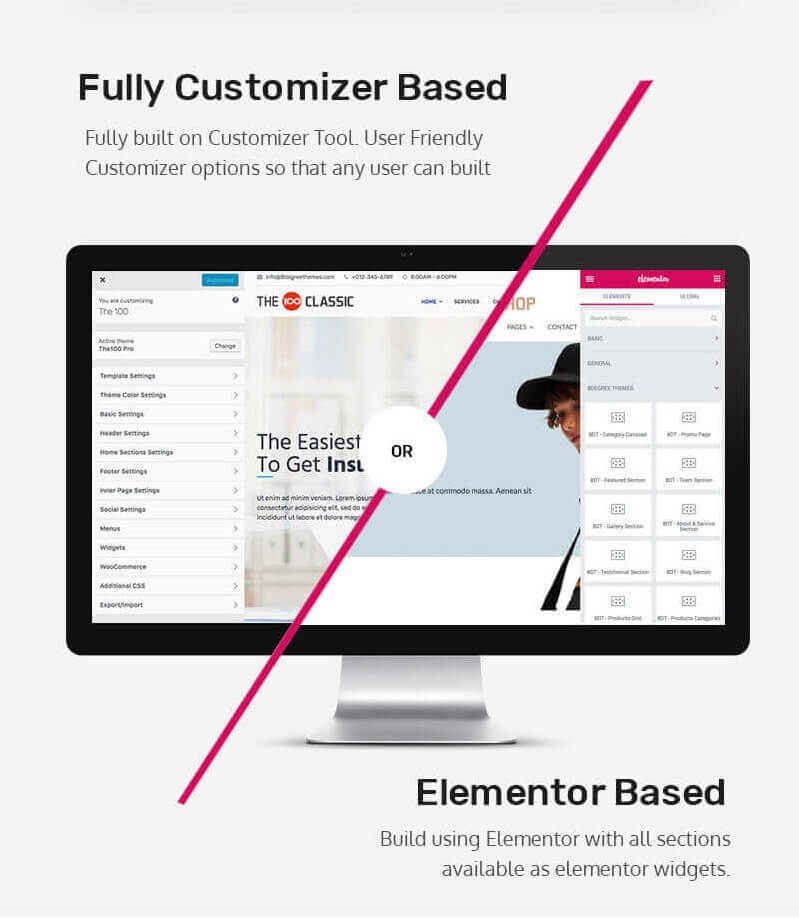 Other Primary Features of The100Pro
Apart from the newly added features in this business WordPress theme, here are some of the previously present features in The100Pro. An amalgamation of all these features and the newly added features makes The100Pro, a perfect WordPress theme for every WordPress website.
8+ Pre Designed Templates
The100 Pro previously had more than 8 predesigned templates (still does !) All these templates served a particular niche or market. The templates – Classic, Construction, Restaurant, Events, Charity, Medical, Events, Creative, Travel, and now the latest one ECommerce, all are designed to specifically meet the needs of a particular group of people or a specific profession. With the Construction demo template, anyone in the construction or real state field can build their dream website. Similarly, hospitals, medical institutions, medical personnel, or just about anyone related to the health sector can take full advantage of the Medical demo template. With THe100 Pro, with this one theme, you are getting the advantages and features of more than 8themes!!
One-Click Demo Import
This is the best part. You can import all the 8+ demo templates that are pre-designed to serve multiple niches and build any website. With just one click, you can import any of the demos, and see before your eyes how marvelously your site completes its construction. With only one click of a button, no hassle, no headache, no knowledge, and no time wastage, your site will be all up and running.
Highly Configurable Homepage
The100 Pro also offers us the most easily and conveniently configurable homepage. From the menus, header, and footer to social settings, widgets, and theme color, almost every component of the theme can be edited as per your will.
Sortable Homepage Sections
This is a cool feature of the theme. All the sections of the homepage i.e., the feature section, the testimonial section, the about and service section, the CTA section and all others can be sorted any way you like by a simple drag and drop. That's right. Just drag and drop to sort your homepage sections according to your preference.
8 Header Layouts
The100Pro also includes 8 unique and distinctly created header layouts. The header layouts complement perfectly the demo templates attached to the theme. To top it all off, you can enjoy multiple configuration options even while using any of the header layouts.
Unlimited Color Options
The theme's primary and secondary colors can be freely chosen, and widely chosen by using the unlimited color options present in the color picker. Decorate your site with the colors of your choice!
Carousel Slider Options
Using the Carousel Slider Options, you can load the slider from the plugin's shortcode or post features images.
Wrapping Up,

Hope you enjoyed browsing through the newly added features and the already existing features of this multipurpose and multi-layout premium WordPress theme – The100 Pro.

If you would like to know more about this WordPress theme, please do check the links here below: