10 Best Features Every Modern Block WordPress Theme Should Have
Do you want a WordPress theme with a Full Site Editing (FSE) feature? Get more control over your website design. Willing to use custom blocks for styling all the sections? If yes, a modern Block WordPress Theme is the perfect choice for you. 
One of the best parts about WordPress is that it is ever-evolving. In the past couple of years, WordPress users can design their custom layouts directly from the Gutenberg editor. 
After the release of WordPress 5.9, a full site editing modern block has been added to CMS. This FSE creates an ease to design your website from the page that you're on. 
Now without wasting your time, let's get familiar with some of the top features that are a must in every modern block WordPress Theme. 
Features Every Modern Block WordPress Theme Should Have
There are abundant features that come with the new modern block WordPress themes. But, in this article, we will get familiar with the top 10 features. 
Let's get started!
1. Responsive 
No user prefers a website that is unadjusted. Every modern block WordPress theme is well known for its ability to adjust the website's images, contents, and other elements to any screen size and device. 
Having a responsive website is a must as it provides a better user experience to the users.
Your website will for sure look just as good on a smartphone as it would look on a desktop or laptop.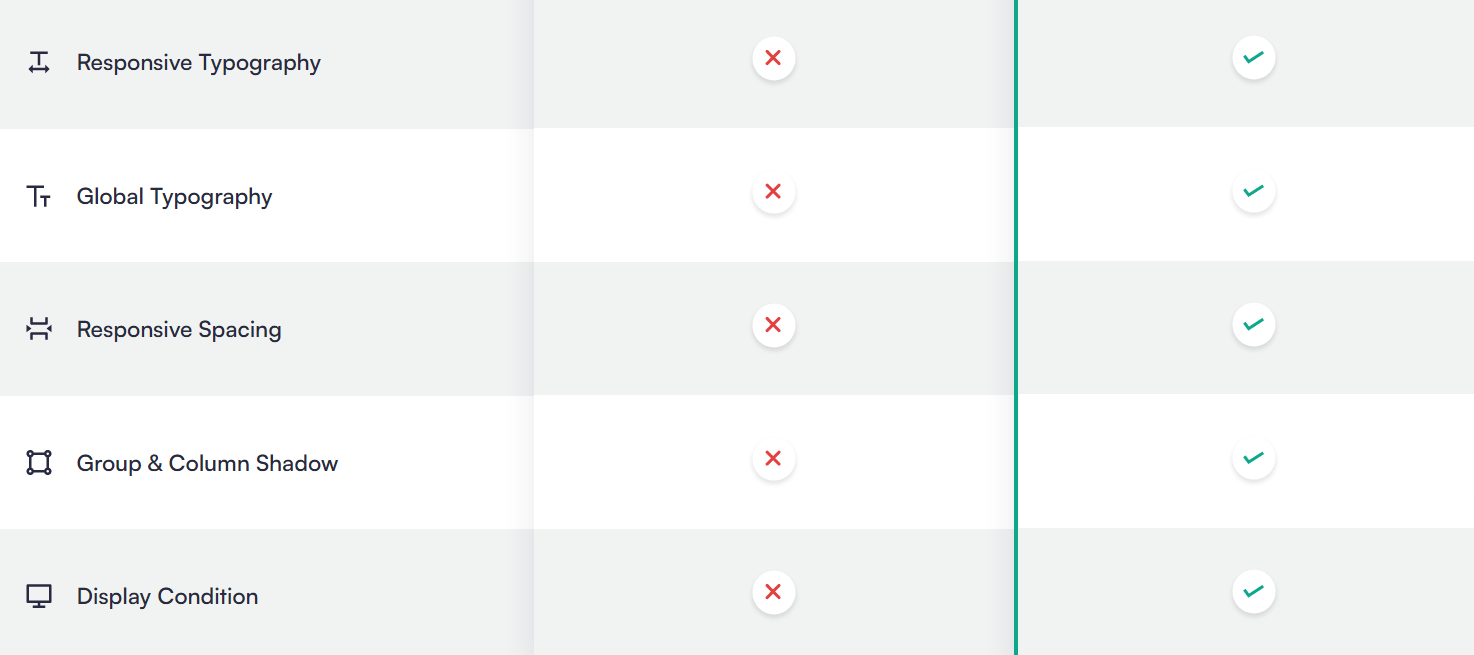 Not only the design but the modern block WordPress theme has responsive typography, spacing, display condition, global typography, and group and column shadow. 
2. SEO Friendly
Every website owner wants their website to rank at the top of different search engines. Moreover, the SEO-friendly nature of the modern block WordPress theme will help you increase your visibility and stand out among your competitors.  
When your website ranks at the top on a search engine result page (SERP) you will gain more traffic to your website. As a result, no matter whether you create content or sell goods and services, it will turn out to be profitable. 
3. Well Mobile Optimized 
According to a recent survey conducted by Internet traffic, it is estimated that 60,04% of website traffic comes from mobile devices. 
As a website owner, you need to make sure that your website will be well optimized to provide a good user experience to users from mobile devices. 
Modern block WordPress themes are well known to provide a systematic and strategic approach to engage users who are visiting your website through mobile devices. 
4. Compatible with WordPress Plugins 
Themes are powerful but plugins make them even more powerful. Wherever you need to add any features, using a plugin is a must whether you're a beginner or a professional. 
Before purchasing or using any modern block WordPress theme make sure that your theme is compatible with all major WordPress plugins.
This way you can build a website that is more professional, functional, systematic, and complete. 
5. Clean and Efficient Code 
Please make sure that your modern block WordPress theme has an optimized code. If your theme has clean code, it will enable you to maximize your website speed. 
It eventually results in a better user experience and higher search engine rankings. Clean code will make everything on your website more readable, changeable, and expandable. 
6. Handiness of Abundant Block Patterns 
Modern block WordPress theme is all about its amazing block patterns. So, when you look for block WordPress themes, try to choose a theme that has enough block patterns. 
So what is a block pattern? It's a set of pre-defined layouts that are made of different blocks. Those blocks can be arranged, modified, inserted, and reused at your own convenience. 
In simple words, you can easily elevate your website using amazing block patterns. 
7. Global Style Options 
Global Styles are CSS styles that are used for different elements of a website throughout the whole of it. It works on being applied on a whole rather than on a specific element or an individual page. 
Global style options are used on almost every modern block WordPress theme in order to make it easier for theme developers and designers to style blocks. 
8. Beautifully Designed Templates 
Templates are one of the most important parts of any WordPress Theme. Whether your theme is a modern block WordPress theme or just a WordPress theme, having responsive and functional templates is a must. 
An amazing template will help you to present your brand's identity and functionality in the best possible way.
9. Minify CSS and Java
Researchers have found that a theme that uses different tools to minify CSS and Java will enable to reduction of the overall file size. 
So, when you choose a modern block WordPress theme make sure that it has less usage of CSS and Java. If you make sure to choose the ones with this functionality, your website speed will be well optimized. 
The advantages of well-optimized speed are: 
Streamlines the browsing process

Better overall user experience

Reduces bounce rate

Increases SEO ranking and much more. 
10. Plenty of Styling Options
When you choose your modern block WordPress theme, choose the one that has tons of styling options like:
Text colors

Background color

Drop cap

Editable header

Editable footer and much more. 
Best Modern Block WordPress Theme
If you're looking for "Best Features Every Modern Block WordPress Theme Should Have" you might also be looking for one of the best modern block WordPress themes that will enable you to build amazing and responsive websites. 
We have tested plenty of modern block WordPress themes but the one that really stands out is Gutena – Modern Block WordPress Theme. 
Let's know about this theme in detail.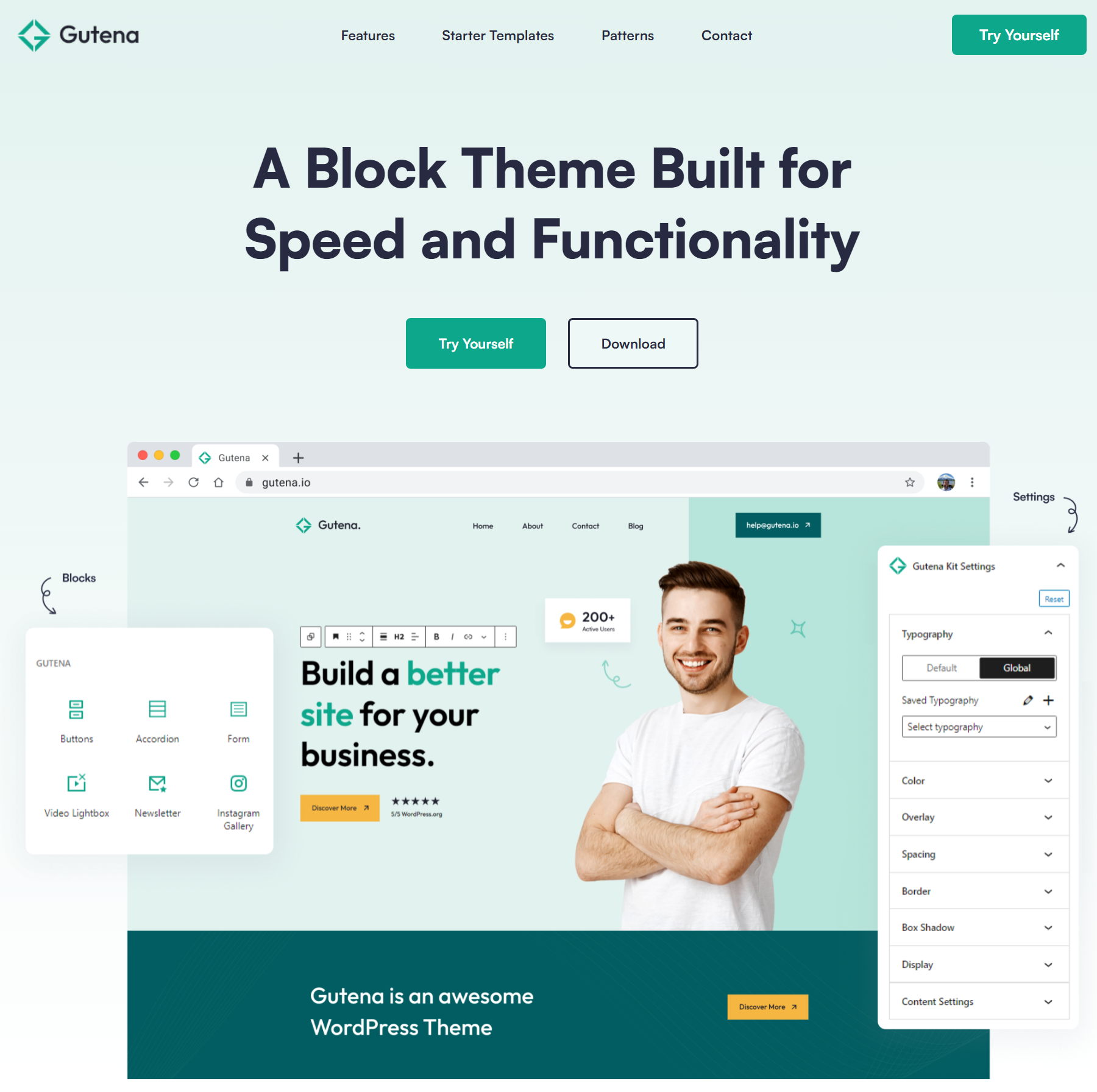 Gutena is one of the best Gutenberg WordPress Themes which has its own new ways to build a website. Using this theme, you can build your first website on the FSE philosophy and use blocks in the most convenient way. This theme is a perfect choice to get started with the "Block Future" 
Its modern in-built block pattern provides you with a power-packed beautiful design element that is suitable for plenty of users. The theme assures you with a performant website that has a score of 95 and above on core web vitals for speed. 
Due to its easy functionalities and customization options, enriched features, pre-built demos, and fully built block patterns, it is suitable for both WordPress beginners and professionals. Despite its simplicity, it follows all of the block standards that a full site editing WordPress theme requires. 
The best part about using this theme is that its developers made the updates as per the needs of its customers and current market trends and requirements. Due to this reason, your website will be up to date and attract more customers, visitors, and viewers which will be profitable for your business. 
Moreover, this theme has all of the best features every modern block WordPress theme should have as mentioned in the above article. 
Top Features: 
Fully Responsive and Retina Ready

Fully Block Based & Customizable

Comes with Pre-built Block Patterns

SEO Optimised with an assured score of 95

Easy One-Click Demo Imports

Gutenberg Compatibility 

WooCommerce Ready
Wrapping Up: 
We hope this article helped you to have a better knowledge of the "10 Best Features Every Modern Block WordPress Theme Should Have" 
Before choosing a modern block WordPress theme for your website, having a piece of better knowledge of what it must have is important! In order to help you with that we have made this effective list. 
Please make sure that your theme has these features! 
If you have any other features in your mind, feel free to share them with us in the comments section below. Do share your user experience with us if you have used Gutena theme before! 
Also, check out: