Best WordPress Business Theme for 2023 – Zincy Pro
Heard of Zincy Lite? You might have seen it in the WordPress theme directory. Zincy Lite is the latest popular theme on wordpress.org. It is a free business theme that is loved by many business owners.
Yes, it is a great theme however you may need more features for an extensive business website. So, here is the upgraded premium version of the theme for your need- Zincy Pro. It is probably the best WordPress business theme for 2023. It comes with more features, wider functionality and a better user experience.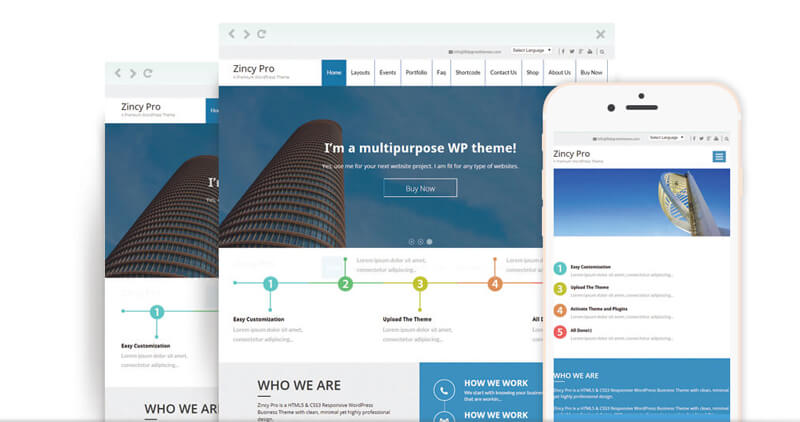 Zincy Pro is a Premium WordPress theme specially built for middle-size or large business owners. Being a great corporate name, you need a great website too. But that may not be possible with a freemium. Indeed you need to spend some to gain more.
As a business theme, Zincy Pro combines all the great features you need to create a perfect website. It is a modern WordPress theme that is completely based on Customizer. Customizer is awesome for it lets you simultaneously live preview each changes you make on the site. You will be able to quickly build a website of your own using this theme.
It is fully responsive, SEO friendly, cross-browser compatible and translation ready. You can completely localize the theme with your local language.  It has great WooCommerce integration that enables you to add shopping attributes to your website. So you can turn your website into an online store instantly.  Add a forum to your website using bbPress and discuss the issues with your clients and customers.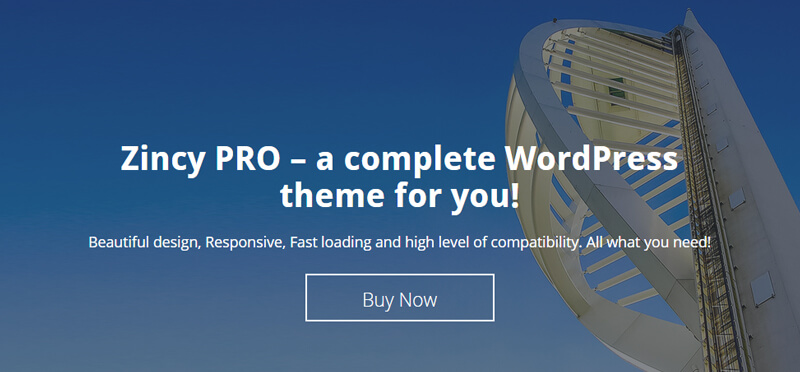 Zincy Pro comes with more additional theme options. It is a flexible theme with plenty of setting options to completely configure the home page and the whole website. It is easy to enable or disable various home page sections and organize them properly. It has easy-to-use custom shortcodes and custom widgets to add more functionality to your site.
It lets you increase greater user engagement with slider options, amazing animation effects etc. Above all, it has a cool sleek design that can take your breath away with its brilliant appearance. Great design, extensive features and powerful theme options make it a perfect WordPress corporate business theme.
Major features of Zincy Pro:
Responsive Design
You know that a large number of people today love browsing through mobiles, tablets or other small portable devices. They would prefer doing a small to large business on their palms simply. So if you are to reach a wider audience/ customers, you must ensure to have a responsive website.
With Zincy Pro, your website will be super responsive. The theme automatically gives your website compatibility with all sizes of devices your customers might use while browsing.
Multipurpose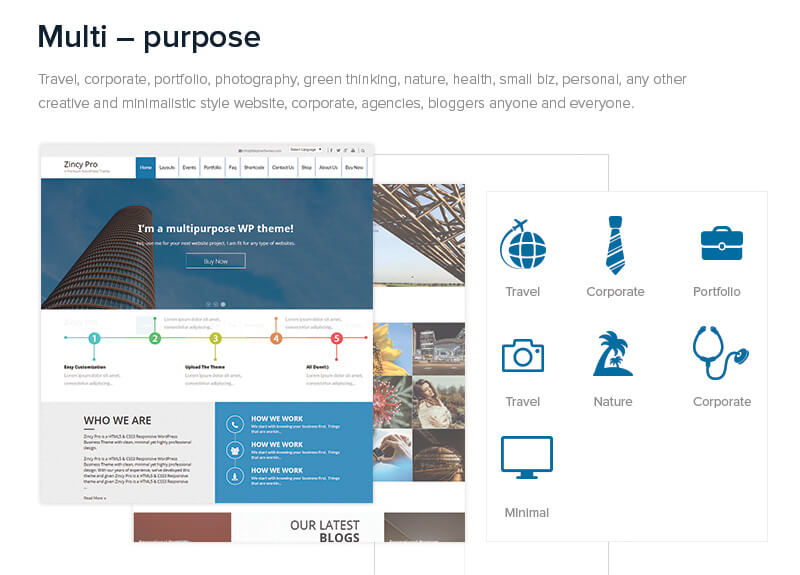 Zincy Pro is basically a business theme however the extensive theme features make it a fine theme for multiple purposes. You can create a variety of websites like portfolios, testimonials, blogging, eCommerce, and photography websites perfectly with this theme.
It offers multiple page layouts that fit multiple website types. It has deep integration with awesome WordPress plugins like WooCommerce, bbPress etc. that enable it to use for other purposes as well. So Zincy Pro is indeed a multipurpose theme.
Multiple layout options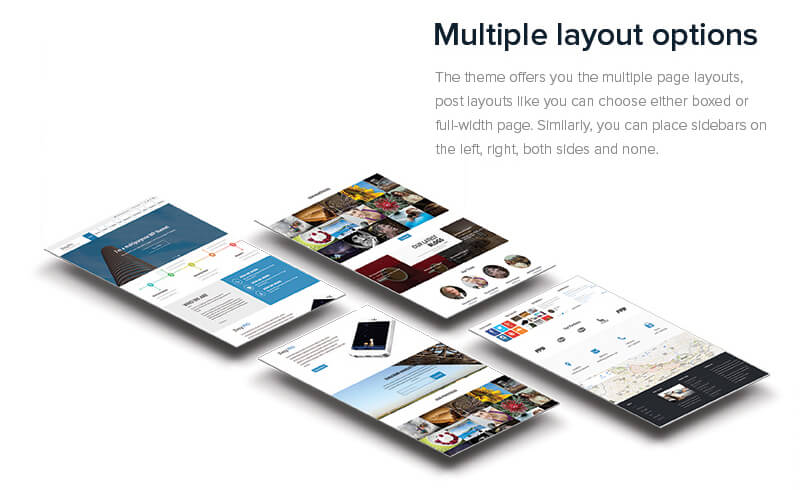 Zincy Pro is feature-rich which is why a powerful theme. It offers you a greater platform to create your website as you like. It offers you different kinds of page layouts: boxed or full-width. You can choose anyone according to the nature of your website.
Similarly, you can find multiple post layouts like news/ events layouts, testimonial layouts etc. You can further customize the post/page layouts with sidebars. You can place sidebars on the left, right, both sides or none.
Access to Google fonts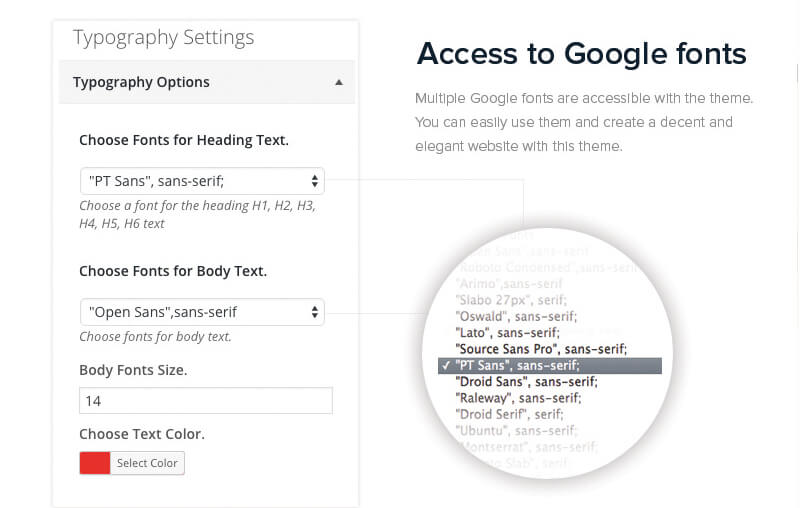 The theme is awesome for its flexibility that lets users create something unique. Yes, decent typography has a great role in making your website look cool and decent. With Zincy Pro, multiple Google fonts are accessible. You can easily use them and create an elegant website.
Unlimited colour setting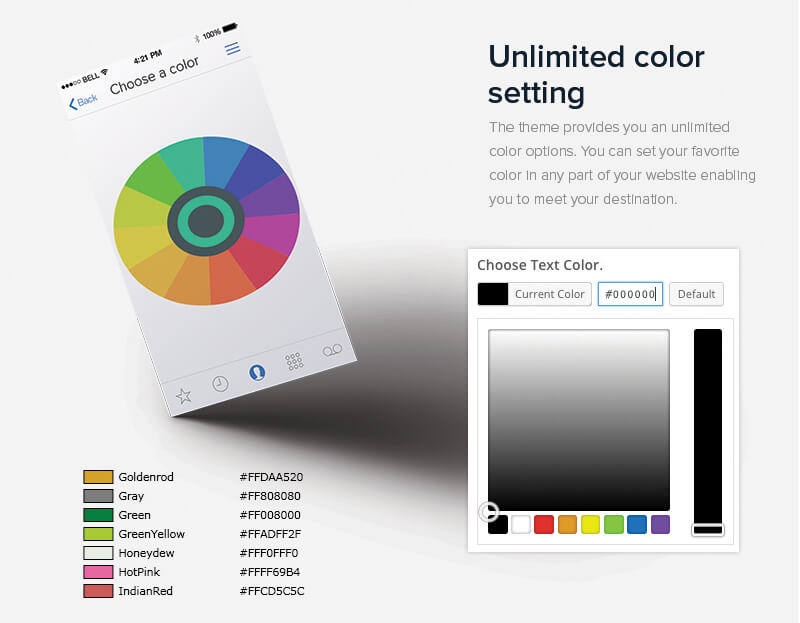 Visual-friendly websites are able to catch the eyeball easier than dull ones. The fine colour combination is the mark of beauty and standard quality of a website. Zincy Pro is a perfect WordPress theme that lets you have full freedom in using colours.
It offers you unlimited colour options. You can easily configure the colour settings anywhere on the website and set your favourite colour.
Category/ post slider options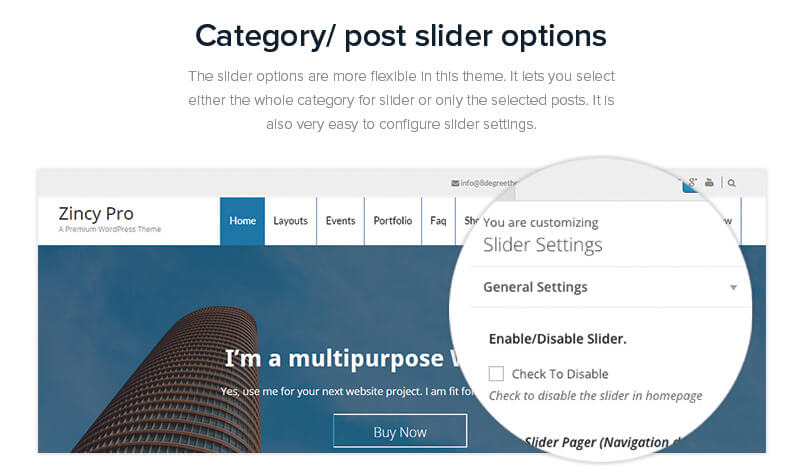 Sliders easily grab the attention of website users. The sliding effect immensely attracts users. The slider options with Zincy Pro are more flexible and easy. It provides easy options to either set the whole category or only the selected posts for the slider.
The settings are very easy to configure. If you meet any trouble while configuring the theme, you can simply check the theme documentation and follow the steps as shown there.
Custom header image option

It is no more trouble to change the header image/ logo with Zincy Pro. Because it is a modern theme, it has easy setting options by which you can easily customize the header image or replace the default logo with a custom logo.
Blog Layout
Blogging is what WordPress originated from. Blogging/ content creation and marketing is a vital part of any business today from the SEO perspective as well. Google and other search engines value the quality content any website delivers. So you need a fine blog section on your website.
For this purpose, Zincy Pro offers you multiple blog layouts. You can choose any from these layouts and create a nice blog section on your website.
Cross-browser compatible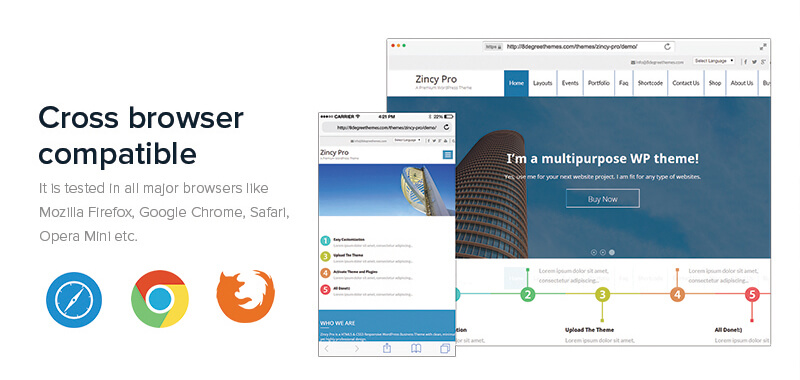 Zincy Pro is a perfect theme because it is compatible with multiple web browsers. It is tested in all the major browsers like Mozilla Firefox, Google Chrome, Safari, Internet Explorer, Opera Mini etc. It ensures your wider reach no matter what browser your customers would be using.
More features:
Custom shortcodes
It has easy-to-use custom shortcodes to add different types of content to create a new design within the content. It is no more necessary to create difficult and complicated codes to add the theme functions.
Custom Widgets
There are many custom widgets available that will let you add new content like Calls to action, sliders etc directly into the widget areas. Add more functionality to your website.
Wow animation effects
It has options for setting animation effects in the various parts of the website. It makes it easy to engage your website users longer on the site.
Multiple header and footer layouts
Zincy Pro comes with options for multi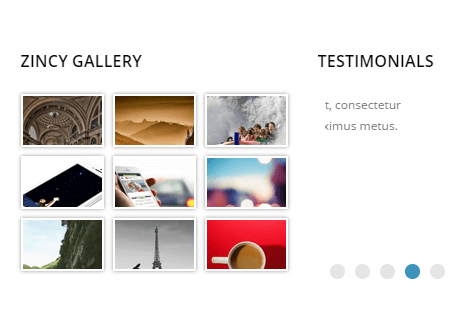 ple header and footer layouts. You can find 4 layouts each for the header and footer.
Multiple portfolio/ event layouts
You can create a portfolio or event in the grid or list format. There are ready-to-use layouts for creating an awesome portfolio and event section.
Final thoughts
If you have decided to buy a premium theme for your next project, Zincy Pro would be the perfect one for your budget. It is a complete theme at a reasonable price.
I think it would be the best choice because of the dedicated after-sales support offered by the theme makers. You can get answers to your queries by various means: online chat, email or forum. You will be instantly responded to by professionals and experts.
More about the theme:
Theme details           Demo         Documentation
Hurry up! Grab the theme right away and start your website!
Feel free to write anything you like to say about Zincy Pro. I would highly appreciate your thoughts on it. 🙂
Also, you might want to check out,