Best WordPress Frontend Posting Plugins
Frontend posting can be a useful feature for websites that accept guest posts or user-submitted content. It allows your users to submit, edit, or draft their blogs directly from the front end of your website. In doing so, you can save a lot of time that might be consumed while finding and copying the submitted content from the long list of emails. Moreover, this feature also keeps anonymous visitors away from your admin area as you don't have to provide login access to your unknown users to add your posts.
The front-end posting features can be added to your WordPress website using WordPress plugins. These plugins come with advanced features and functionality to add a special type of form that lets your audience contribute their post on the draft, or publish it as per your configuration. Moreover, some of the plugins also allow you to add Captcha protection to keep spammers and abusers away from post submissions.
Some of the Best WordPress Frontend Posting Plugins:
Now let's talk about some of the most popular WordPress frontend posting available on the market. These plugins have a very high number of sales and are positively rated by their users due to the availability of great features. Moreover, they are well supported by their owners and are updated regularly to keep them compatible with the latest version of WordPress.
Let's talk about them in detail: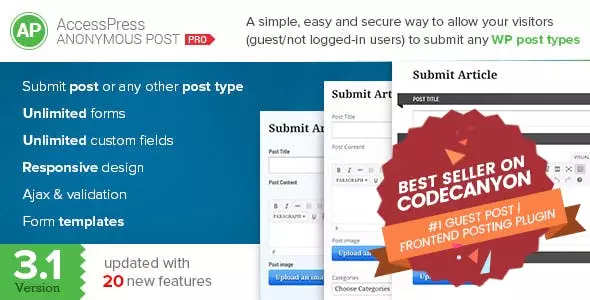 AccessPress Anonymous Post Pro is a premium WordPress plugin that allows your audience to submit their posts easily and securely. You can create an unlimited number of submission forms using the simple drag-and-drop mechanism and add them anywhere on your WordPress website. Moreover, the plugin provides distinct options for each of the forms to set up various restrictions as per the user's role while submitting the content.
Great Features of Anonymous Post Pro:
Create an Unlimited Number of Submission Forms
Custom File Uploader to Upload Images, Audio, Video, and Docs
Email Notification to Admin After Successful Post Submission
Customized Post Submission Message
Ability to Select Form Fields
Captcha for Keeping Spammers and Abusers Away
Custom Post Type and Taxonomy
Use Shortcode to Display Submission Form Anywhere
Live Preview Purchase AccessPress Anonymous Post Pro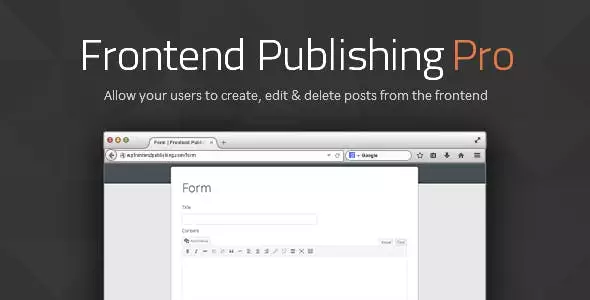 Frontend Publishing Pro is a responsive WordPress plugin that allows your users to create, edit or delete posts from the front. It comes with a simple drag-and-drop interface that easily lets you build submission forms in no time. And using the shortcode generated, you can add the forms anywhere on your WordPress website. Besides, the plugin also contains layered security to make your post submission form secure from spam.
Great Features of Frontend Publishing Pro:
Create an Unlimited Number of Forms
Ability to Edit or Delete Posts from the Frontend
Intuitive Drag and Drop Form Builder
Add Custom Fields on Forms with Ease
Add a Wide Variety of Validation Rules on the Form
Automatically Sanitize User Input Before Inserting Into Database
Email Notification to Contributor Whenever Submission is Made
Advanced Fields Types
Live Preview Purchase Frontend Publishing Pro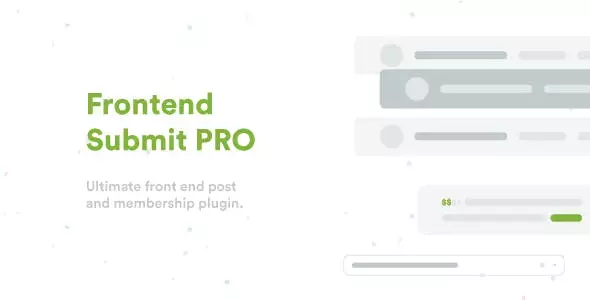 Frontend Submit Pro is a WordPress frontend submission form builder for creating multipurpose frontend posting forms with flexible form fields. It comes with easy to use drag and drop option to create responsive submission forms without having to use any codes. Moreover, the plugin contains 24 field types that can be added to your submission form to make it more engaging and appealing to your contributors.
Great Features of Frontend Submit Pro:
Create Unlimited Frontend Post Submission Form
24 Field Types Supported
Repeater Field Supported
Use Shortcode to Embed Forms into Any Page
Multiple Conditional Logic
Email Notifications
Redirect Users to the Selected Page After the Submission
Email Notification for Each Form Entries
Live Preview  Purchase Frontend Submit Pro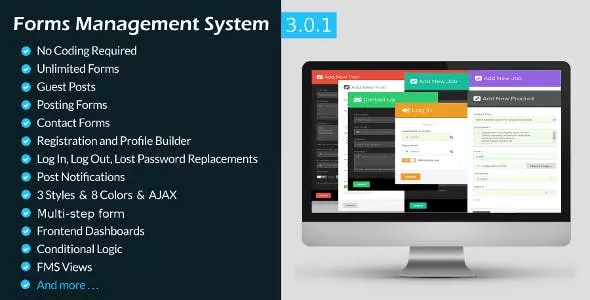 Forms Management System is an ultimate frontend plugin that provides a full solution to build advanced posting forms, guest forms, registration and edit profile forms, contact forms, and frontend dashboards for WordPress websites. It comes with a visual form builder to easily built responsive forms by dragging and dropping its custom field. Besides, the plugin also supports different styling to style up your forms and make them attractive for your contributors.
Great Features of Forms Management System:
Create Unlimited Frontend Dashboard
Options to Create Full-Width Forms
Custom Field Message
3 Different TextAreas
Multisite Supported
Toggle Switches
Smart Conditional Logic
Date and Time Custom Field
Live Preview  Purchase Forms Management System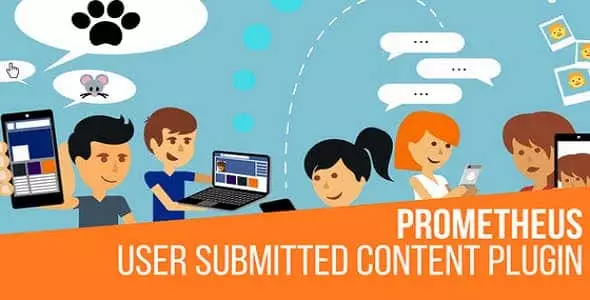 Prometheus User Submitted Content is a premium WordPress plugin to allow your visitors to submit posts and upload files or images, from the front end. It comes with powerful tools to create content submission forms and add them to the location of your design. Through the submission form, the post submission becomes simple for your users. Besides, the plugin is supported by different protections to keep the spammers away from submitting the forms.
Great Features of Prometheus User Submitted Contents:
Includes Shortcode to Add Submission Form Anywhere on your Website
Define a Wide Range of Rules on the Form
View Statistic About User Submitted Contents
Moderate Submitted Posts and Publish Them Immediately
Track your Submitter by IP Address, User Agent, and Referrer
Allow Only Predefined Users to Submit Posts
Receive Email Alerts for Each Post Submission
Get Protected Against Spammer Bots
Live Preview  Purchase Prometheus User Submitted Content
Wrapping Up

The above mentioned plugin are the best WordPress frontend posting plugins available on the market. They contains advanced options to allow your users to submit, edit, delete or even submit their contents directly from the frontend. So, if you want to add frontend post submission feature on your WordPress website then, you can purchase the above mentioned plugin for a reasonable price.

You can also checkout:

Best Free WordPress Themes and Templates
Best Premium WordPress Themes and Templates