Best WordPress Popup Banner Plugins
According to stats by Sitepoint,  popups can increase the CRO of a website by 300%. Even if the visitors like it or not, it helps to get the result by engaging them. 
Popup banners can be used to display information and for marketing purposes. It allows you to add CTA on your website and let your visitors perform different actions.
The plugin enables the collection of the visitor's email and increases the number of email subscribers. Whereas, the newly launched products, deals, and discounts can be promoted on the popup banners to enhance the conversion. 
Best And Amazing Popup Banner Plugins For WordPress
Choosing the best Popup Banner Plugin for your WordPress website might be difficult. Here, I have selected the plugins based on their reviews, descriptions, features, demos, functions, and number of sales. Let's get popping!
---
WP Popup Banners Pro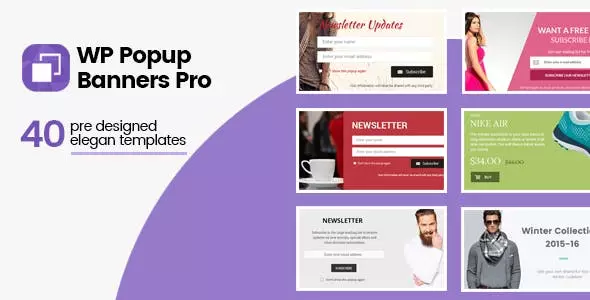 WP Popup Banner Pro is an elegant WordPress Popup Banner Plugins by AccessPress Themes. The plugin allows its users to design an excellent popup that engages visitors to the site. This plugin enhances your website's usability. It comes up with a 40 elegant popup layout. So, choose the best layout that fulfills your needs. Not only one but an unlimited number of popup banners can be added to the site. The popup banners are configured according to the pages. It is compatible with all mobile devices. The popup can be placed in 9 different positions. The plugin can be an excellent choice for WordPress Beginners as it doesn't require any kind of coding knowledge.  
The banners created through the plugin can be used to make your website accessibility higher. It will support you to engage more users than ever before. The plugin is fully compatible with WordPress. In some cases, users don't like pre-available templates. In that case, there are different tools available for making a custom design of your choice. There are 4 different popup display modes. You can make a choice, within a certain period with a certain scrolling section on the page. The plugin provides free regular updates for a lifetime. This plugin provides excellent support for customers whenever required. 
Features: 
Provides an Unlimited Number of Popup Banners

Serves 40 Different Template Layouts

Integrates Internal and External Marketing Mail

Mobile Ready Popup Theme Designs

Likewise, it is Compatible with Different Versions of WordPress

Constant and Amazing Free Upgrades

Similarly, it Offers Different Popup Display Modes

Choose Among 9 Different Menu Bar Positions
---
Layered Popups
Layered Popups is one of the most flexible WordPress plugins by half data. The plugin enables you to make animated popups that are unique and multi-layered. This plugin provides over 200 professionally designed ready-made templates from the library. Most WordPress Users prefer this plugin as it is the fastest plugin with an easy setup. It supports all the popular email verification services. This plugin offers 9 popup positions to place the popup on the desired screen position. It integrates with all email verification services. 20+ CSS3 layer animations are driven by Animate.css. Using this plugin you can allow your visitors to subscribe through different social media. 
Due to the active support, and professional and unique popups, the plugin is rated 5 stars with 14, 418 sales. The New Advanced Targeting System adjusts and displays all popups in the required place. The plugin works with 80 marketing systems. More than five add-on plugins work with the plugin. This plugin also provides online documentation which enables Beginners and WordPress Users to create their popups. It supports WPML and allows it to create a separate popup for each language. The plugin has a real-time preview with a responsive design.  
Features:
Enable/Disable Pre-Loading of Popup

Supports Font Awesome

Likewise, it Compatible with WooCommerce

It is Easy to Install and Translation Ready

Provides Support for Email Marketing

Similarly, it offers an Unlimited Number of Popups

600+ Google Fonts

Remember Subscribed Visitors
---
Convert Plus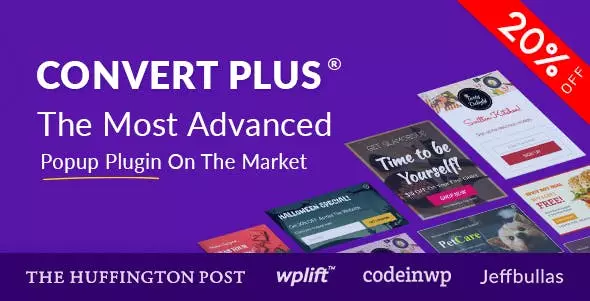 Convert Plus is an advanced Popup Banner Plugin for WordPress by BrainstormForce. The plugin comes up with 100+ beautifully designed and highly converting readymade templates. It has an extraordinary feature that generates more social followers and shares utilizing triggers. This plugin is so easy to use that it starts converting website visitors into subscribers, social followers, and customers. It offers 10+ Popup display positions and 12+ different visitors & filters. The plugin has an easy form builder to build opt-in a form with multiple fields of choice. 
The plugin has 14,312 sales and active and satisfied customers. It makes the site GDPR Compliant. This plugin promotes special products and deals. The all-in-one plugin converts optimization and Email list building. A beautiful full screen will grab the attention of your visitors to amplify call-to-action and maximize conversions. You can choose from multiple fields from Easy Form Builder to build an opt-in form. The plugin is compatible with mobile and different other browsers. 
Features:  
100+ Ready Made Templates

It Enables one to Get More Email Subscribers, Leads, and Customers

12+ Different Visitor Behaviour Triggers and Filters

Compatible with Different Browsers

Likewise, it Promotes Special Products and Deals

Conversion Optimization and Email List Building

Similarly, it Includes a Powerful Email List Building Tool

Well Time-Triggered
---
Master Popups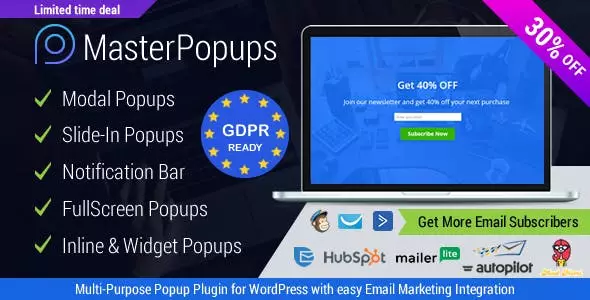 Master Popups is a multi-purpose WordPress Plugin by CodexHelp. The plugin enables you to create Modal, Full-Screen, and widget popups. It includes a powerful feature for capturing subscribers by email. This plugin consists of a powerful visual editor that is fully customizable and includes tools to build popups in minutes. There are multiple elements for creating popups and forms. The plugin enables to use of the contact form to be more connected with potential customers. The plugin can be set up professionally with highly targeted display settings.
This plugin captures all the attention and enables you to get more customers through FullScreen Popups. Popups can also be added to the sidebar and any widget area. It is fully responsive and looks great even on small devices including mobile. Due to its advanced support and beautiful features, the plugin is rated 5 Stars. This plugin has 1,537 sales. Beautiful Slides can be added in panels in a position. Its beautiful eye-catching designs enable it to get more attention from customers. 
Features: 
It Provides Unlimited Popups

Customizable Preloader

Sticky Mode for Popups

Pre-Made Popup Templates

Popup Background Settings

Cookies to Show Popup Only Once

Likewise, it has Overlay Settings for Colors and Opacity

Native Subscription/Contact Forms
---
Ninja Popups


Ninja Popups is one of the most powerful WordPress Popup Banner Plugins by code. The plugin has integrated all popular mailing systems. Its powerful tools bring high-quality leads and increase options on your mailing system. This plugin offers 8 free option panels and 74 animation effects. The plugin is compatible with WPML and WooCommerce. This plugin has a unique feature to display popups on the load page and leave the page. Social Network Integration and E-mail marketing Integrations are available in this plugin. The plugin has 60 new beautifully designed popup themes. 
This plugin is considered as best popup plugin on the market with 35,000 sales. In case, you don't like the popups available. Drag and Drop Visual Editor (Theme Builder) can be used to create your popups within a few seconds. The plugin increases by more than 700% in Email Subscribers Fans. It is compatible with all modern browsers. Alignments can be selected for the popup as per your choice and requirement. The plugin keeps introducing a new version to beat the rest of the popups on the market.
Features:  
Customizable Colors, Buttons, Google Fonts, and Animations

Likewise, it has Free Updates for a Lifetime

Translates your Popups into Different Languages

It Supports Mobile Devices

Easy Popup Configuration

Create an Unlimited Number of Popups

Similarly, it Displays Popup on the Load Page and Leaves Page

Free Popup Plugin Updates
---
Indeed Smart Popup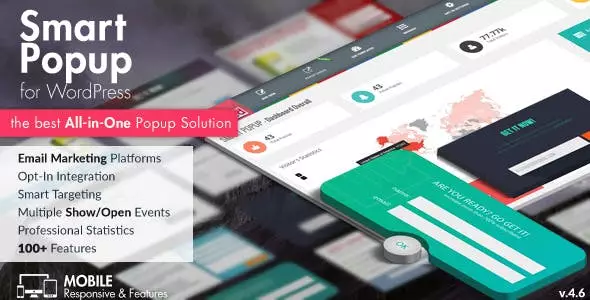 Indeed Smart Popup is a responsive WordPress Popup Banner Plugins by Azzaroco. The plugin provides more than 100 awesome features to create many types of popups. This plugin provides a special feature to be innovative and pick the audience to display the popups. It has 20 open effects and 16 close effects with time and delay effect duration. The plugin comes up with 10 different content options and 10+ Themes. It has a user-friendly interface. Each element has absolute values or relative values. This plugin can filter out essential and effective visitors. 
Due to its professional statistics and active support, the plugin has 1,990 sales. Smart targeting restricts the audience and shows them in a particular period. It has 10 pre-defined templates included. Managing subscribers is extremely easy through Email Marketing Platforms. The user devices can be addressed to enable and disable the plugin on Mobile, Android, and IOS systems. This plugin includes features like session and time management, event handler, and targeted users. It has 20 appealing effects. 
Features: 
Provide Supported Shortcodes

It is Responsive on Mobile Devices

Tested on WordPress MultiSite

Guaranteed Support Team

Likewise, it Enables to Creation of Single Day Events

Creates Scheduled Campaigns

Extremely Easy to Use

Similarly, it Offers Unlimited Types of Popups
---
Wrapping Up:

It's equally important to engage the visitors and increase the site's traffic. Doing this is absolutely possible by choosing the WordPress Popup Banner Plugins. All these plugins mentioned above work perfectly with all WordPress Themes. So, use them and help your site have higher access with all the visitors and customers. 

If you have any queries, recommendations and suggestions, than ask it in the comment section below.
Also, Checkout,