10 Best WordPress Quiz Plugins of 2023
Looking for the Best WordPress Quiz Plugins for your website? Your website can't live up to its full potential until you add features that engage your readers. You want to keep users on your site longer and encourage more conversions from them.
Adding interactive elements like Quizzes and Surveys will keep users engaged. When you lead with engagement, users will stick around longer and be more likely to make a purchase or provide their contact information.
A popular website like BuzzFeed is a testimony to the same. BuzzFeed has struck the perfect balance between user engagement and brand awareness by running quality quizzes on its website and has been successful in bringing traffic that converts.
In this post, we have shared the Top 10 plugins to help you create quizzes for your site and help you engage maximum visitors to increase the average time users spend on your page and also reduce the bounce rate.

Quiz and Survey Master is the leading and most popular Quiz and Survey Plugin on WordPress. The plugin is easy to use and allows users to create unlimited quizzes, with multiple questions and answers, all for free.
The quiz is highly customizable and includes amazing features like a Countdown Timer, 15 Question Types (slider, multiple-choice, true/false, dropdown, checkbox, upload, etc.), a Grading System, a Progress Bar, Template Variables, Custom Emails, Personalized Results, and 100s of other customization options.
Quiz and Survey Master also has 30+ Pro Addons like Google Analytics Tracking, Reporting and Analysis, Advanced Leaderboards, Logic, and Integrations to popular services like ActiveCampaign, MailChimp, PayPal, Stripe, CampaignMonitor, etc.


Quiz Cat is a simple WordPress Quiz Plugin that makes it easy to create engaging WordPress quizzes like the ones you see on popular websites. It is a lightweight plugin that just gets the job done without much complexity.
It is best to create quiz quizzes that are short and requires less information from the user. It creates quizzes with multiple-choice type answers that attract maximum visitors. There aren't many features in Free Version.
The plugin also offers premium features that include personality quizzes, quiz analytics, social sharing buttons, multiple integrations, shuffle quiz questions, retake quiz buttons, etc.

HD Quiz is another quiz plugin for WordPress that lets you create amazing BuzzFeed-style quizzes. The plugin is popular for making Trivia Quizzes, Personality Quizzes, and other types of fun quizzes.
The quiz plugin also allows you to add images to questions and answers to make the quiz even more exciting. It uses multiple-choice as its question type which is most preferred among quiz takers. And has numerous exciting features.
HD Quiz offers unlimited quizzes with a responsive design. If you wanted to make time-specific quizzes you can do that too as the plugin also has a Quiz Timer. All in all, the HD Quiz plugin is a great free tool to have on your WordPress.

Quiz Maker is an easy-to-use quiz builder plugin of WordPress. The plugin has 7 types of questions that can be used to build answers for the set questions. The plugin also has no cap on building quizzes, meaning you can build as many as you like.
The quiz plugin also allows you to categorize the questions and quizzes. Again, it offers numerous customization options that are essential to building an engaging quiz that is loved by your visitors. The plugin has all the essential functionality like timer, random questions, quiz scheduling, answers explanation, redirecting users, pass score, etc.
The Quiz Maker plugin also has a Pro version that lets you do much more. The Pro version includes features like Image Answers, Results with charts, Quiz Widget, Exporting Results, and various other third-party integrations.

Formidable Form Builder is another popular WordPress Quiz Builder Plugin. As the name suggests this plugin can also be used to build contact forms, and surveys.
The plugin works on the drag-and-drop principle where you can just pick the required fields and start right away to build a form. The beauty of this quiz plugin is that it has pre-built templates which can be a boon for novice users. The forms built using this plugin are responsive and fully GDPR compliant.
The plugin is capable of generating detailed reports from the collected data using graphs. It is of great help when you are running marketing campaigns and want to analyze their effectiveness. The plugin has paid plans that can help you with various premium features that are missing from the free plugin.

Watu Quiz is a great plugin if you are a techie or have been using WordPress for quite a long time. The quiz plugin interface can be overwhelming at first but it is an awesome tool to use for building quizzes, surveys, and exams.
The plugin allows users to assign grades and points to quizzes and exams to make them more interesting. It has some really good features like using shortcodes, admin notification for a quiz, exporting results, Multiple Question Types like Single Choice, Multiple Choice, Open-end questions, etc., and many more features.
The Pugin also has a Pro version if you want to build advanced quizzes and exams and use the plugin to its full potential. Plugin's Pro features include full-featured exams with data reports, student logins, a grading system, reporting, data analysis, etc.

Poll, Survey, and Quiz by Opinion Stage is a creative quiz builder plugin that can also be used to build Surveys and Polls. The plugin has numerous built-in templates for newbies and also an option to build quizzes from scratch.
You can even add images to the answers. The plugin is highly customizable allowing you to alter the color theme, fonts, and size you can even add your custom, CSS Styles. It easily integrates with Facebook and Twitter to distribute the created quizzes.
The plugin can also be integrated with third-party services like Zapier, MailChimp, webhook, etc. All in all, it is a good free quiz tool to have on your WordPress. The plugin also has a Premium Version with various plans which can be found on its website.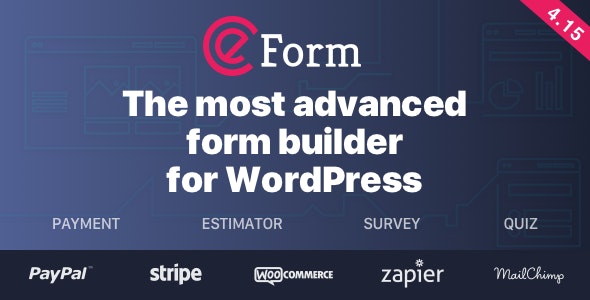 eFrom is a fully premium WordPress Form Builder Plugin. It is a multipurpose plugin using which you can create quizzes, surveys, feedback forms, and more.
The plugin is best for a business with a huge user count, the plugin assures a high level of security and support. It also has a drag-and-drop form builder allowing you to build unlimited forms and all the form data will be stored on your website itself.
The plugin can also be integrated with many third-party services like Aweber, ActiveCampaign, MailChimp, GetResponse, etc. It is a great tool to generate extensive form reports and statistics. So in simple words, you need to have this plugin in your WordPress if you are serious about building quizzes and collecting crucial user data.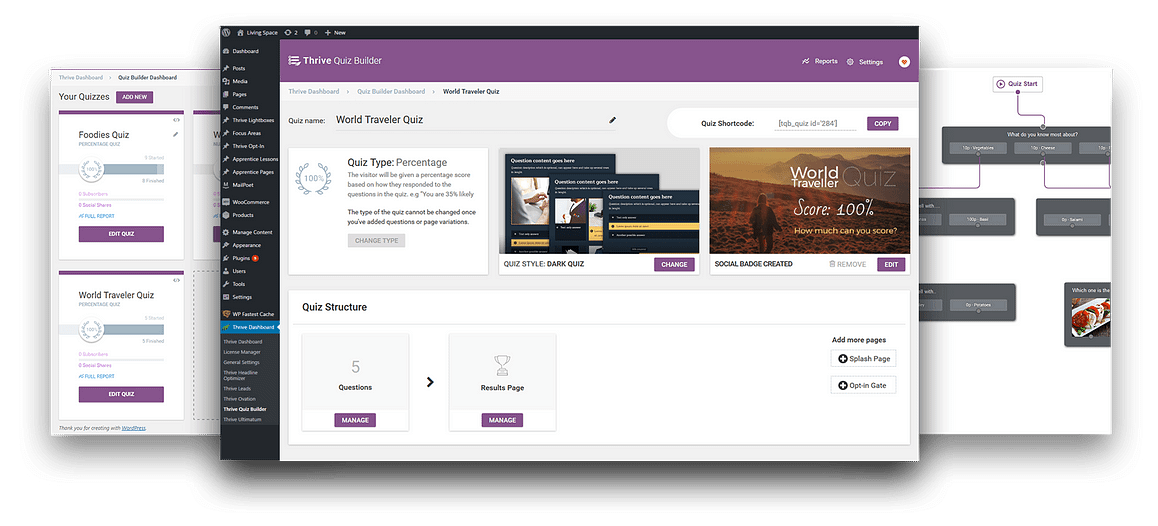 Thrive Quiz Builder is another fully premium plugin from Thrive Themes. It is a part of the thrive suite which is a collection of themes and plugins. This quiz builder is comprehensive and has many useful features.
The plugin is focused more on building viral quizzes like personality quizzes, trivia quizzes, and other popular ones. It is fully capable of building complex quizzes that are logic-based.
You can collect a whole lot of data about your visitors to boost your marketing efforts and craft your marketing report template on that. The plugin has 4 quiz types, 4 Quiz templates, and powerful analytics for report building. If you are planning to build robust, complex, and engaging quizzes you must consider this plugin.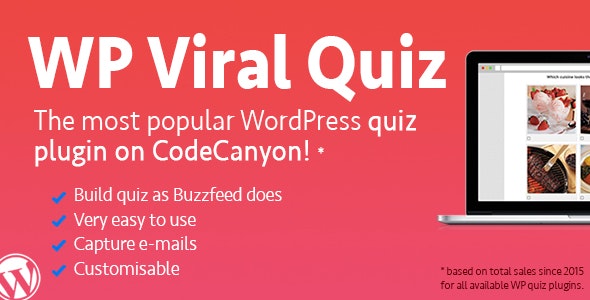 WP Viral Quiz Plugin is a Popular quiz plugin on CodeCanyon. As the name suggests the plugin is focused on building BuzzFeed-style viral quizzes on your website.
This quiz plugin lets you create question-answers in the form of multiple-choice questions. You can even add images to your answers thus doubling the fun. The plugin allows you to display a contact form to the users for viewing the results by adding their email id.
The plugin has a responsive design and awesome support. The plugin is GDPR compliant. It comes with two quiz skins and is multilingual. Check out all its features by visiting its website.
Wrapping Up

Here we have tried to list out the 10 Best WordPress Quiz Plugins, that are easy to use and functions well. With the help of these plugins, you can easily create an engaging quiz that attracts visitors, generate more data for marketing purposes, and ultimately generating leads.

Do let us know and share your experience if you have already used any of these plugins; it will help newbies to choose the perfect quiz plugin for their website.

If you have any queries or want any other plugin to be on this list then just feel free to comment down below.

You might also want to check out,