Top 5 WooCommerce Plugins of 2023
WooCommerce Plugins are open-source plugins that will help you to build a responsive, systematic, professional, organized, and complete online store. Not only building an online store, but in the long run, it will enable you to add new and enriched features that will help you to grow your business. 
Due to the significance of WooCommerce Plugins, they are trusted and used by over 6.3 million websites worldwide. These plugins are so in demand as they will take your basic WordPress operating system and remodel it into a fully professional eCommerce store. 
WooCommerce Plugins make it more convenient for stores, customers, visitors, clients, and owners to buy and sell goods and services online. Not only that but WooCommerce Plugins are also preferred by users as they are convenient for managing secure transactions, managing inventory, and all types of taxes. 
Before we go through the Top 5 WooCommerce Plugins list, let's get to know why they are important for our Online stores in detail. 
Importance of WooCommerce Plugins 
Compared to all of the other different online stores available on the market, the online stores created using WooCommerce plugins have the following advantages: 
1. Open Source
WooCommerce Plugins help you have complete control over your online store as they are built on well know CMS WordPress. You can customize your eCommerce website design to any form per your unique and custom business requirements. 
There are both Free and Premium WordPress Plugins available. So if you are a beginner you don't need to worry about your economy since it has an open source. 
But, note down that if you decide to go premium you need to pay the amount as per the plans that you choose. 
2. High Scalability and Flexibility
WooCommerce Plugins is best known for enhancing the customer experience and functionality of the WooCommerce store. As there are both Free and Premium plugins available in the market, you can select one as per your requirements. 
You can have additional features and functionalities included like different payment options, tools for better marketing, shipping options, management features, and much more. Just make sure that you choose one of the best WooCommerce Plugins that will make your website much more responsive and functional.
3. Achieve Custom Functionality
Custom functionality is a unique and professional way to store functions for your website. You can easily extend the features and functionality of your website which is very important to stay updated with the current world. 
As the WordPress community is growing day by day, you can get almost any kind of WooCommerce plugin that will help you to support your eCommerce business in the best way possible.
4. Amazing Design Options 
WooCommerce Plugins are compatible with most WordPress themes. As a result, you can make changes, choices, or designs as per your requirements to build a complete and professional WooCommerce website3. 
Not only the designing part, but WooCommerce plugins will also help you to sell your products and services online in a visually appealing way. All you need to do is install and use the best WooCommerce points and rewards plugins and you're ready to go.
As you have figured out the importance of WooCommerce Plugins, let's go through the list to get the best WooCommerce marketing plugins to make sure you have an amazing website that provides your users with an amazing user experience.
Best WooCommerce Plugins of 2023
In this article, we have presented to you a list featuring the best WooCommerce Plugins that are available recently. 
All of the WooCommerce Plugins listed in this article are user-friendly, simple to use, include enriched features, compatible with major WordPress themes, and much more. 
These plugins are selected after deep research so it will be convenient for you to go through the list to make your choices easier. 
Let's introduce you to some of our favorites!
1. OptinMonster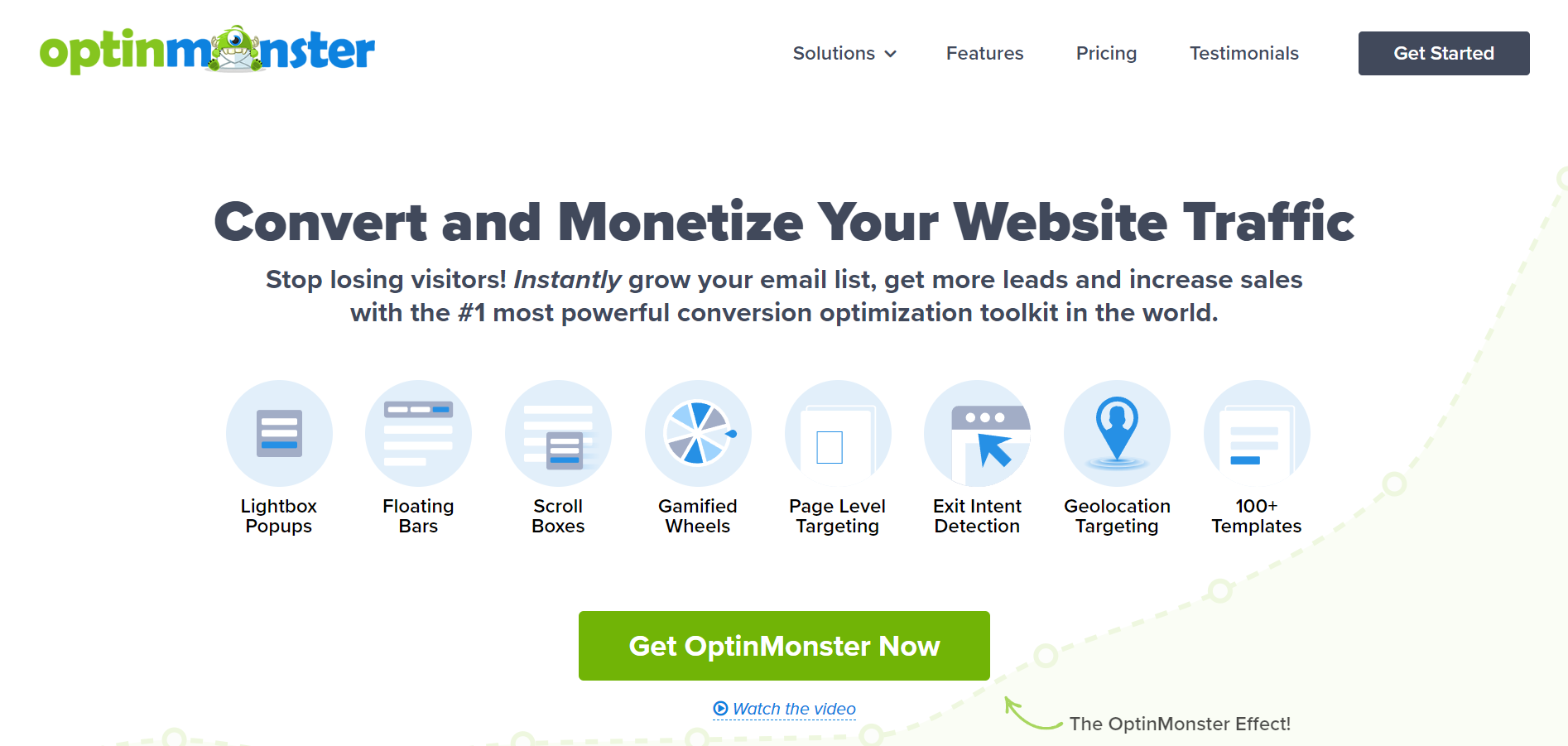 OptinMonster is one of the most popular WooCommerce Plugins that will enable you to build an amazing WooCommerce store. This plugin will generate more subscribers, sales, and leads from your existing traffic. 
The users can use the robust customization option on eCommerce websites to increase sales, grow the email list, reduce cart abandonment, and much more. Moreover, it can be used to great effect for WooCommerce. 
It comes with its signature feature, Exit Intent Technology. This technology monitors the movement of your website's visitors and prompts them with the targeted campaign at the exact moment when they are about to exit your site. 
This plugin enables you to reduce cart abandonment and increase the sales of your WooCommerce store. Also, this plugin can be used to boost engagement with the segmentation of the list, increase pageviews, upsell or cross-sell customers and much more. 
---
2. TrustPulse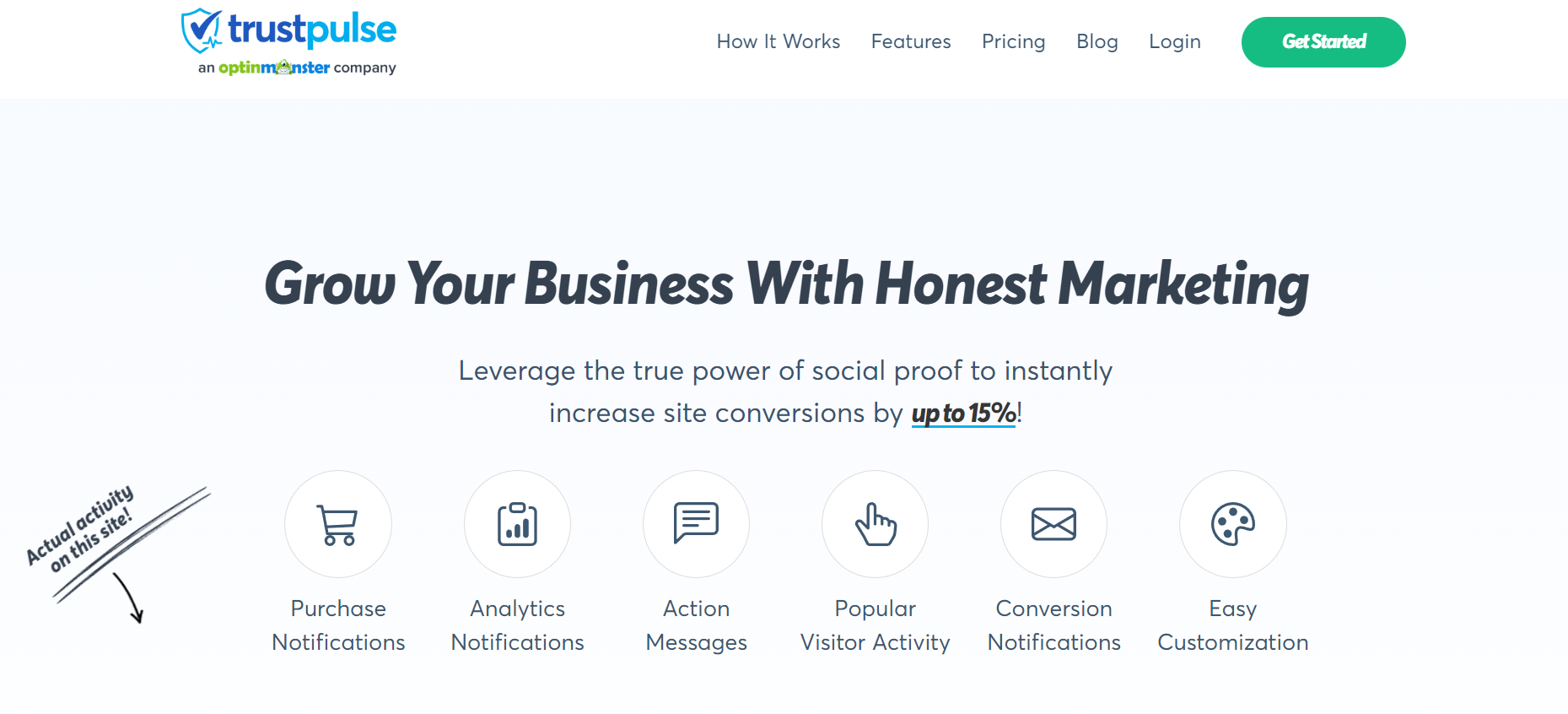 TrustPulse is an amazing social proof tool that will enable you to build trust with your site visitors and make online purchases more convenient. This one of the best WooCommerce Plugins guarantees you to increase the conversion rate by up to 15%. 
The plugin features an instant lift, real-time tracking, showcase activity, smart targeting, flexible design, no code requirement, and many more amazing features that will be perfect for your WooCommerce websites. Also, it works on all popular platforms. 
Its detailed analytics reports will help you to optimize your campaigns as per the requirements. This plugin is extremely easy to use but if in case you need any kind of help, you can instantly reach out to the professional support team. 
It is suitable for eCommerce websites, marketing agencies, bloggers, and all other small businesses. This plugin is suitable for both WordPress beginners and professionals as it doesn't require any coding knowledge. It includes all-inclusive enterprise plans. 
---
3. All-in-One SEO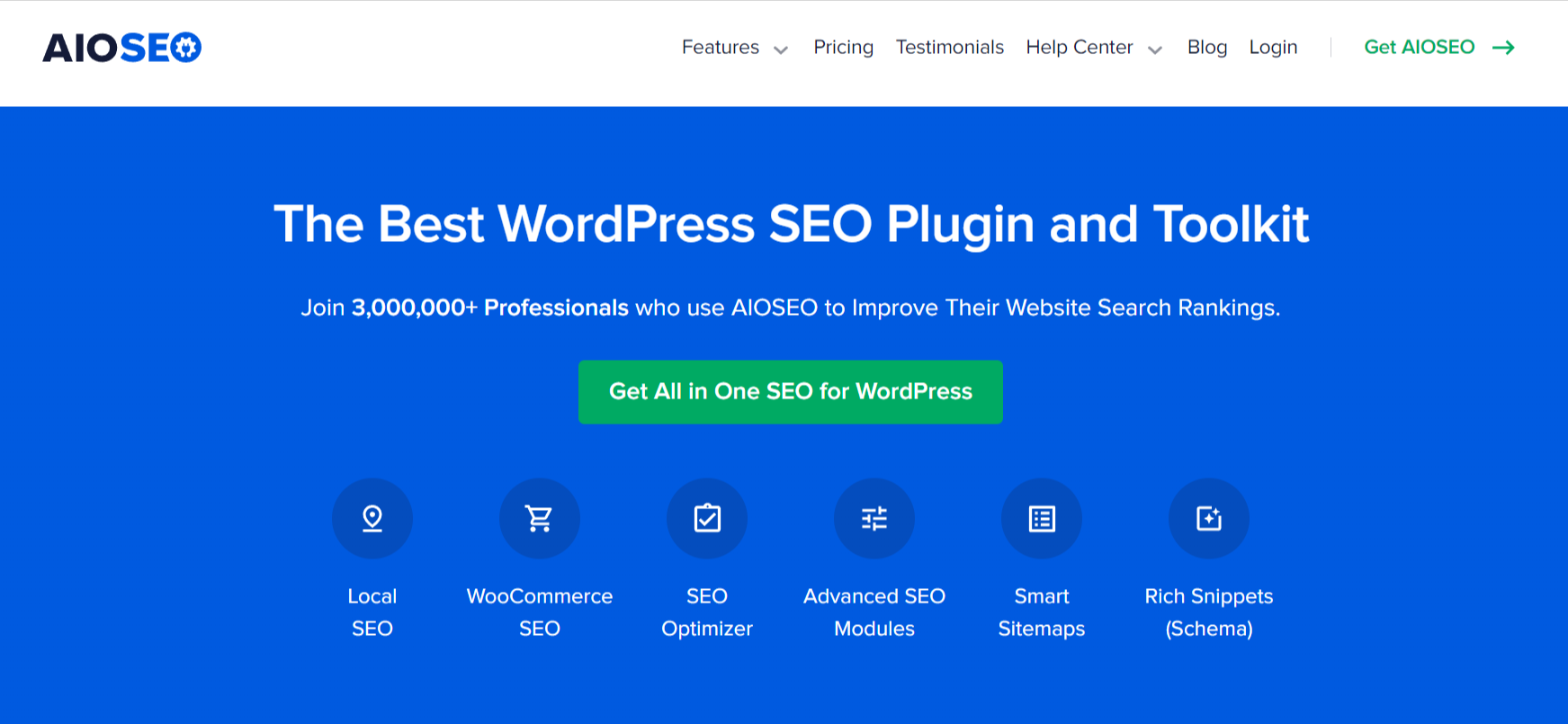 All in One SEO is one of the best WooCommerce Plugins that is used by 3,000,000+ professionals to improve their website search rankings. It will bring more organic traffic to your WooCommerce website which can be the key factor to increase your sales rate. 
Its enriched features and functionalities make it the most powerful and user-friendly plugin on the market. Moreover, this plugin has on-page analysis, rich snippets schema, smart XML sitemaps, social media integration, link assistant, redirection manager, and much more. 
You can properly set up SEO for your website without hiring any expert. Its in-depth analysis will optimize your page for higher rankings. Its actionable checklist helps to unlock a maximum number of traffic with each page. 
Over 1,500 customers have rated the plugin with 5-star reviews. Moreover, this plugin's support team has been recognized for industry-leading ratings from customers. This plugin is perfect for all kinds of users. 
---
4. MonsterInsights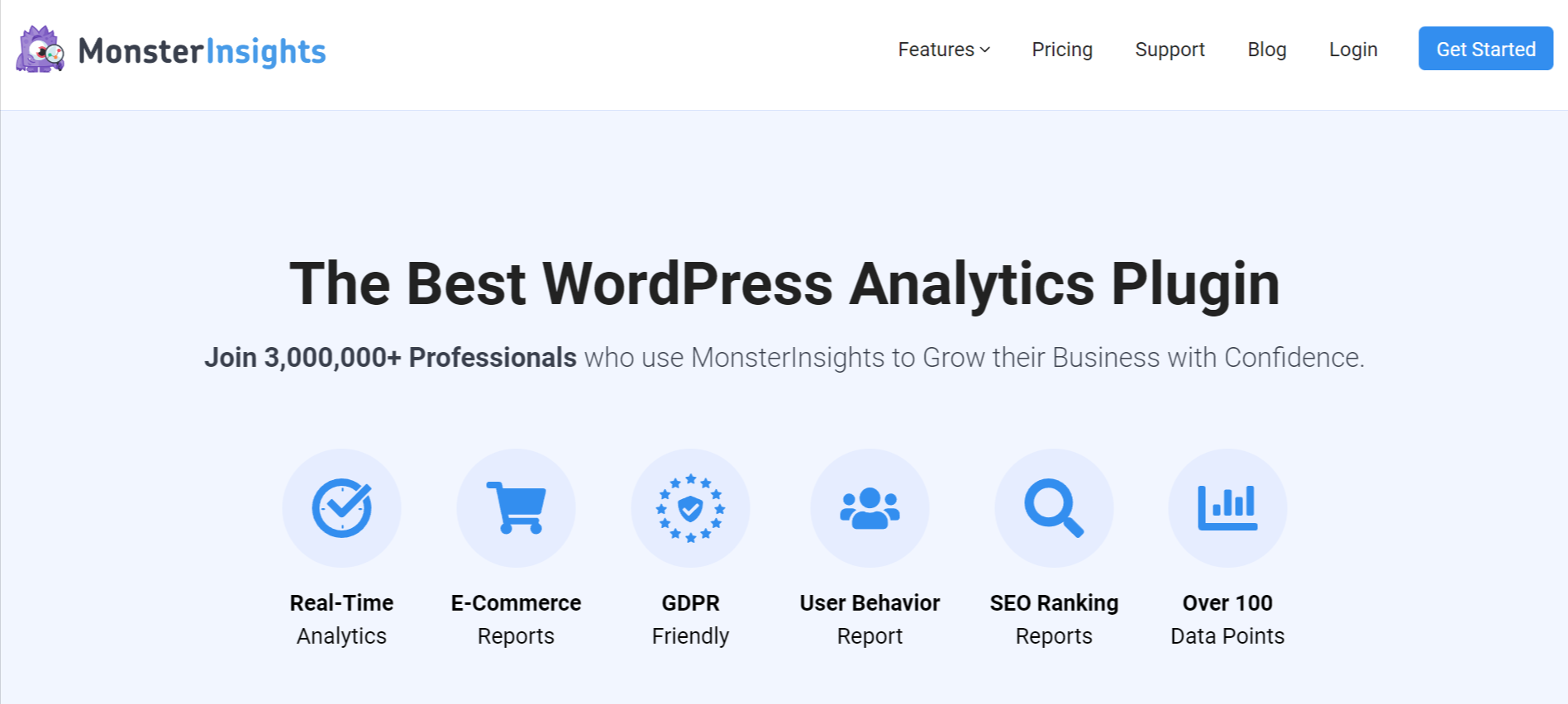 MonsterInsights is one of the best WooCommerce Plugins that will help you to grow your online business with confidence. This plugin tracks and displays all the critical eCommerce data like transactions, revenue, referral source, conversion rate, and much more. 
The plugin features Universal Analytics and GA4, real-time stats, EU compliance, custom dimensions, affiliate links and ads tracking, page-level analytics, and much more. You can set up your website in a couple of minutes without any coding. 
This plugin enables its users to see important information about the visitors by remaining inside the dashboard. You can use this plugin to improve your overall web strategy. It enables you to make your way in SEO domination for a better ranking. 
Uncover how your website visitors find and use your website using this amazing plugin. This way you can make informed business decisions and increase your sales. Its easy-to-use features and functionalities make it suitable for every kind of user. 
---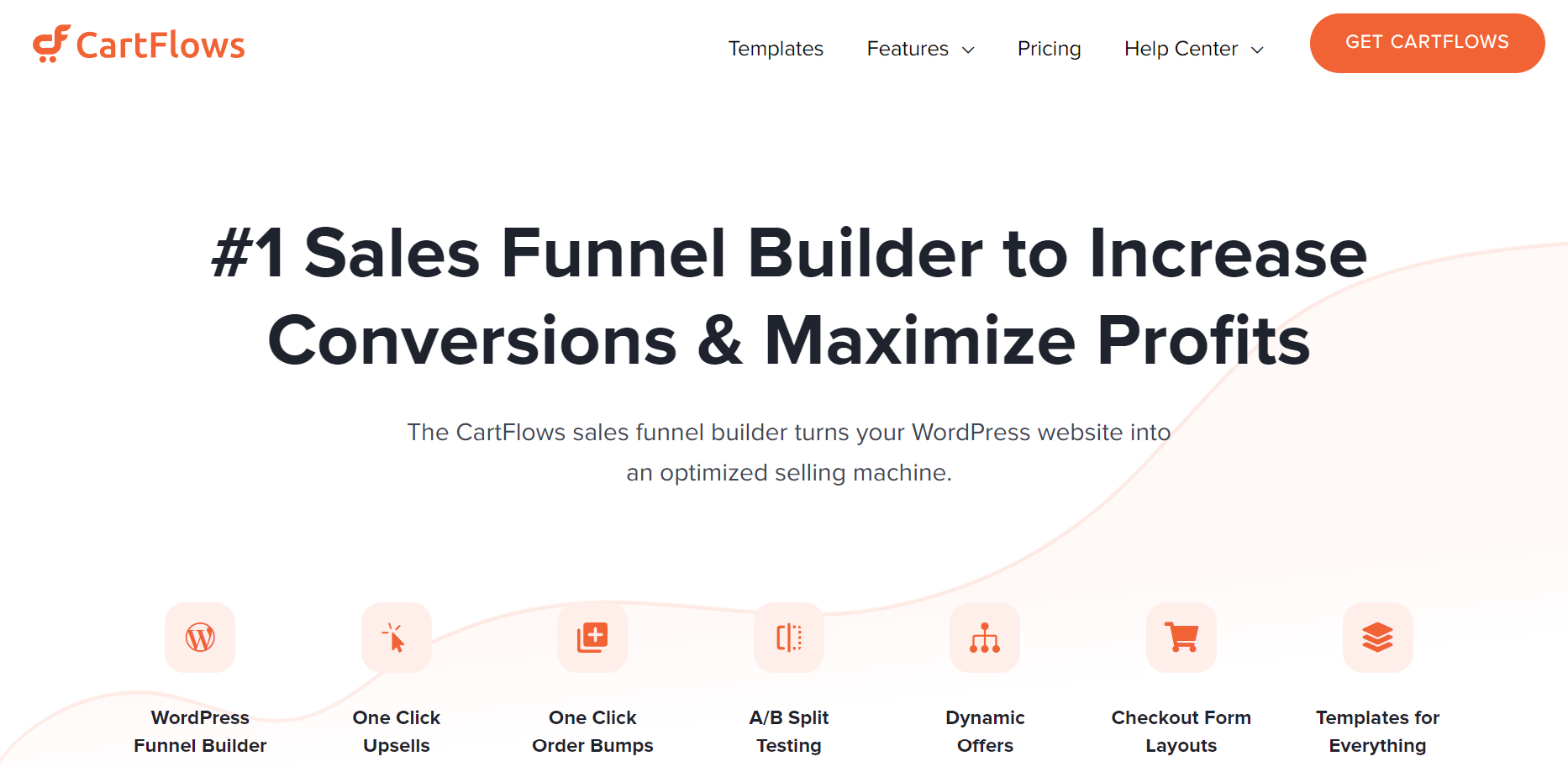 CartFlows is one of the best WooCommerce Plugins 2023 that will enable you to increase conversion and maximize profits. Its sales funnel builder will turn your website into an optimized selling machine. Its user-friendly nature will help you to grow your business. 
This plugin provides its users with everything they need to generate leads and grow sales with order bumps, upsells, and other powerful features. It includes an extensive library of conversion-optimized templates that are ready to use. 
Moreover, it includes additional enriched features like conversion templates, one-click upsells, dynamic offers, order bumps, checkout editor, insights, cart abandonment, and much more. It is a must-have plugin for all WooCommerce stores if increasing revenue is your priority. 
The plugin works perfectly with all the necessary products and apps. If you have any sort of confusion while using this plugin, you can reach out to the professional support team with your queries. Moreover, it is suitable for all kinds of users. 
---
Wrapping Up: 
Using a Plugin is much easier when it is compatible with available Themes. I would personally suggest you use Oshine, Exponent, and Sypro WordPress Theme which are perfect for the WooCommerce Plugins. Moreover, these amazing themes will make your WooCommerce store much more responsive and professional. 
We hope you were able to get one of the best WooCommerce Plugins through this article. If you have any kind of questions feel free to leave your queries in the comments section below.
If you have used any of the themes or plugins mentioned in this article, feel free to share your user experience with us!
Happy online store building!