Doubtlessly, WordPress is an awesome framework for making websites for any purpose or niche. With a plenty of ready-to-use WordPress business themes, you can easily build a business website of your own in no time. It makes easier for you to promote/market your products online and run a cool business.
Among all of the WordPress themes online, Wimpie Pro is the perfect theme for your business website as it combines powerful features, sleek beautiful design and super user-friendly interface. It is a feature-rich modern WordPress theme for business and corporate.
Wimpie Pro is the premium version of Wimpie Lite free WordPress theme that is featured in WordPress.org . Wimpie Lite, the free version is also cool that suits a clean and small business website however, you need to buy Wimpie Pro for complete package of advanced features.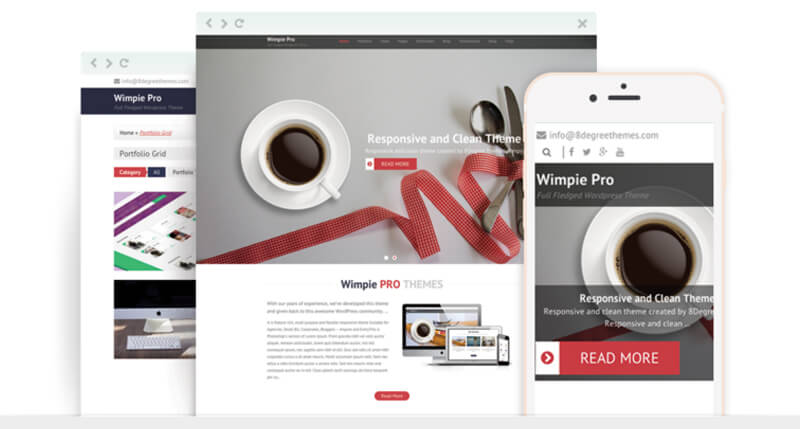 Wimpie Pro is highly customizable and easy to use. It provides you full customization flexibility to develop your website for any kind of business. In addition to that, deep WooCommerce integration enables you to sell products right from the website. Apart from WooCommerce, it is compatible with all the major WordPress plugins you may need for the additional functionalities.
Wimpie Pro is 100% responsive and compatible with all the major internet browsers like Chrome, Firefox, Opera Mini etc. It is also upgraded search engine optimization so that your website is easily visible to the search engine bots. With Wimpie Pro, you can instantly design a website of your own and stand out of the competition in search results.
Main features of Wimpie Pro:
Fully Customizer Based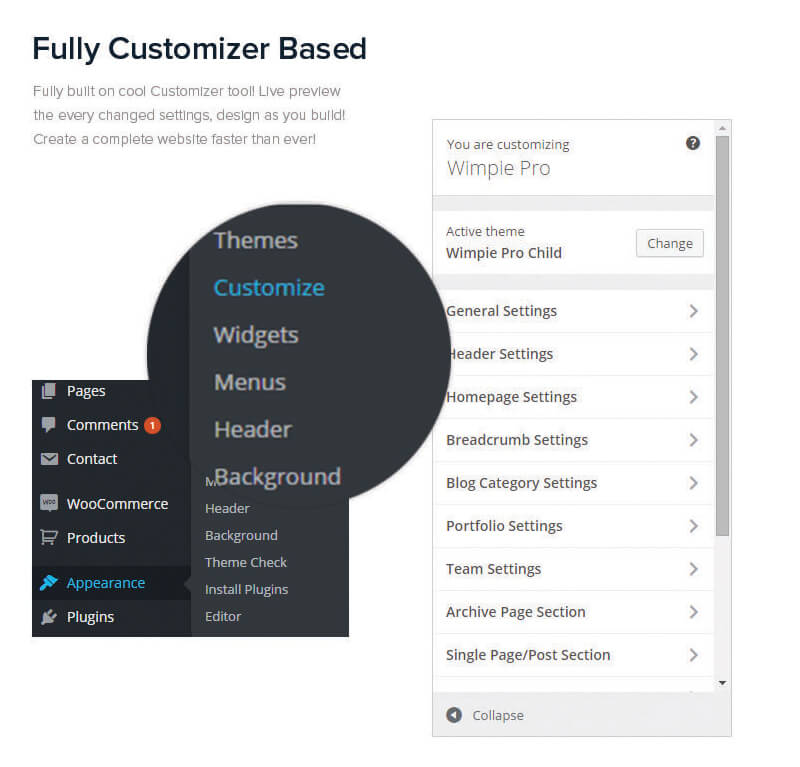 Get rid of traditional way of making website that is too time consuming like a snail's speed. Be quick at customizing the theme with cool customizer tool. Wimpie Pro being fully customizer based, enables you to create a complete website within some clicks.
Customizer tool lets you live preview every change in the design, settings, configuration etc as you build. It offers you a plenty of redesigning opportunity until you do not find the design inviting.
Custom Logo Option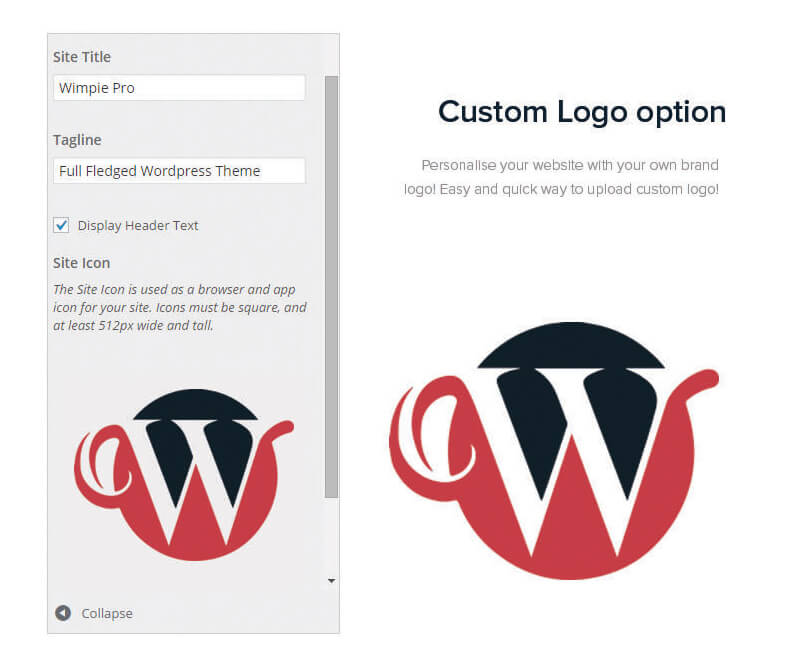 Not a long time ago, setting a custom logo was a painful task in most of the website making platforms including WordPress themes. However, it is no more an onerous task with modern powerful WordPress themes like Wimpie Pro. Wimpie Pro has easy options to quickly upload a brand logo of your business and personalize your website.
Stat Counter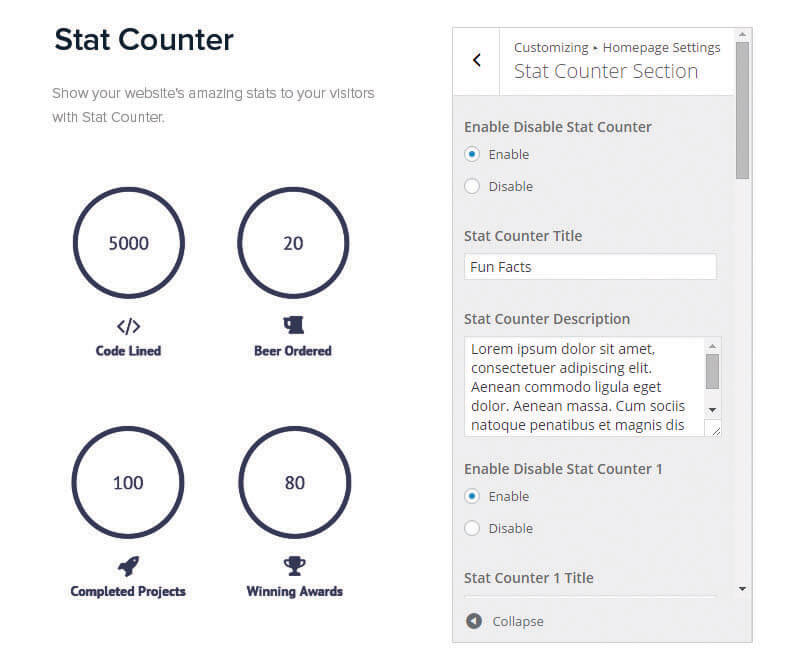 Figures are always inspirations for many people. If you are running a business website, displaying all of your business stats might be a better trick to attract more and more customers. With Wimpie pro, you can easily create a stat counter and display the amazing figures you have earned in a stylish way. Simply it helps you reduce bounce rates and increase conversions.
Testimonial Showcase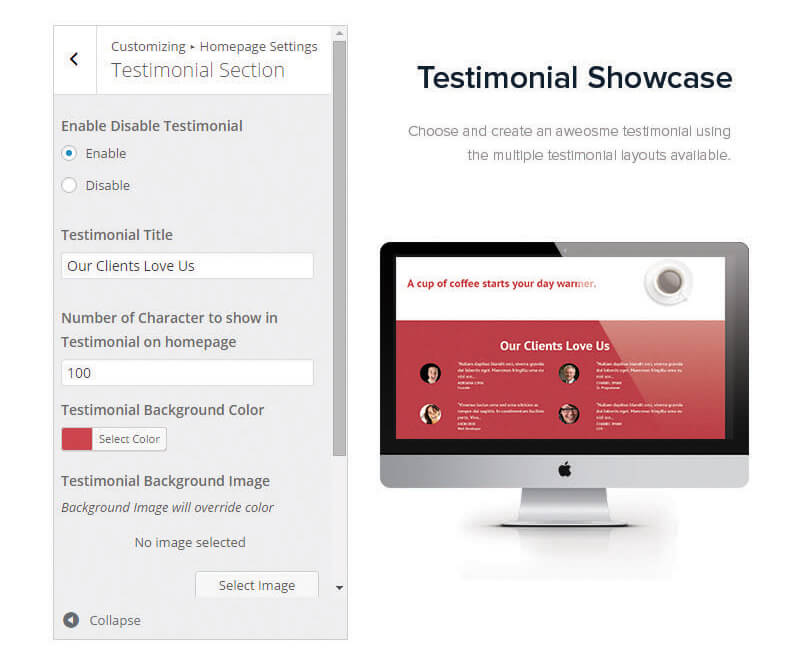 Another way of building trust for an online business is creating a testimonial section in your website. You may find it a burdensome task when you have to create a testimonial out of no or raw framework. It's a relief with Wimpie Pro because it has a ready to use testimonial option. Simply feed the available framework with content, you'll get a beautifully designed testimonial in your site.
Google Map Options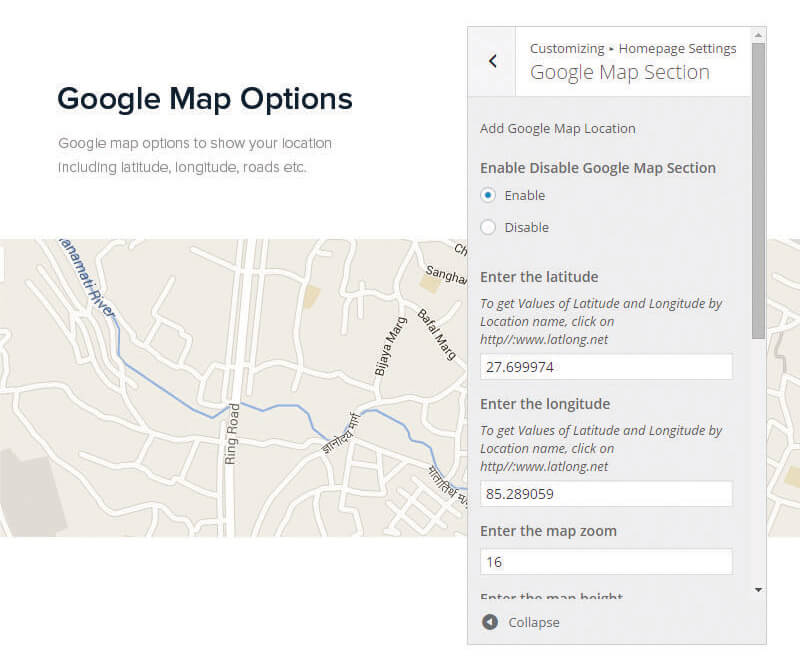 Integrate your website with Google Maps and let your users know completely about your location. With the information of location, your customers had better have an idea if the services are convenient enough for them or not. Provide all the necessary information to your website visitors and make every deal SIMPLE.
Homepage Configuration Options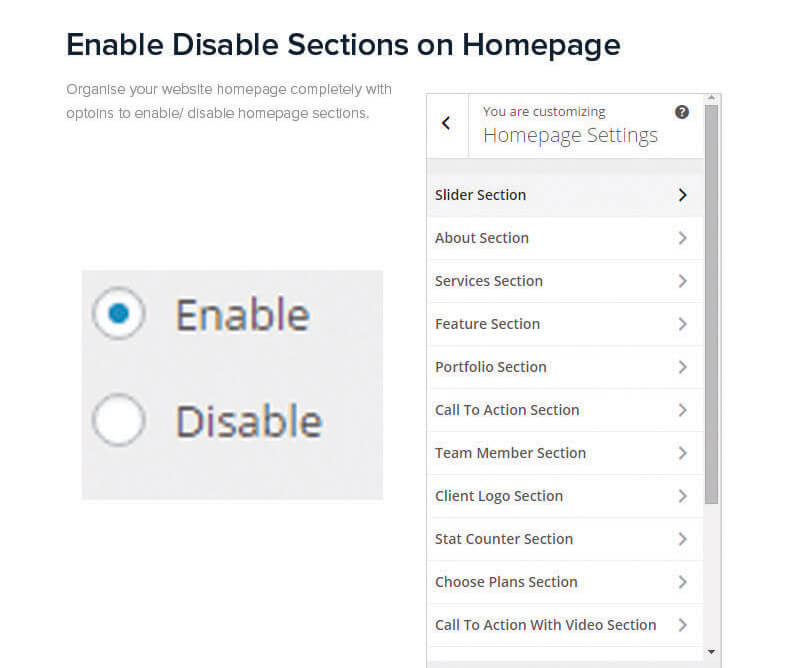 You may need various sections in your website according to the niche of your website or the business you are running. As the homepage remains as the first part of your side, you can create an incredible impression of your business with a beautifully organized homepage. Just keep the essential sections and make it look cool. Wimpie Pro has easy options to enable or disable sections in the homepage.
Header Style and Color options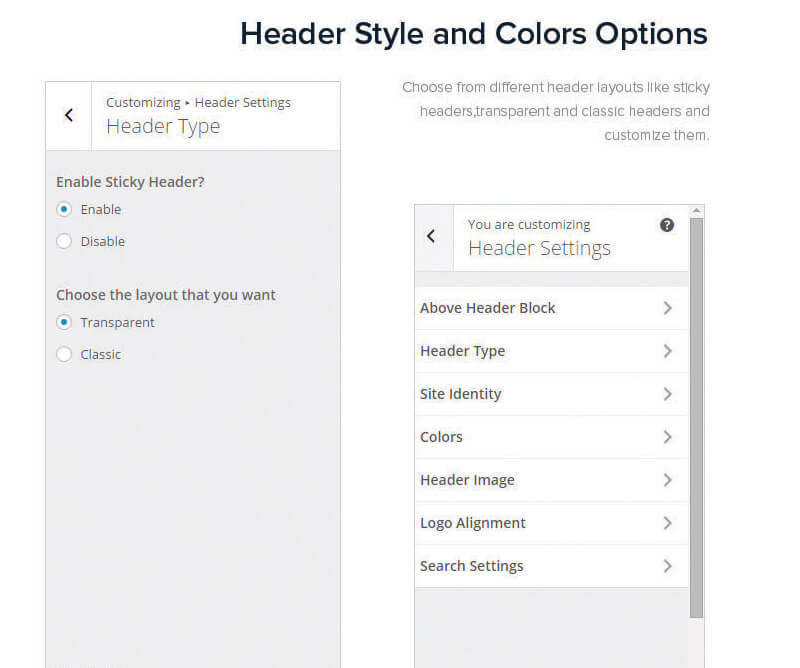 Wimpie Pro is a wonderful theme because it is full of amazing features and multiple choices for every setting. It offers an array of cool header styles like sticky header, transparent and classic header. In addition to that, you have limitless customization options. You can easily change color, image, logo alignment etc and create a beautiful header.
Page Templates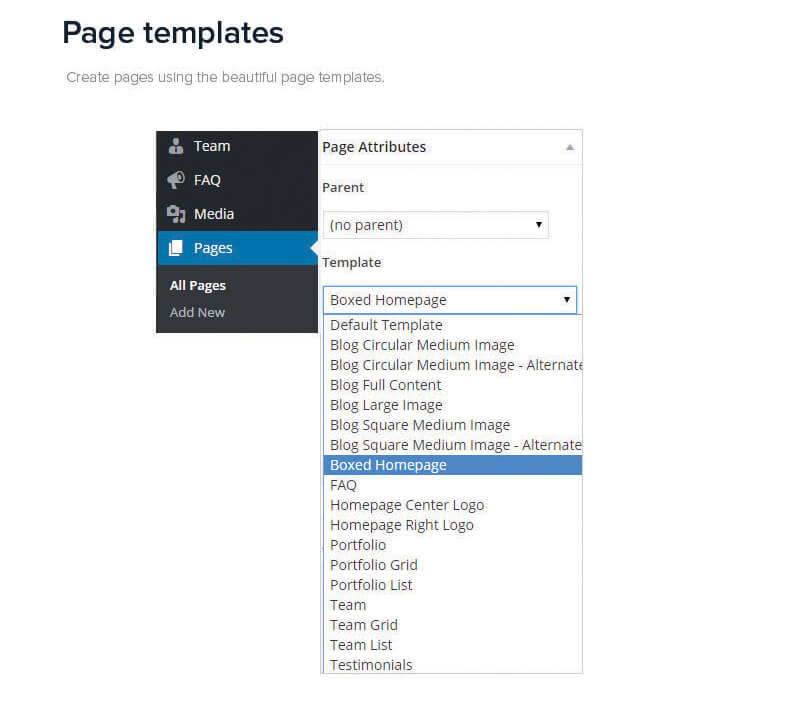 To showcase your content, you may need a beautiful page design. Wimpie Pro offers you multiple page templates that fit a variety of styles you may need. Choose any of the templates available and create beautiful pages.
Custom Shortcodes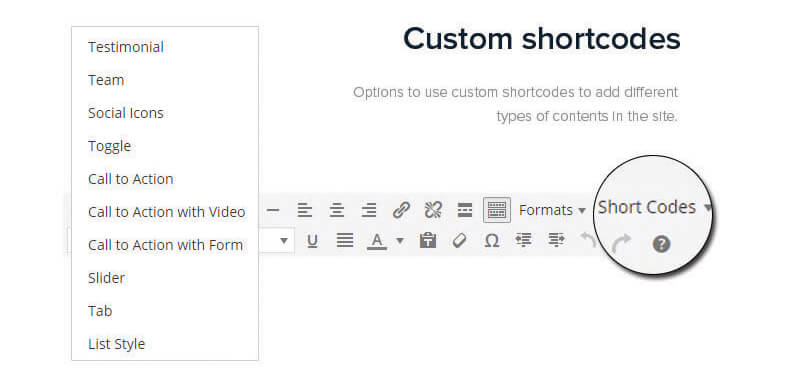 WimpiePro is user-friendly and based on UX. It lets you use custom shortcodes for adding different types of content in your site. It is not necessary to type long codes that are often difficult to remember.
Custom Widgets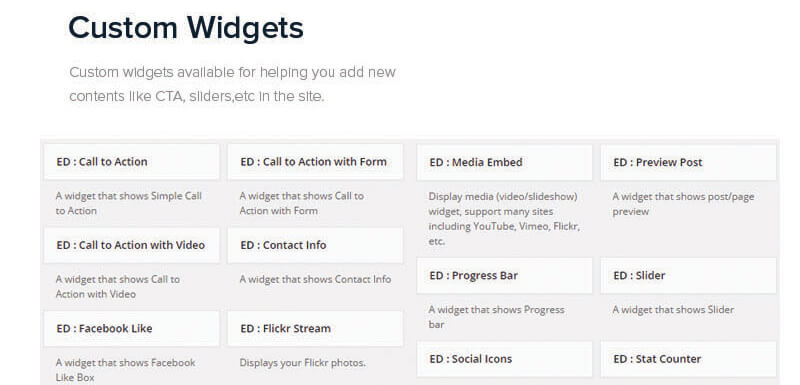 If you want to add any more functionality to your website of want to make it more powerful, custom widgets are very good option. Wimpie Pro allows you to use custom widgets for adding new content in your site like Call to Action (CTA), sliders etc.
Pricing Table/Plans Table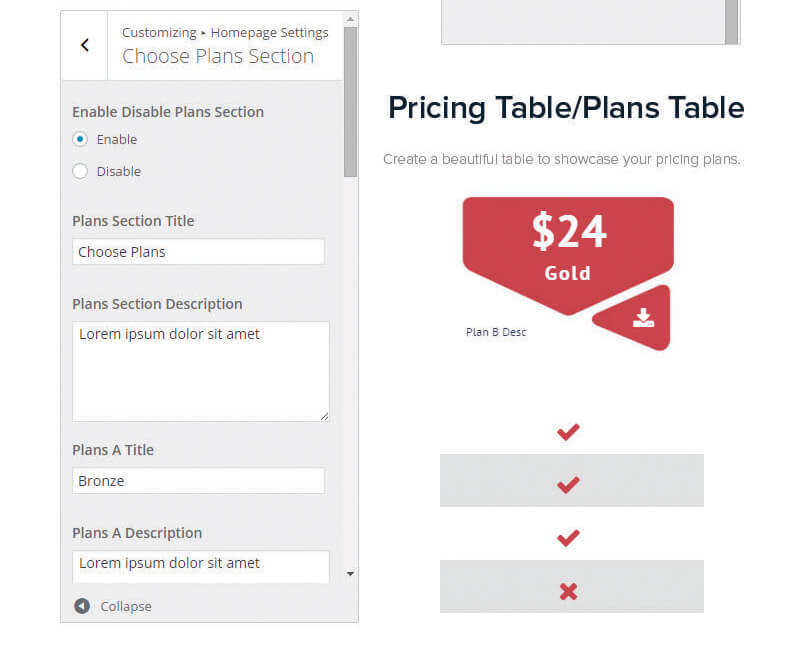 If you want to sell your products online and make money, pricing table is a necessary section in your website. It may be a hassle creating it all by you. With Wimpie Pro, you can easily create a beautiful pricing table and display your pricing plans.
Typography Options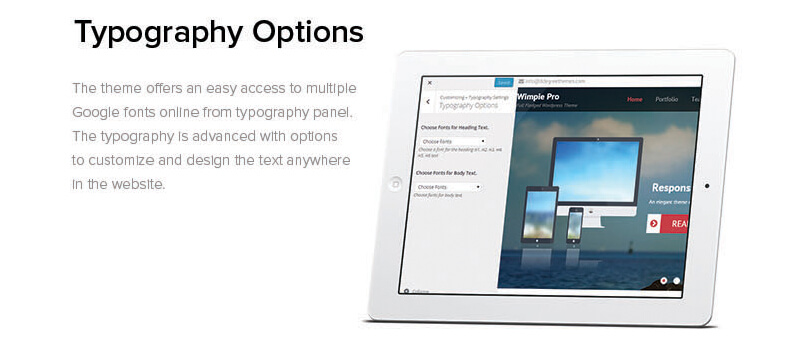 Typography plays a great role in making your website look eye-catching and aesthetically beautiful. Wimpie Pro provides you an easy access to multiple Google fonts from typography panel. You can completely customize and design the text anywhere in the website easily.
Portfolio Layout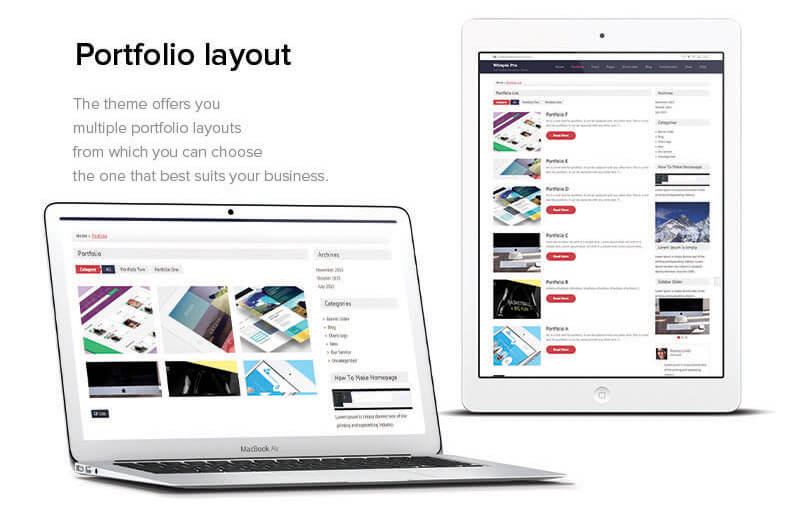 Portfolio is an important part of any business website that your customers may seek to see before they buy any product. While making a portfolio is made very easy with Wimpie Pro. It offers you carefully and beautifully designed multiple page templates with which it takes no time to create a portfolio in your site.
Browse here for more Wimpie Pro WordPress business theme features.
Final Thoughts:
Wimpie Pro is a fully responsive WordPress theme that your website will look incredibly awesome on all types of screens. It is adaptive and fits perfectly on any device so that your website users will be able to see the website content completely and very easily. No matter what devices your visitors may use, the amazing look of your website will simply attract more people to your business.
Another cool thing about Wimpie Pro is the complete guidance and super support from the experts. No matter if you are a noob in coding or designing, it offers you a very simple documentation as a guide to completely configure the theme. It teaches you systematic process from installation to completion of making a website. With screenshots and listed directions, anybody can easily build a website. Apart from the documentation, YouTube video tutorials are also created to help the customers.
Some companies offer really a very apathetic support however, you will get an awesome support if you purchase Wimpie Pro. If you notice any bugs, you can instantly contact through online chat where the professionals will solve the issues. Besides, there is a support forum where you can ask questions. Additionally dedicated support is available via email.
Finally, I conclude with a statement that Wimpie Pro is the best WordPress business theme. If you don't agree on it, check out the theme demo.
Now is the time you share your opinion on it. Write in how you find it.
Also, you might want to check out,
Stuck Somewhere?
Connect With
JustHyre
Hire WordPress Engineers for custom jobs like Website Customization,
SEO Optimization, Clearing a Hacked Website, Installation & Configuration & more.
Connnect with JustHyre