WordPress Live Chat – Use these Advanced Features to Improve your Customer Experience
Finding the best live chat solution for your business website is not a strenuous task t12oday. But finding the perfect chat solution plugin that satisfies your business requirements, as well as your customer satisfaction, needs to research all features of a WordPress live chat plugin before choosing it.
Here in this article, let us discuss one of the top-notch WordPress live chat plugins WSChat – WordPress Live Chat Plugin and its advanced features that will help you to improve your customer experience.

Why Do You Need a Live Chat Plugin?
We are all working on different business domains and we will get frequent queries regarding our products or services, and queries from customers for support if they face any issues. There are many channels to communicate with our customers. It should be the most convenient way for the customers, as well as the fastest way to provide responses and solutions from our side. You may have contact forms, contact through email, phone calls, etc. It may take time for the customers to fill in their details and send the query to you, or you may not be available to take the call, etc.
Since chatting is the most preferred method by all of us as this is the easiest and fastest way of communication, we can implement the same in our business too. When it comes to WSChat – WordPress Live Chat Plugin, offers a lot of advanced features such as higher security, AI integration, pre-chat forms, lots of customization features, and many more. Moreover, it is highly compatible with WSDesk – WordPress HelpDesk Plugin, one of the potential help desk plugins in the market. This smoothens the process of converting a customer chat message to a ticket, importing existing agents from WSDesk – WordPress HelpDesk Plugin as well as setting alerts and notifications to the agents when a customer raises a question. In addition to that, the agents can see the active visitors on the site and initiate a conversation from their side.
So, let us check the advanced features offered by WSChat – WordPress Live Chat Plugin. They are:
Higher security and data privacy
Integration with helpdesk and advanced agent features
Customization options for widget appearance
Unlimited history
Email settings and pre-chat forms
AI chatbot integration
Improved customer chat experience
Detailed report for analysis
Higher Security and Data Privacy
Data security is an important concern when it comes to a SaaS-based live chat plugin. Usually, the data will be stored in different locations and it is handled and controlled by a third party. This will raise a security breach as well as any problems that occur on the third-party server will affect your business processes also. So the best solution is to choose a service that ensures you are the only owner of your data and only you have the control to handle it.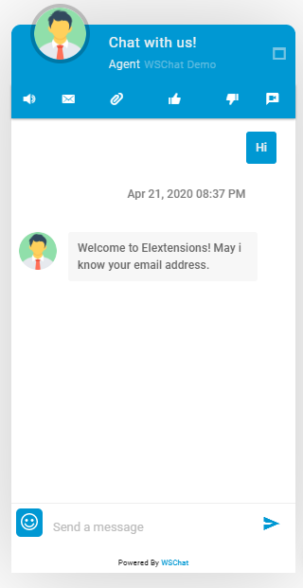 Since WSChat – WordPress Live Chat Plugin works completely within your WordPress environment with no external dependency, you are the exclusive owner of your data and all data is stored on your own server. Hence it works independently from any other external services, you can access it from anywhere at any time using a web browser. The main advantage of having this feature is that you can manage the data according to your business needs.
Integration with Helpdesk and Advanced Agent Features
As I have already mentioned it is highly compatible with WSDesk – WordPress HelpDesk Plugin, you can easily import the agents from the help desk to WSChat – WordPress Live Chat Plugin. You can also create unlimited agent profiles using this efficient plugin. These agents can handle multiple chats concurrently.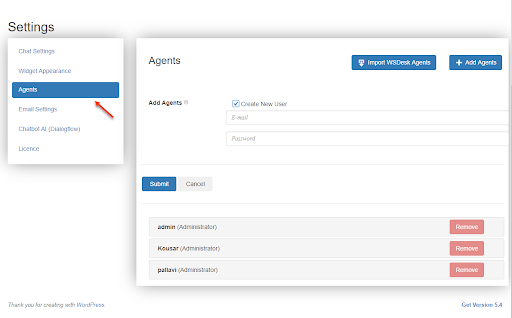 They can view all the active chats and reply as soon as possible. There is also an option to initiate the chat from the agent side by going to the tab of 'Live Visitors' and clicking on the user, it will be directed to the chatting interface for agents. You can also get user details such as their IP address, the page they are currently viewing, the operating system of the customer's computer, and the time each customer spends on your site. This will help to start presale queries prior to the customer reaching you.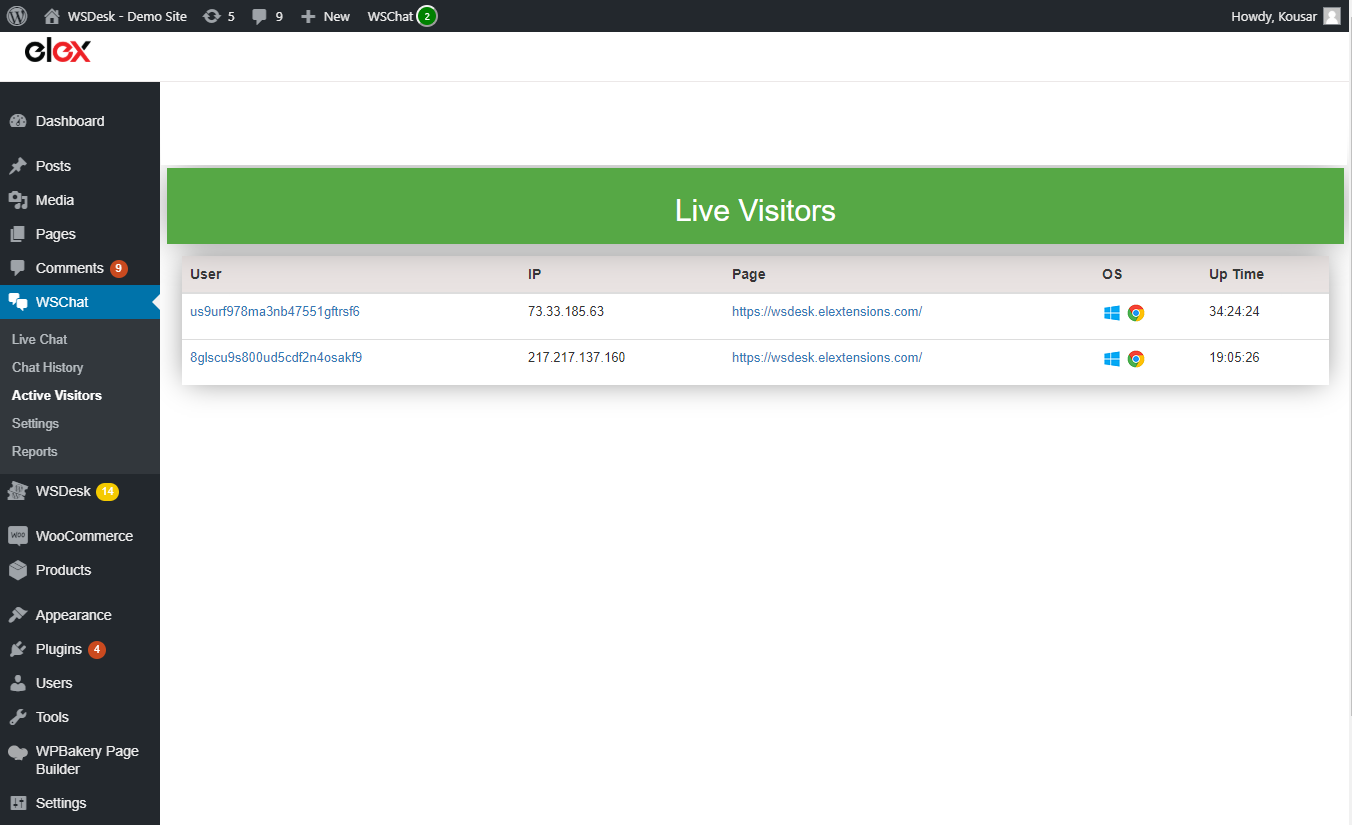 Besides this option, a sound notification will be generated when a new message is received. This will help the agents to reply to the customers as soon as possible. Fast reply reflects higher customer satisfaction!
Customization Options for Widget Appearance
When you choose to have a live chat on your website, its widget should match your website design and theme. Otherwise, it will be a misfit to see on your site. If you choose WSChat – WordPress Live Chat Plugin, you have several customization features to make the chat widget perfectly fit on your website.
You can set the widget background, header background, header text color, chat background, agent message background, visitor message background, and message text color according to your website theme.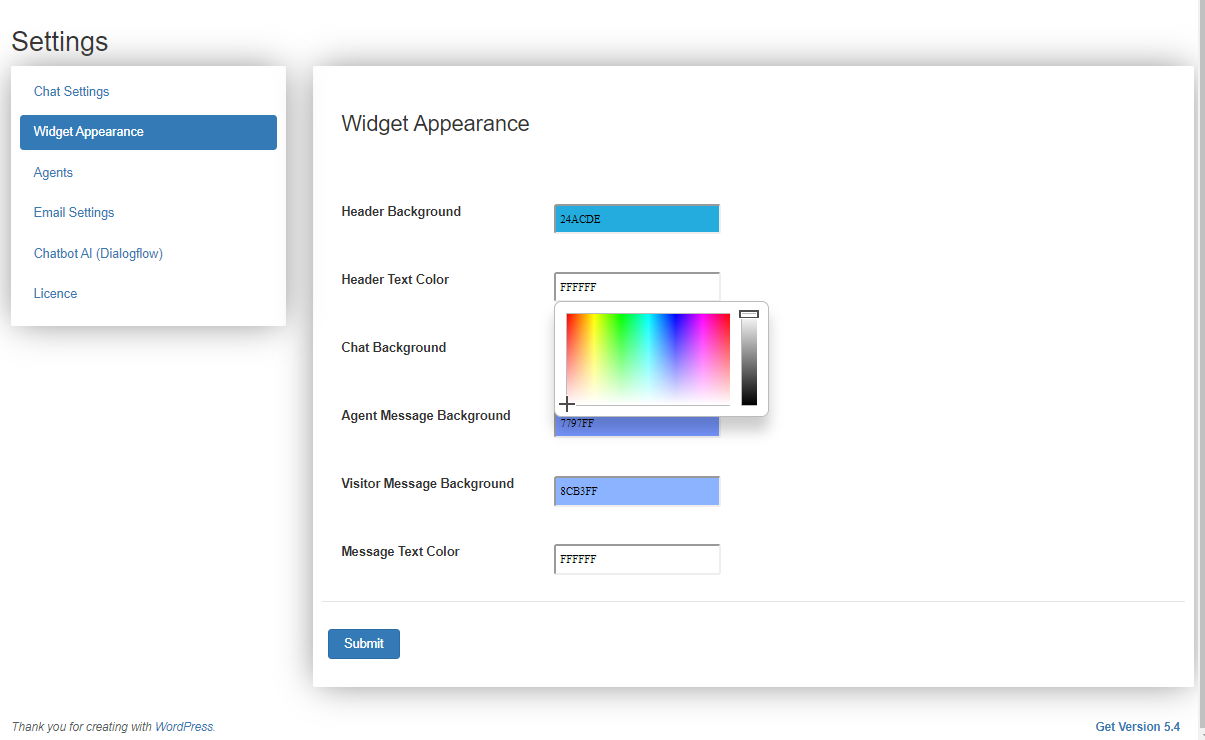 By default, this plugin provides a 'mute' button on the chat header. You can add more features if needed. They are:
Attachment: If your customers need to send more documents, images, or any other files to you apart from their text messages, they can enable this feature.
Video recorder: If they need to show some product issues or need to explain the issues they are facing through a video, they can record using the chat widget itself and send it with simple clicks.
Send chat history: If your customer needs the record of the conversation with you for future reference, they can enter an email ID and send the entire conversation to that address.
Chat rating: This feature can be used to understand your customers' feedback on your support service. The 'like' and 'dislike' buttons can be used to notify their satisfaction.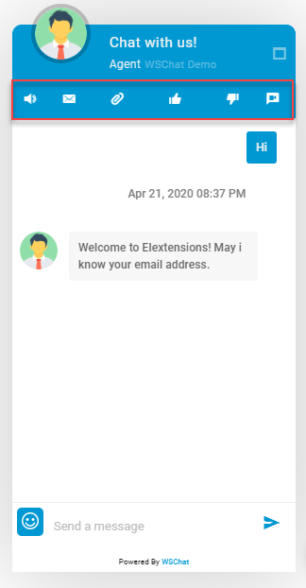 Unlimited History
You can store as much chat conversation as you want without any limit using this plugin. This will help to cross-check any past conversations as and when needed. And it is a record as well! You can see the active chats and recent chats separately. After 10 minutes of the chatting session has ended, the conversation will be moved to the 'Chat History' tab. You can find the session ID, user's name, user's email ID, agent name, and last chat date.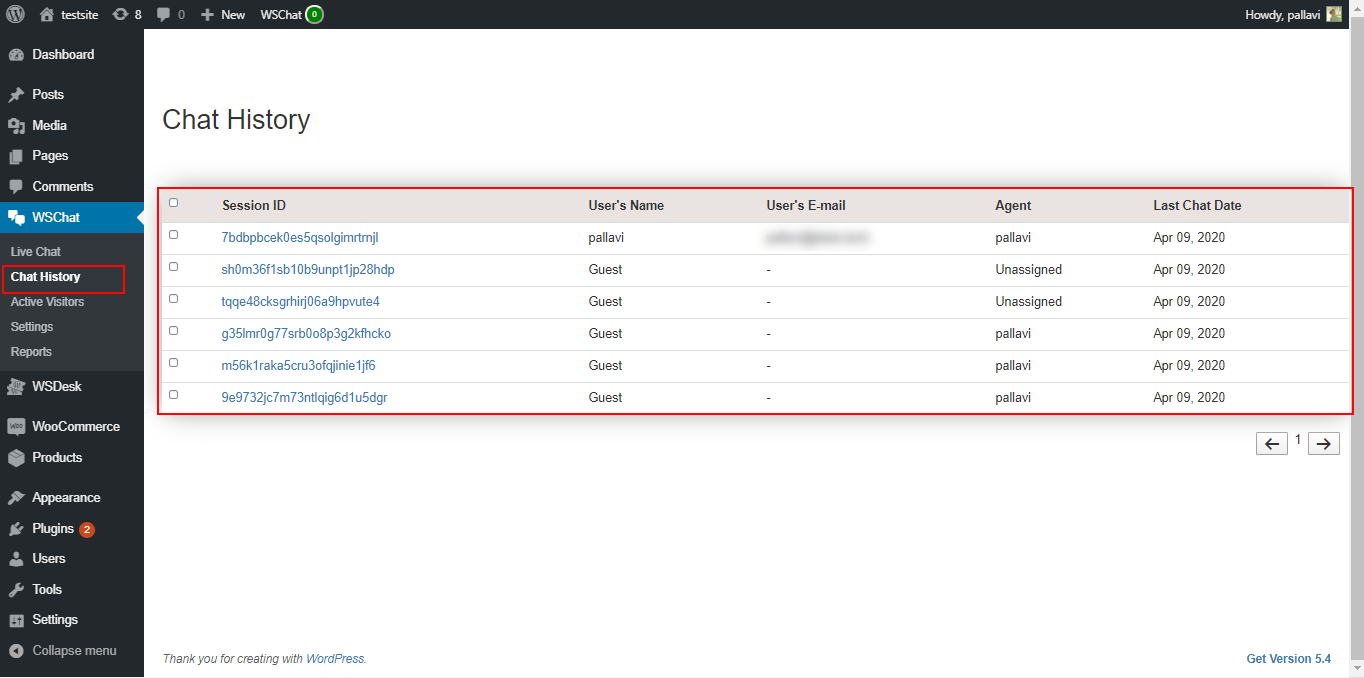 Email Settings and Pre-Chat Forms
Another feature you can configure is, you can enable 'Email notification' by setting the 'from the name, from email, and a common subject'. When a chat is initiated, an email notification will be automatically sent from the entered 'from email ID'. This will help the agents reply to the customers right after they raise a query.
You can also configure the pre-chat form to generate a reply automatically if you are not available online to send the reply to the customers. Using this feature, you can send a reply through your email. If you want to show your online status, you can set it accordingly.
AI Chatbot Integration
Sending automatic responses will make the replies faster and it will make you more dependable for the customers. This will be helpful when you are not available online 24*7. Maybe the working hours of your customers will be different if they are from different parts of the world. So the best solution for this problem is to integrate Artificial Intelligence and Natural Language Processing for replying to customers at any time. WSChat – WordPress Live Chat Plugin helps you to integrate with Dialogflow by Google to trigger automatic responses based on customer queries.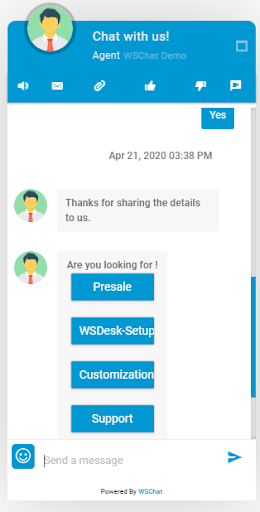 Using Dialogflow, you can set the training phrases by assuming possible customer responses, and set text, image, audio, video or any other documents to be sent automatically to help your customers. While providing these automatic replies, should be appropriate and the right solution for the customer issues. The features that Dialogflow offers:
Quick replies to the customers right after they raise a query even if you are not online.
Easy integration with Google Assistant, Amazon Alexa, Facebook Messenger, etc.
Prompting for fetching parameter values from the customer side and including it in the replies for customizing your responses. This will improve the trust of customers towards you.
Easy integration with Firebase for storing the image, audio, video, and other documents to be sent as automatic responses.
Generating project ID and providing a link to Google Cloud Platform to take the Google service account private key file for connecting Dialogflow to the plugin.
Improved Customer Chat Experience
As it offers many customization features, you can personalize the widget and features accordingly for the best customer experience. This will improve the convenience of the customers to reach you and stay on your website while chatting with you, and it will increase the session duration on your website. This will make a positive impact on your SEO.
WSChat – WordPress Live Chat Plugin supports emojis. This will make the customers' chatting experience more interesting and they can clearly express their reactions toward your support and solutions.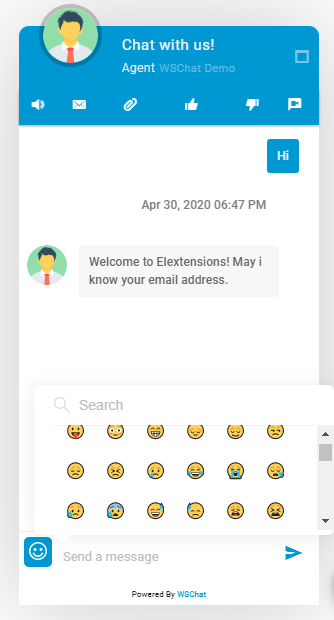 Detailed Report for Analysis
Reports will help us to understand the overall performance of our supporting services. Those data can be used to make new strategies and understand which area needs improvement. The report shows customer likes and dislikes, ratings, quality scores, and the number of tickets associated with the agents for a particular time period. Since it shows the customer feedback (number of likes and dislikes) of each agent and their performance, you will get an idea of the overall performance and customer satisfaction.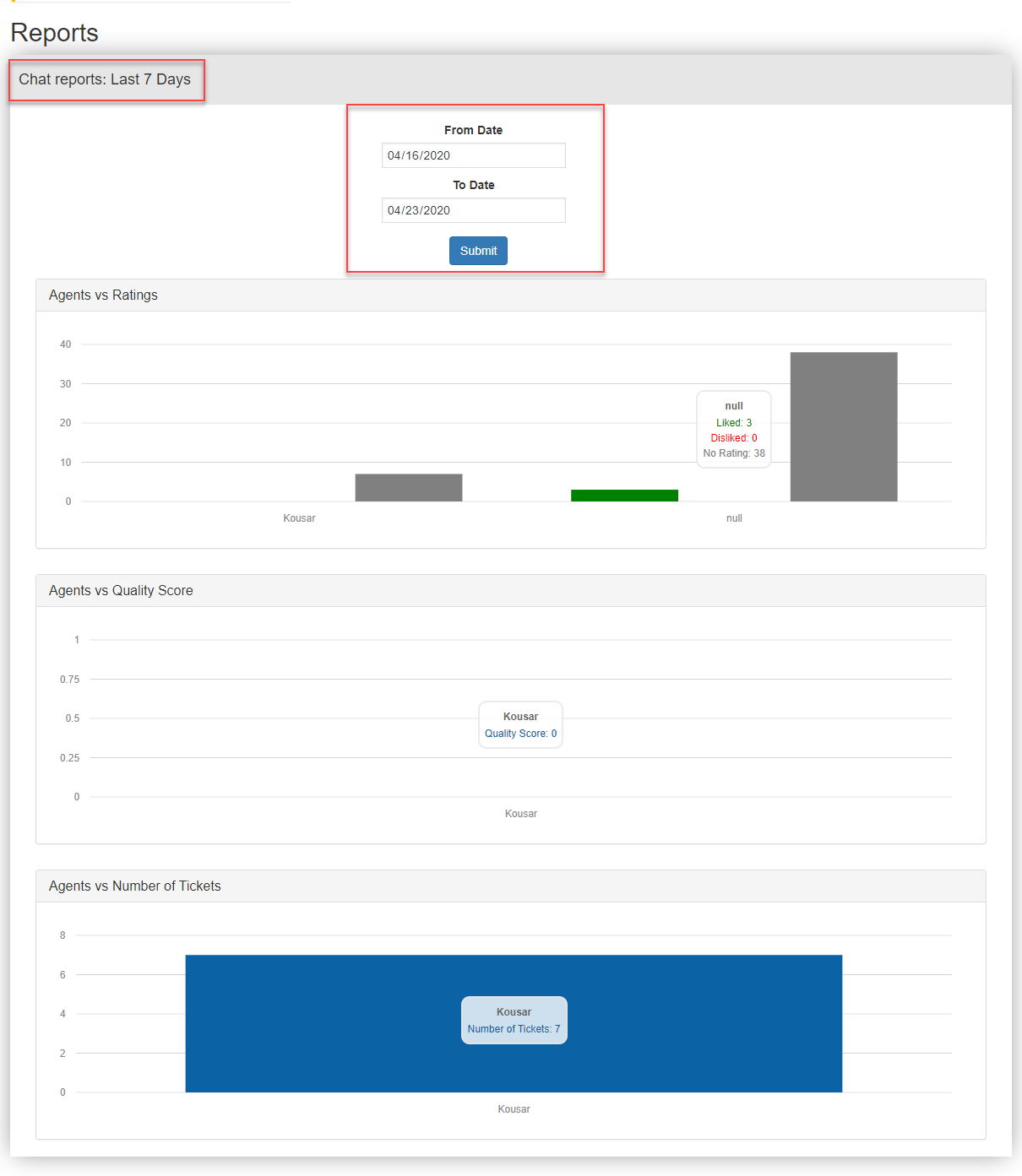 Wrap Up

For offering the best customer service through chat, you can go for WSChat – WordPress Live Chat Plugin to get the most secured and AI integrated service besides the basic chatting features. Its advanced customization features help to make the chat widget to perfectly fit with your company website. You can go for WSChat – WordPress Live Chat Plugin to get the complete chatting service package in a simple plugin!
---
Author Bio
Pallavi Pavithran
Digital Marketing Executive, ELEXtensions.com.
Pallavi is a Digital Marketer who is a WordPress and WooCommerce enthusiast. Her interest lies in Writing and Marketing content to instill in-depth knowledge of WooCommerce plugins among others.
---