Maggie Lite: Best Free Magazine WordPress Theme for 2023
Theme Details          Demo          Documentation
Maggie Lite is a free WordPress Magazine Theme that is best suited for online news- magazine, editorial, publishing reviews, journals, personal blogs, and many other websites. It comprises plenty of powerful features to let you build a perfect and complete magazine website.
It is a responsive WordPress theme suitable for a content-rich website.  The theme has got all the essential features and functionality to give a professional look to your website. It is simple, lightweight, and easy to use- that anybody can create an amazing website within a few minutes.
To guide you on the right track and help you in every step – the theme is provided with comprehensive documentation and an online support feature. It is built-in with the awesome live Customizer Panel that enables you to customize the complete design with live previews.
Maggie Lite offers you many astonishing functionalities that are probably not available in any other free theme. It is the right choice for building a popular website busy with huge traffic. Therefore, it is the best free WordPress theme that you can ever have.
Main features of Maggie Lite:
A stylish professional magazine-type layout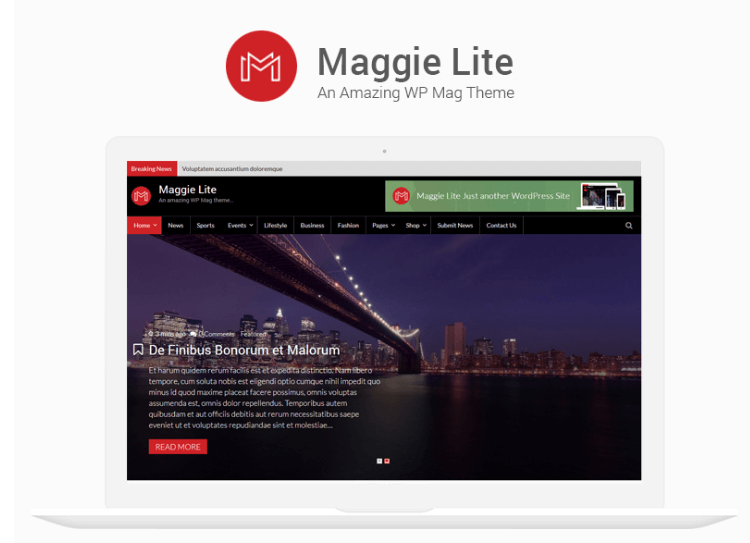 Maggie Lite comes with a stylish and modern magazine-type layout – you can create a perfect and professional online magazine with this free theme. Newstickers, ad areas, sliders, featured stories, etc are some of the highlights of the theme that every online magazine is required to have. Multiple sidebar options, social icons, gallery options, etc are other important things that make it a modern theme.
Boxed and Full-width Layout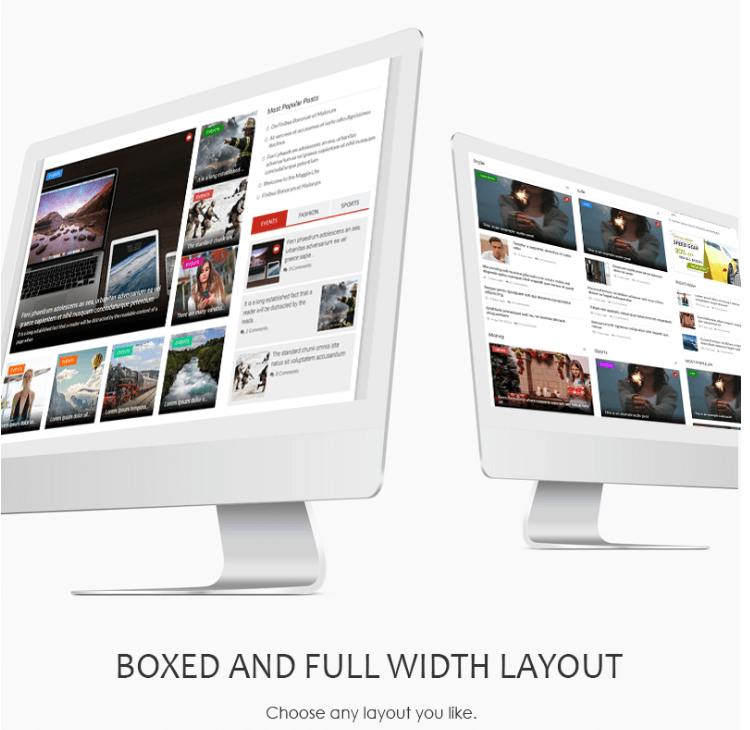 You can choose any layout that suits your website – whether boxed or full-width layout. If you want your content to be centered with white background throughout the page, then, the full-width layout is the right choice for you. If not and you want your content to be centered only with a background around it, then switch to the boxed layout.
5 Block Layouts on the Homepage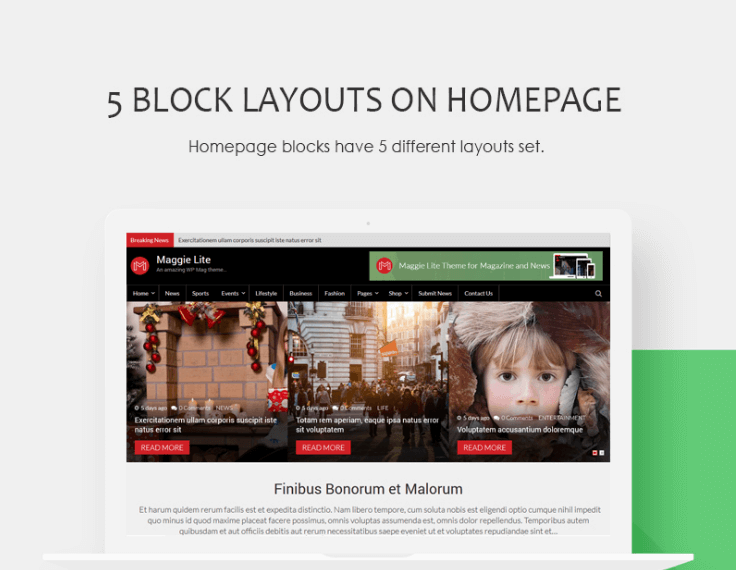 Maggie Lite offers 5 different layouts on a homepage – plentiful choices in a FREE theme. Each of the layouts is beautiful which can attract the attention of many visitors. Simply choose any of the ready-made layouts and customize them the way you like.
Fully Customizer Based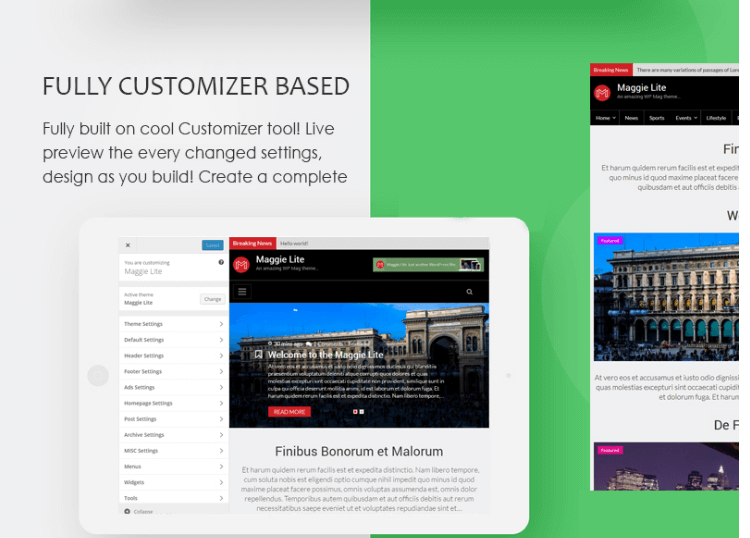 The theme is fully customizable using its awesome Customizer tool. It enables you to configure almost all components, modify design and change settings with real-time live previews. The Live Customizer tool has been a bonus, allowing users an instant and easy option to create a WordPress blog.
Responsive Design

Maggie Lite has got a responsive layout that automatically fits any device from desktops to cell phones. Its all components are so developed that it functions smoothly and effectively with all devices. It looks beautiful on all screens and ensures the same user experience working with all devices.
Theme Colors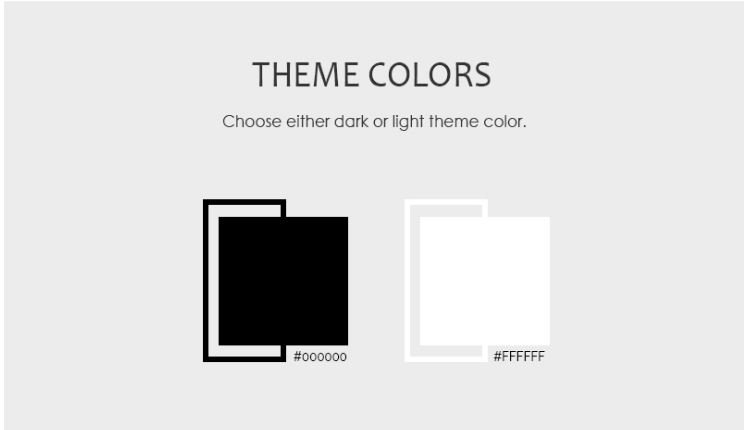 The theme offers you two theme color options. You can choose either dark or light colors – it's all upon you. Both colors are fantastic and look great on your website.
Colorful  Category Backgrounds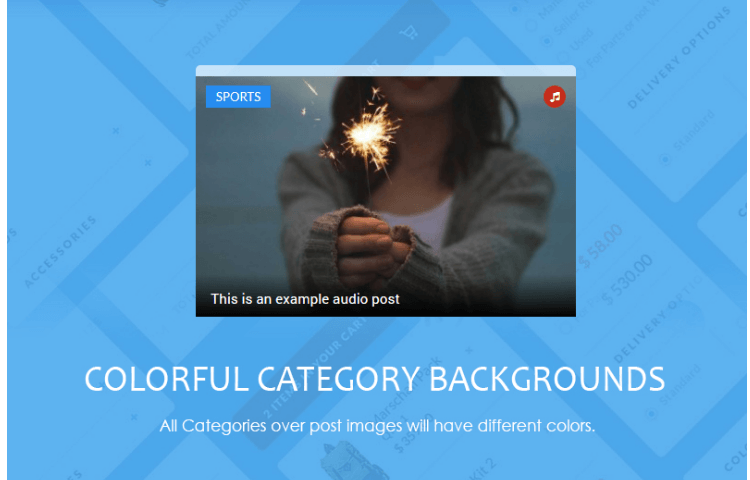 To make your website more catchy, the theme offers colorful category backgrounds. You can customize the category backgrounds as you like – whether your favorite color or the color that suits your blog/ online magazine.
News Ticker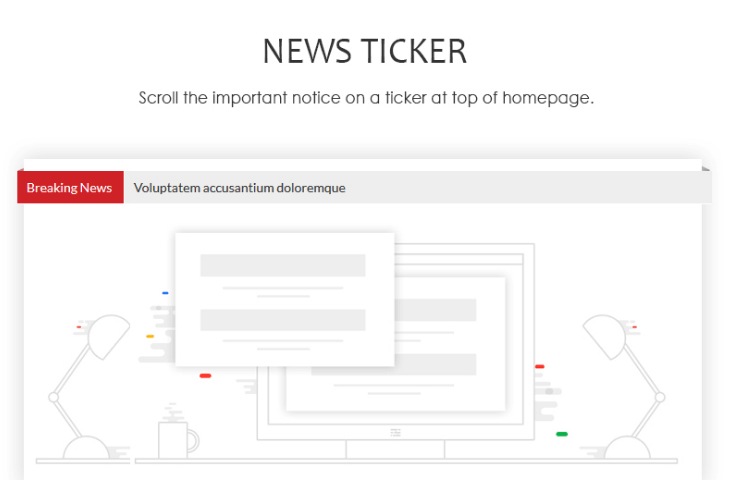 It has got a news ticker to display important feeds on the homepage. You can scroll through the important information in it at the top of the homepage which makes your website more informative and well-organized.
Slider options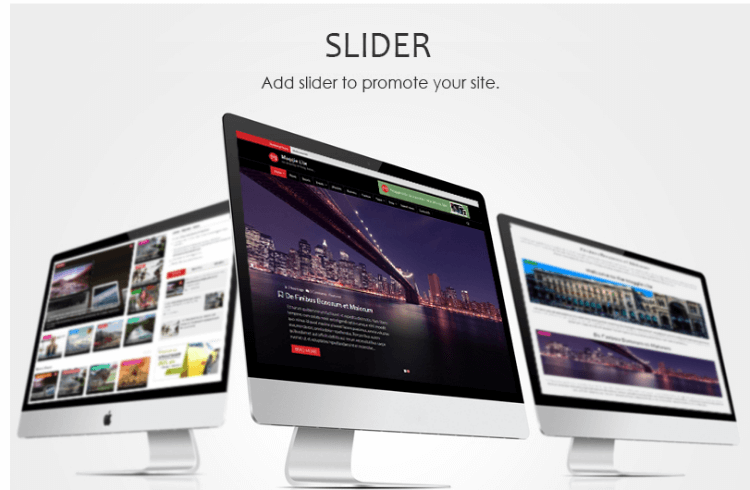 The slider has always been an important part to make your website attractive and informative as well. With this theme, you can easily add and manage sequence sliders to promote your site in an elegant way.
Highly Configurable Homepage for News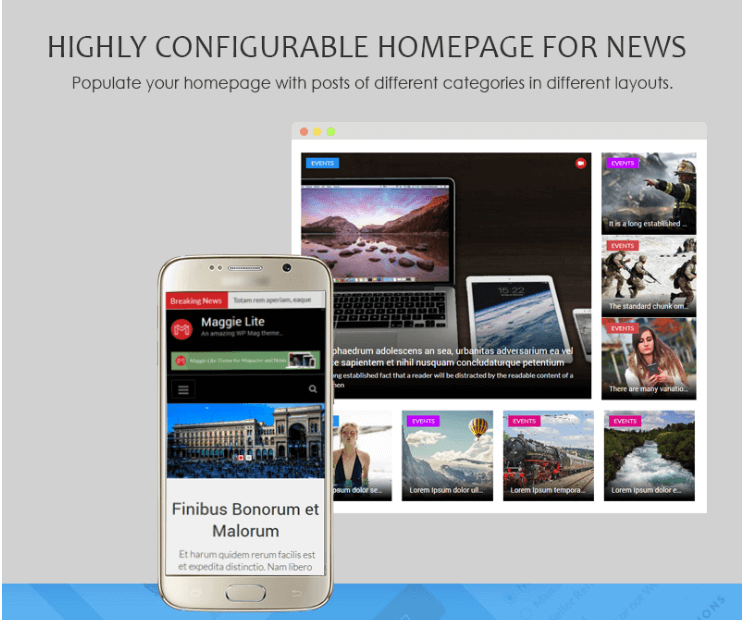 Maggie Lite provides you highly configurable homepage where you can add and edit your posts of different categories. You can easily modify the homepage as per your requirement and decorate it with different delightful layouts.
Tabbed Category Widgets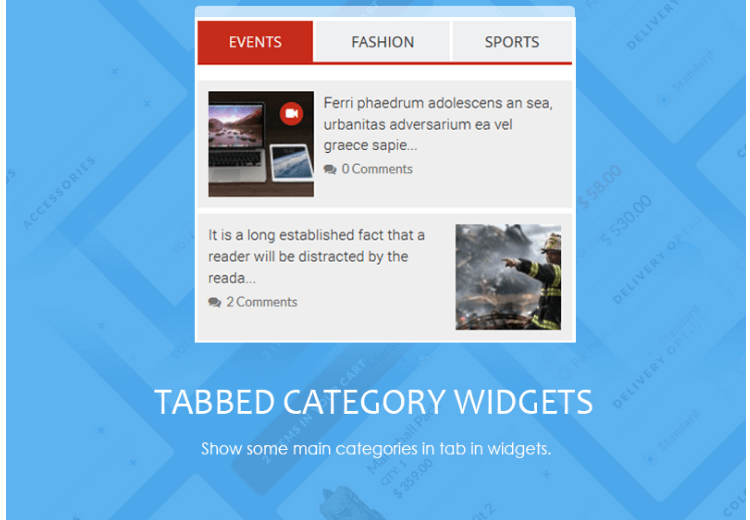 Under this feature, you can showcase some of the main categories in the tab section with widgets. This makes your site look systematic and user-friendly.
7 Inbuilt Widgets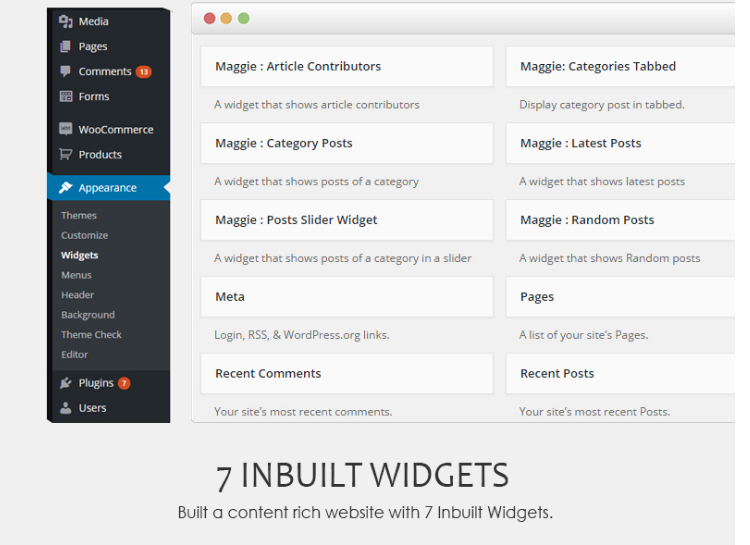 Maggie Lite is built in with 7 widgets with which you can easily place the required content in the sidebars or footer. Widgets increase the functionality of your website and make it worthy. You can display your latest posts, category posts, and other important ones in widget areas.
Multiple Ads Section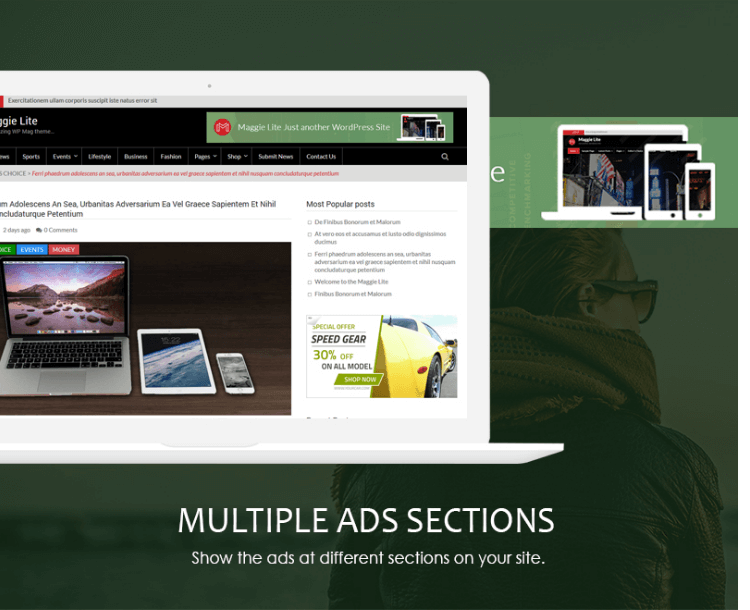 The theme has got multiple ad sections. It allows you to display ads in different sections on your site. Ads help to attract people and earn bread and butter for yourself.
Sidebars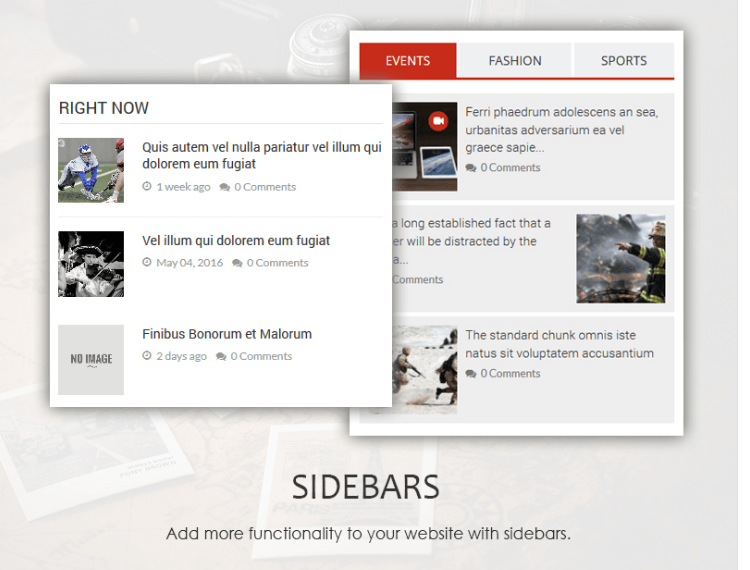 Maggie Lite offers you sidebar options where you can place top stories, tabbed categories, galleries, most popular stories, ads, etc. You can choose what sections to display in the sidebars as well as display sidebars or not on the site.
Multiple Column Page/Post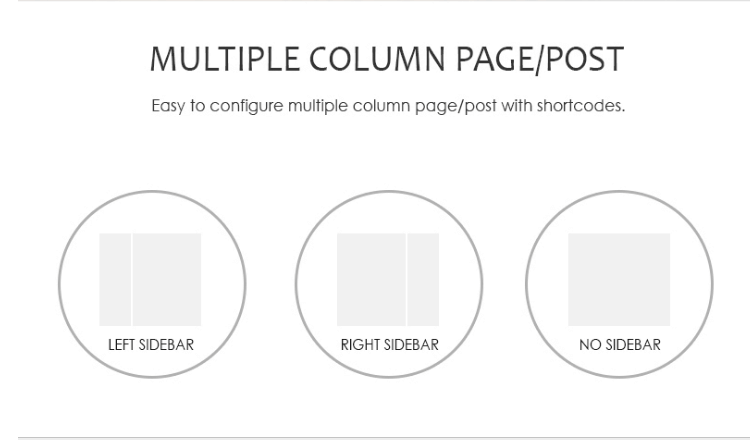 The theme has got multiple column pages and posts. You can easily configure multiple column pages/posts by using clean and simple shortcodes. You can use the column with a left sidebar, right sidebar, or no sidebar. You can choose it according to the requirement of your website.
CSS3 Animations

The theme has options to add CSS3 animations easily. Animations often make your site more attractive and beautiful.
Online Support Features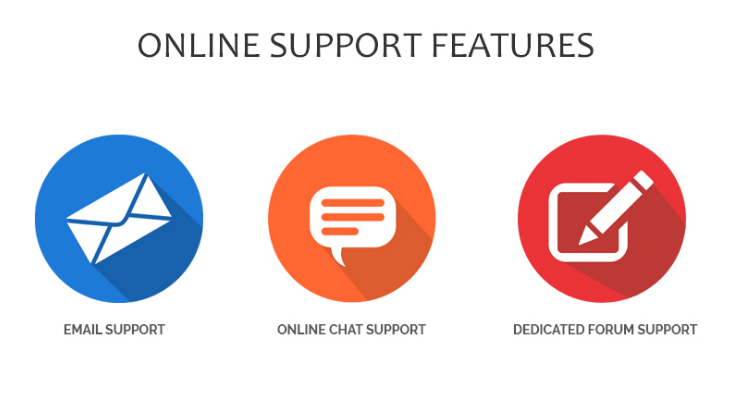 If you have any confusion or problem while working with our theme, we are always there to help you. You can simply email us or post your questions on forum support, we will reply to you ASAP with your solution. For instant answers, you can also chat with us online.
Other features
Deep Integration with bbPress

Related Posts in Single Page

Compatible with all Major Browsers

SEO Optimized

Translation Ready

WooCommerce Compatible

Custom Tools
Final Thoughts

Maggie Lite is a simple, clean, feature rich, powerful theme that is a complete package for a news-magazine website. If you are thinking of creating an online magazine website without wasting a penny, then there is no other better option than Maggie Lite.

We ensure that you will have a great time working with this theme. Theme documentation is all there to guide you step by step! If you still have queries, simply contact us – email us, join our support forum or join us in live online chat!

Also, you might want to check out,