10 Common Mistakes to Avoid When Choosing a WordPress Theme
Are you thinking of building your own responsive and professional website? Need help deciding which theme to choose? Willing to find out things to avoid while choosing a WordPress Theme? A WordPress theme plays a crucial role in building the overall appearance of the website. 
A suitable WordPress theme will enable you to personalize and build your website with perfect design elements. Not only that use customization options, rich features, and almost every option and component that will reflect your brand and business personality. 
It is not always true that the most sold or most popular WordPress theme can be the right fit for your website. In order to make sure your website is fluent and acts according to your needs, you need to choose a suitable theme that meets your needs. 
Do you want to nurture your WordPress Themes? If your answer is yes! Go through the list of nitty-gritty details on the points that will help you avoid common mistakes while choosing a perfect WordPress theme for your suitable brand. 
Mistakes to Avoid While Choosing a WordPress Theme 
A single bad decision while choosing a WordPress theme can make your entire website-building process a nightmare. In order to make sure that your website is responsive and will give you the result you want, make sure to note down the points carefully that we have mentioned in this article. 
Now without wasting your time, let's get started!
1. Choose Mobile-Friendly and Responsive Theme
As per the statistics of 2022, around 57.38% of visitors visit websites through mobile. So, it is really important to make sure that you have a theme that is optimized to be viewed on mobile to ensure that your users have a good experience. 
Mobile-friendly themes are designed to be viewed on a small screen such as: 
As a matter of fact, a responsive theme will make sure that the design of a website is perfectly adaptable to different screen sizes and resolutions. 
Some of the benefits of a responsive theme include: 
A wide range of audiences can access the website.

Provide proper access to content to visitors no matter where they are. 

Increase user engagement decrease bounce rates and much more. 
Hence, make sure that your theme is responsive and mobile-friendly. 
2. Considering Functionality and Suitability
Many users choose WordPress themes entirely based on their appearance. They fail to consider the function or suitability that serves your website's purpose. 
Make sure that your theme offers: 
Suitable features and capabilities

Fits the brand's needs
There are some themes that offer a wide range of features whereas some offer more specialized features. So, you need to make sure which kind of theme you need to build your website and choose accordingly. 
3. Compatibility 
In order to run a website smoothly, you need to make sure that your WordPress theme is compatible with both plugins and the WordPress platform. WordPress is a platform that keeps on updating to provide its users with more powerful features. 
If your theme is not compatible with the latest version of WordPress, it will provide the following issues: 
Poor overall performance

Includes more broken links

Absence of required content and much more. 
So, to make sure that your website is updated as per the current market trends, you need to choose a theme that is compatible with all the latest WordPress versions, major WordPress plugins, and WooCommerce. 
4. Excessive Features 
Having plenty of features is good, but having excessive features is bad for your website. It is said to be so because if your WordPress theme includes too many features, it might lead to slow down your website performance. 
The slow speed will eventually lead to causing a negative impact on the user's side. Not only that having too many features might create confusion for the website developer. It might be complex or even a struggle to find features at the right time. 
5. Check the Code Quality 
Checking the code quality is one of the most unavoidable mistakes when choosing a WordPress theme. Code does determine the design and errors. 
Moreover, poor code quality impacts the following aspects of a website: 
The overall performance of the website

Security

Functionalities and features and much more. 
Good code will save you from unnecessary hassle like conflict or issues that occur due to incompatibility. 
6. Compatible with Web Host 
A web host usually ensures to let an organization or individual post their website and web page across the internet. It provides server space and resources that are necessary while hosting your own website.  
Some themes might have specific requirements or faults that might result in the lack of adaptation with your web host. So, before choosing any WordPress theme, make sure that it is compatible with your web hosting environment. 
Almost every kind of hosting has its own configuration, limitations, and sources. Make sure that the support provided by your web host is suitable for your WordPress theme. 
7. Excellent Support and/or Documentation 
Both WordPress beginners and professionals might require help while setting up their websites. There are multiple popular themes in the market that don't provide their users with satisfactory support. 
In order to make sure that you don't get stuck in any process of your website development make sure to avoid those themes that don't provide their users with professional support. 
The benefits of having a support team and documentation include: 
Knowledge to use and customize theme

Includes proper step-by-step instructions

Tips to customize to adapt to your brand needs and much more. 
Some users prefer documentation while some prefer support from the support team. If you have both it's even better! This way you can use either documentation or support as per the requirements. 
8. Consider Review and Feedback
Making your entire decision on the basis of ratings, reviews, and feedback might not be a proper decision. But, it is true that reviews and feedback help you have a better understanding of the product along with its advantages and limitations. 
Reviews and feedback will not only disclose the pros of using a WordPress theme but you will also get to know what the theme lacks. This way you can analyze properly and choose a theme that will be perfect to build your brand's website. 
9. Licensing and Terms 
The licensing of a WordPress theme includes some of the following factors: 
Ways to use the theme

Knowledge of its distribution

Modification knowledge and much more
All of this helps a website owner and/or developer have a better understanding of the features and functionalities of the theme. 
Some themes cannot be used for commercial purposes which might not be exactly what a website owner wants. So, before using any theme you need to have a detailed knowledge of its licensing. 
Another consideration when it comes to licensing terms is the use of third-party components. Many themes incorporate third-party components, such as plugins or libraries, which may have their own licensing terms. 
It is important to ensure that the licensing terms for these components are compatible with the licensing terms of the theme and that they do not violate any licensing restrictions.
10. Accessibility 
Lack of accessibility features might actually limit your outreach to the users, visitors, customers, and clients. So, in order to make sure that you have greater outreach choose a WordPress theme that is more accessible.
Make sure that your WordPress Theme has the following accessibility features: 
Images with an alternative text

Simple and clear typography

Incorporates proper keyboard navigation feature

Skip repetitive navigation elements and much more. 
Hence, don't choose themes that don't include accessibility features. 
Popular WordPress Themes 
We already know about the common mistakes to avoid when choosing a WordPress theme. Now, it is your turn to get familiar with some of the most popular WordPress themes available in the market. 
These themes are selected after considering all the above-mentioned points!
1. Gutena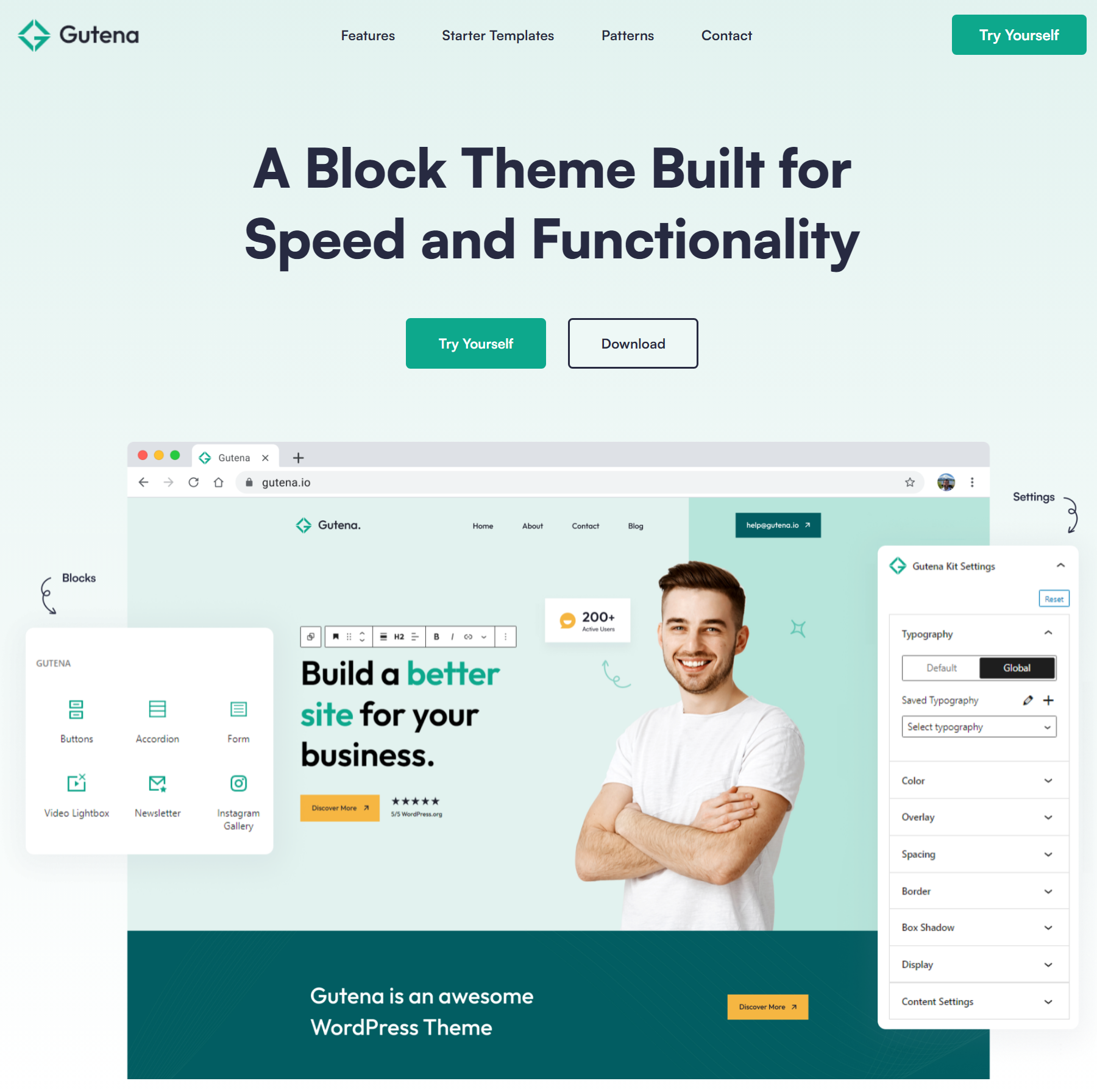 Gutena is one of the best Gutenberg WordPress Themes which has its own new ways of building a website. Using this theme, you can build your first website on the FSE philosophy and use blocks in the most convenient way. 
This theme is a perfect choice to get started with the "Block Future" The best part about using this theme is that its developers made the updates as per the needs of its customers and current market trends and requirements. 
Due to this reason, your website will be up to date and attract more customers, visitors, and viewers which will be profitable for your business. Its modern in-built block pattern provides you with a power-packed beautiful design element that is suitable for plenty of users. 
Top Features: 
Fully Responsive and Retina Ready

Fully Block Based & Customizable

Comes with Pre-built Block Patterns

SEO Optimised with an assured score of 95

Easy One-Click Demo Imports
---
2. Oshine

Oshine is one of the most creative Multipurpose WordPress themes that is chosen by 34,000+ users across the world due to its enriched features and functionalities. This theme is very versatile in nature which makes it suitable for both beginners and professionals. 
As it is a multipurpose WordPress theme it is also suitable for different websites like Portfolios, Photography, Agency, Blog, Architecture, Business, Shop, and much more.
It has 52 demos with hundreds of prebuilt sample pages, so you can just pick a demo as per your requirements and make all the necessary changes. 
You can simply use prebuilt sections baked into Tatsu for instant prototyping. Use unlimited grid combinations and other creative styles to showcase your work. Moreover, it has a modern and classy design, stunning sliders, carousels, password-protected galleries, and much more. 
Top Features: 
Great Performance

2X Faster Loading

High-Quality Design

Intuitive Fully Visual Page Builder

One-click Demo Installer
---
3. Spyro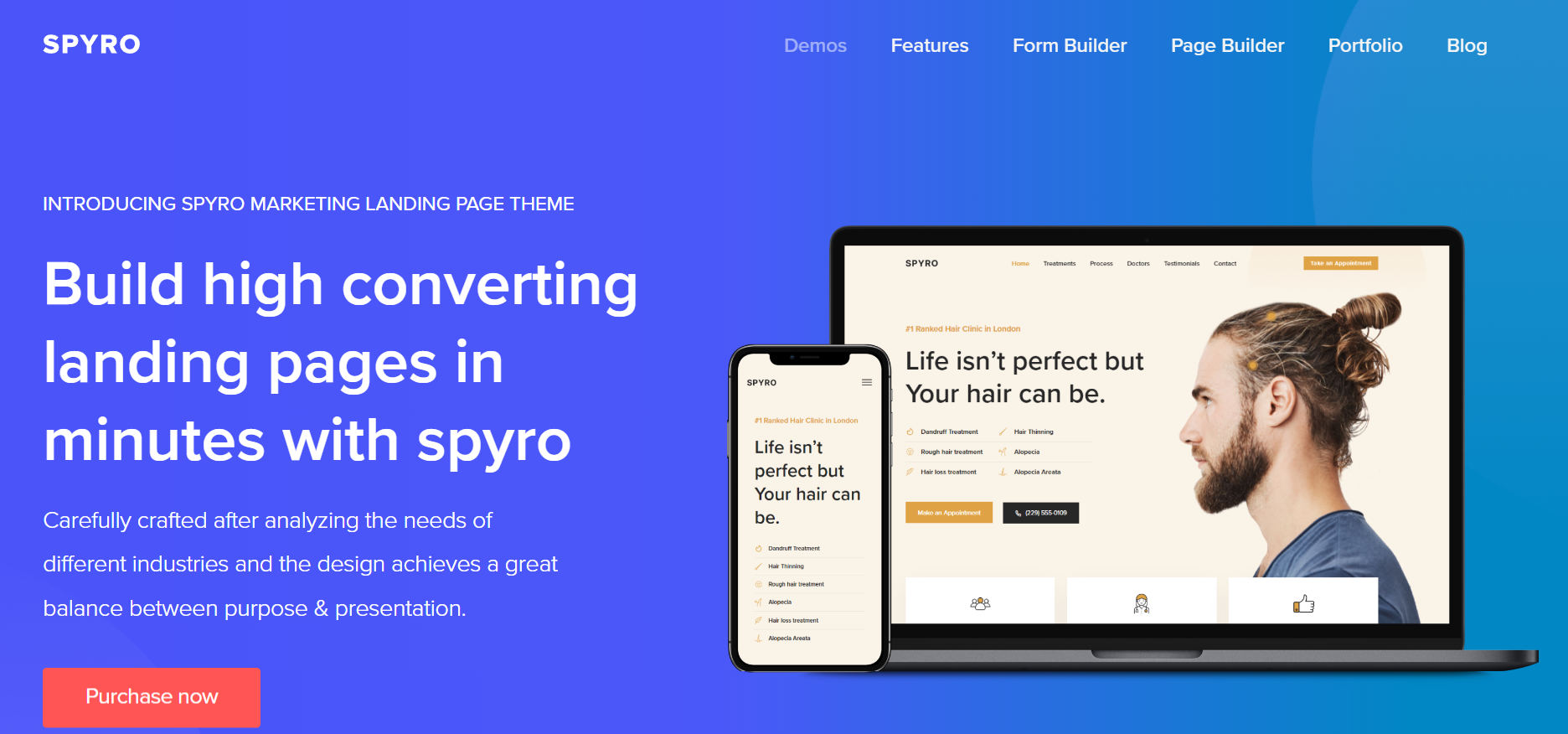 Spyro is one of the most powerful marketing landing page WordPress themes by BrandExponents that will enable you to build a perfect website with a high conversion rate. This theme has specially crafted templates and an amazing Visual Page Builder – Tatsu.
It has 12 stunning pre-built demos, so you can get started with a demo as per your own preference. Built by keeping Advertisers, Marketers, Lead Generation Companies, and Individuals in mind. Take your business to a whole new height by promoting your website on different social media platforms. 
One of the best parts about using this theme is that you don't need to have any sort of coding knowledge. Moreover, it comes with lots of customization options like color change, typography, responsive control, radio buttons, dropdowns, and much more. 
Top Features: 
One-Click Demo Installer 

GDPR Compliant Design 

Drag and Drop Form Builder 

WPML and Polylang Compatible 

Compatible with Almost Every WordPress Plugin
---
4. Exponent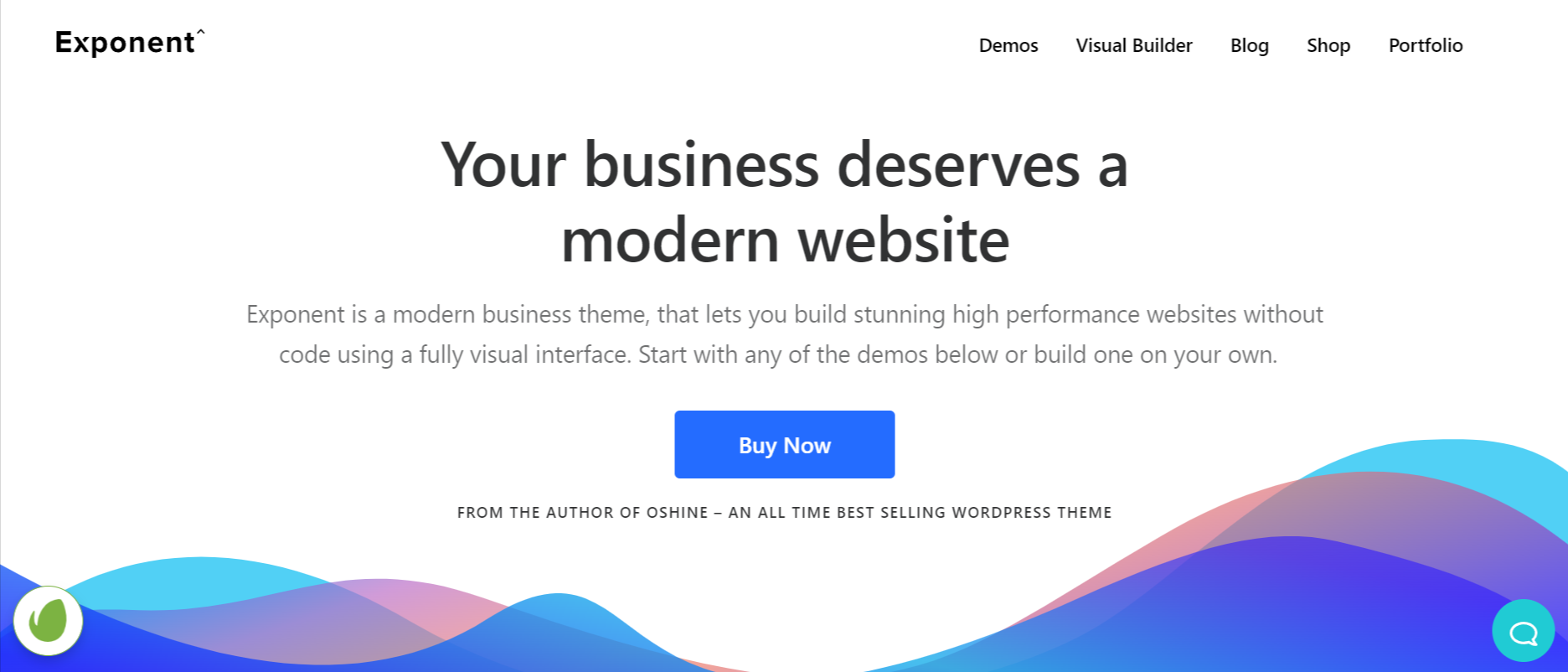 Exponent is one of the best modern multipurpose business WordPress themes by BrandExponents. Its enriched features and functionality let you build a stunning and high-performance website using a fully visual interface.
It has a beautiful layout with unlimited grid possibilities, variable spacing, aspect ratio, and metro grids. Also, it has been built with speed. You can easily manage colors as per your requirements using palettes and swatches. Its magic comes from a design system built upon consistency and terrific attention to detail.
One of the best parts about using this theme is that the developer team updates the theme frequently to meet their customer's and current market needs. This theme is crafted carefully after analyzing the needs of different industries. The design lets the users achieve a great balance between purpose & presentation.
Top Features:
200+ Page Layouts

Comprehensive Typography Controls

Color Management

33+ Modern and Fully Responsive Demos 

Beautiful Portfolios, Galleries & Carousels
---
Wrapping Up: 
Avoiding all the common mistakes while choosing a WordPress theme saves you a lot of unnecessary hassle. In order to make sure that you choose the right theme, analyze and interpret it before selecting a theme. 
Be sure that your theme will be able to meet all the needs and requirements of your brand. This way you can make your website building and running journey smooth, simple, and easy. 
If you have used any of the themes mentioned above, feel free to share your user experience with us in the comments section below. Also, let us know if we have missed out on any other important tips. 
We wish you all the best in selecting one of the best WordPress themes!
Also, check out: