As this business world is highly focused on grabbing the maximum number of targeted audiences, it becomes indispensable for you to have a keen eye on the overall appearance of your business website. A pretty website is a key to your success and it unlocks the doors to a profitable business by giving you a good web presence and sound traffic. Here, the drilling factor is to use a robust platform to design your website, because a simplistic gateway solves almost half of your problems and takes you to the zenith.
WordPress is the answer to most business owners in the current scenario as it has a host of plugins and themes in stock to create engaging web designs for diversified businesses. Drag and drop page builder by WordPress is one such beneficial plugin range that solves the major problem of WordPress users by giving them an eye-catching look and extended features in parallel.
What Does a Drag and Drop Page Builder Do?
In the online marketplace, web-building platforms are reaching heights of success. To achieve perfection in this scenario, drag-and-drop builders are doing amazing work, especially for those who are not well-versed in the coding world. It enables you to create astonishing designs and thus make websites come alive.
A drag-and-drop page builder primarily accomplishes two tasks:
1. Provides you with the ability to see what you are creating while you are making it.
2. Slows down the time required to create a website.
In recent times, there are plenty of page builder plugins available with enormous functionality embedded into them. As a result, you will get an adorable design for your website along with an intuitive interface.
Let's explore the below list of Drag and Drop Page Builder Plugins:
1. Tatsu Page Builder
It is a No-Code Page Builder for WordPress. It provides an immersive Visual Editing experience from header to footer inside the page builder. 50+ modules help you build an entire page within seconds. With the pre-built concepts, you can build faster sites with customizable content blocks straight from Tatsu.

Features
Custom Margin According to your requirement on a per-device basis.
Select a row or column and jump right into the Widgets
Tailored Options for every module and also generic customizations
Drag and drop sections to easily rearrange them.
The dark mode by default and amazing flow while using the interface
Create as many layouts as you need and save them as a template
Full Retina support across all the widgets.
Swiss army knife for Designers, Agencies, and Indie Developers alike.
2. SiteOrigin Page Builder
It is an amazing plugin by the SiteOrigin team where you are allowed a canvas and an array of individual content blocks to work. Each block has its title and settings and you can adjust the actual contents of that block.

Features
The available content blocks that are installed on your site, are widget-based.
It works with any of the themes you want
You will have a grid-based responsive output
You have a good version control
It can be activated for any page or post
Complete drag-and-drop support with canvas
Multiple customization options for borders, colors, styles, etc.
3. Elementor Live Page Builder
It is an open-source drag-and-drop live page builder that offers immediate results and does not make you wait for long. It also supports third-party WordPress widgets that you can use to add more functionality.
Features
A colorful user interface enables you to make changes on the site at the front end.
The interface is quick-load and easy to use.
Layouts can be saved and can be used anywhere on the website.
An intuitive layout that allows easy modification of margin and padding settings, content position, etc.
4. Forge – Front-End Page Builder
It is a versatile front-end page builder with enormous responsive content modules. It is freely available to download from WordPress's official website, but additional features can only be utilized after paying for it.

Features
It comprises useful modules like a login form, featured block, and pricing tables.
Import and export functionality to exchange content and designs between different websites.
All the elements of Forge are designed in a manner to improve the ranking.
The edit can be done from the front end but cannot be published until you made it live.
5. MiniMax – Page Layout Builder
It is a useful drag-and-drop page builder that can be easily integrated with the WordPress post editor. It allows you to add up to 6 columns of content to your page.

Features
5 major modules are available with a free version comprising the image, rich text, list sub-pages, and Accordion.
Widgets can be inserted within the layouts to use an enormous variety of widgets available with WordPress.
The layouts can be imported, exported, and even cloned.
6. Brizy
Brizy is the most user-friendly Page Builder in town that comes with a new innovative way to create WordPress pages fast and easily! You get the full experience with zero restrictions, for FREE, and pay only for extended functionality and premium design if you need them.
Features
Smart & clutter free – we show only what's needed, front & center, close to the element you're editing.
Intuitive Drag & Drop – just drag content elements, columns, or rows to the desired position and everything will instantly fall into place.
Over 150 pre-made blocks – Blocks are pre-made designs that you can add to your page, ready to be customized.
Global styling – you can change all texts that share the same properties in one go, as well.
Mobile Friendly – switch instantly to Mobile View mode, where you can make changes that will only apply to this type of device.
Over 4000 icons included – even the most demanding icon needs are covered
7. WR Page Builder
A stylish drag-and-drop builder available for free, where columns and rows can be easily added via a visual interface. It possesses an amazing feature set with premium alternatives.

Features
Custom CSS code can be directly added to the drag-and-drop interface.
Responsive modules such as button bar, pricing table, promotion box, and many more.
Widgets and shortcodes from WordPress are greatly supported.
It saves time involved in switching between windows with a live preview mode.
Works well for both posts and pages.
Support options like widget support and full-page elements to offer countless styling variations.
8. Aqua Page Builder
Aqua is a popular and freely available drag-and-drop builder that uses a similar interface to the WordPress menu system to make you feel at home. It makes the drag-drop process quite intuitive.

Features
Decent customization
Deals perfectly with WordPress import/export feature
Plenty of actions and filters
The backend plugin is very basic and easy to use.
It lets you create countless template variations.
9. Live Composer
A beautiful and responsive drag-drop builder which has the specialty to style pages via a front-end editor. After being familiar with the interface to create typical pages will be an easy task.
Features
The main editor appears at the bottom of the page.
With the use of an editor, you are allowed to insert modules, style the page along with save and load templates.
Widgets can be injected as well within the page.
Dedicated pages like blog indexes and staff pages can be made by using the modules.
10. FormCraft Drag and Drop Form Builder
It enables you to create forms with a drag-and-drop editor along with managing the submissions. For expanded features, the premium version can be availed.

Features
A stunning form is quick to get
Pop-up and inline forms are the major ones.
Submission is an easy task
11. Page Builder Sandwich
A simple-to-use front-end editor where you only have to click on the content that you want to edit, and then you can start typing.

Features
Its premium version offers a host of additional features including enhanced shortcode mapping controls and a carousel slider element.
You can simply paste the URL or embed the code to add videos to the builder.
A wide shortcode mapping database is an added advantage.
From this database, shortcodes of hundreds of plugins can be added, such as Jetpack and bbPress.
12. King Composer
With a free version, it delivers a responsive backend drag-and-drop editor where content creation is not a tough job. It can be upgraded to the pro version where there is an extended ability to build pages from the front or back end.

Features
It has a unique specialty in that the pages made with this builder remain intact even after the plugin has been deleted or deactivated.
With an intuitive user interface, you have the provision to create and organize the content. It can be in the form of rows, columns, and elements.
13. Beaver
It is a flexible plugin that is compatible with any theme and allows fast cracking on your content. Design can be adapted even if you plan to modify the themes later on. You can instantly view the changes as the editor works on the front end itself.
Features
Changes are visible in another tab with a standard WordPress install, while Beaver Builder offers time-saving by showing them in the same window.
A wide range of available modules adds much to the flexibility, comprising elements like headers, buttons, maps, and similar items.
It works on the front end of your WordPress website and you will have complete control of your site.
Creating pretty and professional pages in WordPress with this plugin is an easy task just like a simple drag and drop.
14. AIO WP Builder
It is a feature-rich drag and drops page builder specially designed to create professional sales pages with ease. AIO supports diverse elements comprising images, video, and rich text. You can also be able to customize your pages with any icon while using the Font Awesome icon library.

Features
Best meant for content marketers, but its intuitive interface allows you to create almost every type of page.
The pro version offers additional features like Google Fonts and multiple widgets, popups, and squeeze pages.
It works on all operating systems and all themes and plugins of WordPress.
Pages are responsive and you don't need to build a mobile website.
15. Pace Builder
Pace Builder is an easy-to-use Page Builder with an intuitive interface. You can create responsive layout pages & posts where you are having complete control over the content. Your content will adapt to any screen size with the use of the Twitter Bootstrap framework. Pace Builder also includes modules to let you insert the content.

Features
Section and row options give you the layout you want.
It goes compatible with any theme with a uniform view of the content.
Requires very less code knowledge to add your custom modules.
WordPress widgets are also an integral part that can be inserted into your content at any place.
It supports rich CSS and Typography.
16. Caldera Forms
It is a free plugin by CalderaWP that creates pretty responsive forms with a drag-and-drop editor. Form building is simplified with the use of a visual editor by injecting features like additional pages, funnel user responses, and multiple columns.

Features
Some default features are enabled in Caldera such as AJAX, Anti-spam, notification emails, and even database entry tracking.
Responsive design with an intuitive drag-and-drop interface
A great list of add-ons included
Act as an amazing search tool
Visual editor with an intelligent conditional logic
17. Layers
It is one of the popular and user-friendly tools that quickly design stunning websites. Only the essentials are focused on avoiding distraction through endless design choices. As it includes many widgets, you won't have to worry about functionality.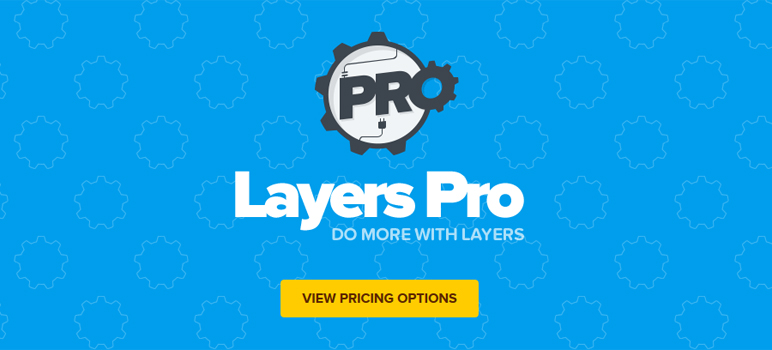 Features
Responsive and SEO friendly because of the intelligent HTML structure
Great Woo Commerce support as an added advantage to eCommerce
Code-free point-and-click interface
Changes can be viewed instantly
Widgets can be used extensively to build pages
Works directly with the WordPress customizer (built-in)
An option of endless designs is disabled to create an awesome design with selective alternatives via still maintaining the fundamentals of a good design.
Wrapping Up

Although WordPress is a simplistic platform to build blogs and websites, there are extended benefits attached with it. There are uncountable number of plugins and themes available with this open-source platform which can be used to optimize the website and improve its performance. The above Drag and drop page builder plugins are the useful components that allow flexibility with enhanced features. Most of them are free to download with certain features that can be extended if you can upgrade to the pro and premium versions. So, go ahead with this informative list and make the most of it.
And as a bonus theme we have :
WP Blog Manager is a powerful and versatile WordPress plugin that can design your WordPress website with more than 100 stunning, responsive, creative designs.
If you have a WP Blog manager, you can design a WordPress website in just minutes and give it a new look every single day. Now without any coding skills, create your categories, and posts and select from the design layout library from the WP Blog Manager plugin.
Here are a few prominent features of WP Blog Manager :
Lots of configuration options to filter posts from all possible wp queries condition.
Show posts from all possible taxonomies or categories queries of wp.
Show posts associated with a certain custom field which can be either single or multiple custom fields.
Show posts based on a search keyword.
Show Popular posts from view or comments.
Sort retrieved posts from order and order by parameters
Show posts associated with a certain status.
Demo  Feature Details  Download  Documentation  Get Hosting
Also, you might want to check out :
---
Author Bio
This blog is written by David Meyer who is a skilled dedicated WordPress developer associated with CSSChopper for a long time. He has a great interest in writing informative blogs about useful concepts related to WordPress comprising all the latest themes and plugins.
Stuck Somewhere?
Connect With
JustHyre
Hire WordPress Engineers for custom jobs like Website Customization,
SEO Optimization, Clearing a Hacked Website, Installation & Configuration & more.
Connnect with JustHyre