Why Use WordPress for Project Management? (Features & Plugins)
Project management is the key to delivering the absolute value of the project. It makes sure the goals of the project align with the strategic objectives of the business. Also, if possible risks happen and the strategy needs to change, managing the project the right way will adapt the strategy to the business needs.
To make sure your project management runs smoothly, try WordPress. WordPress Project Manager and other tools have helped thousands of businesses deal with their daily activities.
Why WordPress?
One of the essential aspects of WordPress is undoubtedly the features it offers to run your project as smoothly as possible. We picked some of the most useful and frequently used ones.
Some features include WordPress security and designs such as WordPress education themes, while others are perfect for managing your project.
WordPress Project Manager
One of the best-rated Jira software alternatives is undoubtedly WP Project Manager.
As one of the popular scrum tools, Jira can manage all your agile software projects.
 However, as another great option, WP Project Manager allows you to create, organize, and assign tasks with a few clicks.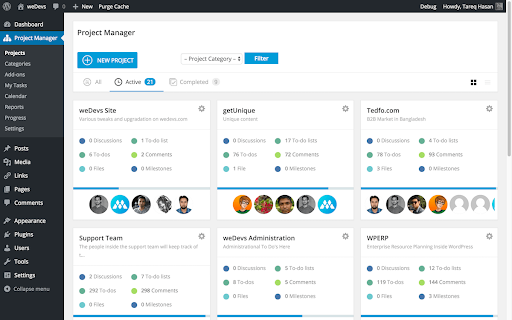 Your team will be able to complete all projects on time effortlessly. What makes it one of the most reliable open-source software for project management are its features.
 WordPress Project Manager Pro Features & Plugins
As excellent as WP Project Manager is,  the pro version certainly has more advantages. Even though it comes with a starting price, its core features and plugins will make your project management much easier.
Core Features
To-do list
The feature allows you to add lists with a title and descriptions. Also, you can add tasks, assign users, and due dates, and track the progress. Finally, you can mark it as complete or incomplete. You can add comments as well.
 Messages
The option allows you to stay connected with your team while working on a project. Moreover, you can attach files to messages and make comments for discussion as well.
 Milestone
Here, you can assign messages and to-do lists for the team.
 Notification
Users can get an email notification about recent tasks. With that, there is no chance of missing out.
 Files
The feature of file-sharing allows better communication and understanding within the team. You can use messages to upload files or share any file anytime with Pro.
Plugins
 Kanban Boards for WordPress
Kanban boards and automation are known agile project management tools but work great for other things such as hiring new employees.
The Kanban framework is a popular scrum tool alternative. Both of them split difficult tasks into smaller parts so that work is easier. What is different are their approaches, as scrum tools focus on smaller interactions and fixed lengths.
Despite that, Kanban software can help you gain work visibility and foster team collaboration.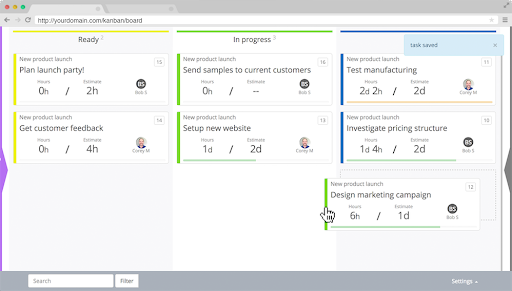 Kanban software tools can help you organize work since you can automatize the work process with it. Therefore, you cut waste activities.
Some of the reasons why Kanan boards are great for WP include:
Task assignment: You can include deadlines and instructions when assigning the task to your team.
Real-time updates: What makes teamwork easier are the real-time updates.
Trello- like Kanban software allows you to adjust elements of the projects.
Separate data: To keep your privacy, the data stored is separate from your WordPress data
Sales: You can manage your sales team and track the sales' every activity from the beginning to the actual sale.
Gantt Chart For WordPress
Gantt Charts are one of the essential tools used for management. They are planners and schedulers that are used for both team and individual tasks.
They show how much work has been completed in the time estimated for that project. The Gantt Chart gives you:
an overview of the activities
the end and the beginning of each activity
how long the activity will last
the overlap with other activities
the start and end of the project
The WP Project Management bar chart shows you a project schedule. Therefore, you can view the task schedule as well as the progress.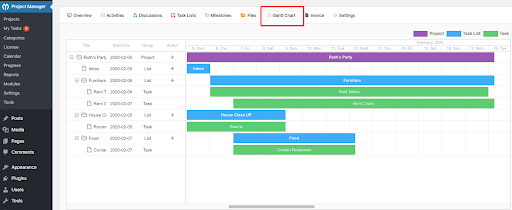 Time Tracker for WP Project Manager
A time tracking software can help you manage your project as it tracks time for both users' activity and projects and tasks. By using the time tracker, you can:
Start and stop time
Pause time
Add time log
Log history
Set deadlines
If there are many contributors to your project, you will need offline tracking software or an online option. However, if you need to sync it every time, it certainly becomes a bother.
Hence, with this add-on, you can track the time of the contributors to your site. You will be able to pay them and your employees according to the work hours tracked.
At the same time, you will manage your projects simultaneously with the same tool.
WP-Invoice
The WP-Invoice free plugin will help you charge your clients. The WordPress website will help you not only manage the project but become the core of your invoices and payments.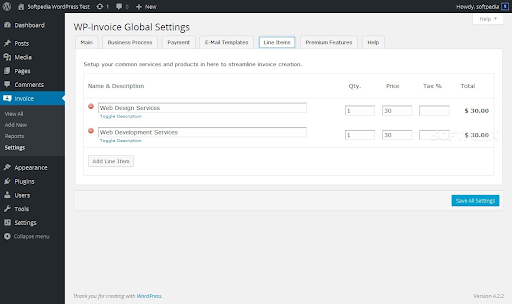 It allows you to send invoices to your clients by item. This extended feature is perfect for anyone who has clients to bill. The plugin is connected to the WP's user database and keeps track of your clients and their information.
As you create the invoice, an email is sent to the client. The email contains a link that clients can follow to lead them to your particular invoice page. Then, they can use one of the payment options to pay the bills. Some of the available options include:

After the payment is completed, it will be added to your account, and the invoice will be marked as paid. In addition, you can download invoices in PDF.
BuddyPress for WordPress
The BuddyPress integration feature is available on the WP Project Manager Pro version. It allows you to:
Assign different tasks to different teams
Set admins to access all the departments
Give different permissions for different employee roles
Manage it all from the front end of your site
Thus, one of the main benefits of using BuddyPress with your WP Project Manager is that users of your website's project don't need to use the site's backend to manage projects.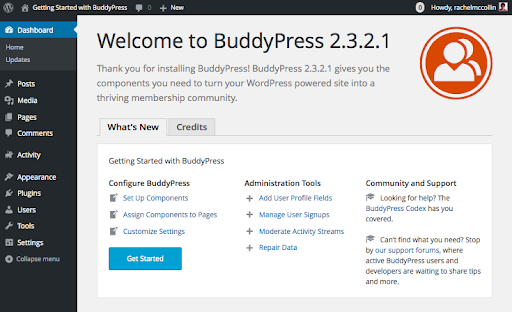 Also, by creating a project in a group, all the members will automatically be assigned to the project. Therefore, you don't have to add them to every new project individually. All the members of the group will also receive a notification.
In addition to being great for project management, BuddyPress is one of the WordPress plugins that add interactivity for students.
Slack Integration
To use Slack, you can create a Slack app and integrate it to get a notification about your task. Copy the Webhook URL in the space in the Slack settings of WP Project Manager, and that's it.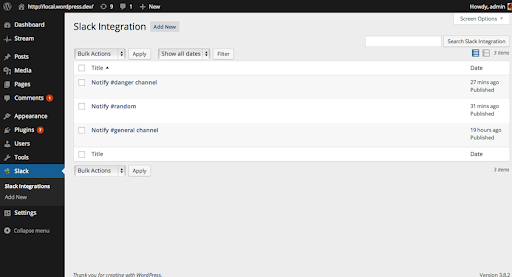 Slack is a great project management tool. The WP Project Manager Pro integration will allow you to organize your team and phenomenal collaboration and communication.
The block of Slack creates several channels for each team. Channels can be based on a particular topic, project-related, interaction or location-based, and so much more. It will allow you to create channels dedicated to specific projects.
You can add each project team member to a particular channel to find needed files and updates.
Also, you can create a private channel in the Slack workspace for only relative members of the team for the project.
WooCommerce for WordPress
WooCommerce is a plugin that adds a shop to your website. Accordingly, you can add your products, and shopping cart, and check out when you activate the plugin. Hence, if your project includes sales of products or services, it is perfect to use.
You can include as many tasks as you like under a certain project. You can add managers or clients to the project as well.
Also, when you activate WooCommerce, you will have more extensions available. Try to find them at their Extension library, as you will be able to get both free and paid extensions.
What is also interesting are the special, higher-quality Themes you can use with WooCommerce. Such as Storefront, a free theme by WooCommerce.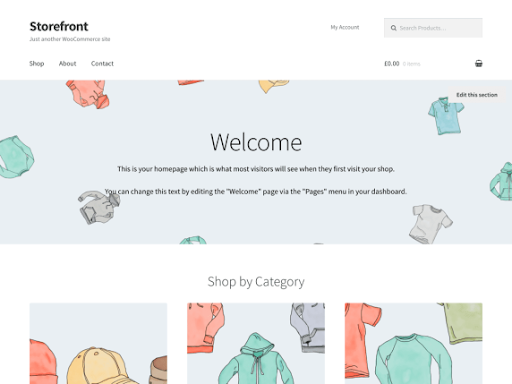 A fun fact about WooCommerce and WordPress includes the fact that volunteers develop both. Plus, they are available for anyone to use the software as they are both classified as open source.
What is important to note is that many parts of the store require maintenance.
WordPress for Project Management Conclusion
Project management is crucial for delivering good results, as difficult as it may be. To make sure your daily tasks or an important project is successful, rely on the WP Project Manager.
Whether you have already tried scrum tools such as Jira or Trello to organize your project, you will surely not go wrong with WordPress. The features and plugins will help you meet the objectives of the business and deliver the best possible results.
So, if you want to get the project done as smoothly as possible, don't hesitate to try WordPress.
---
AUTHOR BIO: gravatar: dreydante@gmail.com

Andrej Fedek is the creator and the one-person owner of the InterCoolStudio. As an experienced marketer, he is driven by turning leads into customers. His goals always include White Hat SEO. Except for being a boss, he is a real team player with a great sense of equality.