10 Best Webflow Landing Page Templates of 2023
Here is the list of the 10 Best Webflow Landing Page Templates designed and developed to create a stunning landing page website. The themes can be your ideal need to give a visually appealing appearance to your website and attract customers. Webflow Landing Page template offer great features and functionalities that help you create a stunning website that stands out. It has a professional layout, features enriched elements/components, highly functioning pages, and much more. If reaching out to a large number of customers is your ultimate goal, these Webflow landing page templates can be the best for your website. Let's have a look:
Best Webflow Landing Page Templates
1. Twisted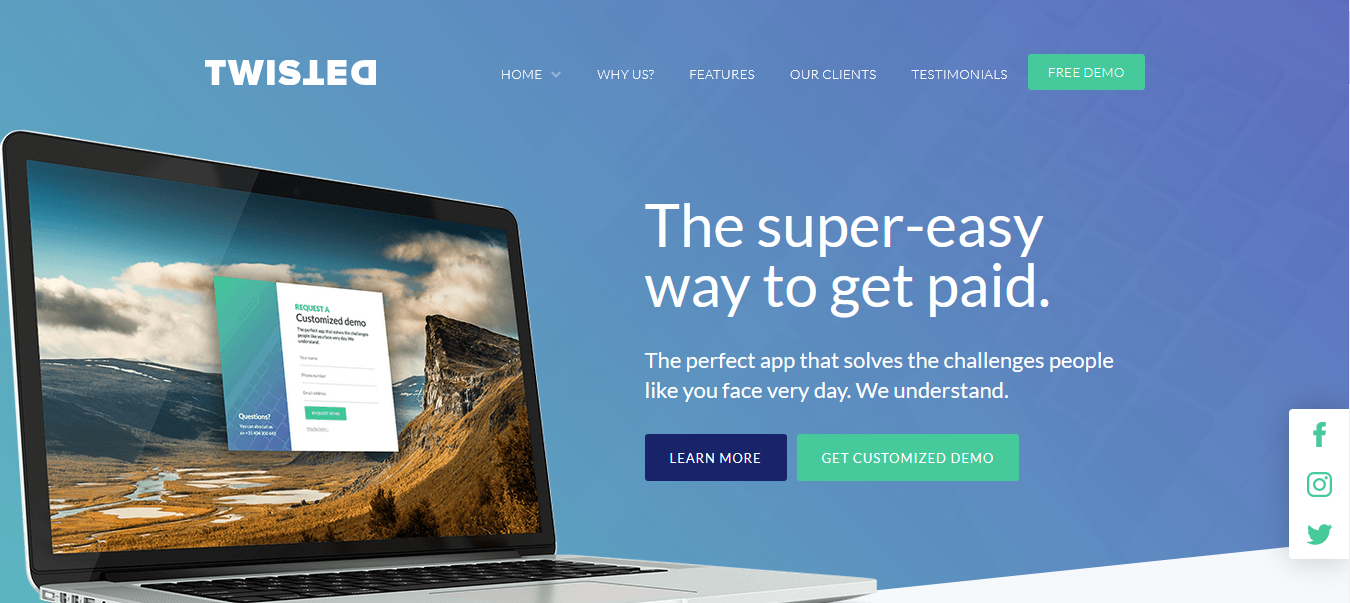 Twisted is a cool-looking modern and responsive Webflow Landing page template ready to use for presenting your product or services. You can also present yourself as a freelancer for example. It is a fun template to work with. Twisted allows you to customize the template to fit your needs. It consists of a beautiful landing page and a variation on it to show what you can do with it.
Major Features:
Responsive Design
Forms
Responsive Navigation
Responsive Slider
Interactions
Symbols
Retina Ready
Web Fonts
---
2. Landing Page Ace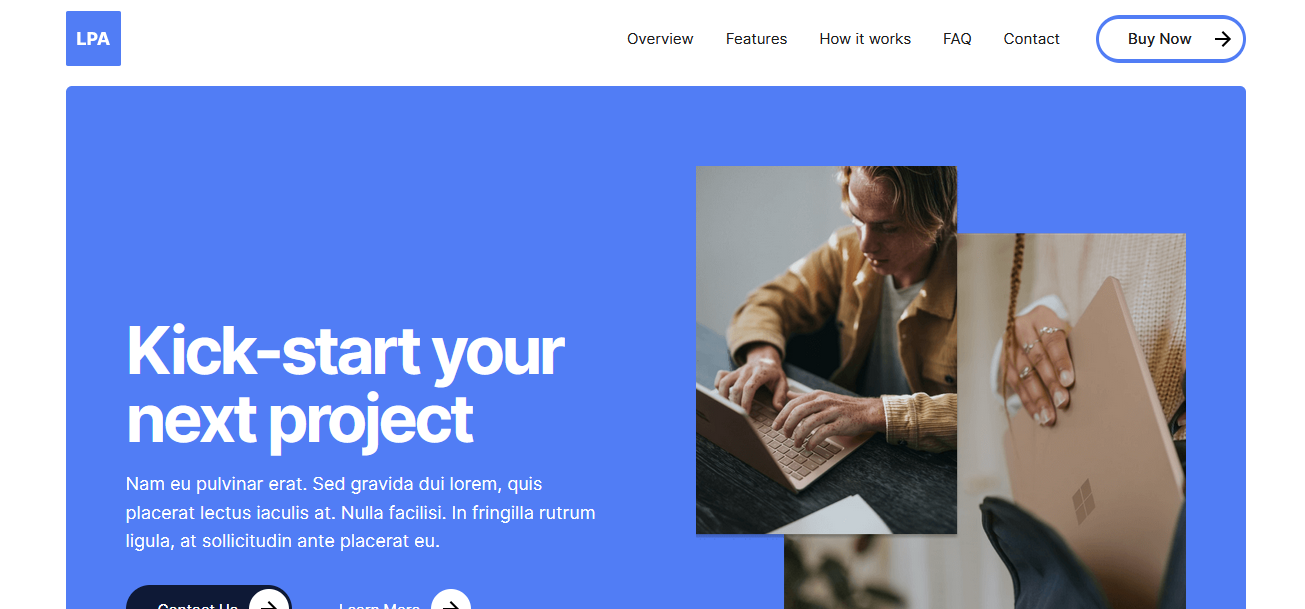 Landing Page Ace is a highly responsive Webflow landing page template with high-converting and beautifully designed layouts. It comes with a series of landing pages to select from. The template has a clean and modern look and a responsive section that you can mix and match. Landing Page Ace has all that takes to give a kick-start to your next project.
Major Features:
Responsive Design
Responsive Slider
Forms
Custom 404 Page
Web Fonts
---
3. Launcher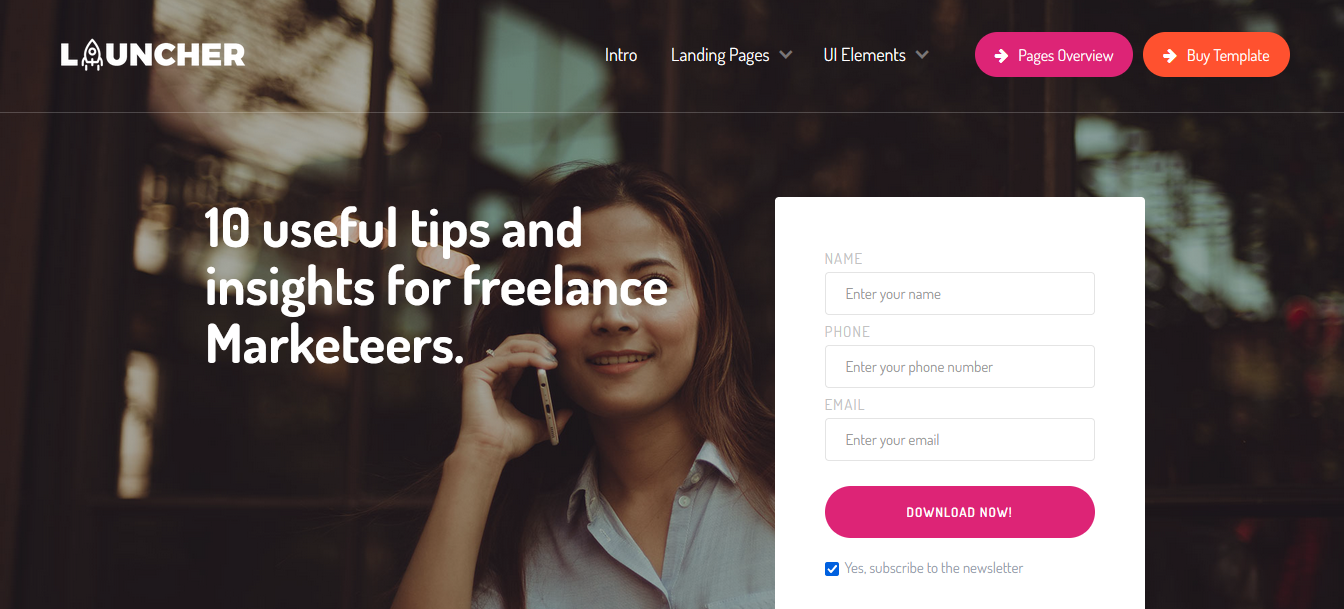 Launcher is a Webflow landing page template for your website. It comes with 10 ready to use a call to action based landing page types. One can easily rearrange the necessary sections or elements and style the website the way they want or optimize the pages accordingly to fit the call to action you want to highlight. The template is packed with great, reusable features for your service, product, or showcase various elements. Launcher is a fully responsive Webflow landing page template optimized for mobile devices such as tablets, and smartphones. Further, it comes with 10 different landing page variations.
Major Features:
Responsive Design
Responsive Navigation
Interactions
Forms
Symbols
Web Fonts
Retina Ready
Responsive Slider
---
4. Tech Startup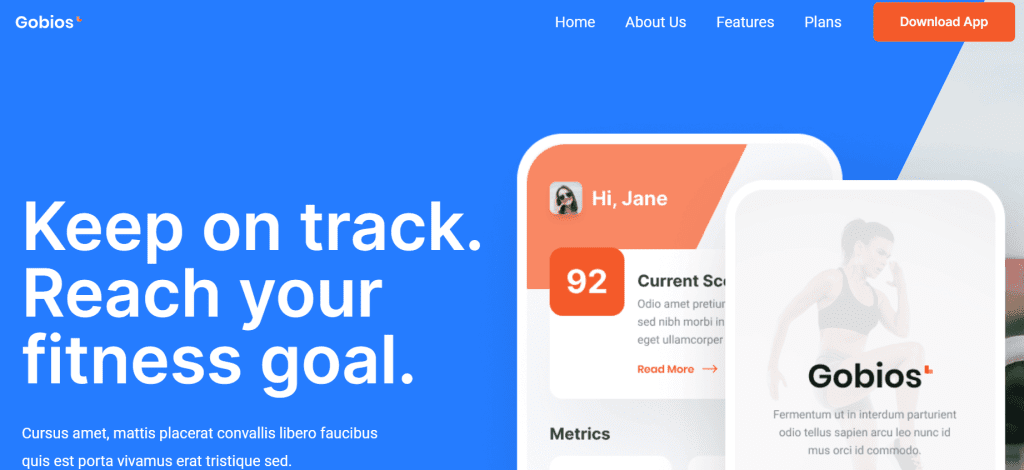 Tech Startup is one of the best landing page templates by Astra. It has a flat modern design that'll keep your visitors engaged in your website for a long time. Also, it has bright colors, bold fonts, and plenty of whitespace. The template provides you with a fullscreen header setting out your stall. It's a very well-designed theme with a responsive design. So, your website will look amazing across devices of all shapes and sizes. You can also get this template on InstaWP's store.
Major Features: 
Multiple color options
Great layout with borderless sections 
Well-designed flat theme
Excellent choice of colors
Plenty of font options
100% responsive design
SEO friendly
Smart modern design
---
5. Lander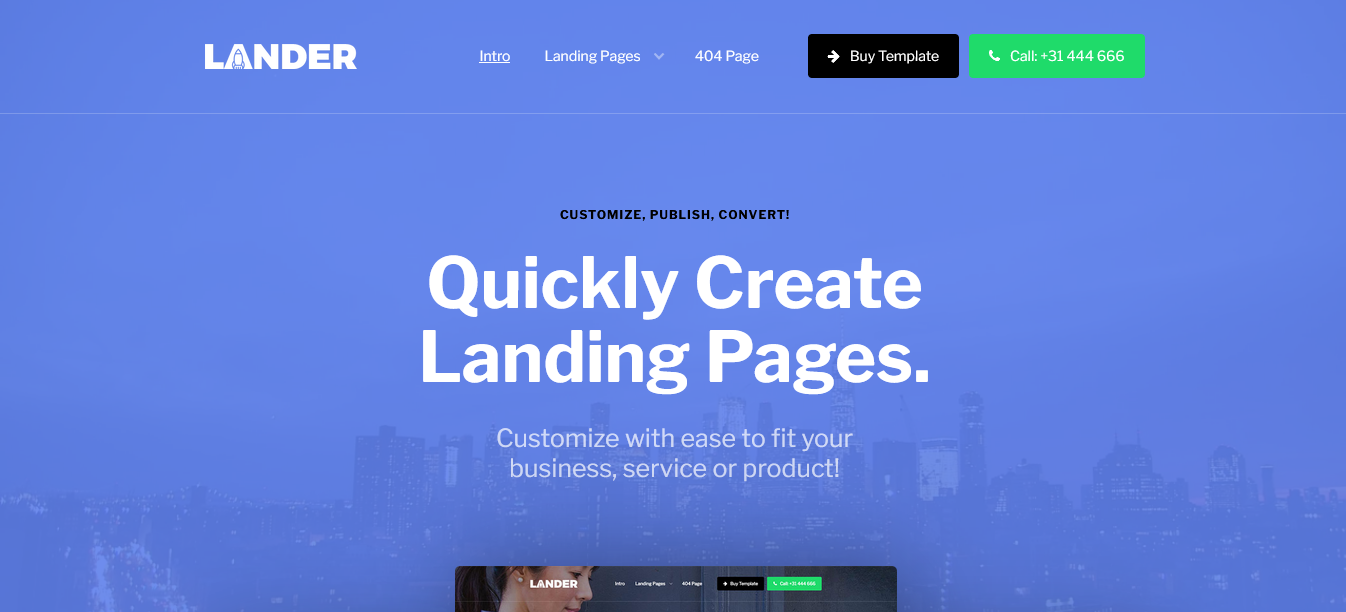 Lander is a beautiful Webflow landing page kit that comes with 3 frequently used landing page types. It allows you to arrange the needed sections or elements and style them the way you would like. Further, you can optimize the pages to fit the call to action you would like to highlight. It is a perfect one-page Webflow landing page template suitable for business, startup, and marketing too. It can be your ideal template for your website. Showcase your product most stunningly like never before with Lander.
Major Features:
Reusable Features
100% Responsive
Retina Ready
Responsive Slider
Forms
Symbols
Web Fonts
---
6. Vivlio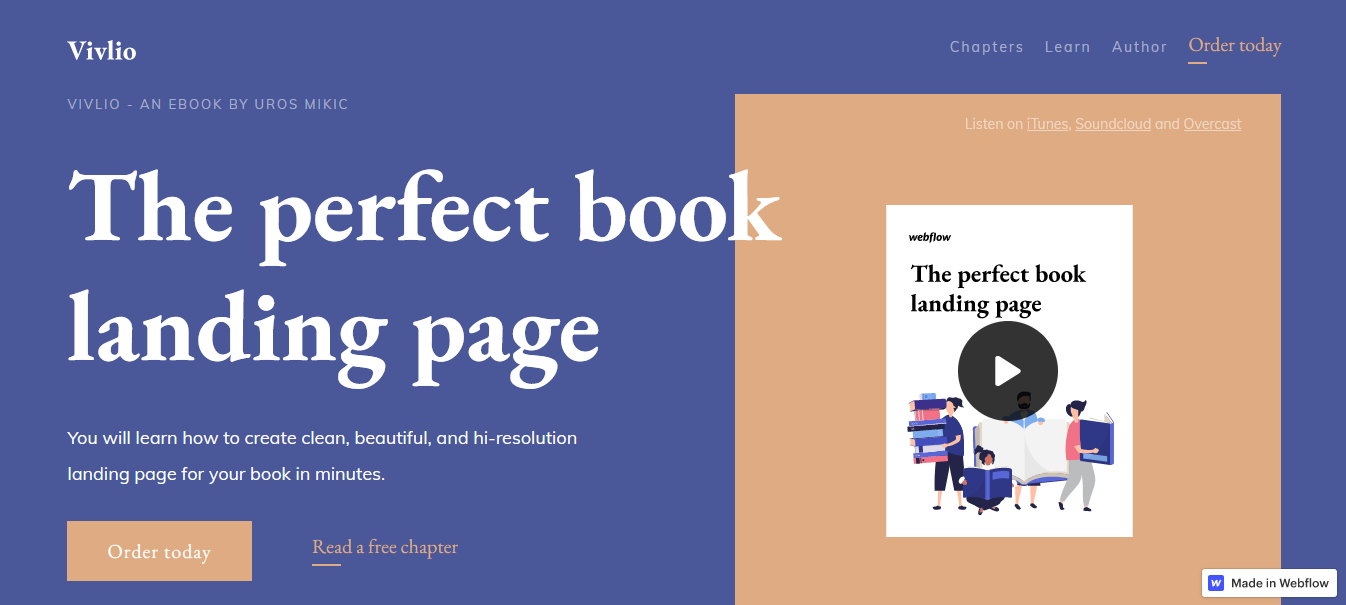 Vivlio is a modern Webflow landing page template that will help you create a clean, beautiful, and hi-resolution landing page for your book, ebook, or online courses in a few minutes. The template has all sections that any Entrepreneur, Freelancer, or Author needs for their book. It is a multipurpose template that's a perfect fit for small businesses and marketing too. Vivlio has a strong hero that draws the attention of visitors to your book. The template has beautiful animations used across the book landing page. You can maintain your brand guidelines with a few clicks in the style guide available with the template. It is a fully responsive retina-ready Webflow landing page template.
Major Features:
Beautiful Animations
Fully Customizable
Ready for Mobile Versions
Browser Compatibility
Time Saver
Clean Code
Responsive Layout
---
7. Selly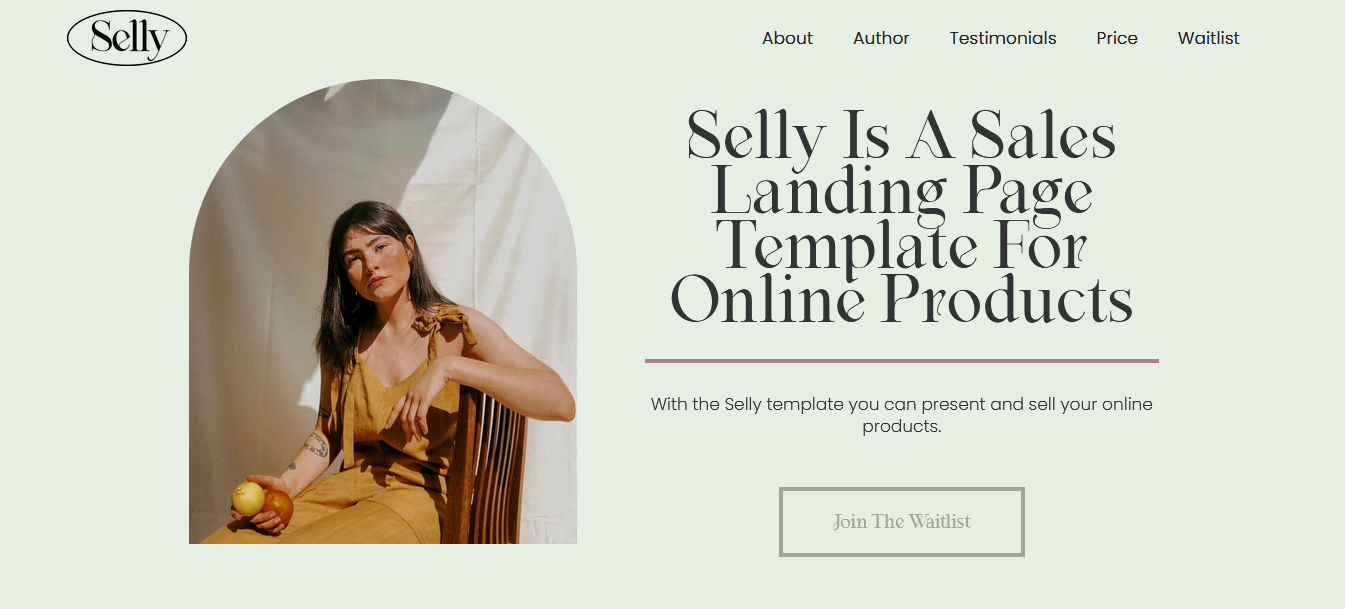 Selly is a high-quality Webflow Landing page website template specially designed, developed, and crafted for selling courses and online products. The template is built with a thought-out structure and opt-In forms to help you build your email waitlist. It is a perfect fit for marketing, creative and small businesses too. Selly is perfectly optimized for all popular resolutions and devices making it fully functioning on any device. Using the template, you can fully customize all the parts – including fonts, colors, titles, texts, images, and page structures. It is a highly responsive Webflow landing page template for your website.
Major Features:
Mobile Ready
Fully Customisable
Unique Design
Elegant Lead Generation and opt-In Forms
Social Proof
Fully Responsive
Custom Interactions
---
8. Startup X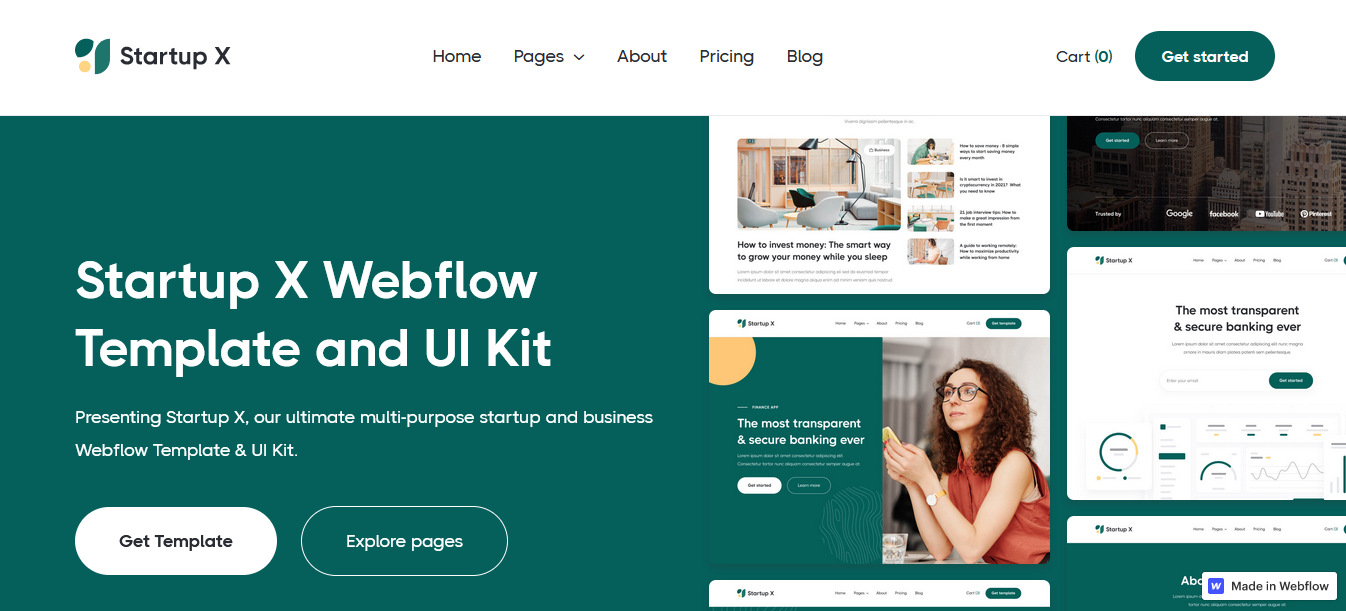 Startup X is the ultimate Webflow Landing Page template designed and developed for landing page websites. The theme has a total of over 30 pages, each page is perfect to launch your website for your startup and showcase your product using the landing pages. It is a CMS theme that provides a world-class design with its unique template and UI kits and ensures to attract lots of customers to your page. Further, the template provides 35 pages, including 3 homepage variations, 3 about us pages, and 3 blog variations, and much more to a lookout.
Major Features of Startup X
Responsive Design
Responsive Navigation
Responsive Slider
Interactions
Forms Symbols
CSS Grid
Custom 404 Page
Web Fonts
Retina Ready
Content Management System
Ecommerce
---
9. Uptime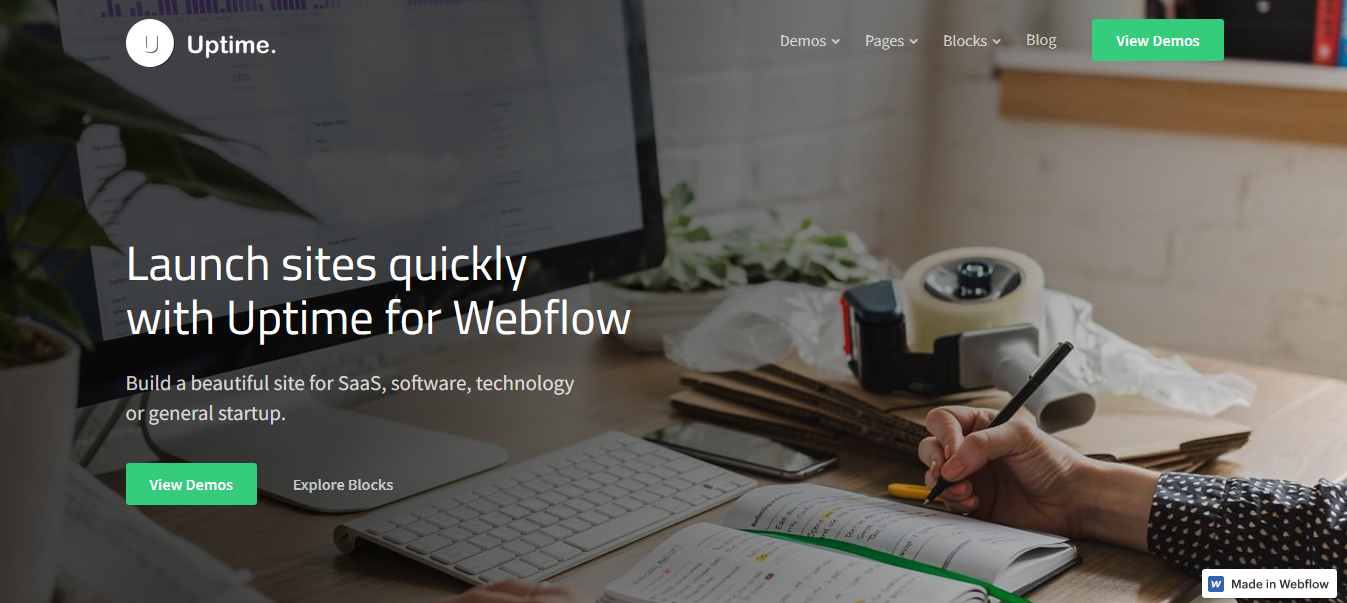 Uptime is a Webflow Landing Page template with adaptable and modular designs built for every business website looking to establish an expertly styled home for their products or services. The template offers a plethora of modular interface blocks and has vast layout potential. It empowers users to create their own beautiful, responsive product landing pages by combining any of the 40 carefully crafted interface blocks.
Major Features:
Build with Modules
Block Variations for A/B Testing
Audience Engaged
Responsive Design
Responsive Navigation
Forms Symbols
Web Fonts
Retina Ready
---
10. Quicklinks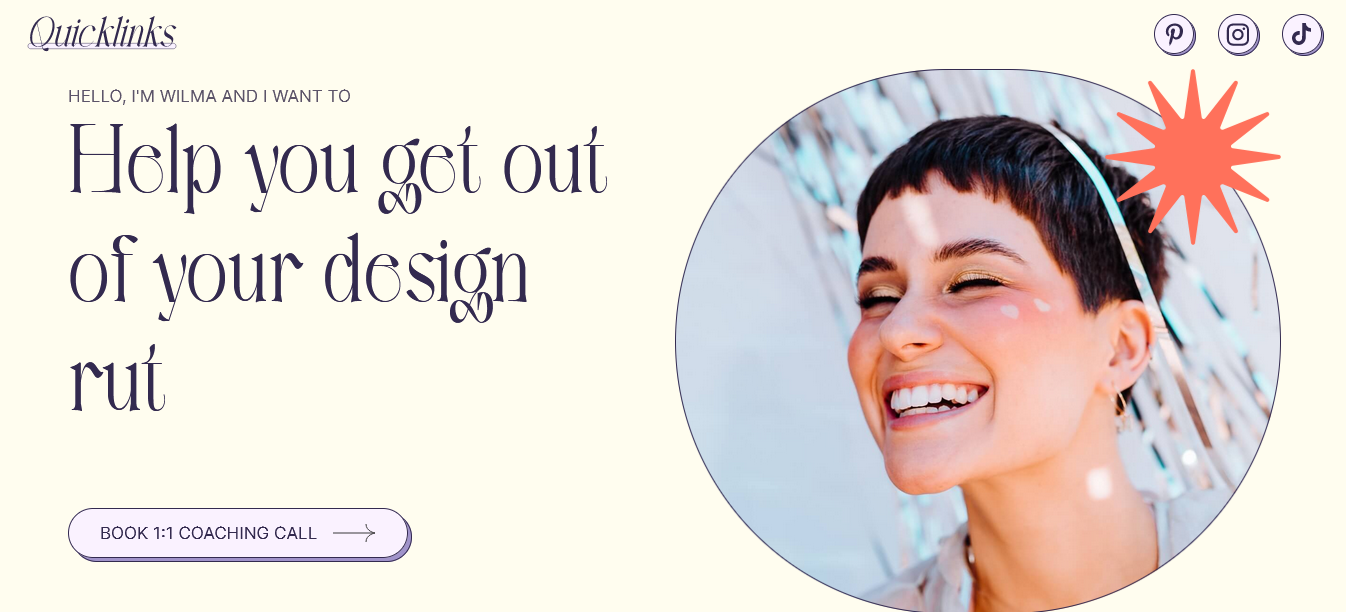 Quicklinks is a beautiful link in Bio Webflow Landing Page Template for Instagram and Tiktok. It helps you to convert your online audience into paying customers. When it comes to selling products online, it's all about the links. Quicklinks template helps you create the perfect webpage template to get your audience to perform an action and grow even further. You can easily promote your business, products, and services via Instagram and Tiktok by clickable links. It strongly boosts your online presence.
Major Features:
CTA Buttons
Unique Design
Sign Up Form
Smooth Interactions
Modular Design
Fully Responsive
---
Also, Check-Out: