Blog Lite: Best Free WordPress Blog Theme for 2023
Theme Details          Demo          Documentation
Bloog Lite is a  free WordPress blog theme designed beautifully with all the features and functionality of a blog site. With its modern creative features and responsive design, anybody can create an amazing website in no time.
It is a free WordPress theme ideal for personal blogs. It comes up with a clean and simple homepage with different delightful layouts. It has got high image quality and allows you to feature elegant images- that can draw huge traffic to your site. It is fully based on cool Customizer tools which let you live preview any setting and design that you have changed. You can create your own brand identity and upload a unique logo instantly and easily. It is the right place to increase your website users' engagement capture their interest and promote your website. Surely, it comprises all the features that make a complete and perfect blogging website. All its customization is in your hand, you can configure it the way you need. No doubt, it is the best WordPress blog theme.
Main features of Bloog Lite:
Customizer Based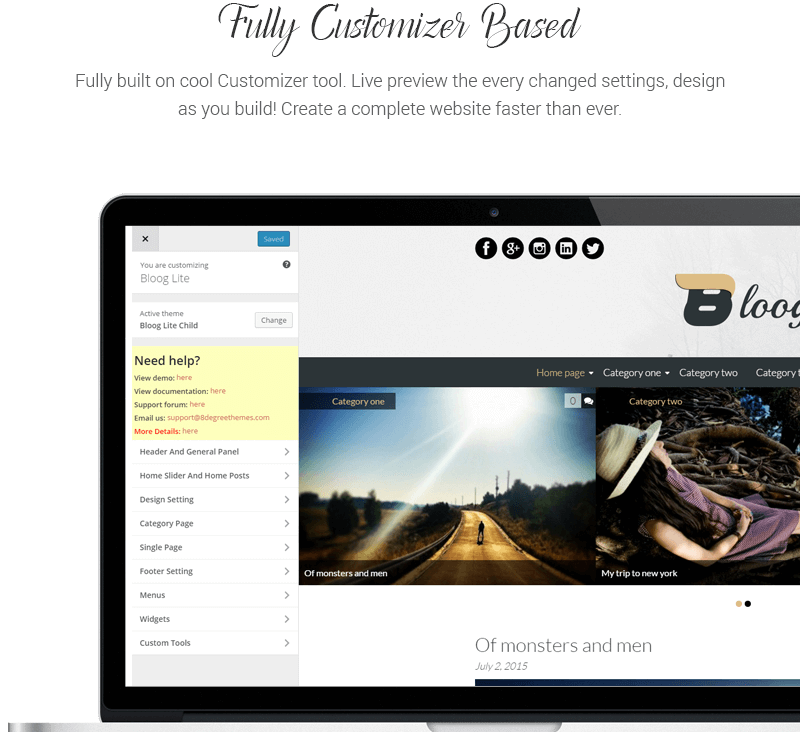 It is fully built on the cool Customizer tool. You can completely change the features as you want and make them different than others. You can instantly live preview your changes, configuration, settings, and designs. With its easy-to-use Customizer tool, you can create a unique website faster than ever.
Homepage with different layouts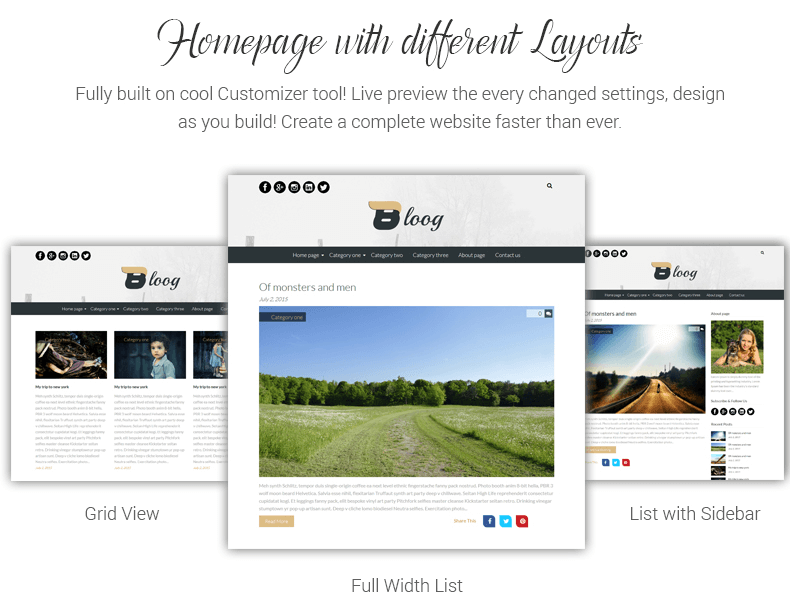 Blog Lite has got exciting and attractive homepage with different layouts. Different layout option makes your website interesting. It gives a fascinating look at your website and attracts many visitors.
Custom Logo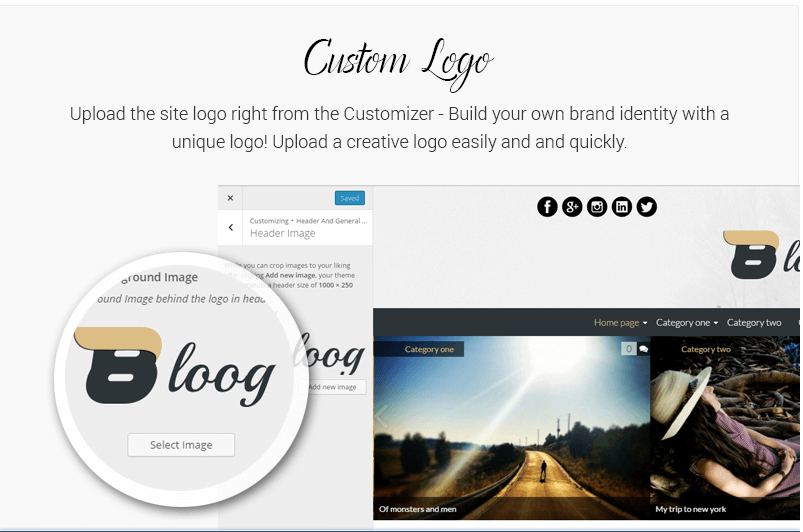 In general, the logo is the identity of your brand. Most of the theme guides you through the complex and confusing process of creating and uploading the logo. But with this free blog theme, you can build your own creative and unique brand logo easily upload it quickly, and personalize your website.
Boxed and Full-Width Webpage Layout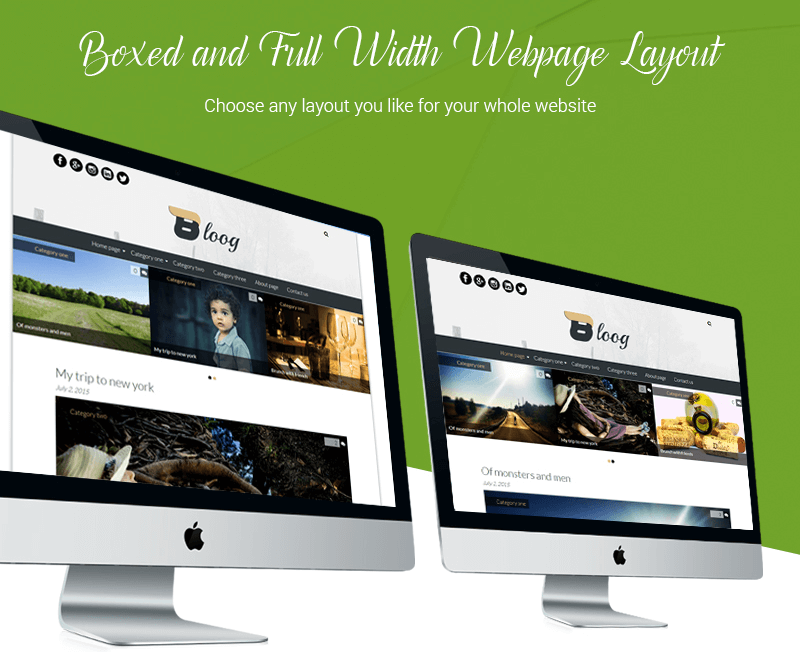 Blog Lite allows you to choose any layout that you like for your website. If you choose the full-width webpage layout then your content will be centered with a white background throughout and if you choose the boxed webpage layout, then all the content will be centered only with the background flowing around it. Which layout do you want for your website? The choice is all yours.
Footer settings

Its footer setting feature enables you to set up and manage your footer section with copyright text and other widgets. In the footer section, you can also add other promotional banners for your website.
Different widgets

As per the requirements of your website, you can set up different widgets. You can add widgets to display contact addresses or to display recent posts or to display featured pages and many others. It helps to make your website more informative and easy to use.
Home Slider and Posts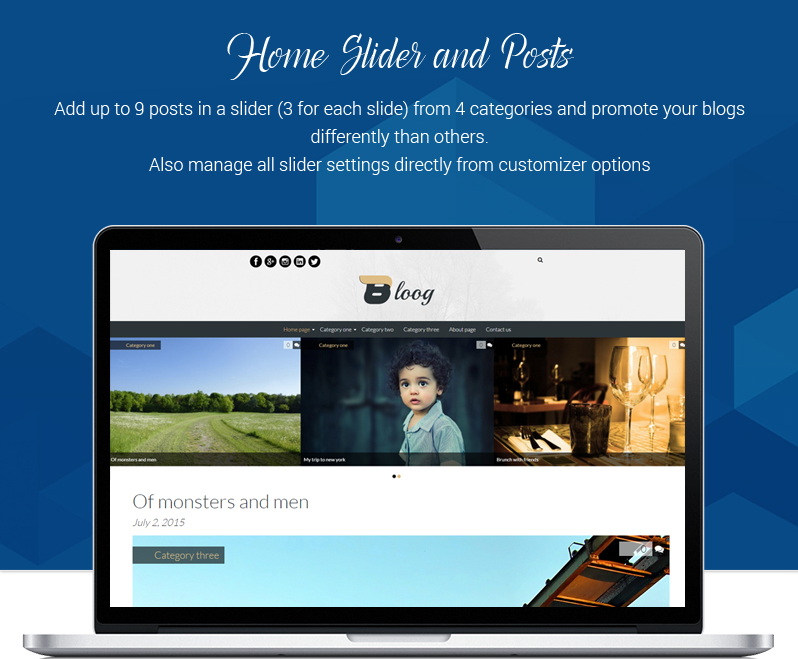 With Bloog Lite, you can place your important posts on a visually appealing and interactive slideshow i.e. home slider. It gives a good impression to your users. It allows them to see your highlights quickly and take action.
Custom tool

Blog Lite enables you to add custom CSS and JS code in the backend rather than editing theme files. It is easier and more effective than editing theme files.
CSS3 Animation

Blog Lite has the option to use cool CSS3 animation which helps you to change the element from one style to another. An individual without any advanced knowledge of programming language can also use it fluently. Another merit is even in a mild loading system this animation runs smoothly and effectively.
bbPress Friendly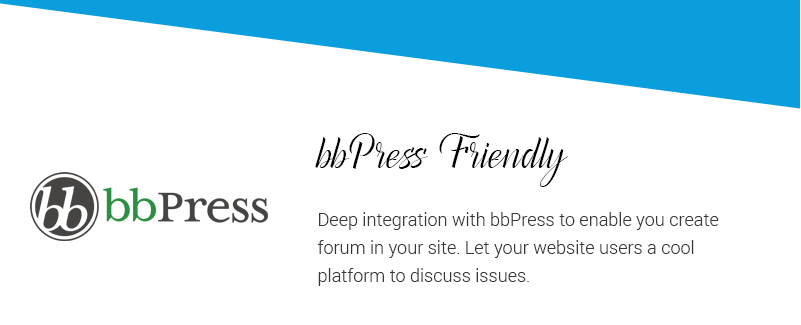 The theme has deep integration with bbPress that enables you to create a support forum on your site. It lets your website users have a cool platform to discuss issues which is a reliable means to solve confusion and problems.
Cross Browser Compatibility

The theme is well-tested with all major browsers such as Google Chrome, Firefox, Internet Explorer, Safari, Opera, and so on. It is compatible with all of them. It maintains full web standards that's why it is easier for you to use it through any available browser.
Translation ready

The theme can be translated into any language you like. It helps to localize your website easily for your local audience. You can select any language that comforts you and that is easy to understand.
SEO Friendly

Everybody wants to promote their website and want their website to be found by users on the web so, the theme must be SEO optimized. Here, Bloog Lite is SEO-friendly and doesn't affect your SEO outcomes. Your users would find your website easily on the web.
Responsive Design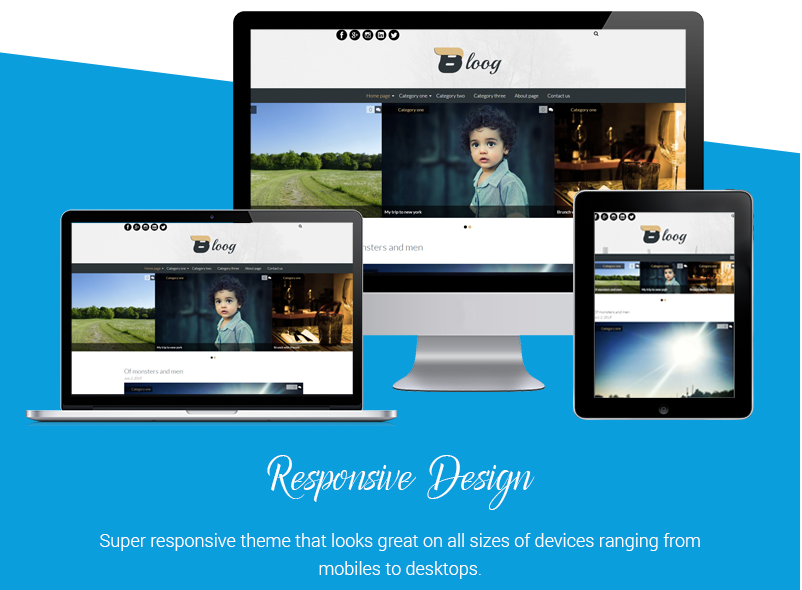 The theme is fully responsive so it adapts well to all kinds of devices like desktops, laptops, tablets, and mobiles. It looks perfect on any sized screen and you can run your website effectively through any available device.
Online Support Features:
Blog Lite theme has helpful online support features.
Via Dedicated Forum:

If you have any questions related to the theme, then you can freely post them on our support forum. WordPress experts will analyze your problem and help you.
Via Online Chat: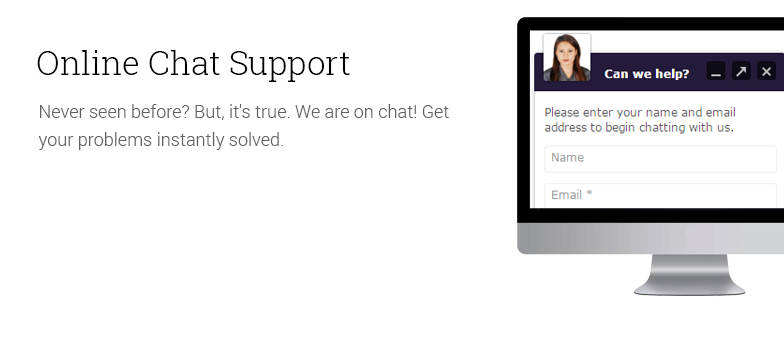 The theme has online chat support also. If you have any confusion or queries then you can chat with us and we will provide the instant solution to your problem.
Via Email Support: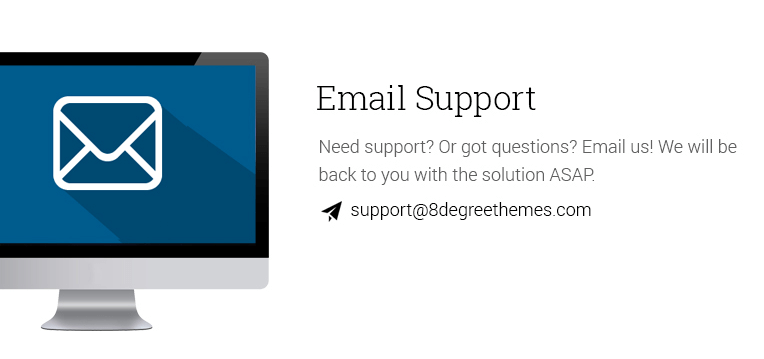 You can also get your questions answered through email. You can just email us at our support site then we will reply along with your solution.
Other features:
RTL ready
Unlimited color setting
Testimonials
Compatible with WooCommerce
Access to Google Fonts
Threaded comment
Final Thoughts

There is no doubt that Bloog Lite is a complete, powerful, feature-rich free WordPress theme. It is clean, simple and super user friendly.If you wish to have an elegant personal blog or blogging site with huge traffic, then switch to Bloog Lite. We ensure that, you would have a great time working with Bloog Lite.

If you have any queries and recommendation related to  the theme, please feel free to share with us.

For more information, you can view its demo and documentation here.

Also, you might want to check out,