WordPress Notification Bar Plugin can help you display various notifications, promotions/offers, notices, Call To Action (CTA) contents, alerts, Opt-in subscriptions, news or social icons right on your website. Notification bar on your WordPress website can give you a power to easily manage small contents which you'd like to promote via your website.
While searching WordPress plugin for notification bar, you will find many freemiums as well as premiums in the web. Thanks to the WordPress and its enthusiasts who keep contributing great products every time.
I simply love the freemiums because they allow me to work with the FREE versions and also give me an option to upgrade to Premium for more powerful features, (only) if I require!
Most of the free WordPress plugins might not prove too useful to you, if you follow the same line and don't trust on the free WordPress plugins, I recommend you to try 8 Degree Notification Bar.

It is a FREE WordPress notification bar plugin yet very powerful one. It displays notifications, promotions/offers, notices, Call To Action (CTA) contents, alerts, Opt-in subscriptions, news and social icons or any important announcement in your site that your visitors should not miss.
You can configure this plugin quickly and easily to create a visible notification bar in your site. With an attractive and visible Notification Bar, you can share anything interesting in your site and grab the user attention easily. It gives a quick notification to the users about anything happening in your website and further helps them to navigate through the site.
It is a complete notification bar plugin for WordPress which can be used to welcome the visitors in the website, link to social media and promote your blog post/ content. In other words, it is to highlight your messages or content so that you can get larger audience every day.
It is responsive and feature rich plugin which is built up to simplify the user needs. It offers a large range of customization options to build an impressive notification bar. Great functionality, complete flexibility and awesome support from its makers will leave you astonished. I believe you'll get most of the premium features in this free notification bar plugin.
Major features of 8 Degree Notification Bar:
Placement Options

Generally, notification bar is placed at the top of a website however, you can even place it at the bottom of your website as per your need. You can also place it on the right side or left side of your website wherever it is appropriate. All these settings are available in 8Degree Notification Bar WP plugin.
Color Settings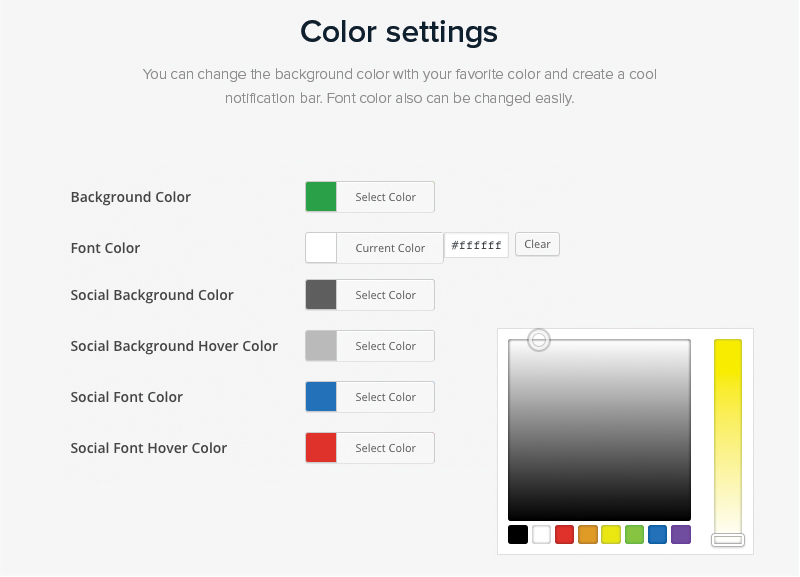 It provides an easy to configure color settings from which you can set your favorite color in the notification bar. It allows you to choose a decent background color, font color, social background color, social background hover color, social font color and social font hover color.
Advanced Typography

Enjoy the access to Google fonts right on notification bar. You can use the beautiful Google fonts and display important promotions/offers, notices, Call To Action (CTA) contents, alerts, Opt-in subscriptions, news or social icons in the decent fonts as you like.
Promo Text

8 Degree Notification Bar allows you to feature a promo text very effectively on the bar. There are options to make the promo text bold, italic or underline. you can highlight something more significant  in your site by featuring it on the bar.
Display Effects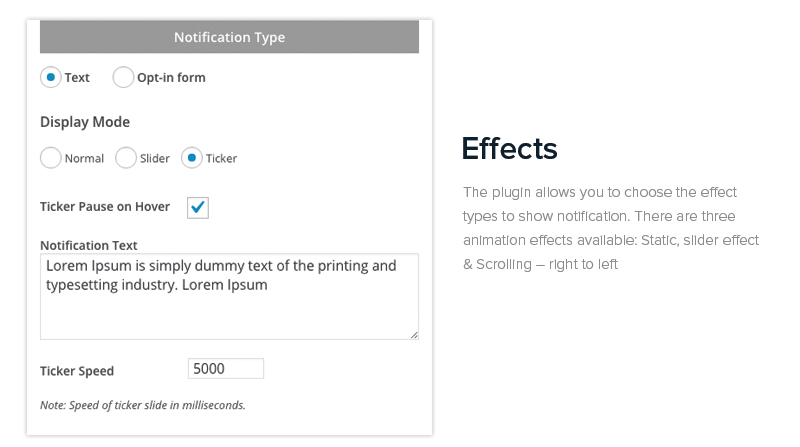 8 Degree Notification Bar provides you easy to use options to select a proper and attractive display effect for notification bar. You can choose one from the three display modes: normal, slider and ticker.
4 Major Social Networks

You can integrate major 4 social networks right from the notification bar. There is an easy to use option to configure Facebook, Twitter, Google Plus and Linkedin accounts through notification bar.
Visitors Subscriptions

A lot of things in the notification bar itself- it's amazing! Yes, you can also place a subscription form at notification bar for your website visitors' convenience. Your website users don't need to browse through the whole site to find the subscription form any longer.
Final Thoughts
With 8 Degree Notification bar plugin, you can create a cool responsive notification bar in your website. With multiple choices of the notification location and color options and effect options, you can drag more and more visitors to your website.
This process ultimately helps you in your goal attainment. The plugin is easy to setup, use and quick enough to bring you faster response. The plugin is free of cost however, it has lots of premium like features.
More importantly, you will get a dedicated support from its makers to sort out any bugs you spot out. Learn more details before simply trusting me.
So, why wait? Download it and create a catchy notification bar today!
Stuck Somewhere?
Connect With
JustHyre
Hire WordPress Engineers for custom jobs like Website Customization,
SEO Optimization, Clearing a Hacked Website, Installation & Configuration & more.
Connnect with JustHyre