Are you in the search of the Best SaaS website template to build a beautiful website for your SaaS business? Search no further! In this article, we have the collection of Top 10 Best Webflow SaaS website templates to help you create a stunning SaaS website and give your business the outsourcing it deserves.
Software as a Service (SaaS) products are in huge demand as the name itself defies it is the product basically software that functions providing services to the users. It is developed by developers, coders, designers, to build software that advances your day-to-day by providing easy performance.
These days, SaaS products have great demand in the market and hence this ended up with many organisations/firms/businesses developing a SaaS product ready for execution. If you too are a SaaS business with great products, it's now time to build a stunning website and attract customers to make use of SaaS. When building a SaaS website, it is necessary to select the best one with all the features and functionalities. When you search up on the internet, there are tons of SaaS templates considering themselves the best. In order to help you out, we have here introduced the best SaaS Website Templates!
Best Webflow SaaS Website Templates
How can you say these are the best SaaS website templates you may ask! Well, all these templates are the top choice of many businesses that choose to build a stunning SaaS website using these templates. These templates are selected to be included on our list viewing their responsiveness, performance, design, layout, performance, functions, features, ratings, installations, pricing and all.
We can ensure that you will build a visually appealing website in a few hours with the use of these templates. They are SaaS focused templates that function to build your site with all the functions. Let's view each template in detail:
1. Toptech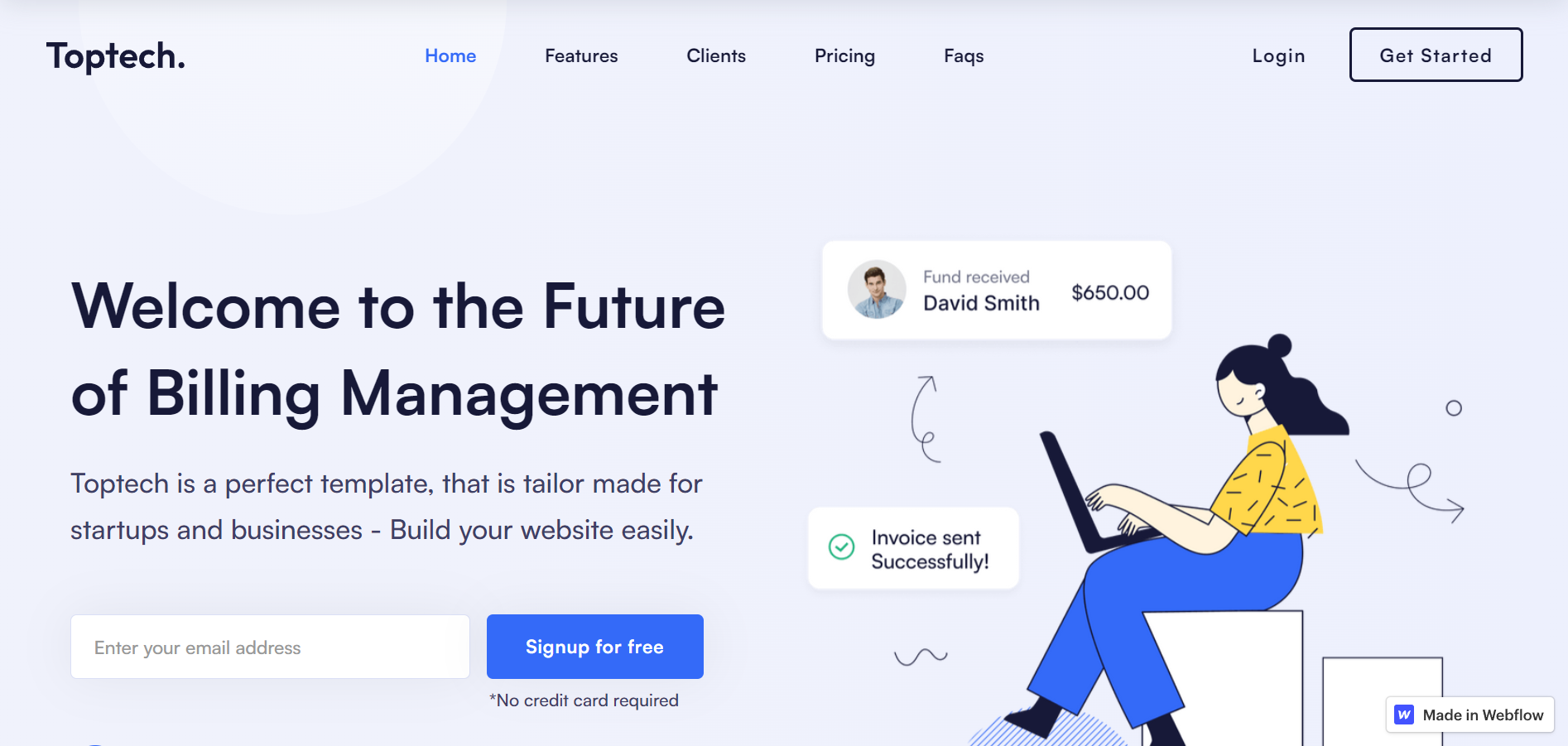 Toptech is one of the best Saas Website Templates that are suitable for almost every modern tech brand including individuals to organizations. This template is designed in such a way that both International businesses can use it to emerging startups. You don't need to worry even if you're a beginner as you don't need any coding knowledge while using this template. Its responsive design will make your website look amazing across all devices which will engage customers for a longer period of time.
Major Features of Toptech: 
Outstanding Ratings

Includes Invoice Template System

Compatible with All Major Web Browsers

Amazing Security

Provides Frequent New Updates

Easy Navigation

Responsive Design

Option to Customize Visual Interface Too
---
2. Saaslify X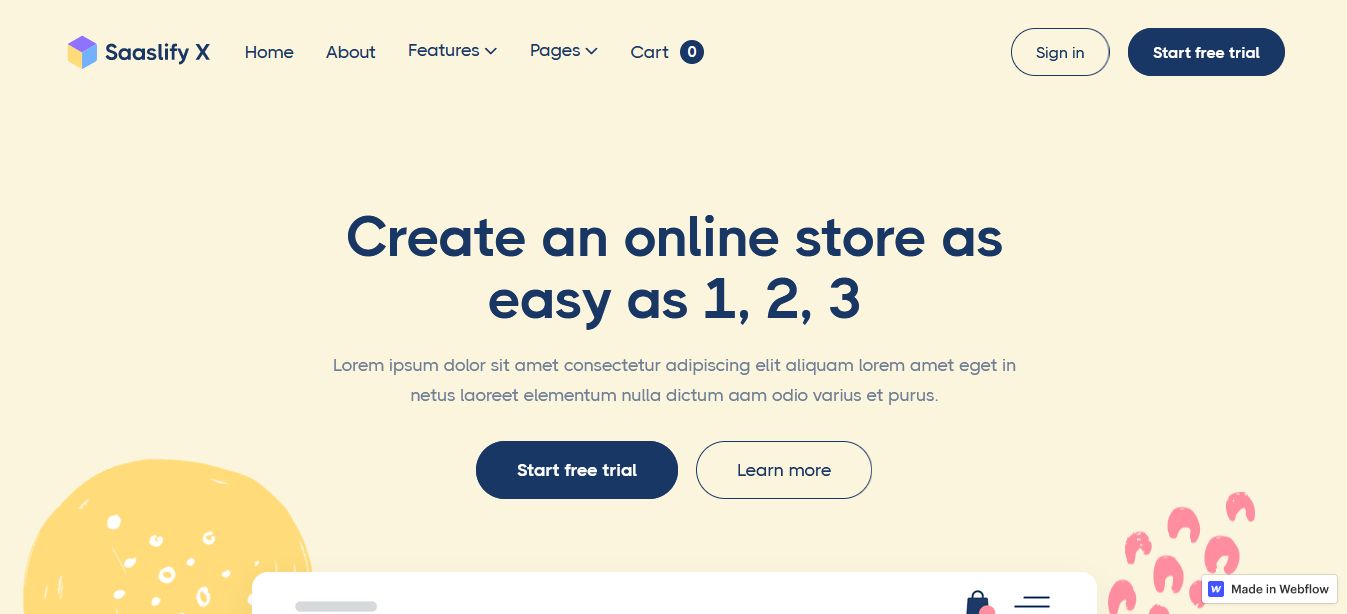 Saaslify X is a go-to SaaS Website Template to launch a new design for your website. Search no more as it is the modern technology template designed for SaaS startups to build a premium website full of illustrations. The template includes a collection of 15+ pages which makes launching your website smoother and better than ever before. Saaslify X Webflow template comes with great benefits and one among them is the Figma file included with your purchase. Further, it is fully responsive and retina ready providing great performance on all the devices and screens.
Major Features:
Unique and Premium Design
Speed Optimised
Perfect Responsive
Seamless Animations
100% Customizable
Figma File
Retina Ready
Webflow CMS
Ecommerce Integration
Always Up-To-Date
Global Swatches
Style Guides and Utility Pages
---
3. SaaSup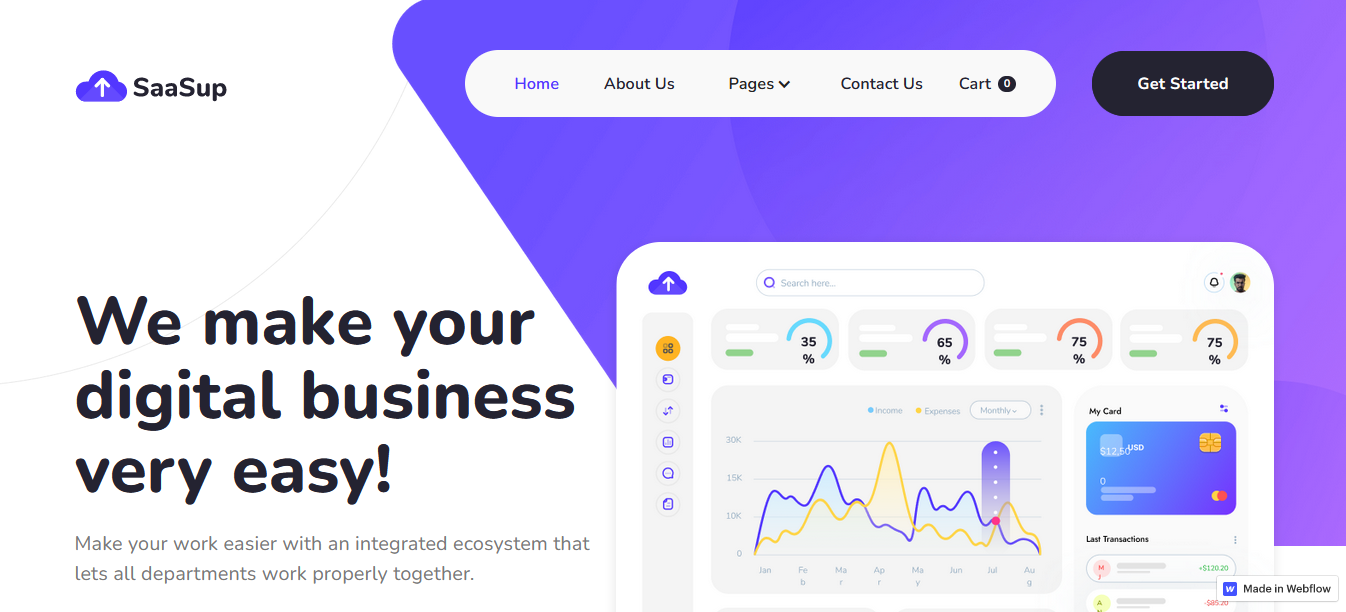 SaaSup is a technically proficient SaaS website template to showcase your product in the best way possible. The template comes with layouts that are highly preferred for all SaaS product businesses. It is created to fulfil the needs of technology-based website seekers wanting to create a stunning website. SaaSup is an elegant, attractive, and bright SaaS template with stunning and impactful layouts to support your business. You can move your business to a more significant level with uncompromising quality in various aspects using SaaSup.
Major Features:
Fully Responsive
Device-Friendly Template
Browser Compatibility
Always Up-To-Date
Free Licence
Global Swatches
Retina Ready
Responsive Navigation
Webflow CMS Blog
Password Protected
---
4. Innova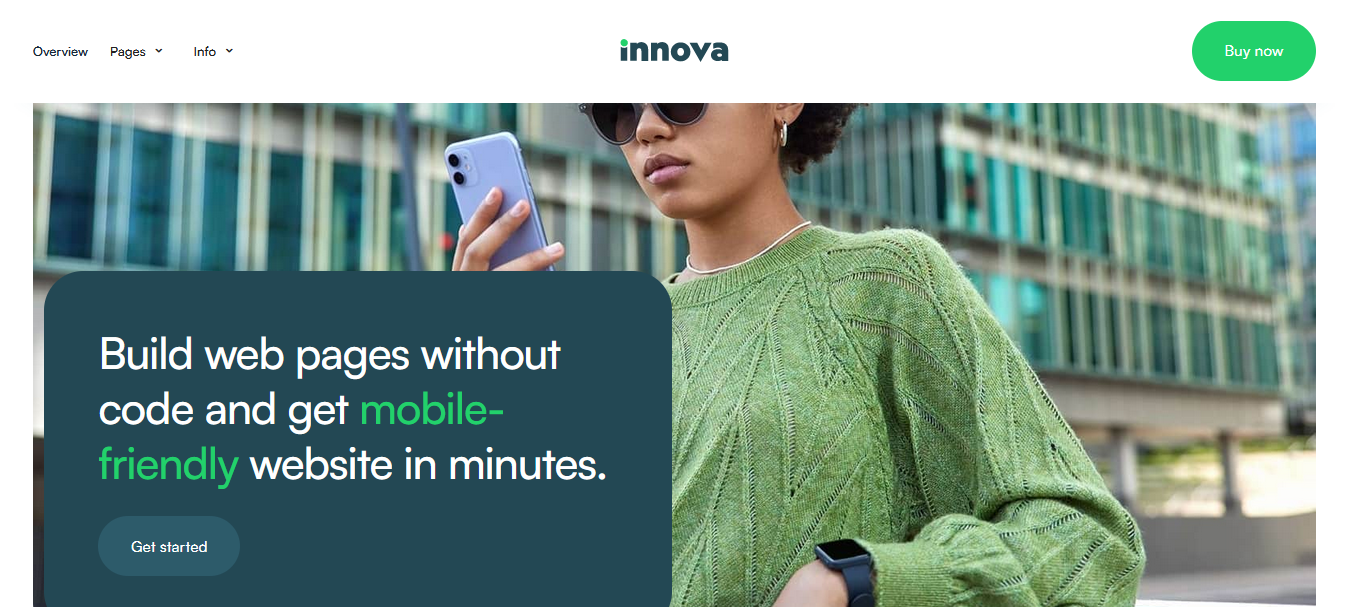 With Innova – SaaS Website Template, you can create beautiful web pages without code and get a mobile-friendly website in a few minutes. The template has a huge library of layouts and blocks to select from. You can easily select the components and design your SaaS website as per your imagination and want. The template comes with great tons of features and functionalities. You can select from 5 different landing pages and distinct drop-down designs. Innova is fully customizable which means you can customise the interface too. Further, the template offers full support in the case of need.
Major Features:
Navigation Bar
Style Guide
5x Landing Pages
About Us
CMS Powered Blog
General Contact Form
Customer Story Article
Legal/Terms Conditions Pages
Global Swatches
Style Guide and Utility Pages
 100% Customizable
Usage Rights
Web Fonts
Retina Ready
Custom 404 Page
---
5. Pine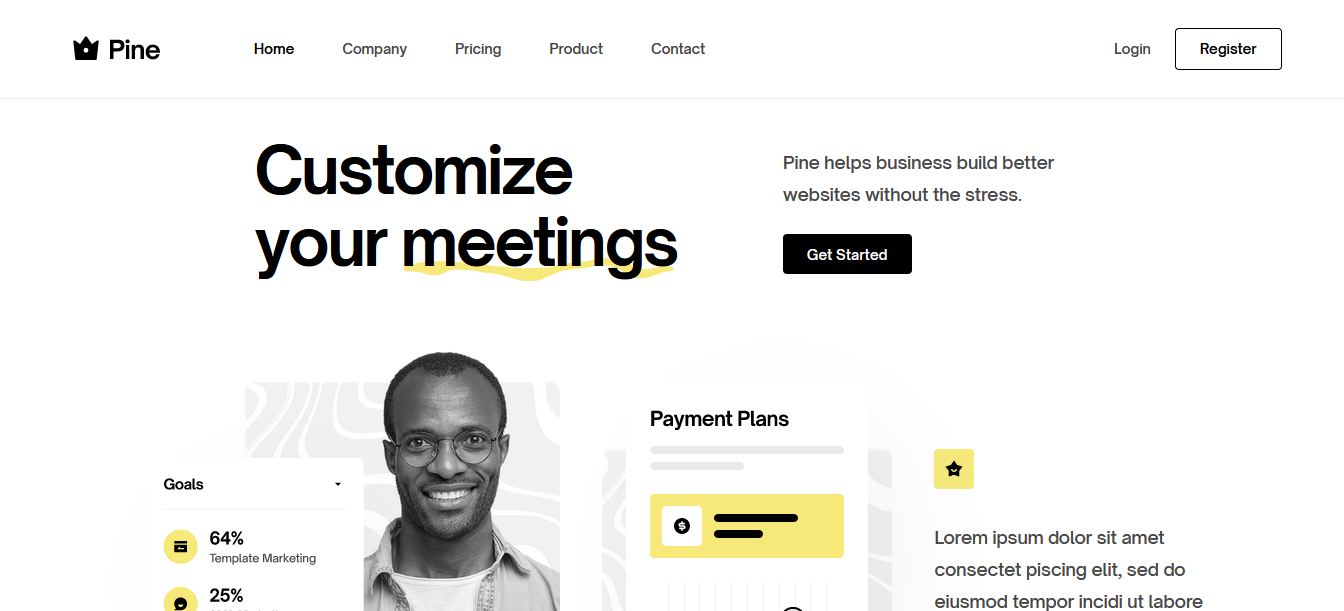 pine is a premium Webflow SaaS Website Template that makes it easier for you to get the perfect technology website off the ground for businesses and clients. With this template, you can have countless hours and build a ready-to-go site that performs effectively and smoothly out of the box. It is a perfect suit for your SaaS business and IT Startups. It is totally flexible and customisable. Pine is built following world-class design and development. It offers to help you give a visually appealing presentation of your SaaS business. Further, the template has many features and functionalities to view and try out.
Major Features:
World-Class Art Direction
Enterprise Quality Development
Built by Most Followed Webflow Team
100% Reusable Sections and Components
Complete Style Guide
Beautiful and Easily Edited Interactions
Powerful and Clear Cms
Intuitive and Easy-To-Use Class Naming
Webflow Optimised
Retina Ready
100% Responsive
SEO Optimised
Great Performance
Modern and Clean Layouts
---
6. Tiles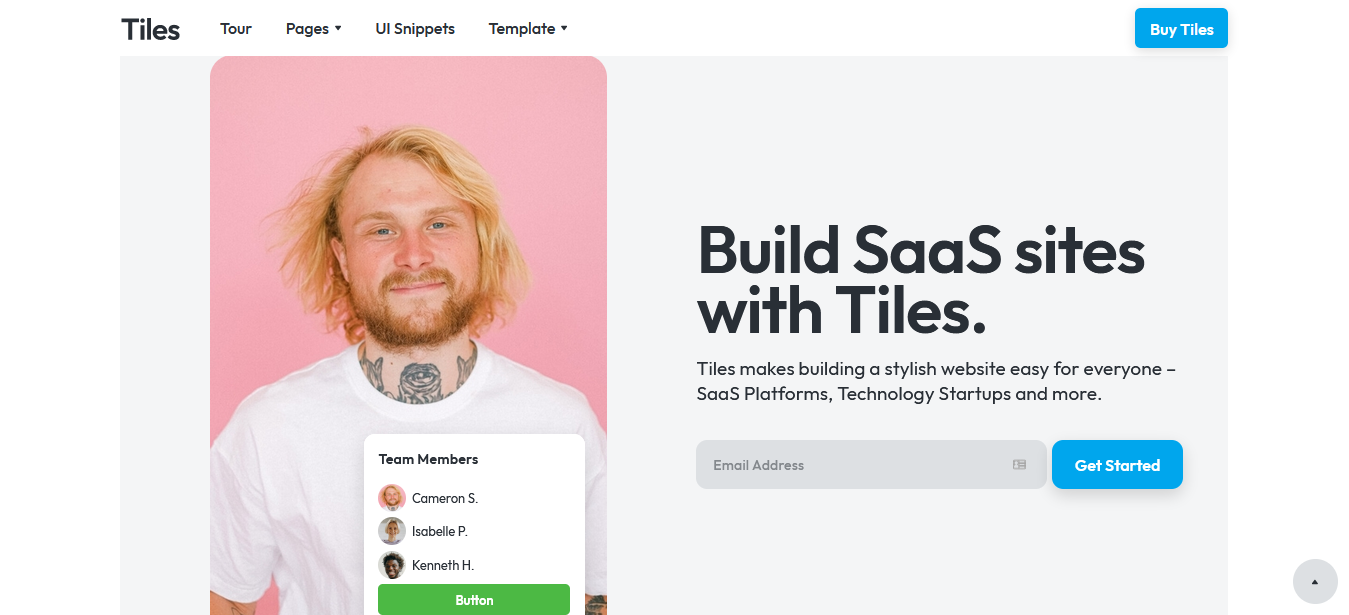 Tiles is the ultimate SaaS Webflow template in Webflow. The template is built by spacious, expensive panels and a bold, clear typeface team with bright colours to give it a friendly and functional look. It is suited to startup and SaaS businesses. It strikes the perfect balance between fun and functionality while maximising the readability of the site. Further, Tiles comes with a great set of features and functionalities to try and apply on the site. The template comes preset with bright, joyful colours by default allowing you to suit the need of your project. It is a fully customizable template that allows you to change the effect everywhere.
Major Features:
Medium Rare Signature UI Snippets
Style and Colour Changes
Medium Rare UI Kit
Built for Flexibility
CMS Powered Customer Stories
CMS Powered Blog
Customer Stories, Careers and Blog Pages
Subtle Animations throughout Page Elements
26 Unique Page Layouts
General Contact Form
4x Product Tour Page
Style Guide
---
7. Runway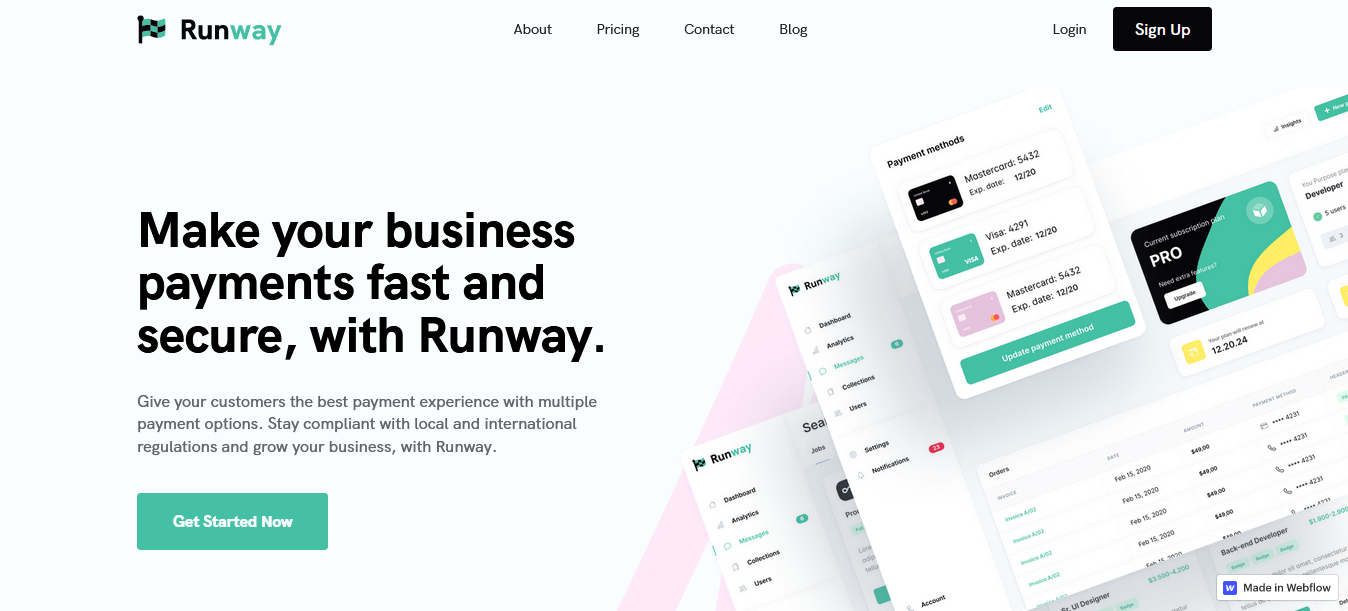 Runway is a beautiful premium Webflow SaaS website template that helps software companies build professional and trustworthy websites with absolute ease. It makes the right impression among your visitors and showcases all your important features with attractive, subtle and compelling design. It is a go-to SaaS template for your website. Runway makes your site easy to navigate on all devices. It provides a seamless, fast, browsing experience. Further, the template is loaded with great interactions and beautiful animations and allows the option to turn your site from static to dynamic and keep your users glued to the page.
Major Features:
Easy Navigation
Seamless, Fast Browsing Experience
Asymmetric Photo-Grid
Plenty of Content Sections
Super Customizable
Style Guide and Utility Page
Edit Blog with Ease
Capture Visitor Information
Retina Ready
Highly Responsive
Custom 404 Page
---
8. Saasplex X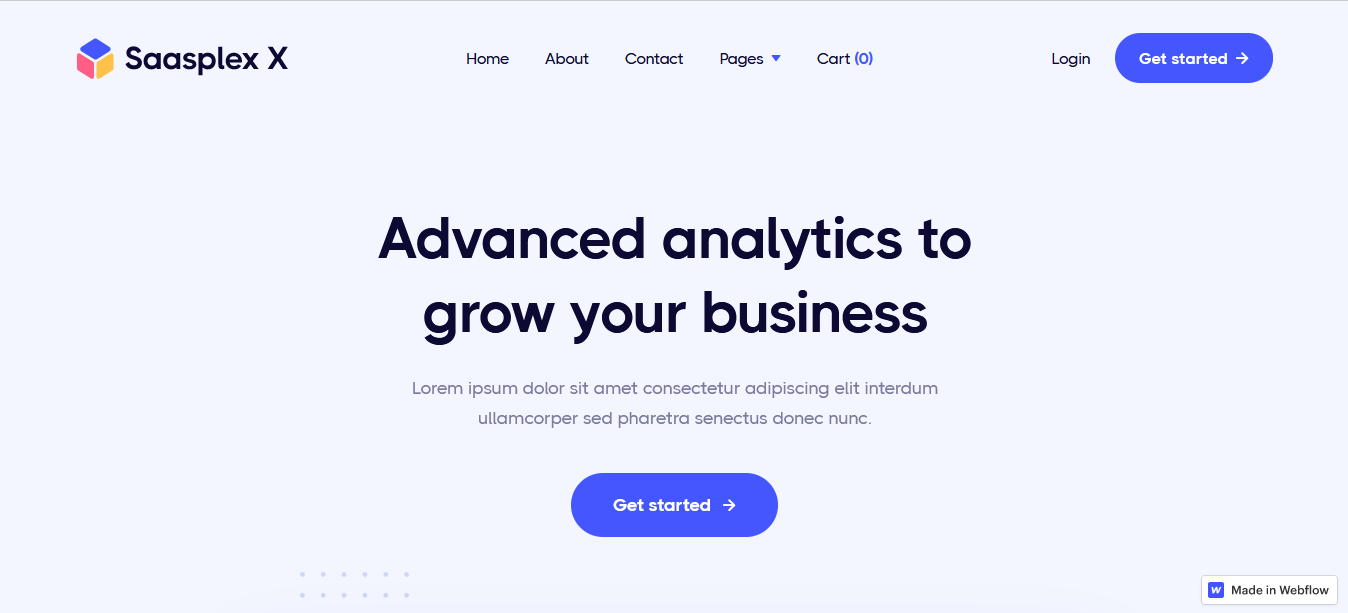 Saasplex X is the ultimate Software and SaaS Webflow template for your website. If you are in the search to launch an amazing website for your Tech or SaaS Startups, this is the template for you. You can get the template today and take your website to the next level with its amazing features, layouts, designs, performance and functionalities. Saasplex X has everything you will need to launch a professional website. SaaS startups are hot like ever before and the template further comes with the latest modern design and trends to make it pleasing to your visitors.
Major Features:
Unique and Premium Design
Speed Optimised
Perfect Responsive
Seamless Animations
100% Customizable
Figma File
Webflow CMS and Ecommerce
Always Up-To-Date
Responsive Navigation
Retina Ready
Custom 404 Page
Style Guides and Utility Pages
Global Swatches
---
9. Sassable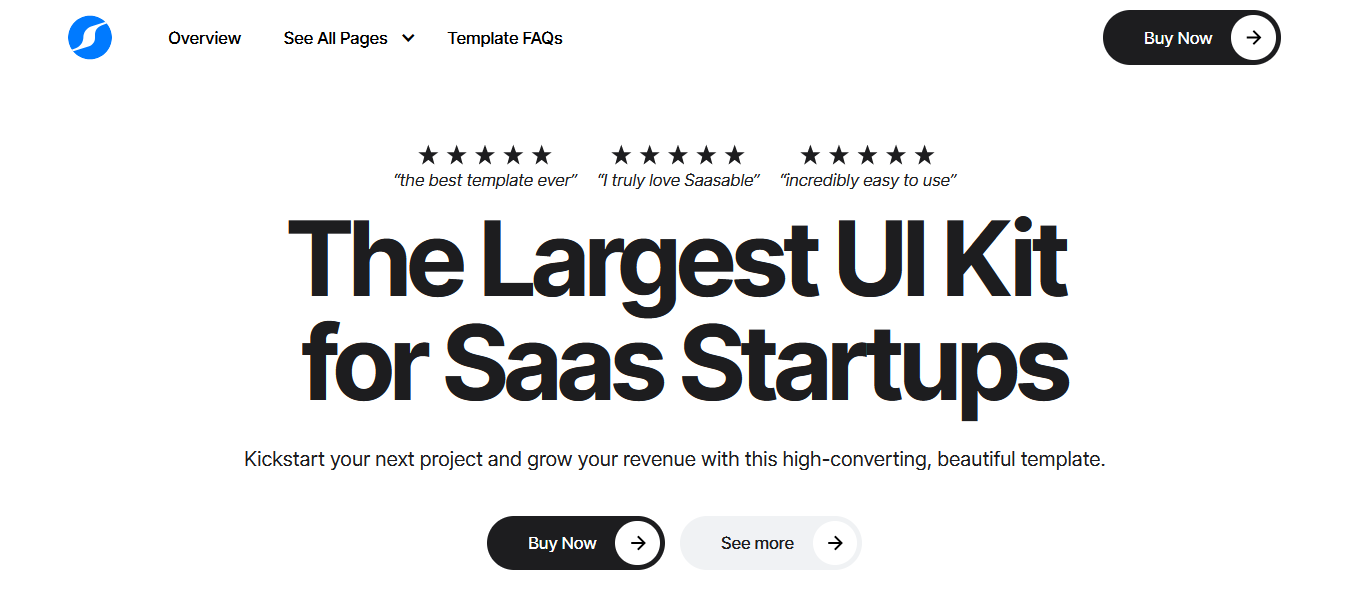 With Saasable you can explore it all. It is a highly responsive Webflow SaaS Website Template with 40+ different pages, a modern and minimal design, and blog functionality/sections that you can mix and match as per your site need. The template gives a kick-start to your SaaS business. It has 6 beautiful landing pages, 3 about pages, 6 CMS blog and careers pages and much more. Viewing the template you get options of many pre-built pages to select from. With Saasable it is easy as it offers you flexible customization to fit your website needs and build the site accordingly. Further, the template offers tons of features and functionalities to apply to the website.
Major Features:
Website Content Management Made Easy
Professional Design
100% Responsive Website
Fast Global Customization
1000+ Integrations
Top Security
SEO Optimised
Retina Ready
Style Guides and Utility Pages
Responsive Navigation
Interactions and Forms
Custom 404 Page
---
10. Zappy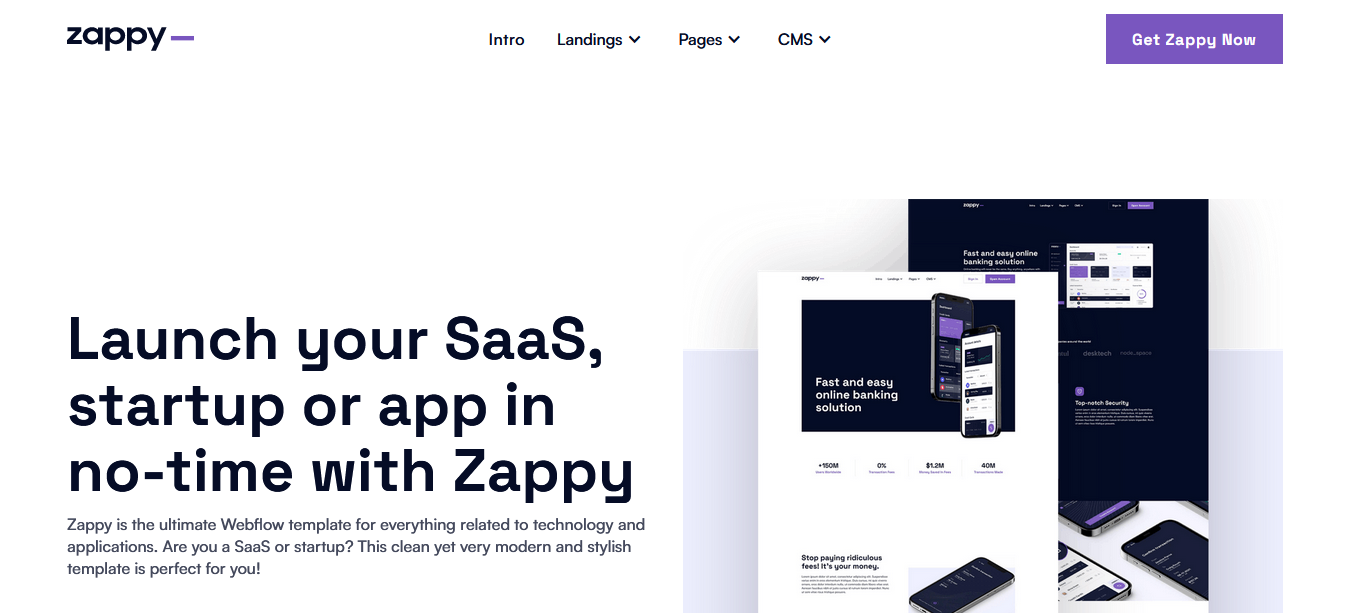 Zappy is the ultimate Webflow UI kit for any technology or applications related business. It is a beautiful and highly responsive SaaS template with a clean yet modern and stylish layout and design that is perfect for your website. The modular design in the template allows you to make countless unique layouts. Zappy will give a kickstart to your SaaS startup. The template comes with many pre-built blocks and pages to select from, creating a killer website like never before. Simply match the 28 pre-built blocks to create your own unique layouts and use any of the 27 ready-to-use pages. The template ensures to provide the best user experience.
Major Features:
25 Pre-Built Components and 27 Pages
Fully Responsive Design
Template Symbols
Smooth Animations
Clean Code
SEO Optimised
Support All Major Browsers
Smooth Interactions
Fully Customizable
Retina Ready
Custom 404 Page
Style Guides and Utility Page
Responsive Navigation
Forms
Interactions
3D Transformations
---
Wrapping Up
This brings us to the end of our collection of Top 10 Best SaaS Website Templates. All these Webflow templates are powered by a strong base and functions on your site providing the best performance. Depending on your want and need, select the best Webflow template and start building your SaaS website right away.
If you've previously used any of these templates, do let us know your experience in the comment section below. Also, it would be a great help if you could let us know about the best SaaS template that we might be missing on our list.
Also, Check-Out:
Stuck Somewhere?
Connect With
JustHyre
Hire WordPress Engineers for custom jobs like Website Customization,
SEO Optimization, Clearing a Hacked Website, Installation & Configuration & more.
Connnect with JustHyre