How to Change the WordPress Theme Without Losing Content
Are you a WordPress beginner trying to learn to change the WordPress theme of your website? 
To perform any sort of activity, there are certain steps and rules you need to follow. Changing the WordPress theme is no different. One wrong step and your website may break down real quick. 
Not to worry, here is a tutorial guide in which I will explain to you the right way to change the WordPress theme without losing content. 
Your site goes through many changes daily. Some of the changes appear to be good and fruitful whereas others might bring issues to your website. With regards to the change of WordPress theme, it is the same. 
There are thousands of responsive and fully functional themes available on the web. As per your preference and need, you can change it to a suitable theme for better performance. 
Also, changing the theme gives a new look to your website which can be a refreshment for your viewers too. If the new theme is going to make your site better then why not? 
Change the WordPress Theme Without Losing the Content
The main problem that arises with the change of WordPress theme on your website is losing the content.
For any WordPress website, content is one of the most important components. Losing content results in less traffic rank, poor SEO performance, and fewer visitors. It simply makes a website not interesting for viewers. So, it's necessary to change the WordPress theme precisely.
I have tried to come up with one of the easiest and simplest methods with beginners in mind. Let's learn to Change the WordPress Theme without Losing the content. 
Changing the theme on your website is a hectic process and can be tiring for the users who are doing it for the first time. There are steps to be considered before and after changing a theme. Let's learn about the steps in detail:

Step 1: Select a New WordPress Theme for your website
If you're going to change the WordPress theme on your site, you need a new theme. Get ready to do a detailed search on the themes to get the perfect one for your website. You can get the free version of the themes on the WordPress repository and the premium one on Themeforest. 
Being a WordPress user myself, I will suggest you do a detailed search of the themes. The overall appearance and performance of your site depend upon the layout and responsiveness of the theme. 
To make it easy for you, I have listed some of the features you need to consider in your new theme before applying it to your website. 
Speed has become the most important feature to look out for on any website. A site that loads in a few seconds is more likely to have a very low bounce rate than one that takes many seconds to load. The content of the site and the appearance all come later, the first impression the visitors have on your site is mainly based on the speed and the performance. So, when selecting a theme, make sure to check the speed and performance of the site.
Also, the speed and performance of the site are not fully dependent on the theme, but why take a risk?
Responsiveness is the second most important feature for me. A site with high speed and performance has no value if it's not responsive. A site that works perfectly fine provides action to all the buttons and links and makes visitors' site experience fruitful is more likely to have a high site traffic rank. The minute your site acts unresponsive, your visitors drive to another website that provides similar content or information. Therefore, when selecting a theme, make sure it is a responsive theme. 
Depending upon the type of site you own, you need to select a theme that perfectly fits the design and layouts you want. If you own an eCommerce site, selecting a blog theme is not going to help you. So, make sure to check out the demos, designs, and layouts of the theme before you make a choice. 
Features and Funcionalites
A great theme has way too many features and functionalities to help you create and run your site with ease. A fully functional feature-rich theme is necessary to build a stunning website. Hence, ensure that the theme has all of it. 
These are the major things you need to look out for in a theme before you select it as a new theme for your website. Keep in mind that, it's not all you need, but these are must-have components in a theme to make your site perform better. 
Make sure to install the theme on your website. Follow our tutorial guide on 'How to Install WordPress Theme on your website?'
Note: Don't activate the theme. Simply install it and the first step is all done!
Step 2: Backup All the Data and Information on your Website
The second step before you change the WordPress theme is to back up all your data in a convenient way. It is an easy process that can be done using various ways. 
It's always a good idea to back up your site before making any changes. In the case of loss of any data, it can be easily gained accessed. Two of the easiest ways to the backup site are:
Backing up WordPress Website using Plugin

Backing up WordPress Website Manually
Both of these methods will be equally helpful. However, the use of a plugin allows you to perform bulk action whereas doing it manually can be time-consuming. 
Backing Up WordPress Website Using Plugin
There are hundreds of backup plugins (both free and premium) available. UpdraftPlus is one of the most popular free WordPress plugins that has been used by 3 million+ users to back up their sites. The plugin allows you to back up into the cloud directly to Dropbox, Google Drive, Amazon S3 (or compatible), UpdraftVault, Rackspace Cloud, FTP, DreamObjects, OpenStack Swift, and email. The other premium plugin options are WPvivid and BackupBuddy. 
As a first step, install the plugin on your site. Follow our tutorial guide on 'How to Install WordPress plugin on your website?' Activate the plugin after you are done installing it and follow these procedures:
[Note: If you already have this plugin on your site, you don't need to follow this step]
Click on Press here to Start button.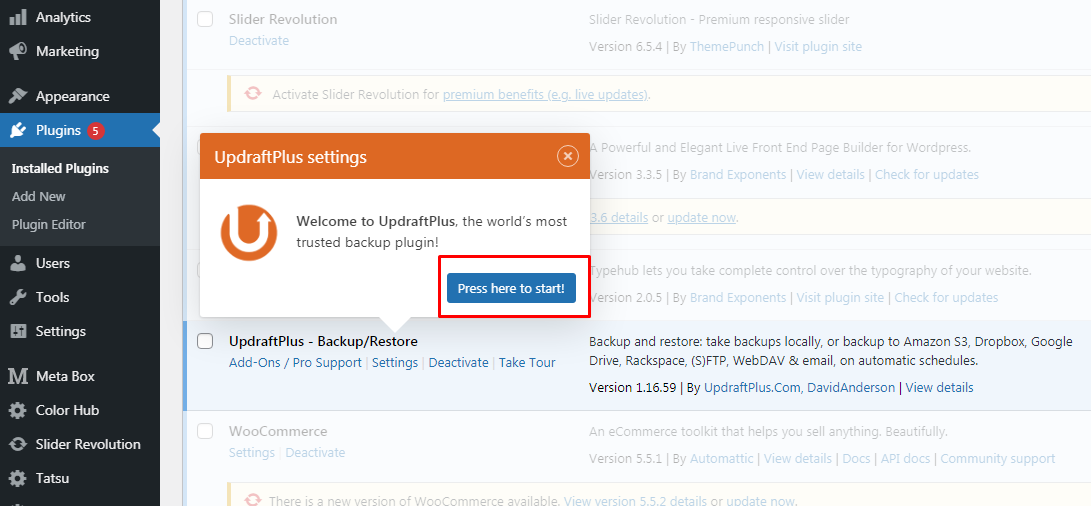 Select the options that are necessary for your website and backup.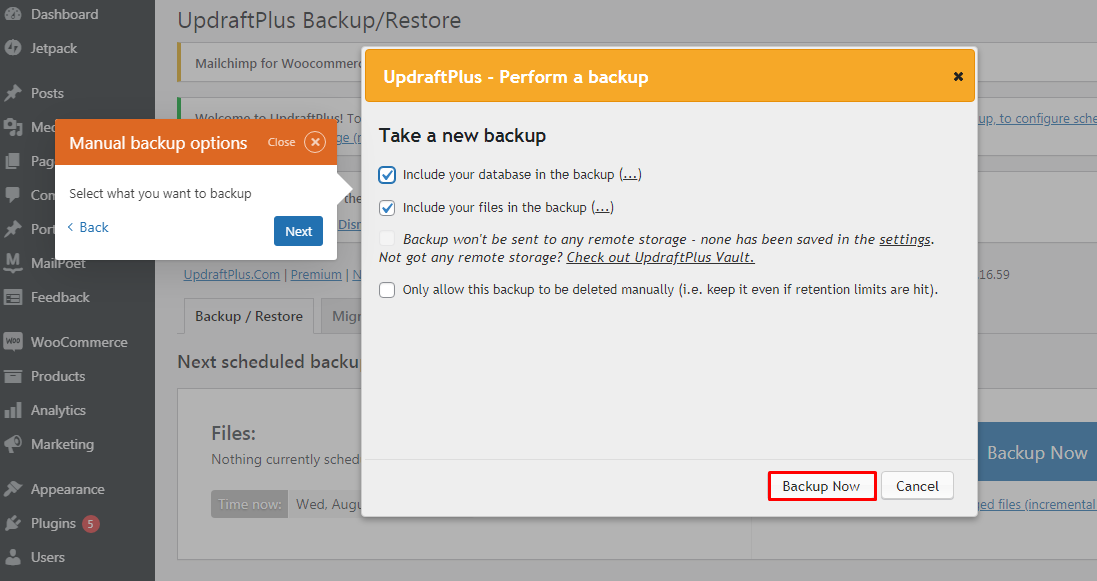 Select the Download to your computer option.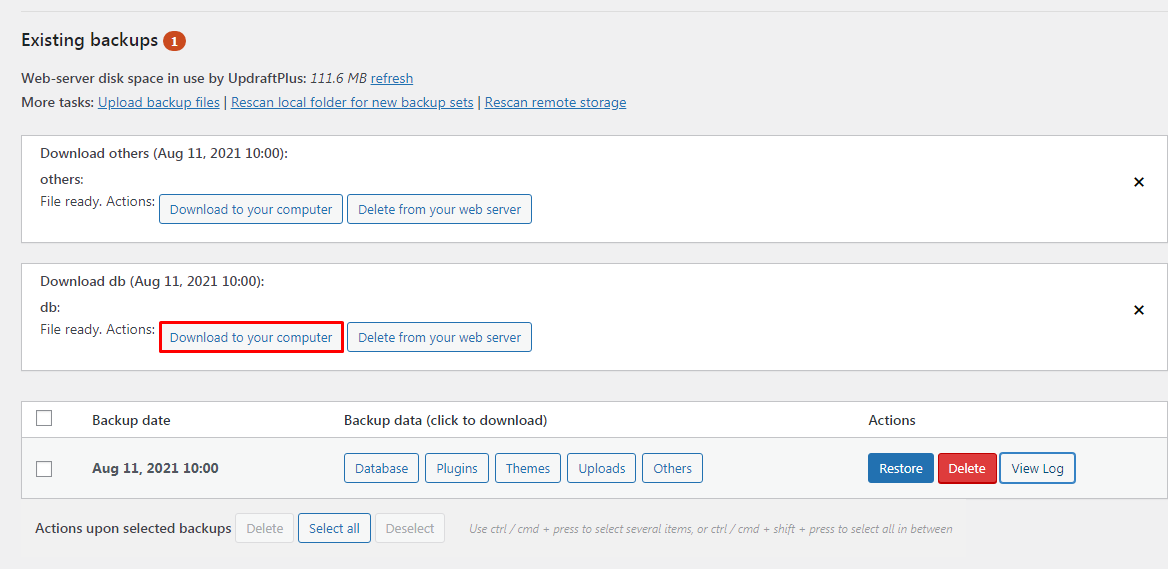 Doing this makes your site data and information secure. You can easily access them in case of any loss. This is the end of the second step.
Step 3: Test Load Time
Testing the load time of your website before changing the theme enables you to know the performance of your website before and after the change of the theme. Speed as I previously mentioned is the most important component of your website. Hence, you must make sure that your site is performing better with the new theme. 
There are many testing sites available on the internet. I prefer Pingdom for testing the load time of the site. Keep track and record it somewhere on your computer to access it whenever necessary. 
Step 4: Download all your Tracking Codes
All your tracking codes will be gone if you don't download or save them anywhere on your computer device or fly. Tracking codes are used on your website for various purposes. 
Many website users add analytics tracking codes directly to their theme files. But, there are also WordPress themes that enable you to add AdSense or Analytics code in the settings panel. 
You need to make sure that you copy all the tracking codes so that you can add them to your site after you change the WordPress theme.  
Install Google Analytics on your website to track the code. WPBegineer has a very detailed tutorial on 'How to Add Google Analytics to your WordPress Website?' You can also use plugins like Header and Footer for tracking codes. 
Step 5: Switch your Site to Maintenance Mode
Adding a maintenance mode is always a good option. In the case of major updates, it enables your visitors to know about the status of your site. To enable the maintenance mode on your site, you can make use of a plugin. Also, when you change the WordPress theme, it can take a longer time few days in particular, so during this time, a maintenance mode page saves your site.
SeedProd is the #1 Landing Page Builder plugin. It is a popular and responsive premium plugin that enables you to create a beautiful coming soon and maintenance mode plugin. Install the plugin on your site by following our tutorial guide here.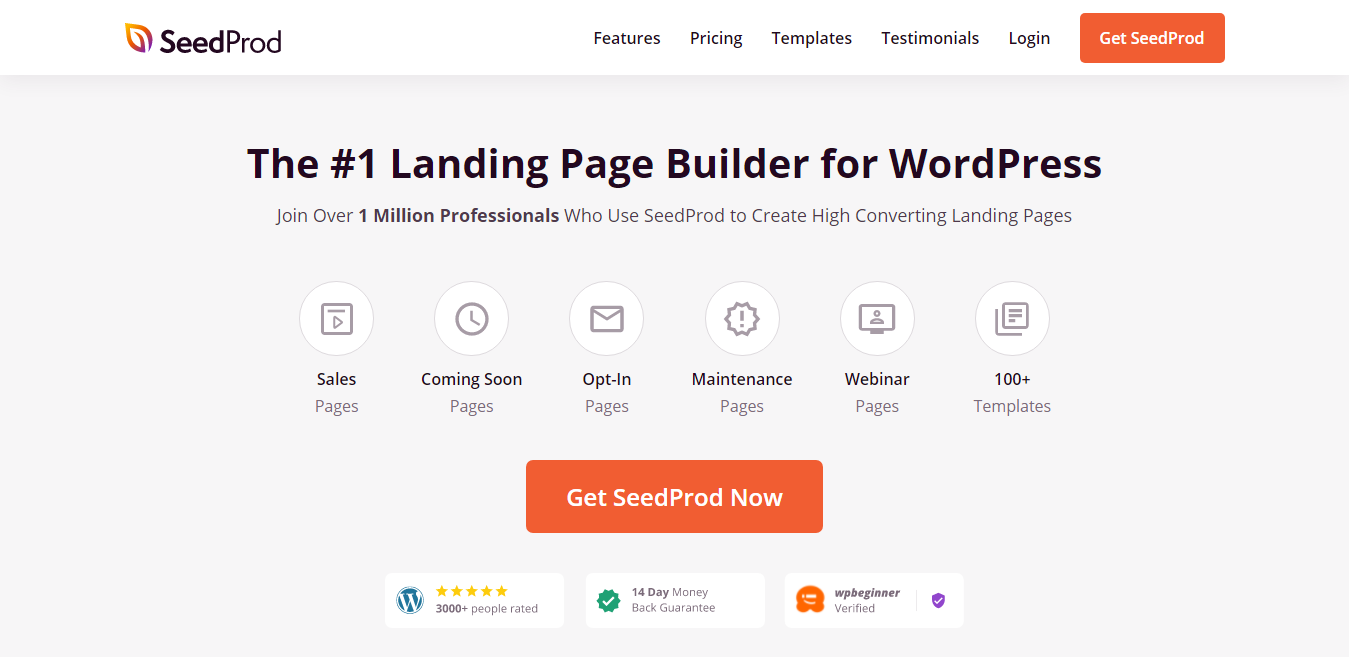 Upon the activation of the theme, 
Head over to

SeedProd>>Settings 
Configure

plugin settings 

Select the

Enable Maintenance mode

radio button 

Click on the

Save All Changes

button.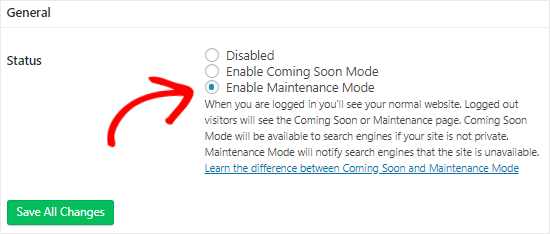 Step 6: Activate New WordPress Theme
The final step you need to follow to change the WordPress theme is activating a new theme on your site. After you are done, setting up your WordPress maintenance mode on the site, activate the theme that you had previously installed on the first step of this tutorial. To do this,
Go to Theme>>Appearance
Live Preview the theme one last time before activating.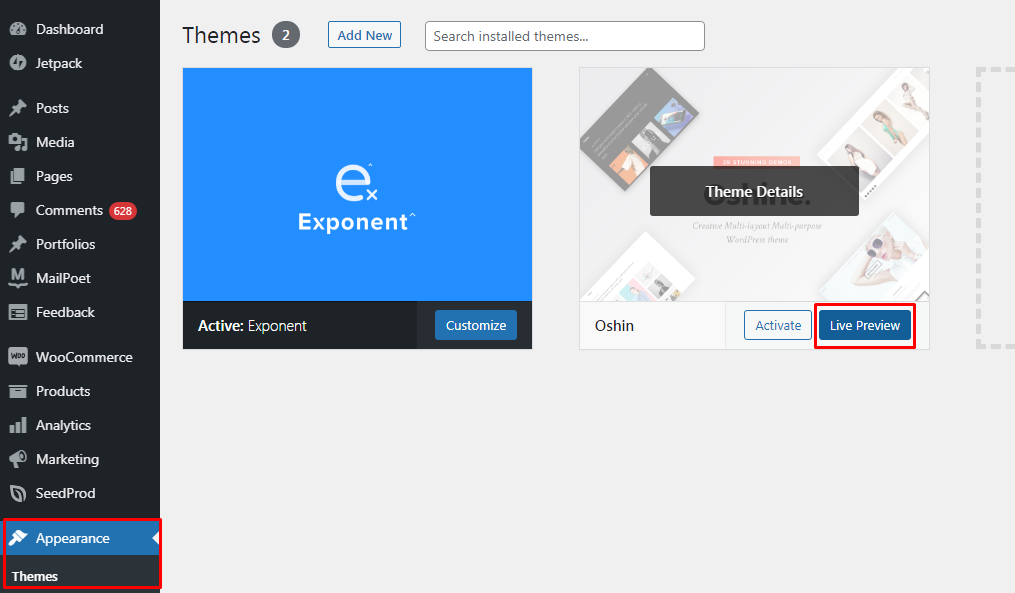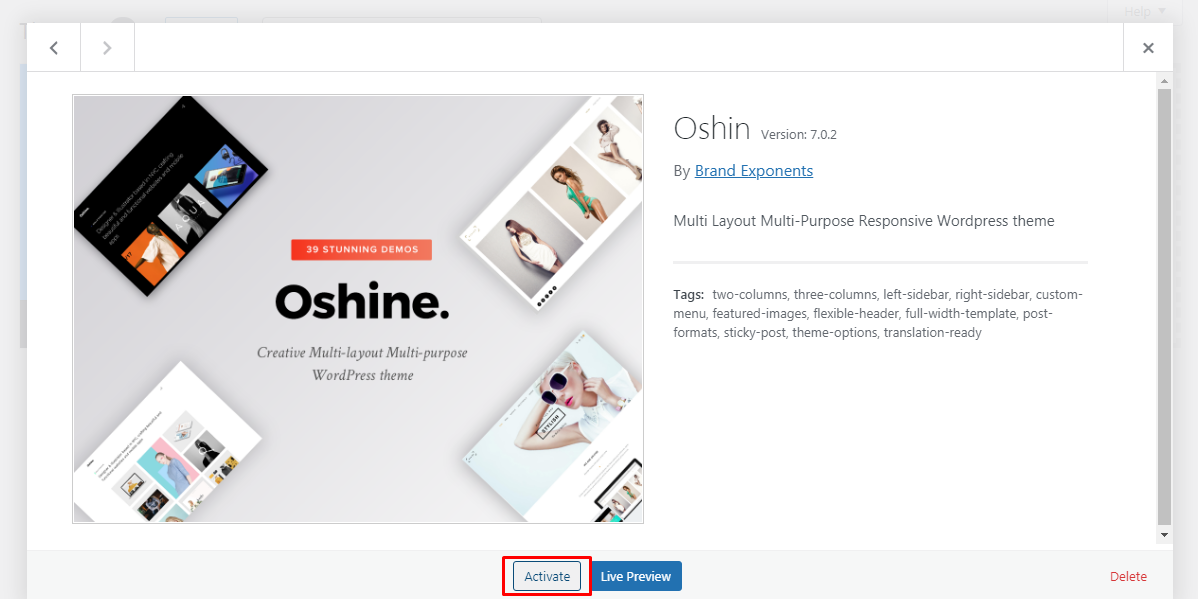 Set up your site as per your needs.
Wrapping Up:
This is the end of our tutorial. Following this way, you can change the WordPress theme on your site without losing any content. Some additional changes might be necessary depending on the theme you previously used on your site. I hope the tutorial was helpful!
Also, Check-Out: