Top 5 WordPress LMS Plugins Compared (Pros and Cons)
Are you looking for one of the best WordPress LMS plugins? Do you want to easily create, host, manage, and sell online classes and training programs?
If you answered yes to any of these questions, you're in the right place!
After the COVID-19 pandemic, the demand for eLearning has increased. Students prefer to gain online courses through online classes without going to a physical classroom. 
As it turns out you don't need much to build and sell courses. All you have to do is choose the right LMS plugin. 
In this article, we'll get familiar with LMS plugins, and things to look out for while choosing it. Then, look at the 10 Best WordPress LMS plugins to help you make the best choice. 
Let's compare the plugins and find out which one suits your learning website. 
What is a WordPress LMS Plugin?
A WordPress LMS plugin can be defined as a plugin that allows you to effectively create and manage online courses. It provides different extensive tools like integration, gamification, certificates, and more. 
Learners can easily enroll, track their progress report and make payments as per the courses they choose. Not only in eLearning but LMS plugins are also used in corporate training. 
Students will get easy access to course materials. Due to this, they can get started with their eLearning journey wherever and whenever they want!
An LMS plugin usually consists of: 
User interface elements like buttons, menus, forms, and settings page.

Easy and fast learning experience while taking courses.

Distraction-free mode to keep students engaged.

Certificates as per the completion of different courses. 

Structured content, quiz builder, and certificate builder. 
---
Features to Look for in Your LMS Plugin 
Here are some features to look for while selecting one of the best WordPress LMS plugins.
User-friendly interface

: Make sure your WordPress LMS plugin has a user-friendly interface. This way, it will be easier for instructors and students to perform required eLearning tasks. 

Content creation and management

: While choosing your LMS plugin look for features like text, course content, quizzes, multimedia, and more. 
Assessment and quiz:

Your LMS plugin must support quizzes, tests, assignments, different types of questions, grading systems, feedback, etc. 
Progress tracking:

The progress tracking feature lets you track the progress made by the learners. This feature is essential for both instructors and learners. 
Mobile responsiveness:

If your LMS plugin is mobile-friendly, learners can gain information even from mobile devices. 
Integration options:

Your LMS plugin might not have everything you need. With the integration option, you can add the required features to your website the way you want. 
Security:

Make sure that your plugin provides the proper security feature. This way you can protect your sensitive learner information. 
Scalability:

It is better if your plugin has multiple pricing options. This way as your website grows you can adjust with features that can handle the growing number of users. 
---
5 Best WordPress LMS Plugins 
Let's get familiar with some of the best WordPress LMS plugins. 
We'd suggest you go through the entire list and choose the plugin that fits all your needs!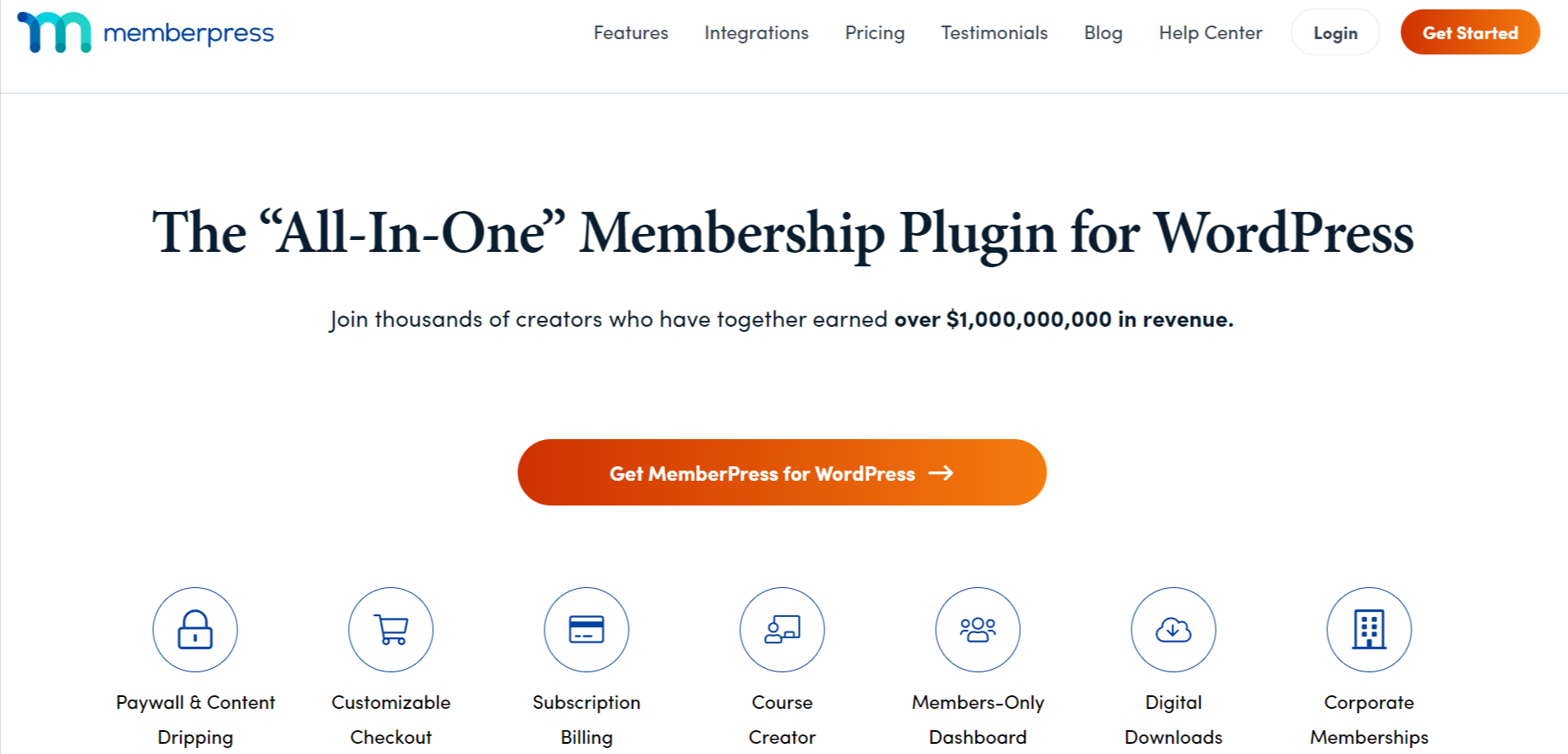 Are you looking for one of the best WordPress LMS plugins that come with a special classroom mode? If yes, MemberPress is the right choice for you to get started with! 
It is an all-in-one membership plugin that allows you to create online courses with multiple membership levels. The plugin is user-friendly. Don't worry even if you're a beginner as you don't need even a single line of coding. 
The intuitive design of this plugin will make sure that your courses will look amazing across devices of all sizes. 
Also, it comes with powerful content-dripping features that let you show restricted content members with ease. You can work with many popular third-party tools that will let you capture more leads and get more sales. 
Major Features of MemberPress: 
Built-in course progress tracker 

Email marketing integration with Mailchimp, Drip, and more 

Interactive classroom designs 

Generate discount coupons 

Compatible with any WordPress theme
Pros of Using MemberPress: 
Drag-and-drop visual course builder that's built on top of the WordPress block editor

Integrates with other theme builders such as Divi and Elementor.

Create multiple courses with different subscription options, free LMS courses, or bundles and packages.



Cons of Using MemberPress: 
Inability to cancel recurring payments. 

Integration with Elementor is a bit confusing. 
---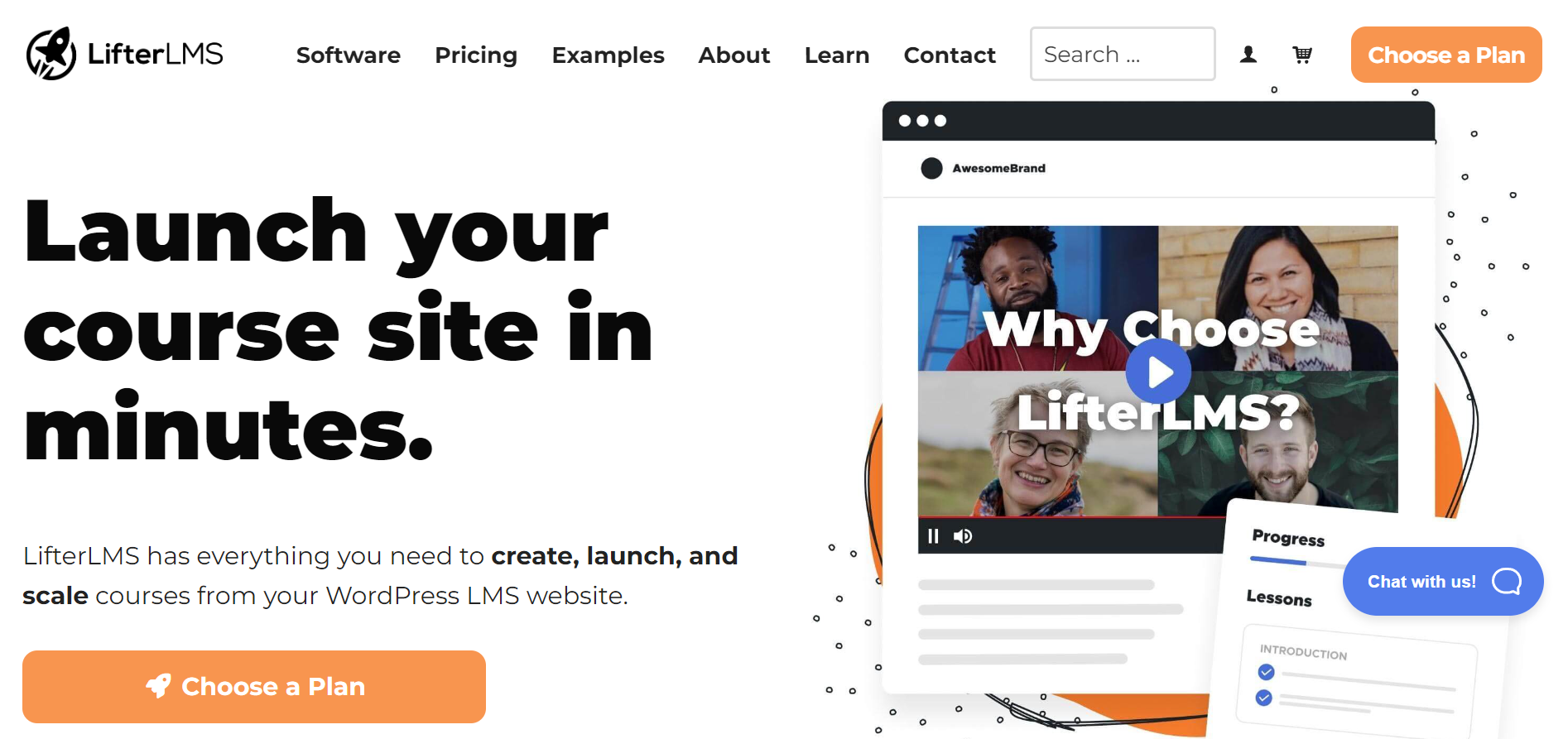 LifterLMS is one of the most powerful WordPress LMS plugins that will allow you to create, launch, and scale courses in just a couple of minutes. 
The courses built using this plugin can be enriched with add-ons to meet the needs of individuals, small groups, and niche markets. It supports multimedia including video, audio, text, and images for lessons. 
Not all of the features are included with the basic LifterLMS, but you can purchase add-ons to access the premium features.
It provides built-in shopping cart functionalities like personalized emails, and restricting courses, and includes certificates and lessons that can be downloaded. 
Major Features of LifterLMS: 
Flexible to create even small courses

Keep students engaged and gain recurring revenue

Gamification option with badges

Sell group membership in WordPress

Popular payment gateways
Pros of Using LifterLMS: 
Simple to set up, even in existing WordPress websites.

Capacity to help you build a complete course with audio, video, image, and more.

Supports multi-tier courses with training modules, lessons, categories, etc. 
Cons of Using LifterLMS: 
The free version is very limited, so it's better to get started with the premium version.

No monthly billing option. 
---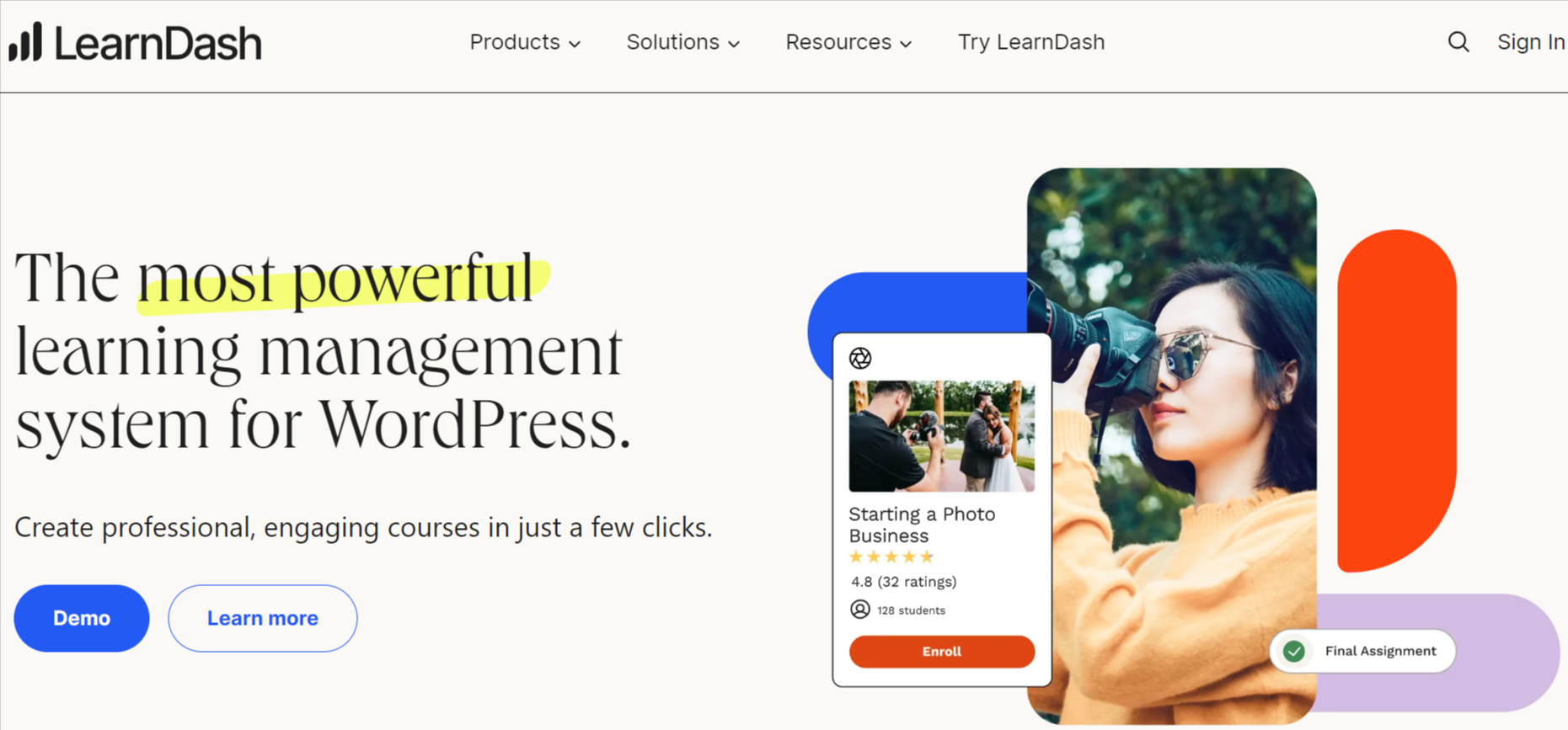 LearnDash is clearly one of the most popular and talked about WordPress LMS plugins. Willing to know why? Its features are extremely easy to use, gamification tools, and certification options, which simply makes it one of the most suitable choices. 
Its drip feed feature allows you to deliver your courses at once. You can also schedule the courses based on different intervals. 
With LearnDash's integration with other programs like WooCommerce, you can effortlessly sell your courses and take care of payments. 
To further aid in your analysis of how well your courses are functioning, you can also monitor student progress and receive thorough reports.
Major Features of LearnDash: 
Provides automatic reminders of renewal 

Certificates, tests, homework tasks, and engagement-boosting factors 

Refund security

The ability of content drip-feeding 

Dependable user management
Pros of Using LearnDash: 
Lets you create a front-end user-friendly student profile. 

Includes pre-designed course templates with text and multimedia 

Options for quizzes and assignments, gamification elements like certification and badges.
Cons of Using LearnDash: 
Features might be complicated for beginners.

The default payment options are limited. 
---

Tutor LMS is one of the most amazing WordPress LMS plugins that is widely in use today due to its wide range of features. Using its drag-and-drop course builder you can create and customize interactive courses. 
Moreover, this LMS plugin allows you to set timers and retake limits for your questions. This makes the user experience more engaging and time-oriented. 
It offers a quiz creator that supports more than 10 question styles, such as true or false, multiple-choice, fill-in-the-blank, and short answers. Students can see the course difficulty level, duration, and trailer. 
Also, you can easily customize the timers or limit the attempts on specific questions to make the learning experience more fun and challenging.
Major Features of Tutor LMS: 
Convenient dashboards for teachers and students

Ability to create e-learning portals for a mobile audience

Analytics and reporting will show the course performance and profitability

Multiple video sources (self-hosted, YouTube, Vimeo, etc.)

Various payment gateways supported
Pros of Using Tutor LMS:
Compatible with an array of course authoring tools, media, page builders, and themes.

Documentation, webinars, and support guides are readily available for the users. 

Unique course purchase set up all business models and integration options. 
Cons of Using Tutor LMS: 
Doesn't offer a free version to the users.

No built-in marketing strategy to promote courses. 
---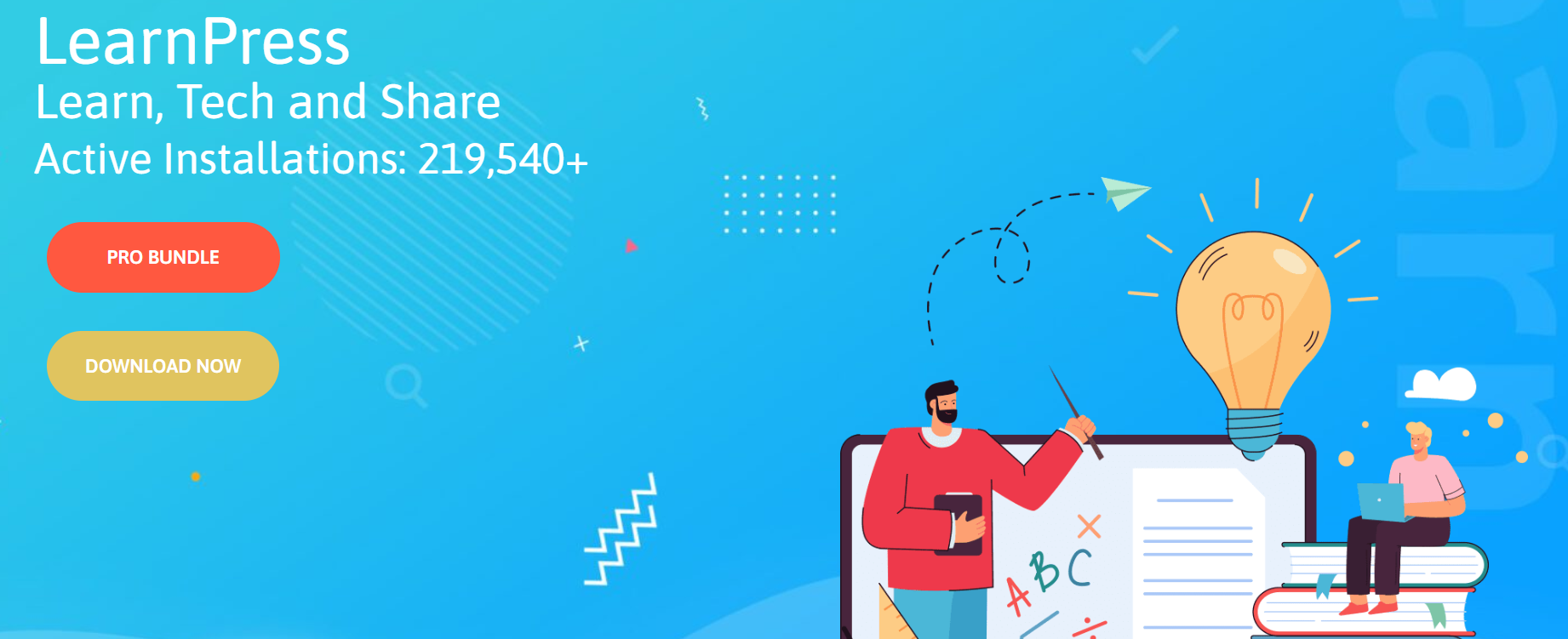 LearnPress is one of the most powerful LMS plugins for WordPress websites designed by Thimpress. You can use its drag-and-drop course builder to create an endless number of courses.
It has a simple course builder that lets you create courses and export or import courses from different websites that also use LearnPress. The core plugin is intended to be lightweight, but you can expand it with powerful extensions.
Its premium add-on includes wishlists, course reviews, and prerequisite courses. Also, you can add a drip-feed feature and assign multiple instructors for a specific period. It works perfectly with different WordPress themes and plugins. 
LearnPress is a great option if you're looking for an LMS plugin for free. It won't give you all of the advanced options that some of the best of the best WordPress LMS plugins will, but it'll definitely get you started.
Major Features of LearnPress: 
Adaptation to various payment gateways 

Free add-ons included 

Integration with the plugin Paid Memberships Pro

Content drip-feeding, irregular quizzes, badges, and a point system 

Different question types of quizzes
Pros of Using LearnPress: 
A built-in automatic email system that allows you to send quiz results to participants.

Multiple payment gateway options, like PayPal, WooCommerce, and offline methods.

Offers various premium add-ons including content drip, assignment, grading, and more.
Cons of Using LearnPress: 
Might not be an economic choice, but the cost of premium add-ons will add up.

Slows down your website if you use a shared hosting environment. 
---
Frequently Asked Questions
What does LMS stand for?
LMS stands for Learning Management System.
2. How can you choose the right LMS plugin for your website?
Before choosing any LMS plugin you should prepare a list of features and functionalities that you need for your website. Then you can make your choice accordingly.
3. Are LMS plugins compatible with WordPress?
Yes, LMS plugins are compatible with WordPress, its themes, and major WordPress plugins.
4. Is the WordPress LMS plugin free?
There are both free and premium WordPress LMS plugins available in the market, you can choose it as you want.
---
Wrapping Up: 
Here, we come to the end of this article! We've compared the list of best WordPress LMS plugins available in the market. 
No matter which plugin you use, they are simply the best option. However, we'd suggest you go through the features and functionalities, yourself. 
Don't just go after reviews and ratings. As what's suitable for others might not be a suitable option for you. 
Do you think we've forgotten to mention any of the best WordPress LMS plugins? If yes, feel free to share it with us in the comments section below. 
We wish you all the best in managing, running, and selling your courses online! 
Also, check out: