5+ Best Voice Message Plugins for WordPress
Last Updated on: December 30, 2019
0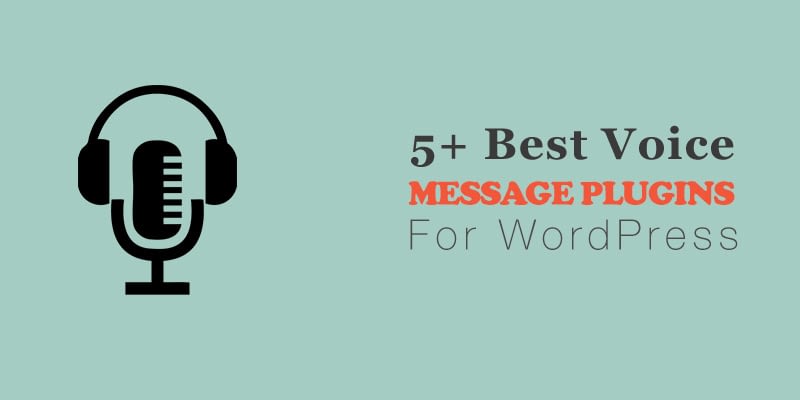 Having good and efficient customer service is a must in today's context. Customer demands for the prompt reply and fast communications with the service provider that is why voice message plugins are meant for. We will be discussing the best plugin available for voice messages for WordPress. Let's get started:

SpeakPipe is a WordPress plugin that allows receiving voice messages from your audience directly on your website. This plugin will help your visitors to directly contact you and leave feedback. By clicking the button, SpeakPipe allows the visitor to send voice messages from anywhere on your website. Through SpeakPipe, you can receive voice messages without installing other extra plugin or anything on your website neither your visitor require SpeakPipe account to send you a voicemail.
This plugin is amazing as it allows recording message as many times as possible and also allows you to listen to those recording before sending. Furthermore, you can reply via voice message and you can also greet visitors that will help in increasing the engagement of the visitors. While there is an option of making the visitor's information mandatory that will let you acquire detail of visitors and get back to them whenever required. The messages can be downloaded as an MP3 file and later can be uploaded to a podcast.

Heyoya lets your visitors voice an opinion in a fun and more interactive way that increases the engagement of the readers, conversion rate, traffic on the blog and improve the SEO. The voice messages are much more personal and interactive than text messages. As a result, bounce rates are reduced by this plugin. You can avoid spammers, abusive comments with email authentication and grow the digital community.
O the top of that, the plugin is easy to install, display unlimited voice comments on your site, has rich media such as audio, video, and text for better conversation. The support is provided 24/7, as well as the dashboard, which is easy to use and view your analytics simple and more easily. The sharing of comments on social media is done in just a click. This plugin makes your task of recording and tracking the voice comments easier. It also supports 20 different languages and many more features.

If you are looking for the plugin that supports both message and voice then, Joy of Text is the one-stop solution. Joy of Text (or JOT) allows you to send both message and text-to-voice messages to a group or individuals. This plugin requires having Twilio account, a Twilio phone number and unique 'Twilio account SID'and 'Twilio Auth Token'.
The free version of this plugin will help you to create a default group where you can add subscriber names and phone numbers. The administrator allows adding, deleting and updating the list from the groups. This plugin also allows language preference to select for text-to-voice messaging. You can always upgrade for premium version of this plugin with advanced features.
Audio Comments plugin is an MP3 recording tool for Web that helps in recording your microphone, encode the sound to MP3 and save to the computer or upload to the webserver. You can record, post and playback audio comments directly to the WordPress blog post pages, reply, review and control existing audio comments. There is the option of changing looks, language files, sound wave and more with 11+ audio options.
On top of all features, the plugin is easy to install, compatible with SEO friendly URL and it is also supported by most browsers including on mobile devices. If you are looking for a voice message plugin then, the audio comments plugin is the one.

Excitel allows voice communication with users. This will help in increasing the sales and loyalty of customers. There is no need for adding applications every time adding contacts, the user can find all the information by clicking the call button. The features like possibility of adjusting working hours, simultaneous calls, call forwarding, history availability, call recording and many more make the plugin popular.
There is the option of exporting calls to MS Excel for further analysis. You can send the form to the customer during the call and also chat with the customer during the call.
Conclusion

It is a wise decision to impose voice features on the WordPress website whether it could be having voice comments, voice chats or any other. This will help to increase the interactivity, engagement of the visitors That will increase the traffic on your site. We hope this article will be helpful in finding the one plugin you have been looking for. Also, if you have any suggestions regarding the article please do let us know.
You might also love reading,
Best WordPress Plugins to Add Contact Buttons
10+Best Premium BuddyPress WordPress Themes