In this article, we will introduce you to the hand-picked collection of Top 10 Best Webflow Book Templates to help you create a stunning website. These Webflow Education Templates are designed and developed to build educational websites and help them give a visually appealing online presence.
Education is the primary factor of development. It is one of the most important components of human society. An individual starts their education in the form of schools and colleges right from their childhood. It is the base of the future to help them grow, flourish and perform better. Many institutions are established with the sole purpose of providing the best education to the students.
In the global world, the form of Education is not limited to schools and colleges. One can learn a lot right from the internet, online courses, books, videos, and such. With the use of the Internet and Technology, one just needs to find their passion and there are tons of tools and equipment to enhance your ability.
So, if you too are an institution/business thinking of building an education website template, this is the article for you.
Best Webflow Book Templates
Education sectors are more service-oriented than business. However, since it makes the transactions of money, it can be considered as a business too. In order to grow your educational firm, you'll need beautiful and responsive Webflow Book Templates.
The Webflow Book Templates mentioned in the list are a perfect fit for educational institutions: schools, colleges, and online tutors, online course websites, authors, and writers who are trying to create an educational impact on the learners.
Each template is designed with great care and has detailed features and functionalities to help you create a website with no hassle. View these templates in detail to find your perfect fit:
1. University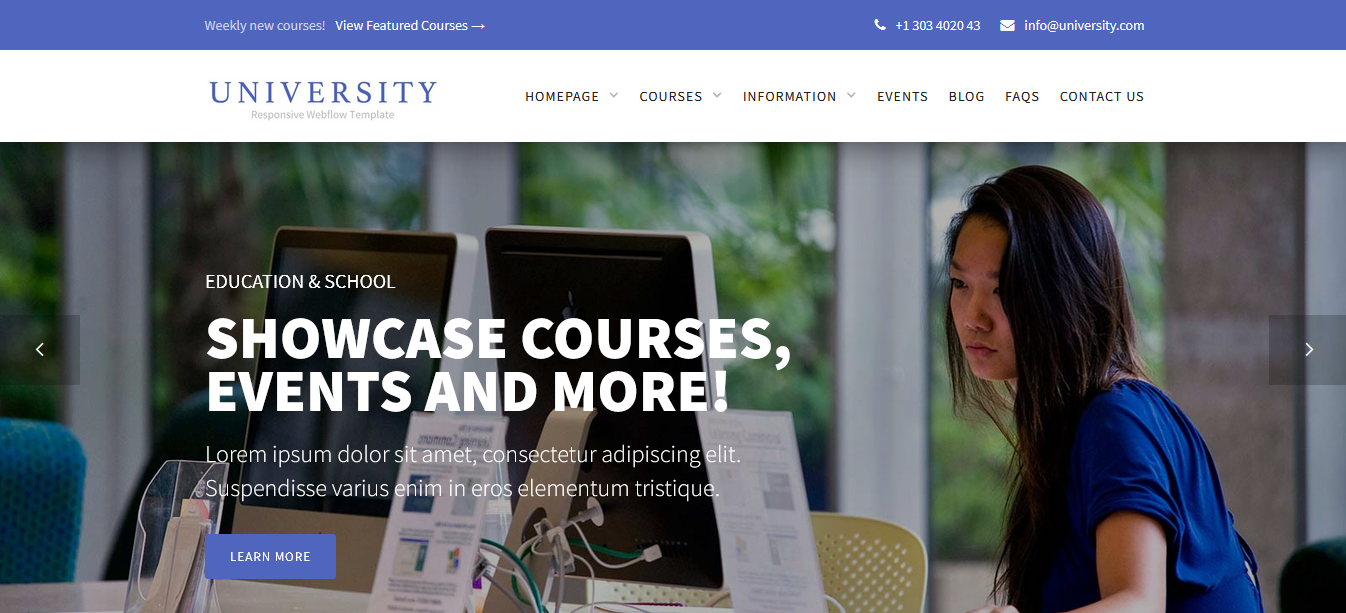 University is a beautiful modern Webflow Book Template that helps you grow your collection of education courses and show your events in an appealing way. The template fits your educational website needs. It offers blogs, courses, about us pages to keep your visitors updated. Simply style the template in a way that fits your branding and create a professional site in no time with University. The template is highly responsive and offers smooth performance irrespective of the browsers and devices.
Major Features of University:
Responsive Navigation
Responsive Slider
Interactions
Forms
Symbols
Web fonts
Retina Ready
Content Management System
---
2. Brookside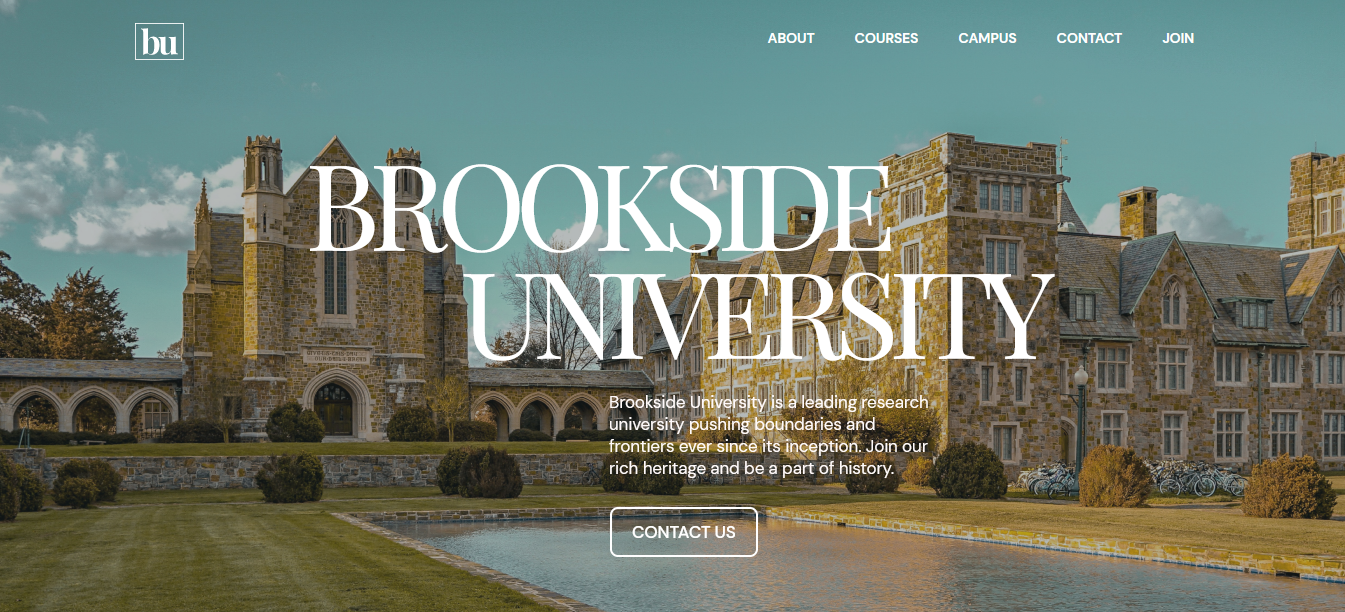 Brookside is a beautiful and responsive premium Webflow Book template with a clean, functional, and minimal design for universities, schools, books, authors, and online learning platforms. The template has all the necessary features required to build a book website such as courses, details, author portfolio, events, contact information, and all. It is all visible in a minimalistic design and hence leaves a strong impression on website visitors. Brookside allows you to easily change the font size, color, or typography on the pages to fit your ideal website need.
Major Features of Brookside:
Forms
Courses CMS with Detailed Pages
Symbols
Testimonials
Responsive Layout
Fully Animated Pages
Customizable CMS Features
100% Flexible
Full Support
---
3. Guru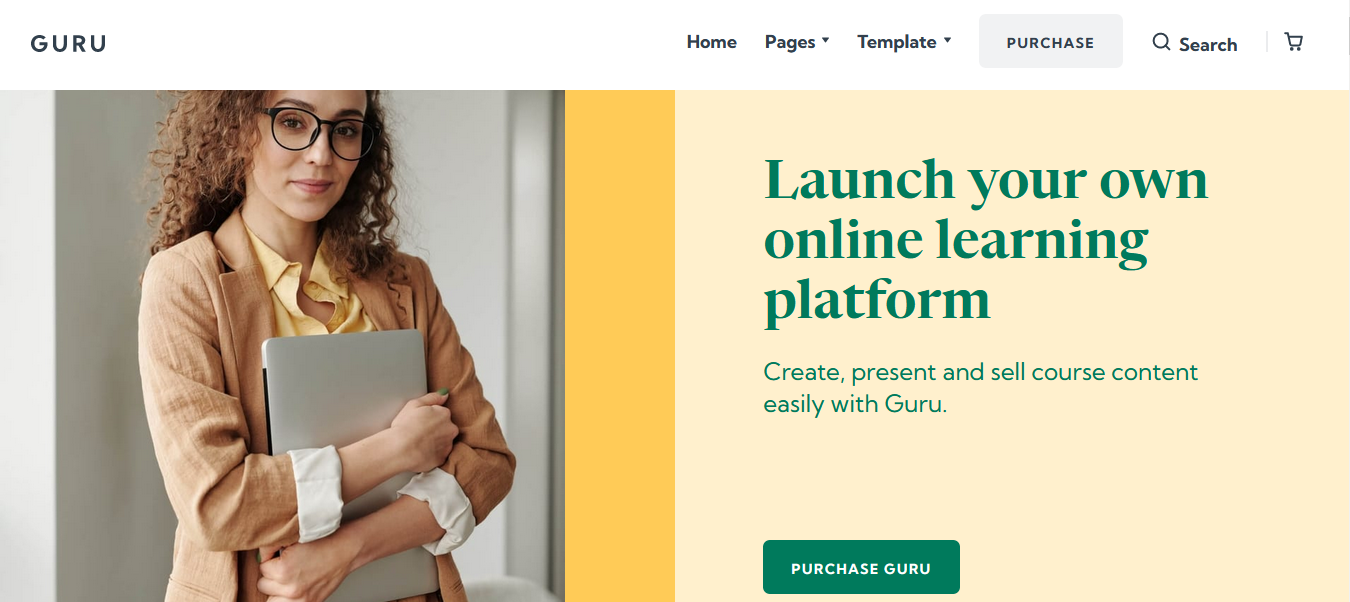 Guru is the ultimate Webflow Book Template that you'll need for your website. The template allows you to monetize your skill and share your knowledge with your audience. You can simply compose your premium course, tutorials, pages on your website and start selling it right away. Guru comes with great features and functionalities. The template allows you to give a beautiful online presence by creating an online learning portal. Further, it provides multiple author capabilities and course categories.
Major Features of Guru:
Host Free and Paid Courses
Styled Cart and Checkout PRocess
Multiple Author Capability
Course Categories
Video Embed
CMS Powered Blog
Style Guide
Responsive Layout
Global Swatches
---
4. Educated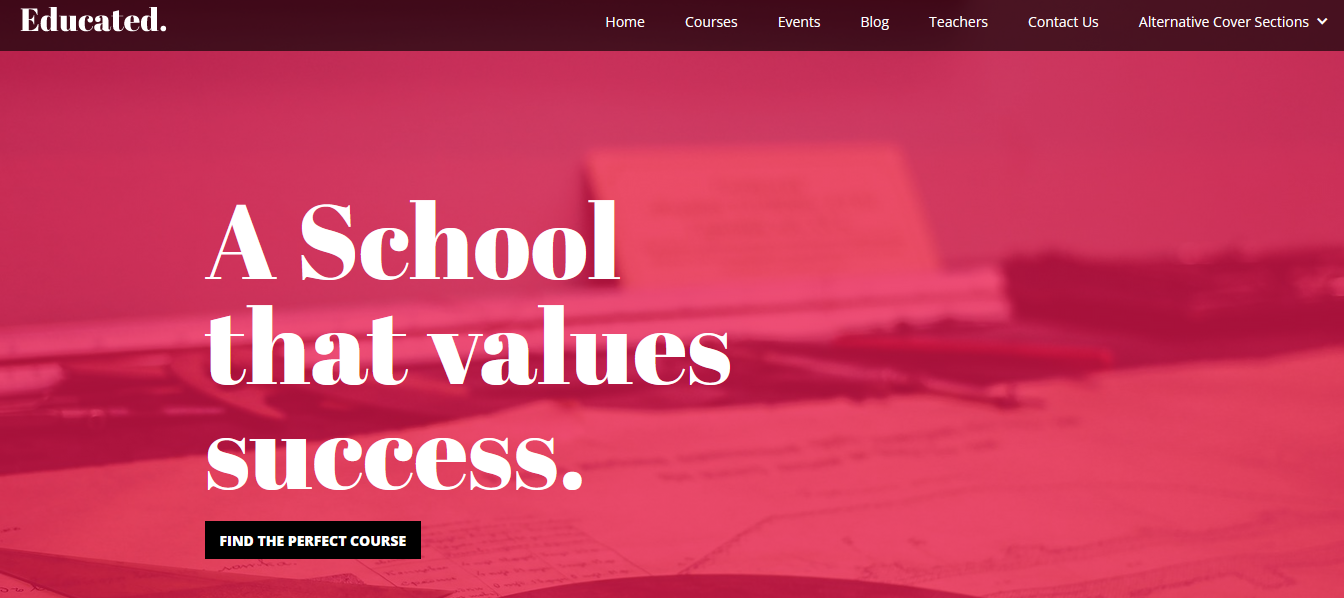 Educated is a simple yet highly responsive Webflow Book Template that allows you to beautifully showcase your courses, programs, or teachings on a fully responsive website. The template perfectly suits the need for schools, colleges, non-profits, and class-based programs. Educated has all the necessary components required to build a beautiful, full-functioning educational website. Educated has a styled Homepage Cover Layouts that gives tailored layout options to help you stand out from the rest. It is a dynamic template with dynamic pages for all content types.
Major Features of Educated:
Clean, Striking CMS Pages
Homepage Cover Layout Alternatives
Responsive Design
Interactions
Forms
Symbols
Web fonts
Retina Ready
Content Management System
---
5. Campus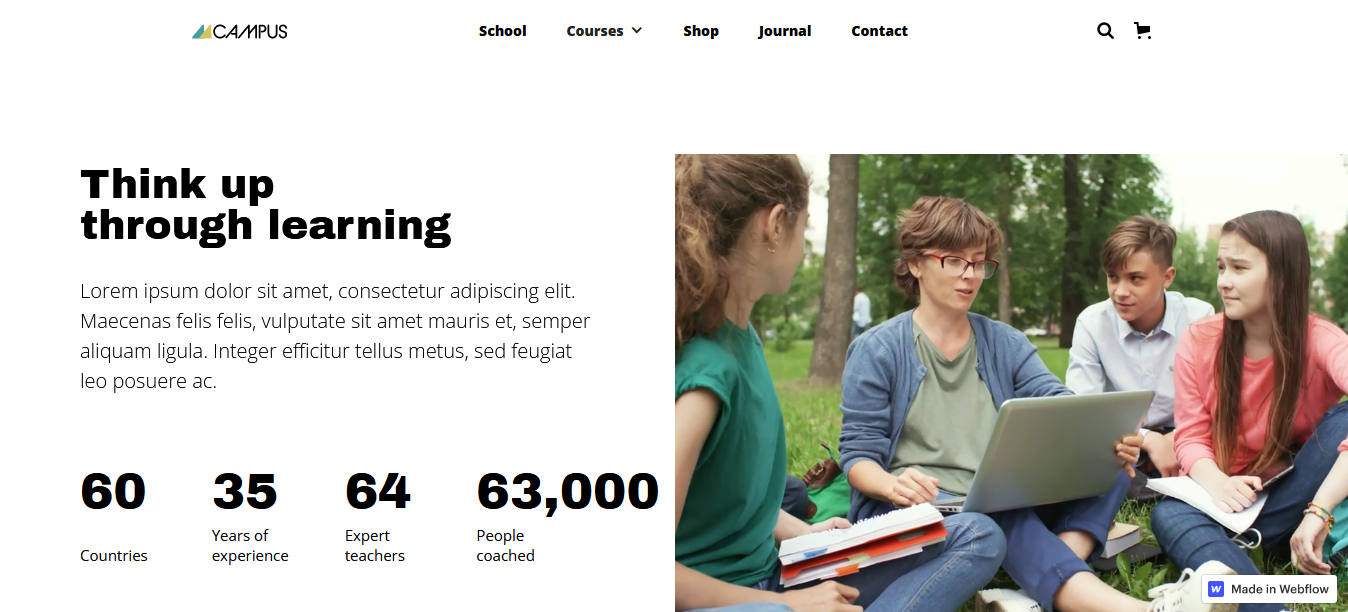 Campus is a beautiful premium Webflow Book Template which is a perfect fit for Academies, Colleges, and Schools. The template has all the necessary components making it suitable for the Book website. It offers responsive design and navigation for the smooth performance of the users on your website. You can enjoy a fully responsive fast loading website with Campus.  The template is based on Webflow's powerful Content Management System that ensures full flexibility for everyone using the site and comes with a powerful blog option.
Major Features of Campus:
Responsive Design
Responsive Navigation
Interactions
Forms
Symbols
Web Fonts
Retina Ready
Content Management System
---
6. Skillz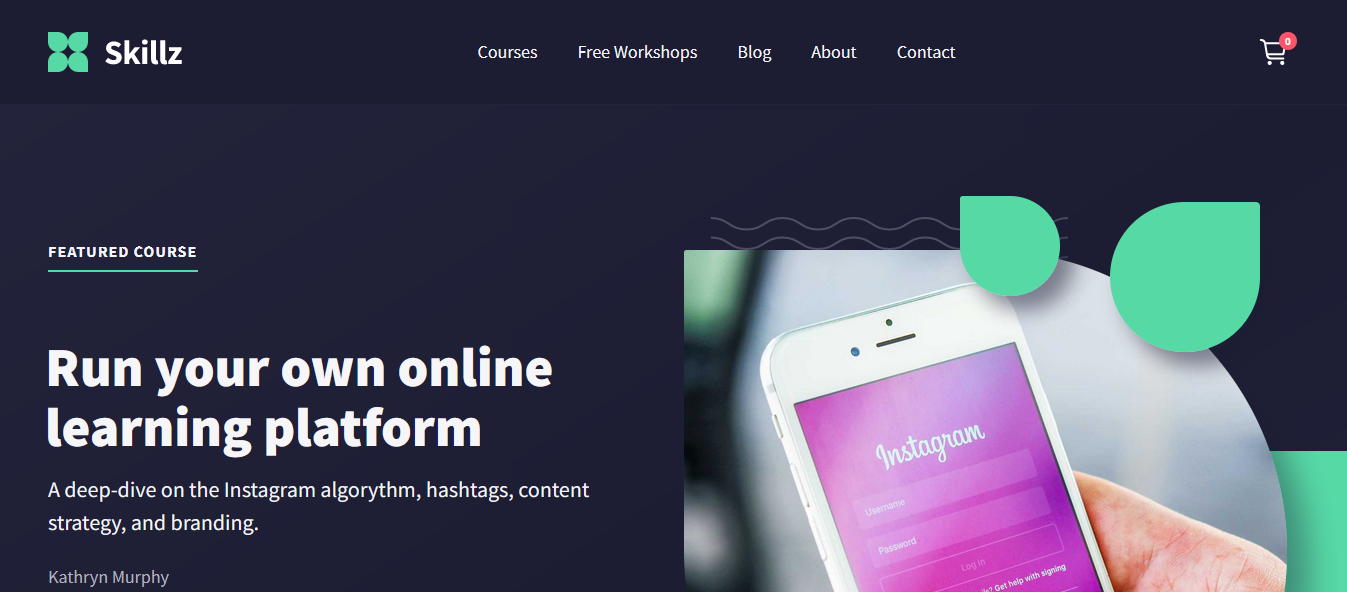 Skillz is an appealing premium Webflow Book Template that allows you to turn your knowledge and skills into sellable goods. The template comes with a beautiful E-learning functionality allowing you to create your course and tutorial content. Further, you can upload your book and start selling digital goods online. Skillz is developed in a way that makes website changes quick and easy. You can spend more of your time focused on your business rather than the appearance and the customization of the website.
Major Features of Skillz:
E-Learning Platform
100% Customizable
Powered by Webflow CMS
Free and Paid Courses
Multiple Contributor Flexibility
Category Options
Blog Functionality
Global Color Swatches
Working Contact Form
---
7. Education X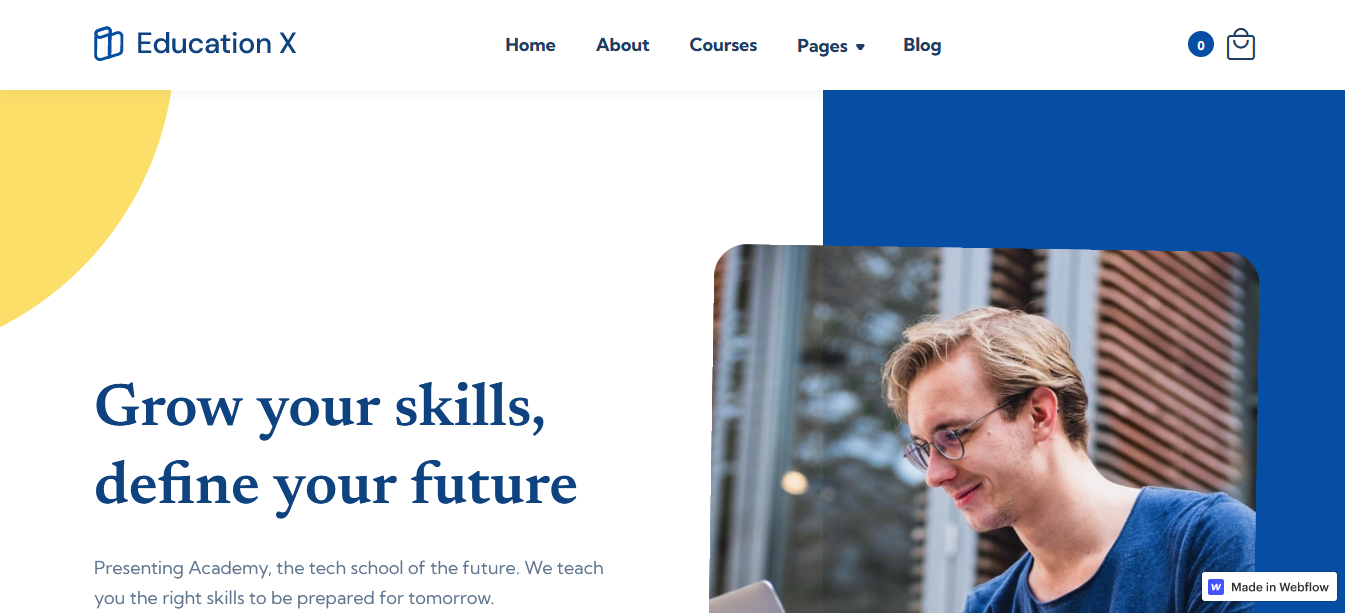 Education X is the best Webflow Book template that includes everything necessary for eLearning platforms. This new education Webflow template includes offering, teaching, and selling online courses at scale, as easy as 1, 2, 3. It allows you to create a world-class website and start selling your online courses and is an ideal choice for your online school and academy. Education X has unique and premium designs that ensure you have a top-notch website with modern and high-quality designs.
Major Features of Education X:
Unique and Premium Design
Speed Optimized
Perfect Responsiveness
Seamless Animations
100% Customizable
Figma File
Webflow CMS and Ecommerce
Always Up-To-Date
---
8. MasterBox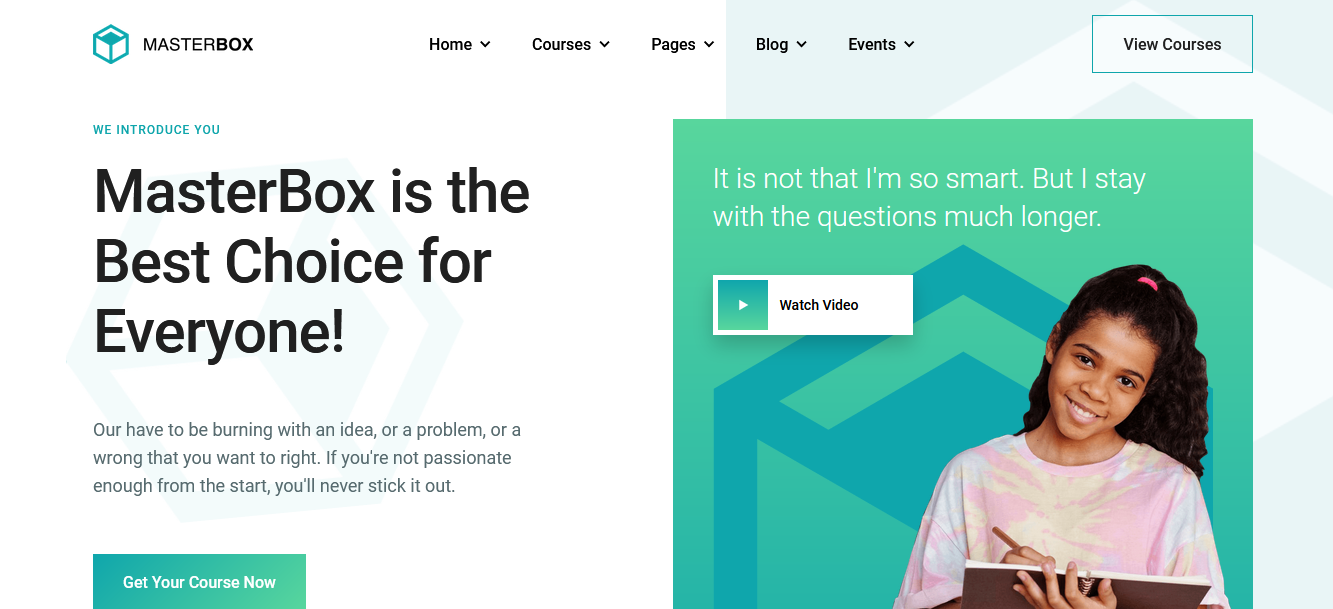 MasterBox is a highly responsive Webflow Book Template that allows you to build a unique and compelling learning website. The template is specialized in local workshops or online courses. It comes with 4 different homepage and hero sections to select from to select the perfect fit for your website and start building one. MasterBox has tons of components to make/add any design your want.
Major Features of Master Box:
4+ Homepage Layout
A lot of Components
Beautiful Typography
Infinite Possibilities
Documentation and Support
Fully Responsive
Browser Compatibility
Working Contact Form
---
9. Academy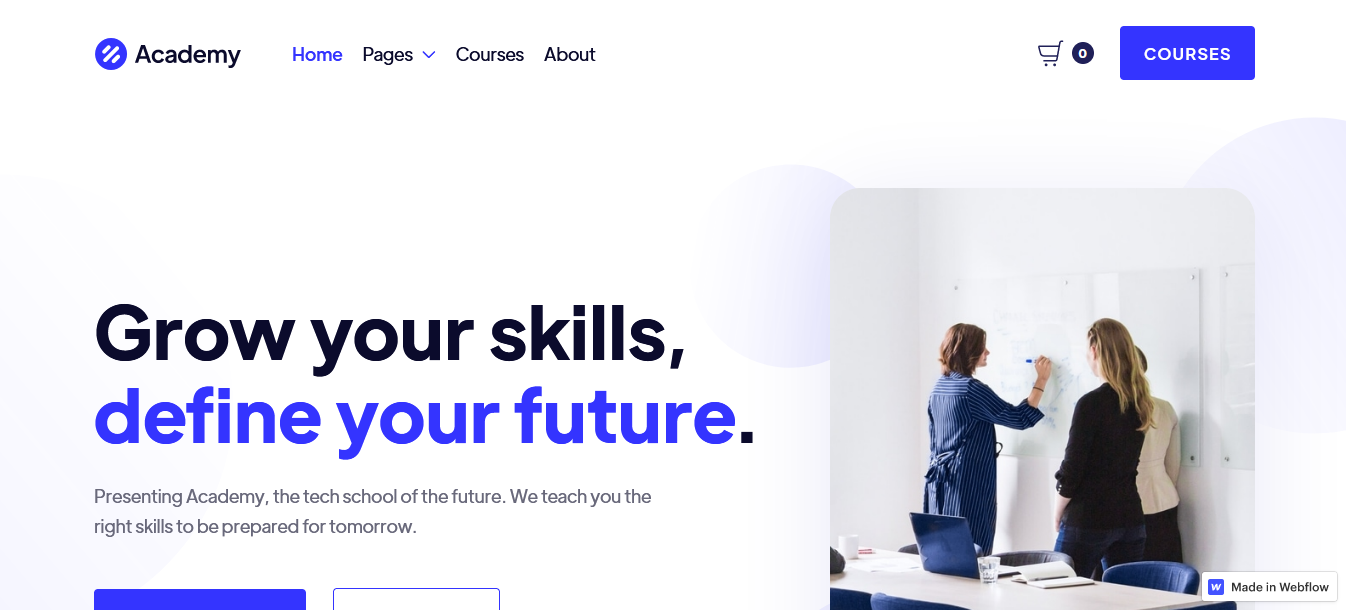 Academy is the ultimate premium Webflow book template for online courses, Education platform,s and Digital Schools. It is a fully functioning template to create an amazing online learning experience for your users. It is a wow to your students. Academy provides a seamless learning experience to your users. It features a high-quality design following the latest business trends to fit your modern website needs.
Major Features of Academy:
Unique and Premium Design
Speed Optimized
Perfect Responsive
Seamless Animations
100% Customizable
Figma File
Webflow CMS and Ecommerce
Always Up-to-Date
---
Wrapping Up
This is the end of our collection of Top 10 Best Webflow Book Templates. These are the hand-pick book templates that fit all your educational website needs. You can simply customize the template and create a stunning website in a few hours. Be sure to select the right Webflow Book Template depending on the need of your website.
If you've previously created a website using any of these templates, make sure to share your experience for a better understanding. Also, do let us know if we're missing a great template on our listing.
Also, Check-Out:
Stuck Somewhere?
Connect With
JustHyre
Hire WordPress Engineers for custom jobs like Website Customization,
SEO Optimization, Clearing a Hacked Website, Installation & Configuration & more.
Connnect with JustHyre