How to Check the WordPress Version of Your Website?
Whenever a site needs to add features, plugins, or themes knowing the WordPress Version is important. It enables a user to know the criteria to use anything required to make a site better, efficient, effective, and professional. The common question that trend is the WordPress version. It's important to know the WordPress Version to keep the site secured while installing any WordPress Theme and Plugins.
Why Check the WordPress Version?
It's not a compulsion to check the version of the site. But, knowing it helps to manage the site in a good way. WordPress Beginners don't do it as they think it's a difficult task to do. Honestly, it works in a couple of steps that offer many custom functions and features. Using the latest and updated version makes the site more systematic. By checking the WordPress version and updating it, the site becomes more secure.
When there are Frequent Updates, it enables tracking the current version running on the site. Checking and determining the version helps the users to use every feature available provided by WordPress. Thus, it is suggested that every user check and update the current WordPress Version. This tutorial provides the perfect guidance for all to Check the WordPress Version in a few steps with ease.
Check the WordPress Version of Your Website?
We have selected the easiest way to Check the WordPress Version through the Admin Panel. This method is the easiest. It doesn't require any kind of coding knowledge and reduces the burden of selecting and installing a plugin.
First of all,

Click

on the button

Updates

given at the

left bar

of the

Admin Panel

.

Users can easily notice the

WordPress Updates

, through which they can find out when they

last checked out

.

There the version of

WordPress being used

will be mentioned

automatically

without any effort to know it. Considering all the

Future Security Updates

, User can

Re-install

the new Version mentioned by Clicking on the button

Update Now

.  

While doing all these the Users can even check out whether all the Plugins and Themes are Updated to date or not.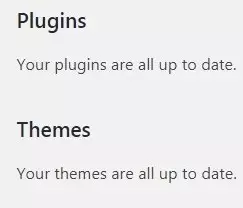 Wrapping Up
Checking the WordPress version is beneficial to the site. It provides all the updated features and also keeps the site secured. Many users don't do it as they exactly don't have an idea to do it. This is just the task of a few steps that will make your site look awesome, professional, and systematic. In this tutorial, WordPress Beginners are taught the easiest way possible. Doing this doesn't need any coding knowledge or installation of the plugin. Hope the information was useful. Please leave the recommendations below.
You can also check out our collection of: